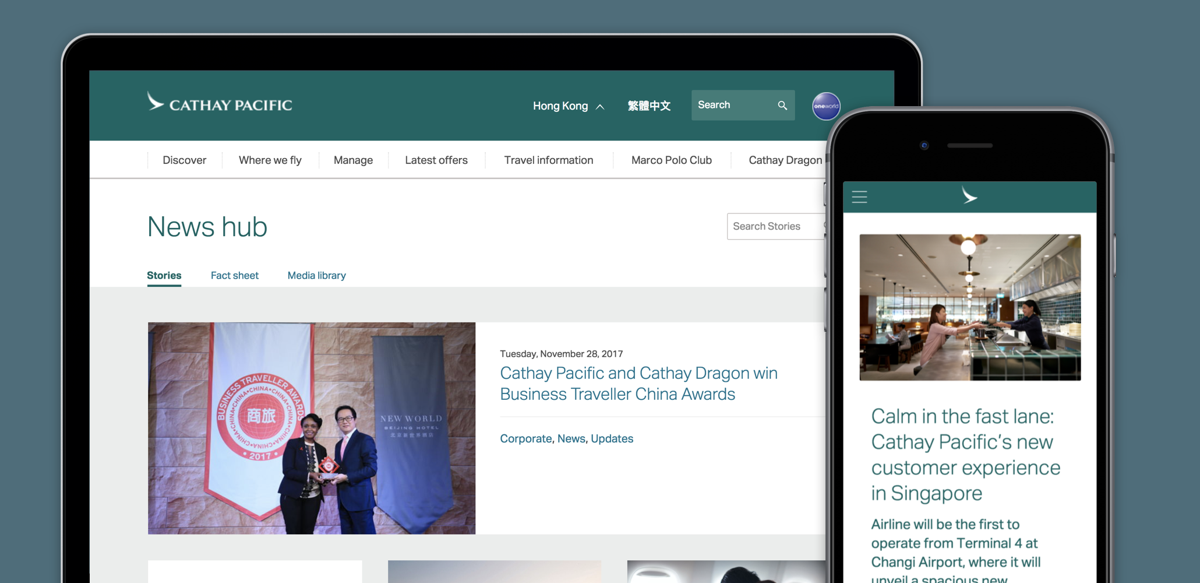 Belgian PR-software company Prezly rises to new heights abroad
The Belgian PR-software company Prezly is on a solid international track.
Having established operational bases in the rest of Europe, North America, Australia and Brazil, it has now advanced into Hong Kong to conquer the Asian market. And with airline company Cathay Pacific, it has already secured a global player there.
Thanks to Prezly, PR and communication teams are easily able to share their brand's or organization's story with journalists and influencers, as well as with internal employees and other stakeholders. The platform integrates the best of an online newsroom, a CRM, e-mailing and file-sharing into one practical online tool. For many communication professionals, it has become an indispensable work tool that they use every day.
From AB InBev to Toyota
In less than ten years, the Belgian scale-up – which is still 100% owned by its original founders – has developed into a major player with a global footprint. It has clients from virtually every sector, all over the world: AB InBev, Australian Broadcasting Company, AXA, Brussels Airlines, Oakley, Emirates Airlines, Estée Lauder, IKEA, Lidl, KBC, Médecins Sans Frontières, Oakley, Samsung, Sennheiser, Telenet, Toyota …
And more big names are sure to come soon. Because Prezly continues to grow substantially and has increased its international presence significantly by placing sales and support employees in different European countries, the US, Australia, Brazil and now in Hong Kong. As of this year, more than 50% of its revenue comes from abroad and Prezly is now active in 32 different countries.
Enormous growth potential
It has always been our ambition to be a global player. But, of course it is a wonderful boost for the whole team to see that our efforts are really paying off and that we are participating at the highest level, not only in Belgium, but also in the US, the Middle East, Australia and Asia," says Jesse Wynants, co-founder of Prezly.
Moreover, the growth potential is still enormous. Because content marketing and earned media have become increasingly successful everywhere due to the fact that the classic advertising approach of buying attention simply no longer works. Ad blockers are more and more popular and consumers now place most of their trust in their own network and external experts such as journalists and bloggers. At the same time, it is becoming increasingly difficult for companies and brands to manage all the extra content and contacts. At Prezly we have a unique solution", he explains.
Smart features
In the past years, we've focused mostly on the basics: a stable, fast and user-friendly tool that saves our users time. Now we are focused on "smart" features, such as automatically enriching contacts and continuously scaling the relationship with a stakeholder. These "smart" features help communication teams to communicate in a personalized way, which almost always proves beneficial when it comes to results", explains fellow founder Gijs Nelissen.
Asian high-flyer
Until now, the Belgian technology firm has had little presence in Asia, but thanks to the new operational base in Hong Kong, this is about the change. From this city, it hopes to establish a connection to the Chinese mainland. And even before the actual rollout, the first important contract is already in place: Hong Kong-based Cathay Pacific works with Prezly to publish and share multimedia stories with the press and influencers. The newsroom of the Asian airline giant (https://news.cathaypacific.com/) has successfully been launched and runs completely on software that is "made in Belgium", but with an Asian flavour for the Hong Kong home carrier. Fittingly, Cathay Pacific will launch a new four-times-weekly service between Brussels and Hong Kong from 28 March 2018.
Prezly's international growth has brought about several new recruits. At the end of this year, the team will have twenty employees, spread all over the world.
About Prezly
In an increasingly complex world of communication, Prezly makes it simple for large companies and organizations to share their stories with journalists, bloggers, employees and other stakeholders. It integrates the best elements of online newsrooms, CRM systems, e-mailing and file-sharing into one user-friendly online tool. Since its founding year, 2008, the Belgian technology company with headquarters in Leuven has grown into a major player with a worldwide client portfolio. A few well-known references are: ​ AB InBev, AXA, Brussels Airlines, Emirates Airlines, Estée Lauder, IKEA, KBC, Lidl, Médecins Sans Frontières, Samsung, Telenet and Toyota.