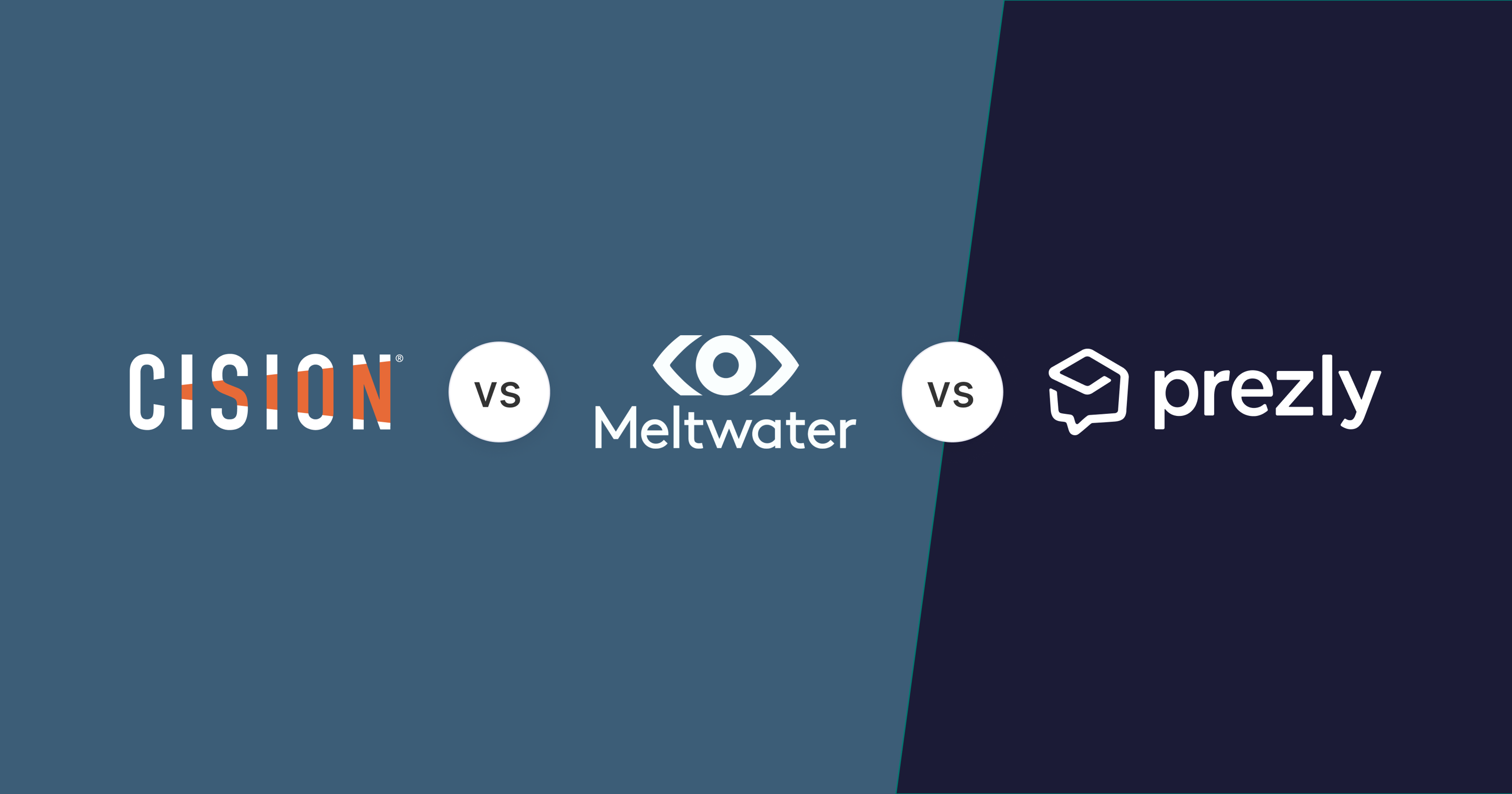 Cision vs Meltwater vs Prezly: Which is best for PR? [2023]
We put all three to the test, so you can see which has the right strengths to fit your needs.
Cision, Meltwater, and Prezly are all platforms widely used by PR professionals to do their best work. From helping you distribute your stories, to publishing online newsrooms, each option brings something to the table. 
So, if you're picking between these platforms, which one should you go with? We put all three to the test, so you can see which has the right strengths to fit your needs.
In the current PR software landscape, there are three types of tools that make up the market: media monitoring tools (~45%), contact databases (~45%), and all-in-one platforms (~10%).
Cision and Meltwater are both well known as long-standing players in the PR software space that cater to the first two categories. Meanwhile, Prezly is a newer, more modern alternative that is part of the all-in-one category. 
While Prezly can integrate with other tools to help provide media monitoring, it won't be able to help you with getting a media database anytime soon. Simply put, this is because media databases aren't worth investing into. 
While buying lists of media contacts has become a norm in the PR world, we never recommend doing it. Here are a few reasons why: 
They aren't effective: The best PR work blooms from building relationships, not cold selling to a list of strangers. Time and time again, we've found that investing into a strong CRM tool is far more useful than buying a media database.
They're bad for deliverability: Since thousands of PR teams are contacting journalists from media lists, every email sent often goes unopened & unread.
They violate GDPR: Whenever you buy a database of media contacts, you are getting someone's personal information without that person ever giving you their consent – violating GDPR.
Curious to know more about why Prezly doesn't sell media databases? We recommend checking out this article. 
Below, we'll dive deeper into each tool, but here's the short version of where they stack up:
Cision comes loaded with plenty of established PR tools, and if you're looking for a media database, theirs is the largest on the market. But, this all comes at the cost of high pricing, a steep learning curve, and lengthy customer support wait times.
Meltwater is best for those who care most about media monitoring. However, it doesn't contain all of the essential features needed in an all-in-one PR platform, so it's likely you'll need to pair it with additional tools if you want to cover your full PR workflow.
Prezly is best for those looking for a user-friendly, affordable, and people-driven PR platform. Instead of offering features aimed around maximizing reach (i.e. media databases & media monitoring), it's designed to help PR professionals build and nurture genuine relationships to earn high-quality coverage. 
| | | | |
| --- | --- | --- | --- |
|   | Cision | Meltwater | Prezly |
| PR Distribution & Outreach | ★★★★ Great distribution options with PRNewswire, but limited outreach tools | ★★ Distribution only offered via newswire integration, with limited outreach tools | ★★★★ Fantastic outreach & segmentation tools, but no newswire distribution options due to emphasis on building media relationships |
| Media Monitoring & Analytics | ★★★ Strong media monitoring, & fully-comprehensive analytics suite | ★★★★ Best media monitoring tool, & expansive analytics dashboards | ★★★ No native media monitoring (integrations available), but very actionable analytics tools |
| Media Database & CRM | ★★★★ Largest media database available with a solid CRM-inspired tool | ★★★ Smaller database than Cision with a limited CRM-inspired tool | ★★★★ Fully dedicated CRM tool for PR with no media database due to emphasis on relationship-building |
| Press Release Creator & Newsrooms | ★★ Simple press release creator. Can build online newsrooms, but they look dated and require custom development support | ★ No current features exist around press release or newsroom creation | ★★★★★ No-code online newsroom builder & press release creator with translation and multimedia support |
| Pricing | ★ Hidden, estimated to be expensive pricing on an annual contract | ★ Hidden, estimated to be expensive pricing on an annual contract | ★★★★★ Affordable pricing publicly listed on their website with monthly or discounted annual contracts |
| User Experience | ★★ Powerful suite of tools, but with a complex interface | ★★★ Powerful suite of tools, with a decent interface | ★★★★ Simple, yet expansive suite of tools with a very simple, streamlined interface |
| Customer Support | ★★★ Only available via phone and email, though considered very helpful | ★★★ Available via phone, email, and chat, though not always considered helpful | ★★★★★ Available via phone, email, and chat while considered extremely helpful.  |

​The biggest differences between these three tools lie in their features, pricing models, user experience, and customer support. Picking the right one will come down to which most closely fits your team's needs in each dimension. 
Let's start by comparing them across the following feature groups: 
Cision's PR distribution is facilitated through their wire service, PR Newswire. This gives users access to over 440,000 newsrooms, websites, direct feeds, digital media outlets, journalists, and influencers.
Meltwater's distribution features are fairly similar to Cision's. They integrate with Newswire while also offering an influencer distribution service to help you get in front of relevant social media users.
Prezly stands out with a more personalized, updated approach to distribution. Rather than relying heavily on wire services to get as much reach as possible, Prezly is focused around helping you build genuine relationships with journalists (think quality over quantity). The result is an email outreach tool with built-in personalization & segmentation features that help you earn (not buy) media.
Want to know more about why you shouldn't use wire services? We recommend checking out this article. 
If you're looking to get the most reach possible, and aren't concerned with the quality of your coverage, go with Cision. If you're more concerned with quality of coverage over reach, go with Prezly.
Cision offers extensive media monitoring across various channels including online publications, print, social media, TV, and radio, with real-time tracking of brand mentions and campaign performance. Using CisionOne (formerly TrendKite) you'll have access to robust visualization tools to track audience analytics, coverage sentiment, share of voice, and more.
Meltwater's bread and butter is media monitoring. Using their tool, you can monitor keywords across all channels (print, social media, TV, radio, online news, and podcasts) with real-time notifications. As for analytics, similarly to Cision, Meltwater enables you to make in-depth dashboards to analyze whatever data you need across channels. ​ 
Prezly's approach to media monitoring and analytics is about simplifying the process while still delivering valuable insights. While it doesn't have automatic media monitoring built-in, manually tracking coverage or integrating with third-party monitoring tools can easily be done from Prezly. 
For analytics, unlike Cision and Meltwater, which offer an amount of data that might be overwhelming, Prezly provides clear, straightforward analytics that are easy to understand and act on. Instead of sharing metrics like brand mentions and brand sentiment (which are interesting, but hard to act on), Prezly focuses only on sharing info on what you can directly control.
This means getting a quick overview on your most engaged contacts, best performing campaigns, and team progress can be done in just a few clicks. No complex dashboards required.
If you're a data nerd and want as much info on performance and brand mentions as possible, go with Meltwater. If you only want to see data you have direct control over, go with Prezly. To get the best of both worlds, integrate Meltwater's media coverage tool with Prezly. 
Learn more about the best analytics tools for PR →
Cision is known for having the largest media database on the market. In it, you'll find over 850,000 pitchable journalists, outlets, and opportunities, along with more than 1 billion social profiles​. Meanwhile, their Media Relationship Management tools act as a CRM, enabling you to keep a complete record of all your team's journalist and influencer communications
Meltwater also offers a media database, but with a total of ~450,000 contacts, it's much smaller than Cision's. Built into this database is a Relationship Management Platform that lets you track outreach progress with contacts (similarly to how a CRM would). 
Unlike Cision and Meltwater, Prezly does not provide a media database. Instead, it gives you the tools to nurture reciprocal relationships with the media contacts you already have.
As part of this emphasis on relationship building, Prezly shines with a dedicated CRM feature. This is designed to manage your relationships with media contacts, keeping track of all interactions in a simple, organized tool that your whole team can collaborate on.
If you need a media database, Cision is your best choice. If you'd rather have a smaller contact list exclusively made up of high-quality contacts you're building relationships with, go with Prezly. 
Want to know more about building your own, high-quality PR media list? We recommend checking out this article. 
Cision enables users to create online newsrooms with their MediaRoom product. That said, rather than giving you the tools to build a newsroom yourself, Cision suggests hiring their experts to build it for you. This means an increase in cost & time to build, along with a decrease in customizability & control. ​ 
Meltwater doesn't currently have any features dedicated around creating press releases or hosting them in a newsroom. Meaning, if you go with Meltwater, you'll also need to sign up for another tool to solve for this. 
Prezly has a dedicated platform built into the product to easily create press releases and online newsrooms. Among other features, any press release made can have multimedia content embedded into it and be translated into other languages. Meanwhile, newsrooms can be built in minutes with their user-friendly, no-code site builder, and double up as your brand's online press kit.
If crafting beautiful press releases and online newsrooms is a core part of your PR strategy, Prezly is your best option.
Want to know more about why adding multimedia content is important for your press releases? We recommend checking out this case study. 
| | | | |
| --- | --- | --- | --- |
|   | Cision | Meltwater | Prezly |
| Pricing available online?  | No | No | Yes |
| Pricing | Estimated starting at ~$7,200/yr | Estimated starting at ~$12,000/yr | Starting at $50/mo |
| Contract Length | Annual | Annual | Monthly or Annual |
| Agency Plan? | Unknown | Unknown | Yes |
Both Cision and Meltwater only offer annual plans and keep their pricing under wraps, requiring a personalized quote for those interested. Not knowing how much a tool you're interested in costs up front can be a major obstacle when making a year-long decision. To prevent you from joining any unwanted sales calls, we've done a bit of looking around to see what current users are paying for both tools. 
From what we've found, in 2023 a basic Cision license was estimated to have a starting price of $7,200/yr. Of course, it's worth noting that there are plenty of factors that can cause variations in this pricing. This could relate to any costs incurred for needing customizations made, data migration, training, and maintenance. You can also expect pricing to go up if you want to add on additional services like PRWeb (which can cost anywhere from $95–$405 per press release). 
In 2023, our research found that a basic Meltwater license roughly costs $1,000/month per user. There are four pricing tiers, namely Essentials, Advanced, Suite, and Enterprise, each offering different sets of features and capabilities. Along with these tiers, you can expect to see pricing increase when adding on extra services and tools of theirs (media monitoring, brand insights, etc.) to your plan. 
Prezly embraces transparency with open pricing and an online calculator easily available. There's also a 14-day free trial offered for anyone who wants to try before they buy. This pricing structure can be a breath of fresh air if you're keen on budgeting from the get-go.
Plans are divided into two categories, one for PR comms teams, and another for agencies. For PR comms teams, pricing ranges from $50–$140 per user per month with a 20% annual discount. For agencies, pricing starts at $300/month for 3 users & 10 sites, with a 33% annual discount. 
In a space where the norm seems to be high prices, long commitments, and 'getting a quote', if you're looking for an affordable tool with straightforward pricing, Prezly is the best choice.
Cision's extensive feature set, while incredibly robust, comes at the cost of a complex interface. This means a steep learning curve for new users which can require a substantial investment of time and effort.
Like Cision, Meltwater offers a wide suite of tools that are powerful, but can be a bit overwhelming to grasp. While it's clear they've invested time towards creating a user-friendly platform, the sheer extensiveness of Meltwater may be a challenge for some users to feel fully acclimated to.
Prioritizing simplicity and intuitive design, Prezly makes it easy for users to navigate and quickly get accustomed to. The platform's straightforward layout and tighter feature-set lowers the entry barrier, allowing users to start being productive almost immediately.
If your priority is having an abundance of features over usability, go with Cision. If you're looking for a modern, welcoming platform that's straightforward and hassle-free, go with Prezly.
Customers of Cision can currently get support via phone and email. From our research, this support has been noted as being very helpful, but slow in responding if you contact them by email. They also advertise offering free training and webinars. However, when we tried accessing these, we were led to 404 pages. Cision does not currently offer live chat support.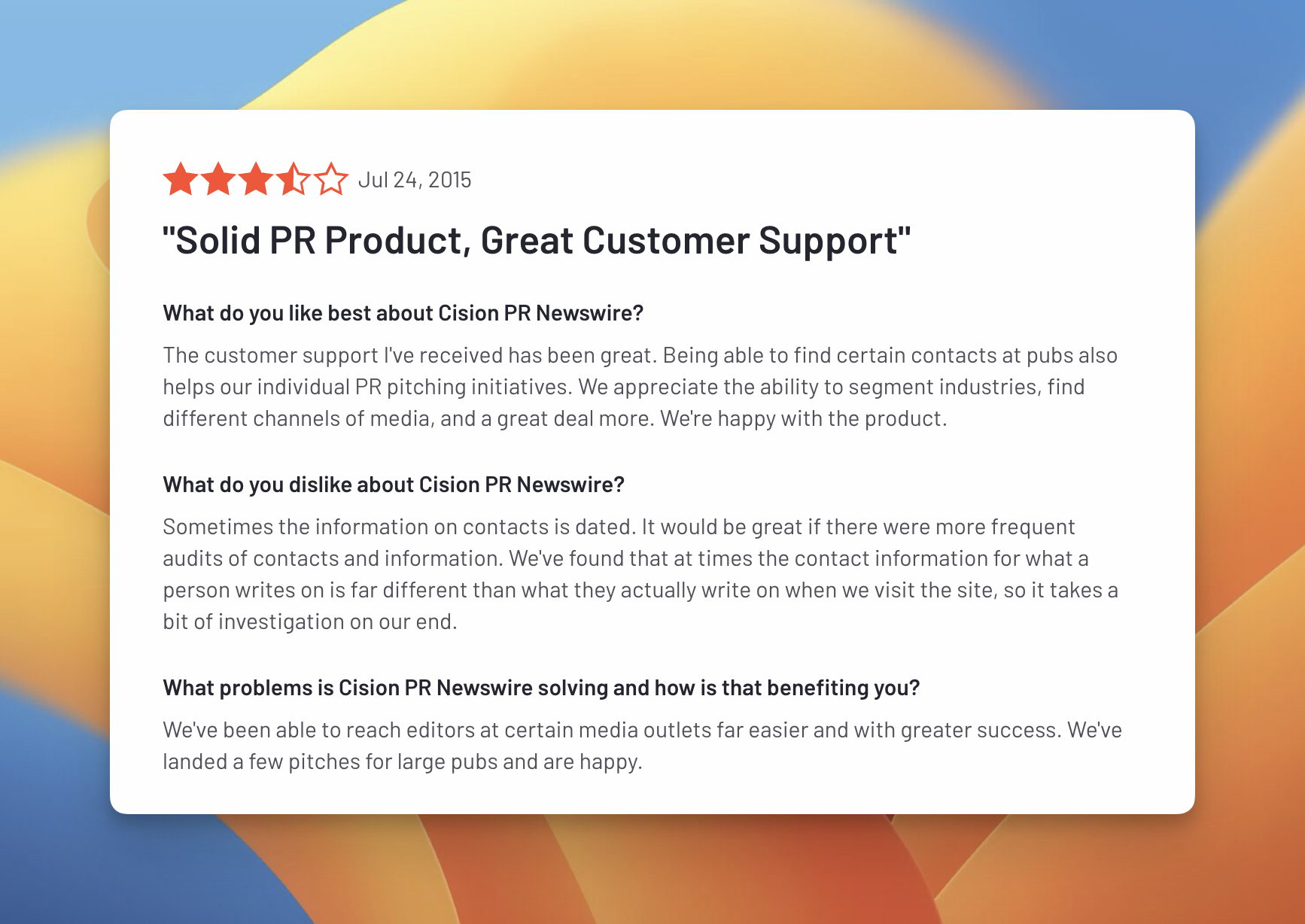 Meltwater has deeper customer support options compared to Cision. They currently offer live 24/7 service with regionally-based phone support, email support, and live chat support. Meltwater also has an elaborate help center where users can find solutions for their most commonly faced problems.
That all said, the quality of their support has been noted by some users to be lacking – specifically when making changes and customizations to accounts.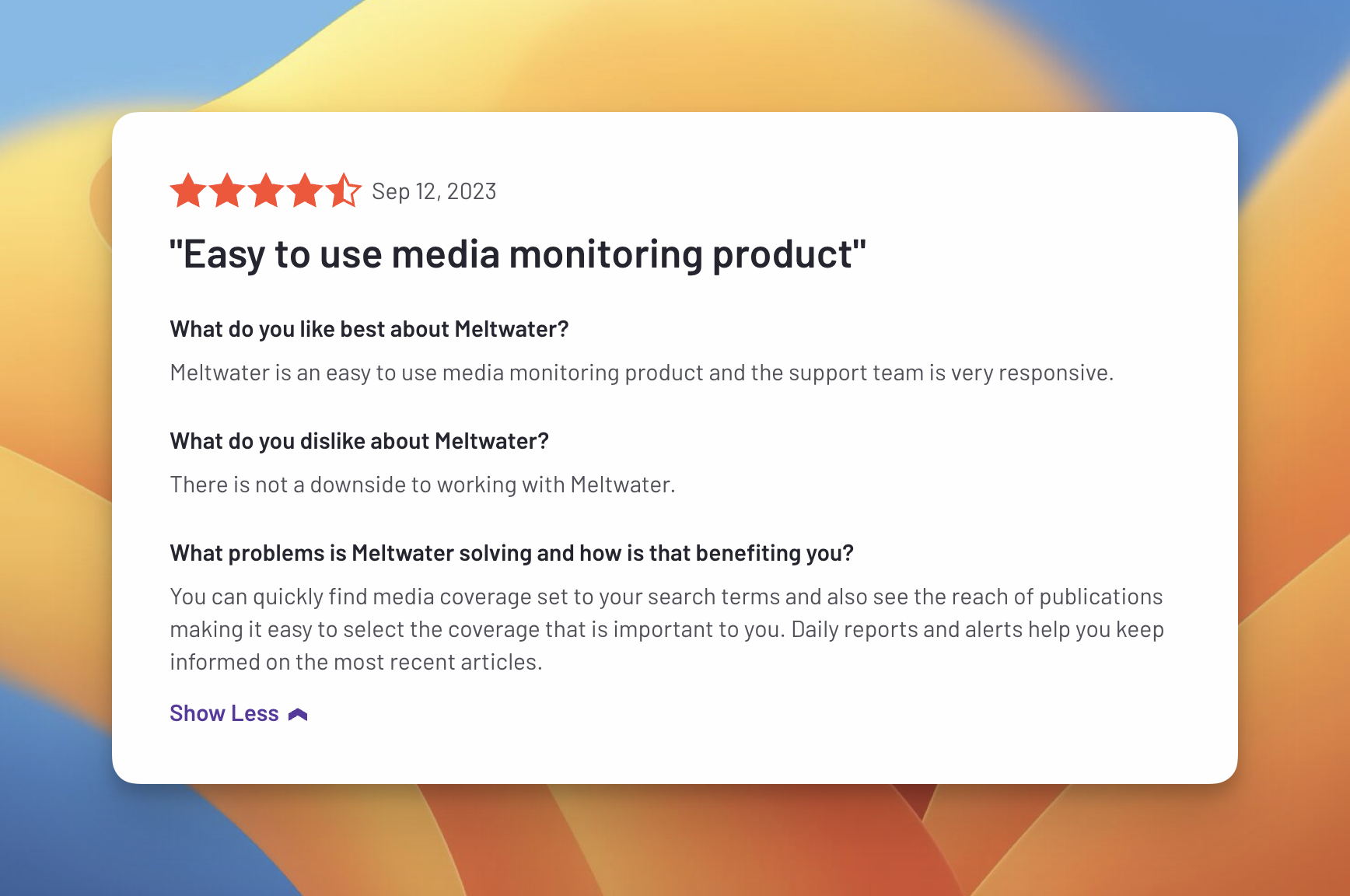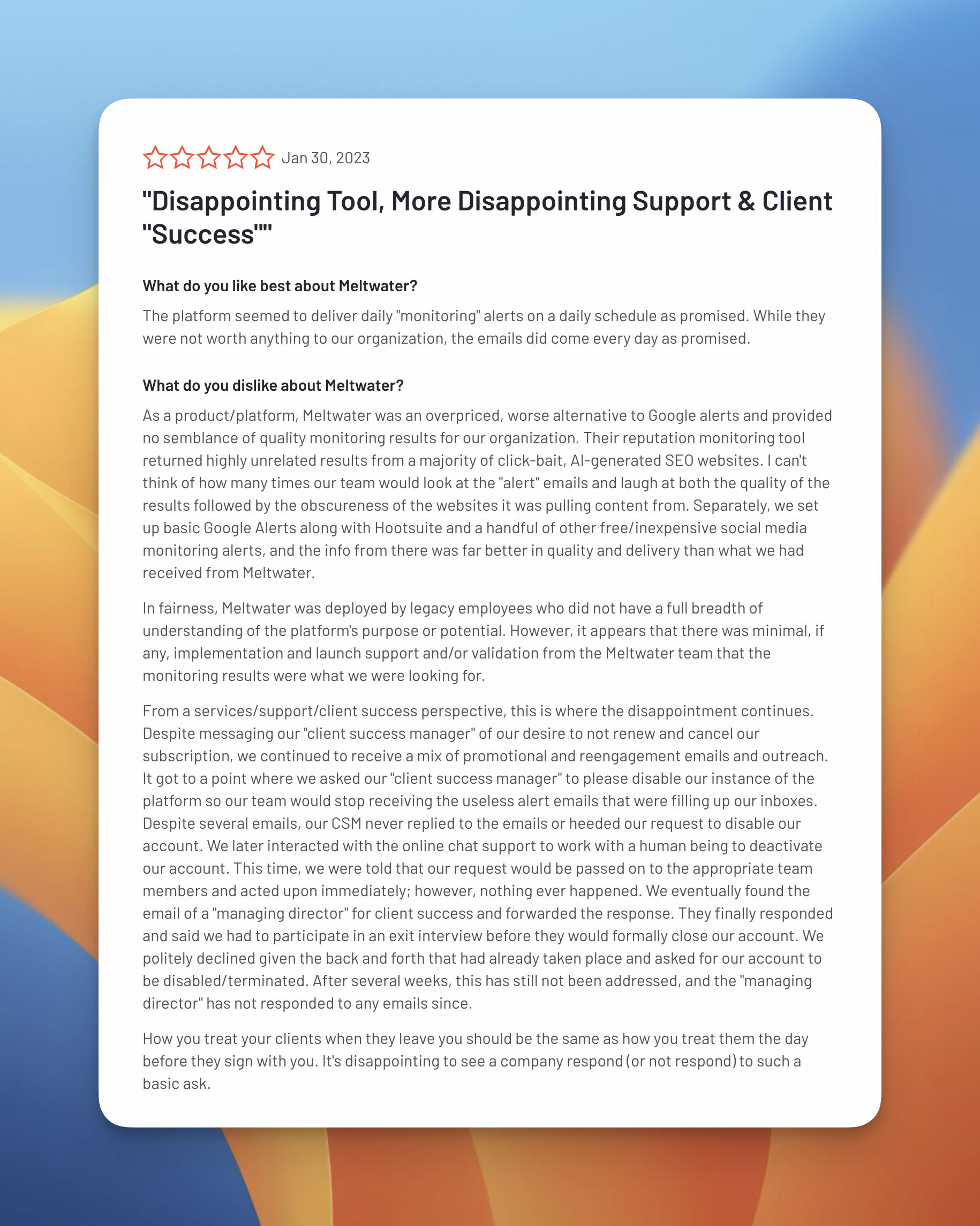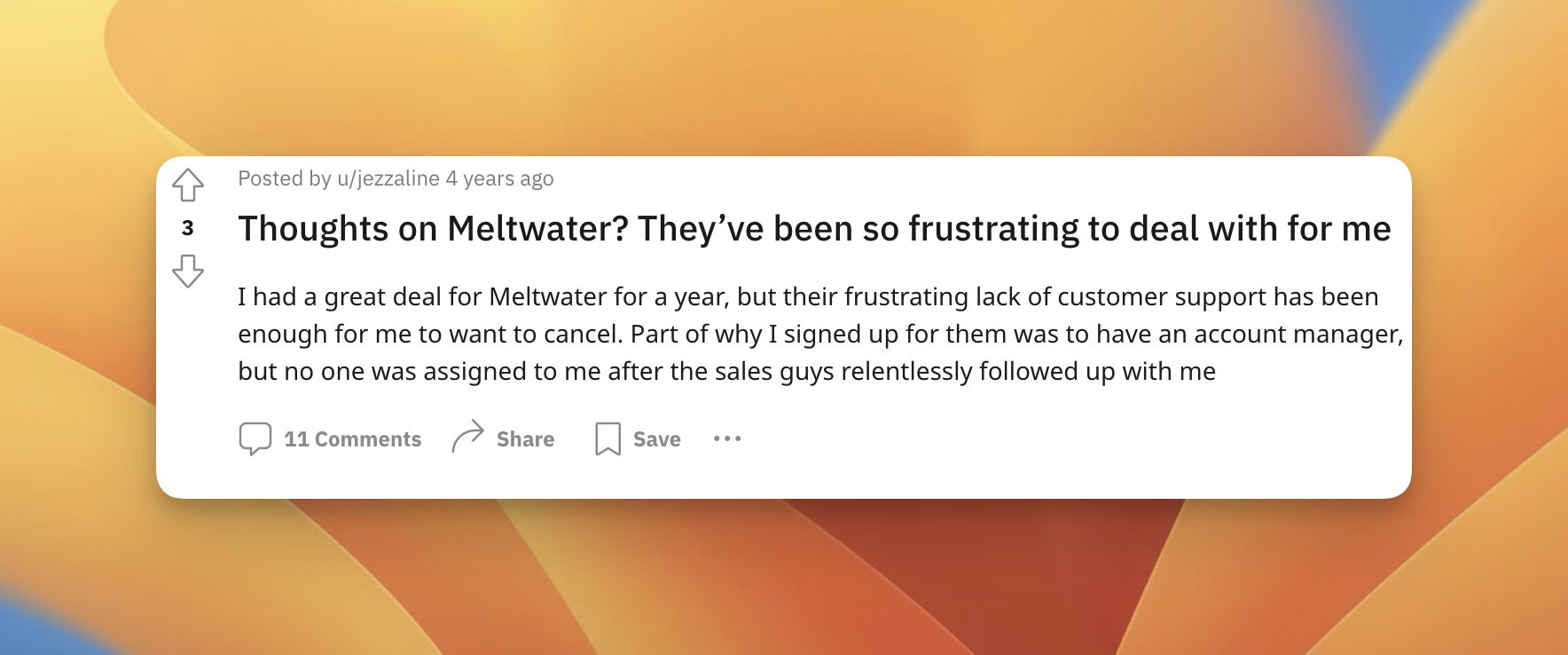 Prezly's support is all-encompassing with live chat, email support, a phone line, and free product training. They also have an in-depth help center that can be accessed from anywhere in the tool. As for quality, users have expressed high satisfaction with support for their responsiveness and familiarity with the product.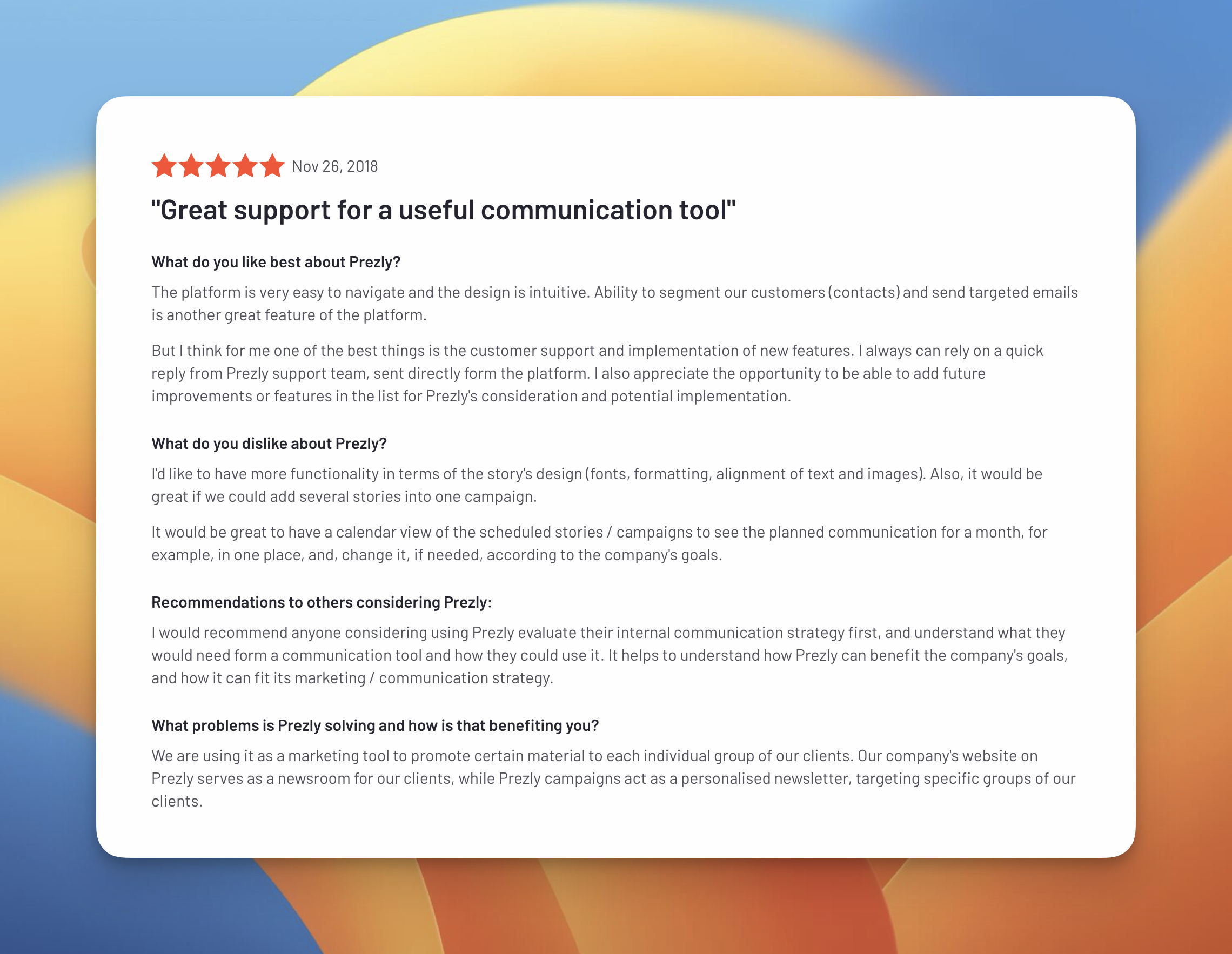 If available, high-quality customer support is essential for you, Prezly is the best choice (with Meltwater being a close second).
Before committing to any software tool, it's always important to see what their previous and existing users think of them. After diving into G2, here are the main trends we noticed in customer reviews: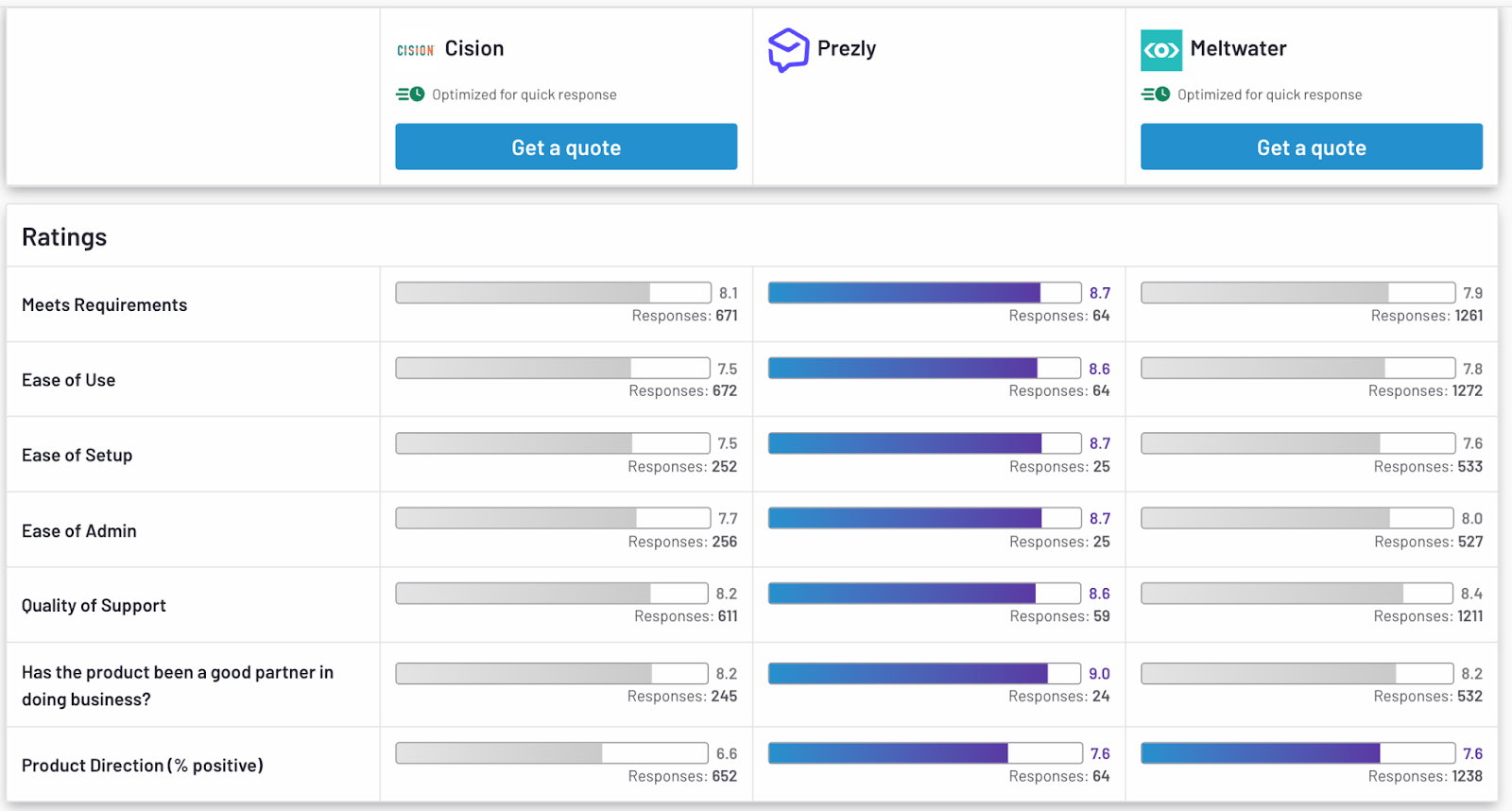 To simplify things, here's a breakdown on how each has most commonly been reviewed on the dimensions of ease of use, features and functionality, and customer support: 
Ease of Use: Users find the platform a bit complex, requiring a learning curve to fully leverage its features.
Features and Functionality: Offers a wealth of features, but some users find navigating them challenging.
Customer Support: Users aren't satisfied with customer support, suggesting that there's room for improvement.
Ease of Use: Users rate it moderately on ease of use, indicating some level of user-friendliness.
Features and Functionality: Users appreciate the range of features available, although mastering them might take some time.
Customer Support: Similar to Cision, there's feedback suggesting customer support could be improved.
Ease of Use: Users rate it highly on ease of use, finding the interface intuitive and user-friendly.
Features and Functionality: While it may not have as extensive a feature set as the other two, users appreciate the simplicity and functionality offered.
Customer Support: High ratings suggest users are satisfied with the customer support provided.
Now that we've compared all three tools in-depth, here's a quick pros and cons list for each:
Pros:
Cision has the largest media database with over 850,000 pitchable contacts for targeted outreach.
Cision offers wide distribution to over 200,000 newsrooms, 20,000+ journalist and influencer inboxes, and 8,000+ websites via PRNewswire.
Cision's analytics tools are robust in measuring campaign performance and engagement.
Cision is an established industry player with a long-standing presence and a wealth of experience.
Cons:
Cision has a steep learning curve with extensive functionalities that can be overwhelming for new users.
Cision doesn't have transparent pricing and requires contact for a quote.
Cision's online newsrooms look dated and require external support to create using MediaRoom
Cision's interface is complex and can feel crowded due to feature overload
Pros:
Meltwater has the best media monitoring tools with extensive coverage across various media channels.
Meltwater is great for influencer distribution and personalized outreach to journalists
Cons:
Meltwater has a steep learning curve and may require time to master.
Meltwater doesn't have transparent pricing and requires contact for a quote.
Meltwater's interface is complex due to their suite's variety of features and tools.
Meltwater's features are limited and don't allow you to create online newsroom or press releases
Pros:
Prezly's interface is incredibly user-friendly with intuitive and clean design for easy navigation
Prezly's CRM is relationship-centric and focused on building and nurturing relationships with media contacts
Prezly's pricing is affordable and transparent with clear pricing options available on the website
Prezly's outreach tools make distribution simple and more effective across contacts and segmented audiences
Prezly has a quick learning curve with simplified functionalities that make it easy to get started
Cons:
Prezly does not have a media database because it doesn't complement a relationship-driven approach to PR
Prezly doesn't have a media monitoring tool because it connects with 3rd party providers
Prezly's analytics are less extensive as a result of wanting to keep insights more streamlined for users
Cision, with its broad media database and wide distribution channels, is best if you're aiming to do extensive, high quantity outreach. 
Meltwater is best for real-time media monitoring and engagement. If staying updated with every mention and having the ability to engage in real-time is pivotal for your PR strategy, Meltwater is your best pick. 
Prezly fits best when used as part of a modern, relationship-oriented PR strategy. Its user-friendly interface, transparent pricing, and relationship-centric CRM make it the ideal platform for growing personal connections, earning high-quality media, and collaborating efficiently.
If you're still looking around at tools, and want to explore other options, here are some to take a look at: 
Agility PR Solutions: Provides a media database, monitoring services, and customized PR measurement and analysis.
BuzzSumo: Ideal for content research and monitoring, offering insights into popular content trends and brand mentions.
Critical Mention: Offers real-time media monitoring across various channels including online, broadcast, social media, and radio.
Muck Rack: Streamlines the process of identifying journalists, sending personalized pitches, and tracking campaign performance.
Mynewsdesk: Provides a newsroom solution, distribution services, and media monitoring for effective PR management.
Anewstip: A platform to find journalists, influencers, and media outlets, enabling targeted outreach and relationship building.
PR.co: A comprehensive PR toolkit offering a newsroom, media database, distribution, and coverage tracking for effective PR management.
At the end of the day, choosing the right PR tool depends on what matters most to you. 
If you need wide outreach, Cision is a strong choice. For real-time media monitoring, consider Meltwater. If building and nurturing relationships is your focus, Prezly could be the right fit. 
Each platform has its strengths, so ultimately, your unique needs and goals will guide your choice. Hopefully this deep dive has helped make the decision a little easier for you.
If you'd like to try out Prezly, you can start a free 14-day trial (no credit card required) any time.