December 7, 2022
Newsrooms has a new name: Sites
We are sunsetting "Newsrooms" and bringing in "Sites" starting from Wednesday, 7 December 2022
Over the years, we've seen Prezly become the right-hand man, the sidekick for many PR and comms teams, even though becoming a PR software was… a total accident. It just clicked at the time and it was exciting to see PR teams sign up for Prezly and use it for their pitches.
But somewhere down the line, we started to see clients use Prezly for publishing content outside the PR and newsrooms bubble, like for blogs, online magazines, internal company updates, portfolios, even recipes(!).
This was a bit of a lightbulb moment for us and we figured it was time for Prezly to become a tool that would encourage creators and businesses publish awesome content that would help them grow.
So today, we're sunsetting Newsrooms and we're delighted for you to meet Sites.
But we can't share this big announcement without looking back at where it all started.
This was Prezly in 2011, the era of tables-for-grids and beige – a lot of beige. I know… this also takes us back to those cringe Myspace days. Can't say we miss that!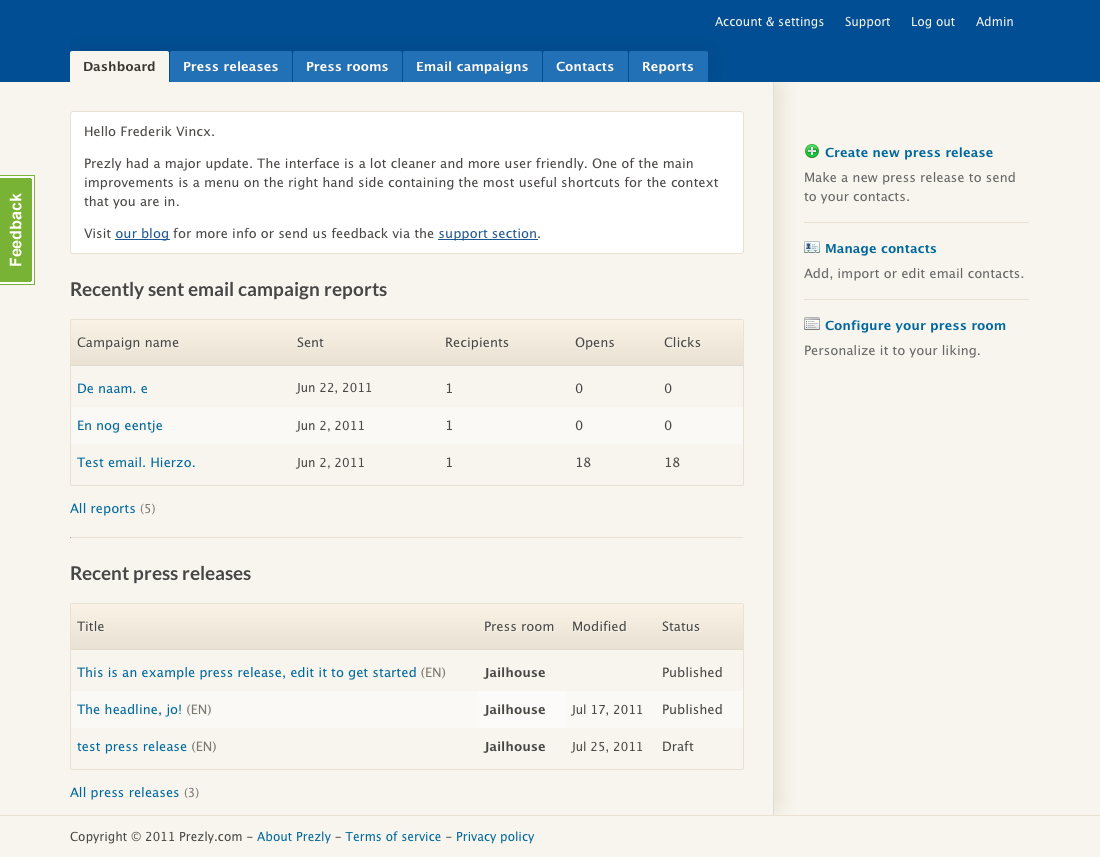 And stories (or press releases) from our very first group of key clients, like Brussels Airlines, used to look like this: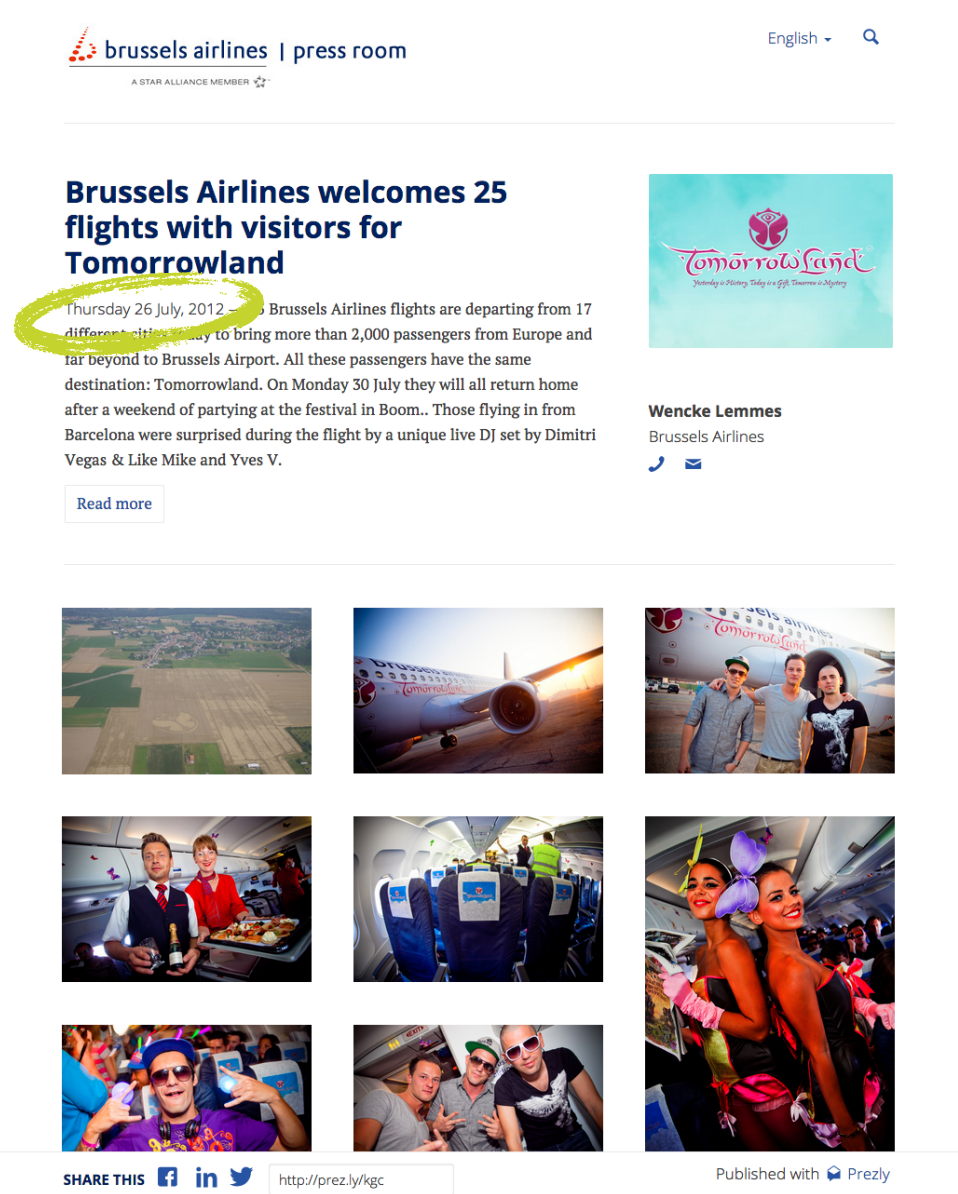 Then came Prezly version 2015, ready to take on more PR challenges, like being able to contact influencers in a snap, leaving notes on VIPs, and learning what works with mail and newsroom activity stats. It was also the year we decided baby blue and lime green made a killer combo (we've since hired designers that have told us otherwise).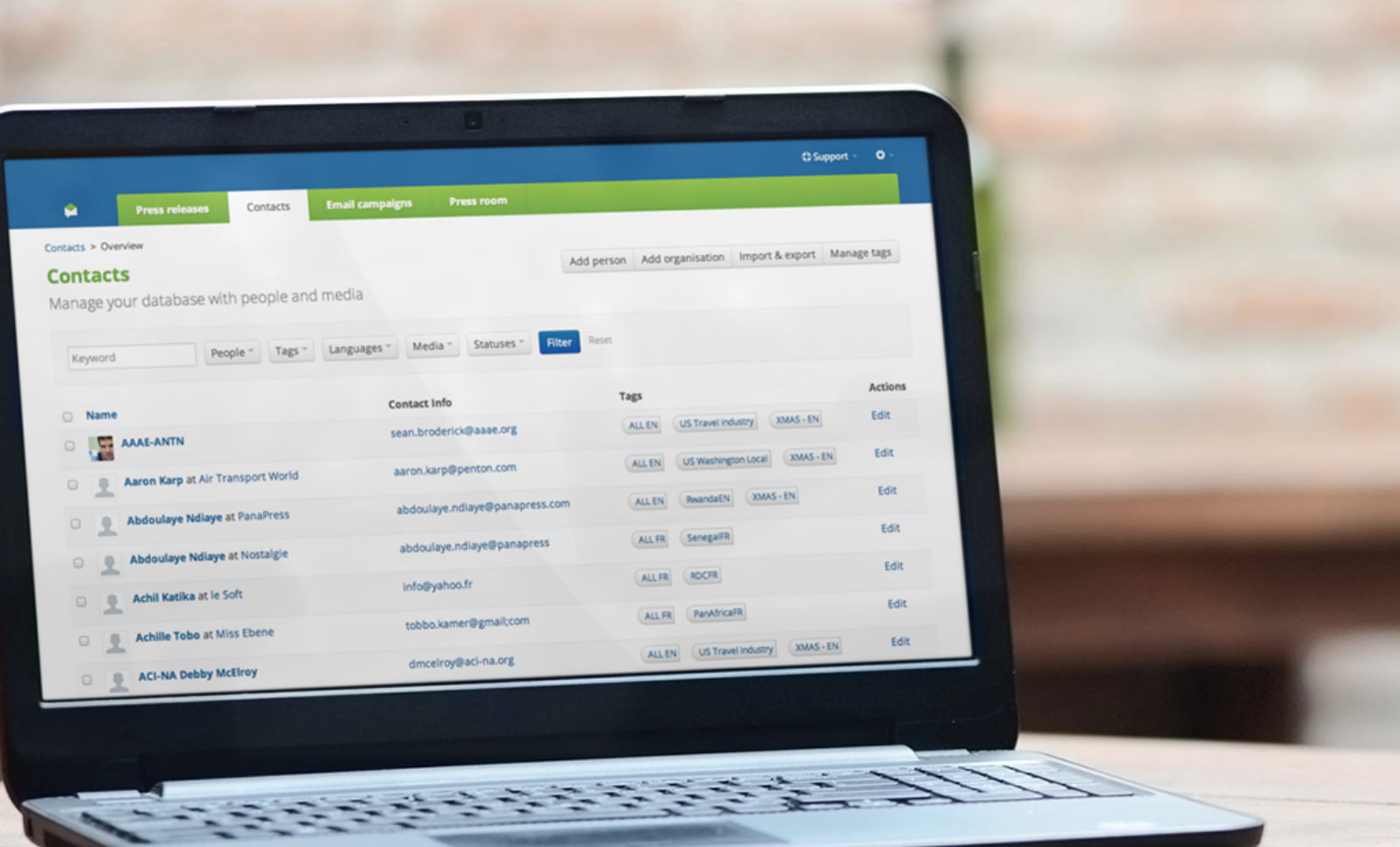 Fast forward a couple more years and in came this purple affair. And with it a new, spacious story editor interface that included inline image support, social media sharing, and new formatting options to improve the way you structure stories – all the things that take ordinary newsrooms to full-fledged webpages, like Mammut's beautifully categorized pages.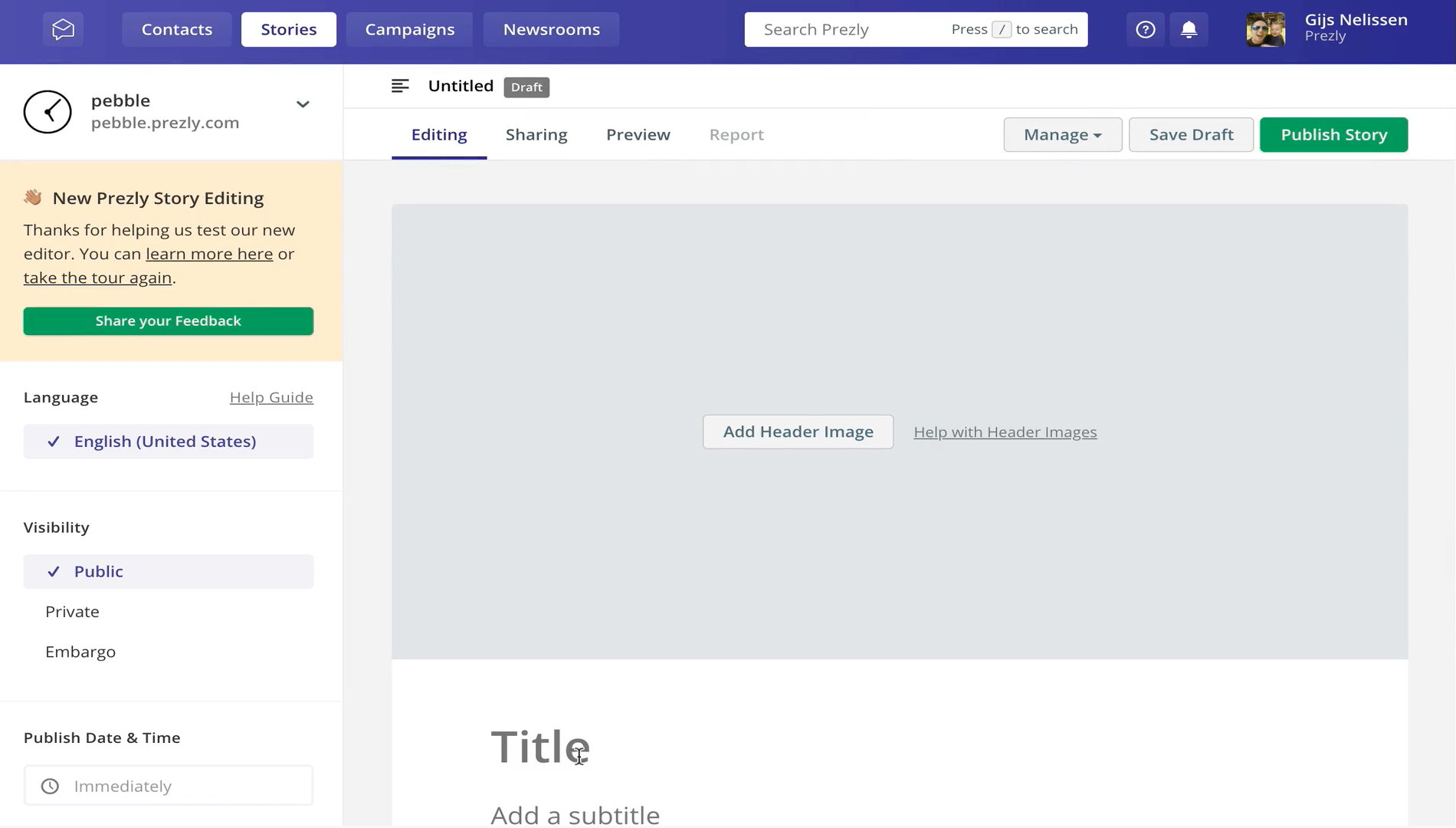 And ever since, we've continued putting more importance on making it simpler and quicker for brands to publish beautiful pages and stories, which has led us to our recent release of the newest Story editor interface.
With a newer, better editor interface that focuses on content creation, it just seemed fitting that we update newsrooms to sites to give you the flexibility of building a page, sharing newsletters, putting together notes and resources, and more.
When we take a look at the bigger picture, the reality is that businesses, brands, and trends are constantly changing, and so, we came to realize that keeping the "newsrooms" name would be fencing your creativity in, when there is so much more content outside of press releases and company news you could be publishing with our tool.
Here's one of our favorite examples: an online magazine by The Arab Image Foundation. They use Prezly as a platform to publish their monthly magazine issues and it's been great to see how they make our story editor and site features work for them – completely enhancing the way their visual stories are told (in 2 languages!).
With sites, it's no longer just about sharing corporate stories with the press. The idea of going beyond PR isn't just to cater to non-PR users, but to improve the way PR people use Prezly for far more than press releases. We'd never give up on you PR folks!
As of 2022 and after a couple more tweaks to the interface (and a new color scheme) and newer features, we have today's version of Prezly that continues to support PR teams – all while also opening opportunities for a broader list of use-cases.
So, the gist of it is this:
Sites don't take any of the functionalities away from newsrooms, but rather the opposite. It enables you to still create fully branded newsrooms, and also use Prezly site themes out of the box for setting up things like internal team announcements, note-taking and collections, photography blogs.
And even with this transition to sites, one thing will always remain the same. You can always create a branded site using our built-in themes – no coding needed or working with a developer to create a design and layout for your page.
All in all, we're excited to see where sites take you and can't wait to see how you really make it yours.
Throughout the Prezly app and our help center articles, all buttons and mentions of "newsrooms" are replaced with sites.
We've also added a Sites button to the top navigation of Prezly which helps you access your sites and sites settings much faster.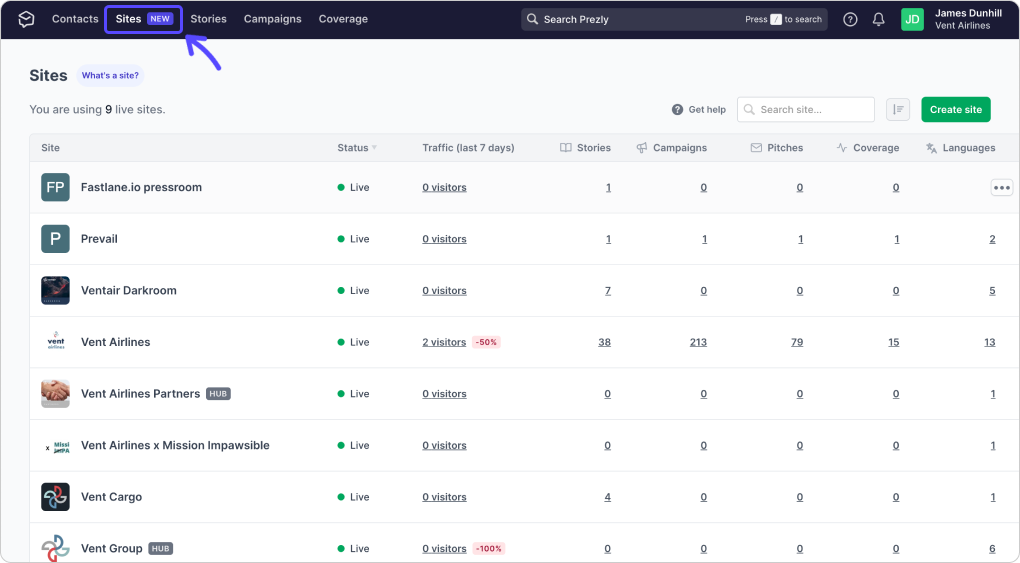 We also have a tool tip just in case you need a little more info about why we've made this change and where the changes appear in the app :)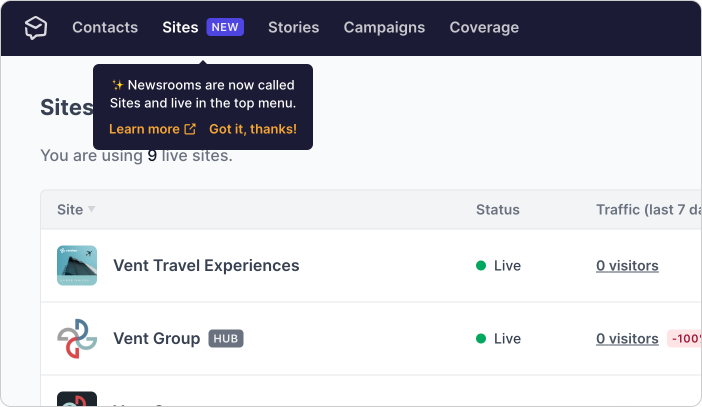 ---
If you have other ideas for ways to use sites or already use sites for something other than newsrooms, go all out – we want to hear it all! Start a chat with our team or send an email to support@prezly.com.
Published 7 December 2022