Importing & exporting
Can I upload a bought media database to Prezly?
Yes, but it's important to keep a few things in mind
Prezly exists to help you communicate with your hard-won contacts in a thoughtful and mutually beneficial way. This takes a many months of researching, communicating and providing value. It relies on you understanding not only who your contacts are, but who their audience is.
That said, we understand that for some campaign strategies, you might want to purchase a list of media contacts from a vendor, such as Cision.
There is nothing stopping you from uploading these contacts to your Prezly CRM, but there are a few things you may want to keep in mind.
1. Bought media lists typically have high bounce rates
High campaign bounce rates not only look bad when it comes to reporting, but they can also have a negative impact on your SPAM rating. As you will well know, contact lists are notoriously difficult to keep up to date, and bought media lists are no exception to the rule.
In fact, because so many people buy the same media lists and flood those same inboxes with all sorts of emails, your pitch could be lumped in with the spammers through mere association. If this happens, it's important to realise that it will affect not only the deliverability of the sender email you used to send that last campaign, but the deliverability of every email that shares its domain – which normally means everyone at your work.
The fix: Always review your campaign performance and purge any bad emails after every send using campaign reports.
2. You could be violating the GDPR
To be honest, there's a lot of confusion around this since there are no precedents to go off. GDPR has a pretty fluffy exception titled "Legitimate Interest" under which all this selling of personal information is being justified. However, most vendors will state in their policies that it's your job to receive consent from the people in that media list before you can start emailing them, so the onus is on you to demonstrate that you have permission.
3. Building relationships works better
Spray-and-pray pitching doesn't work for long-term PR – we all know that. Yet it remains the industry norm. Results rarely come, and along the way you hurt your relationships with your contacts, burning bridges that are very hard to restore.
But true value lies in building out mutually beneficial relationships with those people. And you can only do that with time, hard work and strategy. There is no shortcut – but there are some handy guidelines, and there's data :)
To help, we created this free pitching guide complete with a strategy template and data from 16million pitches.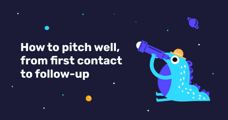 Download your free pitching pack
See what the most effective pitches are made of, based on 15,976,113 emails.
Other reasons why we don't endorse buying media lists ▸