The Global PR Survey 2020: The results
While other areas of PR have evolved, contact management seems stuck in a rut. But why is it such a huge pain point for all walks of PR? And most importantly, what can we do about it?
To find out, we launched a global survey tapping into the expertise of more than 400 PR & comms professionals.
Here's what we found.
Key findings
"Keeping the database current" = biggest pain point
When presented with a list of contact management tasks to pick from, most PR pros identified "Keeping the database current" as their biggest pain point, with 45% saying it's the most frustrating part of their entire job. 
Most PRs can save 2hrs a week by switching to a CRM
PR people that use a CRM for contact management spend on average 3.4hrs a week on keeping their contact lists current – far less than those using spreadsheets (5.4hrs each week) and email address books (4.6hrs each week).
Most PRs still rely on manual research for their finding contacts
Manual forms of research such as going through the papers, reading news websites and noting down names continues to be the go-to method 4/5 PR pros use to discover new contacts.
Strong relationships remain the key to success
A whopping 92% of PR professionals agree that they get the best results from the contacts with whom they have nurtured a good relationship.
61% of PRs think they're doing worse than average
It turns out 2 out of 3 PR professionals think that they are doing worse than average when it comes to the number of "good relationships" they have with contacts.
Most PRs store contacts in the wrong format
Of those who gave "Keeping the database current" as their main pain point, 59% store their contacts in a spreadsheet tool like Excel or Google Sheets, costing them an extra 2 hours of work each week.
412 PR professionals
400 respondents can represent a population of up to 10,000,000 with a narrow ±5% margin of error
3,611 years' PR experience
Altogether, this survey mines more than 3,611 years of combined PR experience from across the world
1,227,999 media contacts
Our respondents' media lists together account for more people than the population of London
Contact management: The bane of public relations
Despite the wide availability of technologies from social media to dedicated CRMs, contact management remains a time-consuming headache for pretty much all comms professionals. We wanted to find out why and, more importantly, what can be done about it.
Our aim was to uncover the main pains and practices real PR professionals experience when it comes to contact management. By identifying the biggest problems, outlining a general workflow and getting an overview of what role technology plays in modern PR, this research aims to make your comms less painful and more effective.
We hope the following results help you do just that.
The survey for this report was carried out in March–April 2020. For it, we surveyed 412 PR professionals both in-house and agency, teams and consultants. Altogether, this research draws upon a combined 3,611 years of PR experience.
The number of contacts respondents had in their media lists ranged from 4 to 100,000, with the average coming in at 3,025 contacts and the grand total coming to 1,227,999 media contacts, representing 32,154 media–PR relationships.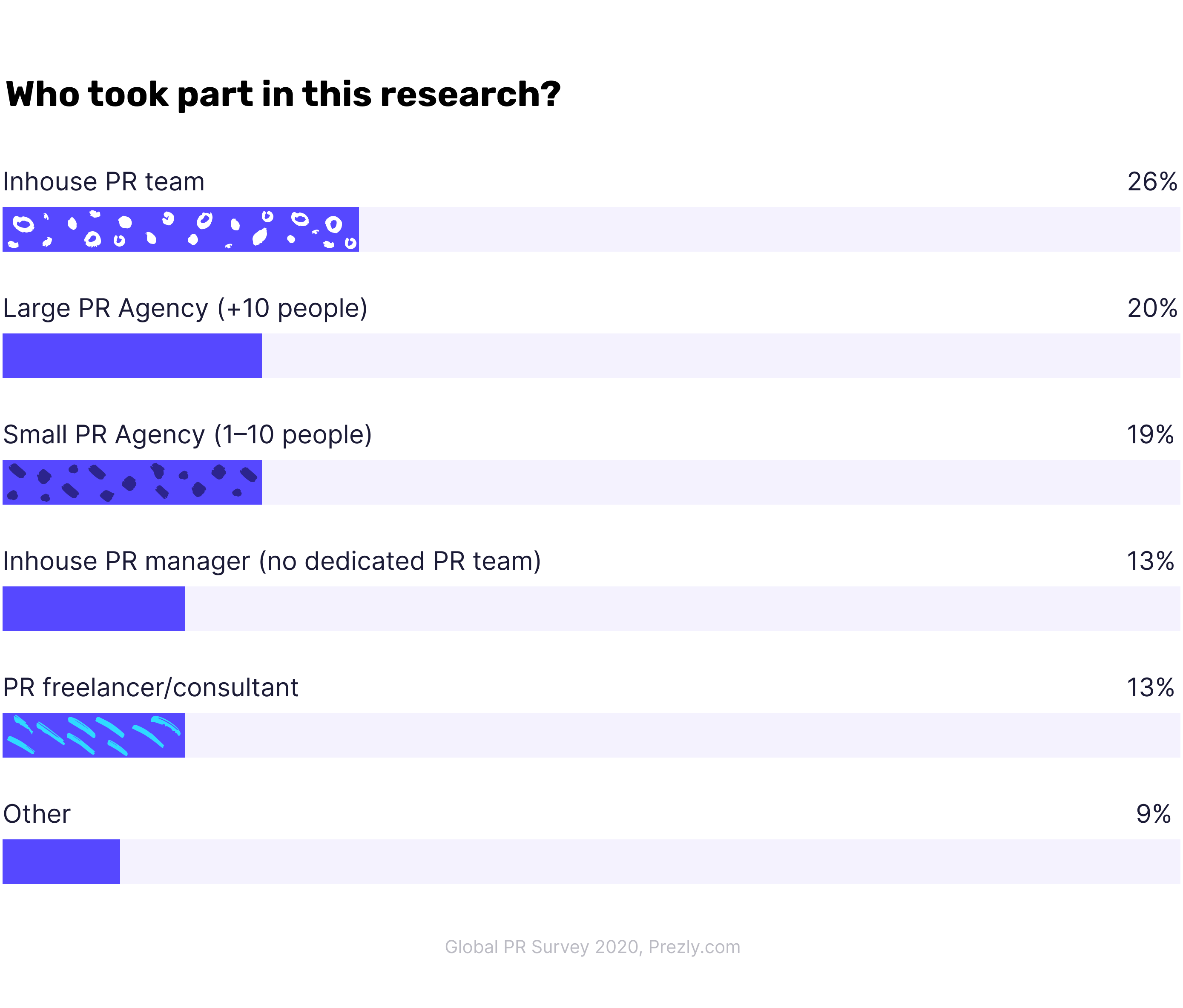 We look at the bounce rate and trim our media distribution list once in a while. Sometimes, emails remain active and still get your releases, so we look to see who is more regular at opening what we distribute.
How often do you update your lists?
Journalists move around a lot, particularly in tech sectors such as gaming.
The need to update as you go is paramount if you don't want your media list going stale overnight. PRs as a whole understand this balance well, with 51% of respondents saying they update as they go – often on a near daily basis, prompted by out-of-offices and bounced campaigns.
A further 19% update once a month or more, so, relatively frequently. And we can all relate to the "every 2–3 months" crowd who, coming in at a modest 13%, must be very similar to the monthly group only slightly less organized. Though one does wonder about the 5% yearly updaters, who it must be assumed append their contact lists on the basis of who does or does not send them a Christmas card that year.
Of our respondents, 71% say they split the responsibility of updating the database across the team, with no one person in charge, while 6% saying the task falls specifically to interns. It sounds like a fair deal since it's not a job people like doing, but in practice, this can mean that databases go for long stretches without an update.
"Currently it is no-one's job because it is such a massive task. We actually hired a temp for one month solely to go through our contacts and update them/sort out any issues," said one respondent, while another adds: "It is supposed to be the job of the whole PR department but at the moment it mostly falls on the PR Intern."
But with most PRs so on the ball, why is "keeping the database current" such a burning issue? It could have something to do with the tools they're using – or not using – to keep those media lists fresh.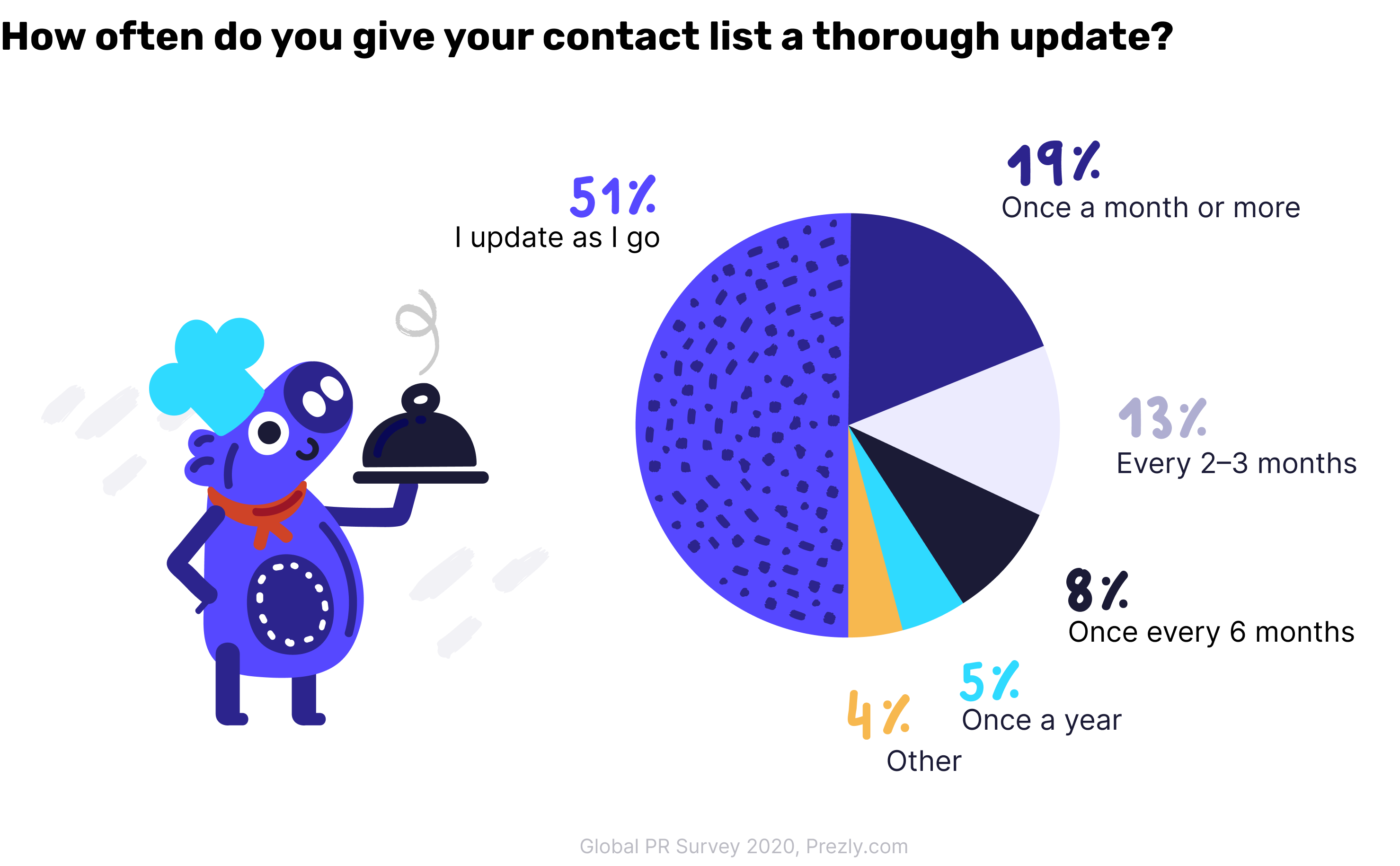 We send out at least two mass mailers throughout the year for season's greetings and cross check the email list against the bounce backs and out-of-office replies.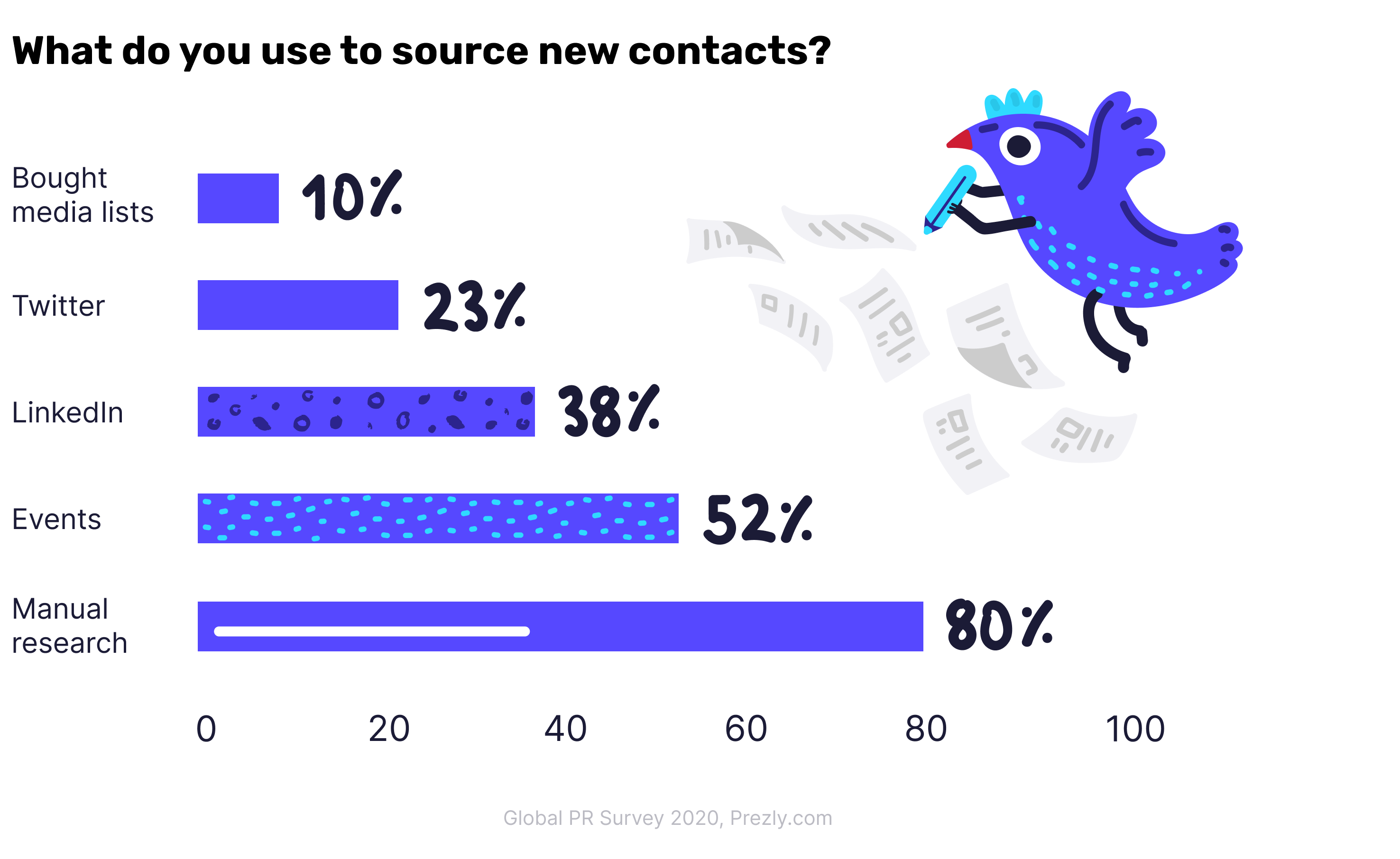 "I'm not surprised to see 'manual' as the top choice, especially right now," says Sarah Evans, Founder & CEO of Sevans Strategy. "There's a personal side to all of this research – you get to 'know' someone a bit better not only by discovering their email address, but by seeing how they interact on social media, what their interests are and personalising your interaction. A bulk media list doesn't get you that, although it may be a starting point. The real work starts with getting to know one person at a time."
And the antisocial trend doesn't buck with sourcing contacts; it holds true when it comes to keeping your contacts up to date.
The lack of correlation in the figures below suggests that even when PRs receive an out-of-office reply to their email stating that their contact has moved on and prompting them to update that contact's details (60%), at most around 1/2 will proceed to LinkedIn to check where that contact has moved to (34%).
PDF Download
Download a handy PDF of all the charts for this report and be the first to read our upcoming guide on how to make your contact management pain-free based on this research.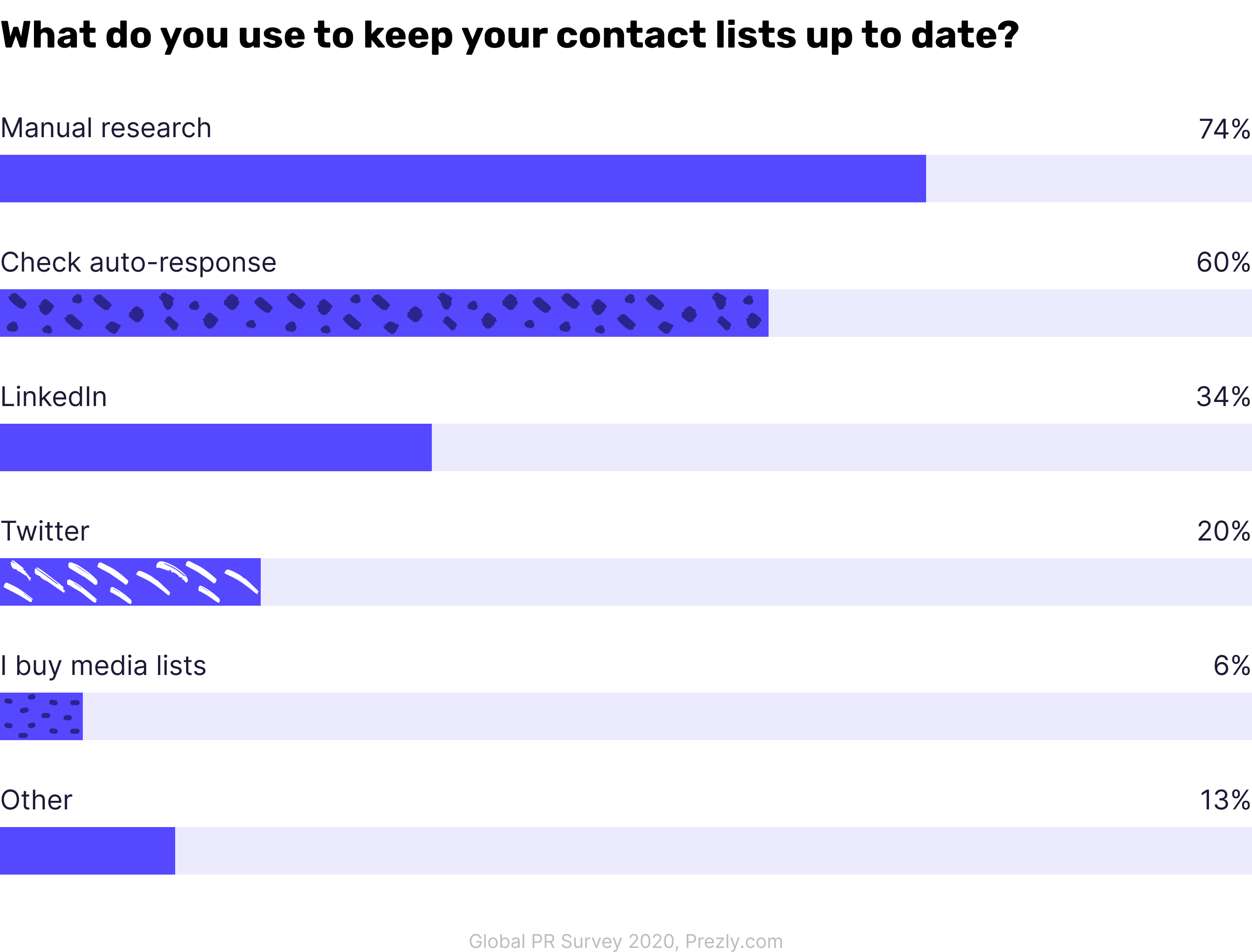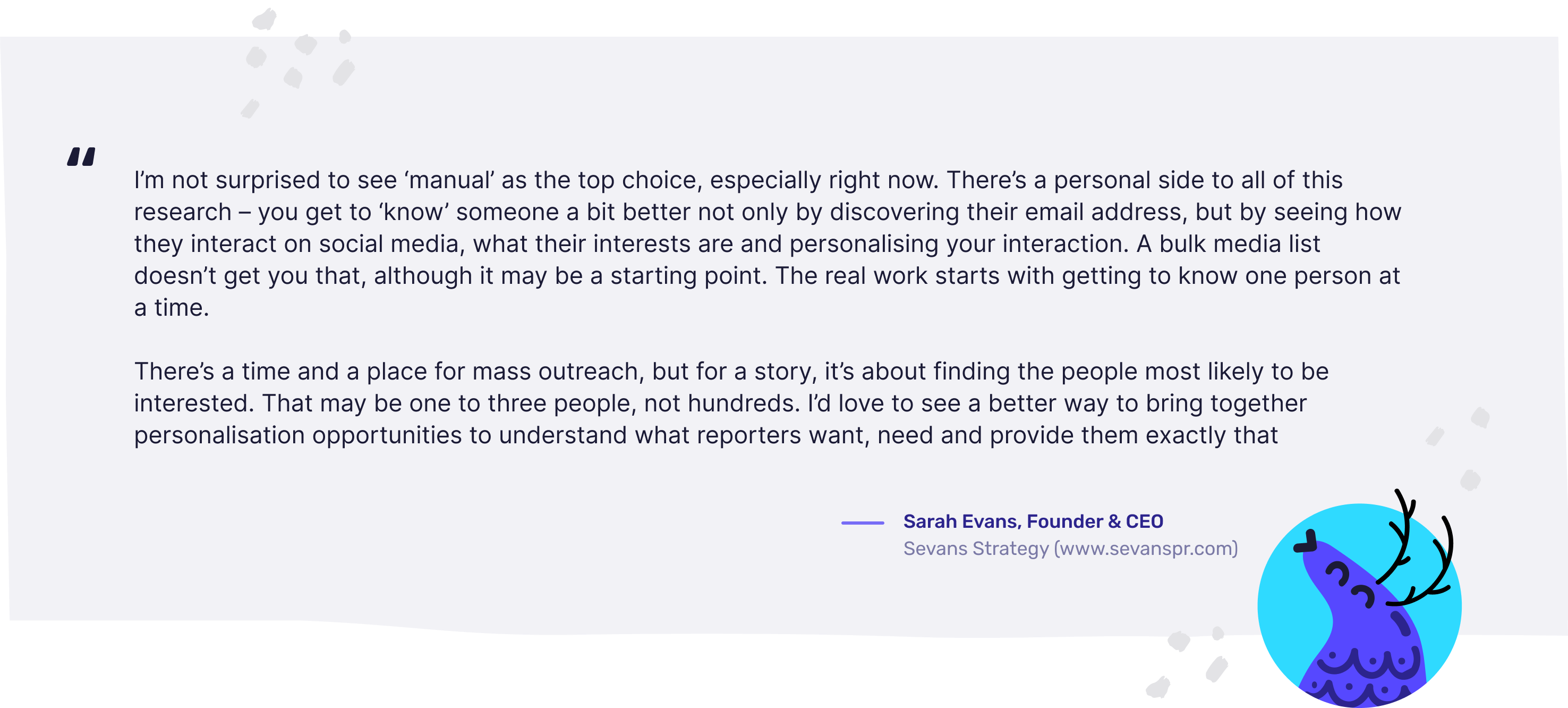 Your #1 pain point: Keeping the database current
We know circumstantially, from speaking with dozens of PR teams daily, that contact management as a whole is a massive pain – but which part of it exactly is the most tedious, unreliable and time-consuming?
To find out, we asked respondents to tell us which option from a list they found the most painful.
The results suggest that the worst part of contact management isn't in the relationship-building, it's in the organization: 2 out of 3 respondents said that "keeping the database current" was the most painful contact management task; of these, 45% said it's the most frustrating part of their entire job, and a further 23% said it's definitely in the top 3. 
The remarkable thing? Our data suggests that this pain can be alleviated, if not entirely prevented, simply by switching your contact management to a different tool.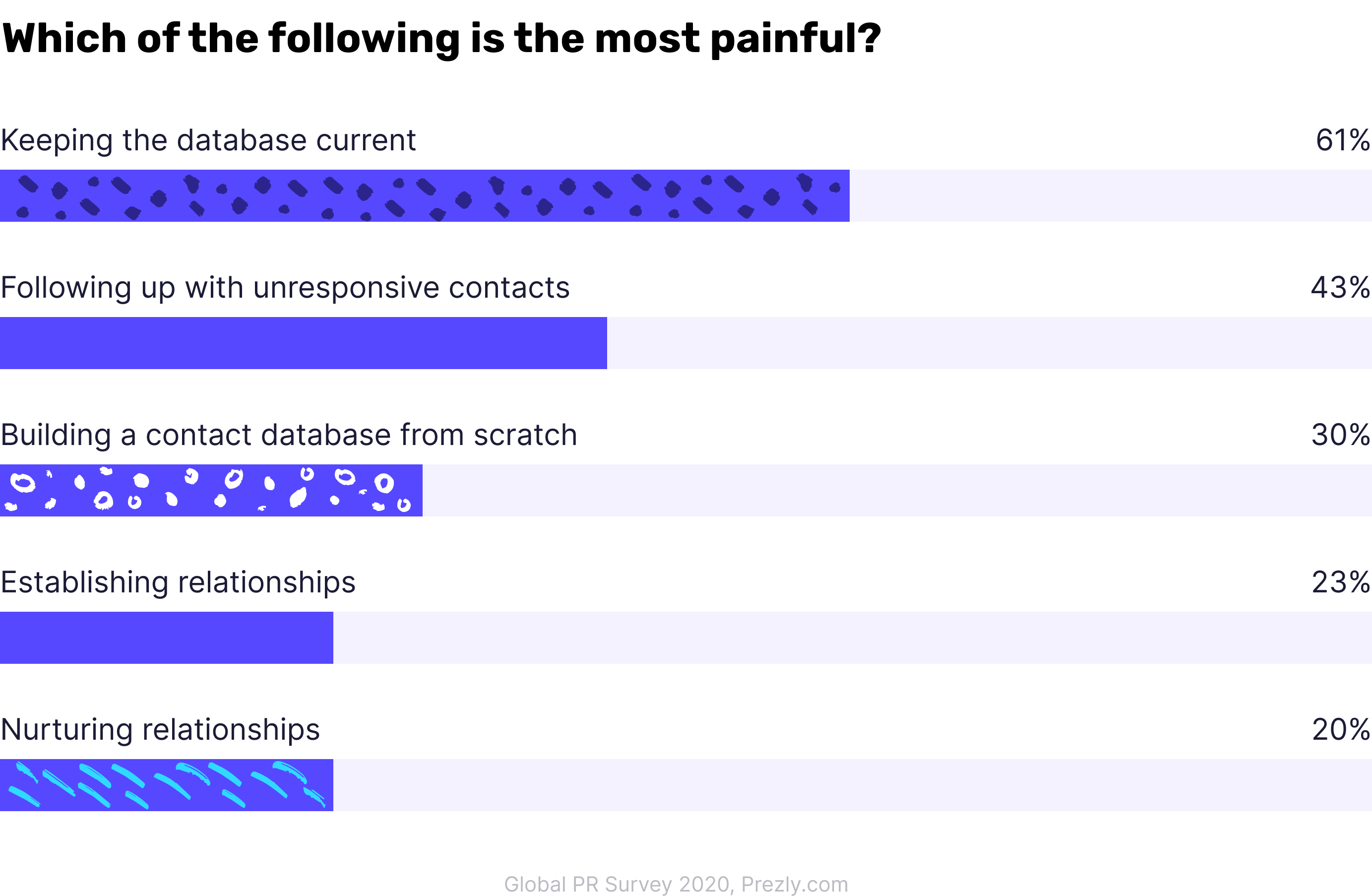 I only buy a list when I can't source other ways; it's my last resort.
People are moving so fast that most lists are outdated the day I buy them. There's never been an effective way to buy lists.
Most PRs store contacts in the wrong format
Technology that is purpose-built for flagging out-of-date contacts, tracking bounced emails and enriching contact information already exists. So why do 2 out of 3 PR people have such a hard time keeping their contact lists current?
The answer is simple: the majority of PRs are storing their contacts in an outdated or entirely inappropriate format.
The majority (59%) of our respondents use spreadsheets, such as Google Sheets and Excel, to store and manage their contacts. This practice is so commonplace as to be almost an industry standard – but the problem is, they don't work.
These programs are built for data analysis, programming and mathematics – not for storing or tracking lists of names, notes and contact details. With their complete lack of integration with even the simplest modern-day tools, such as email, it's easy to see why a PR professional using spreadsheets spends an average of 5.4 hours each week on keeping their contact lists current.
Let's take a closer look.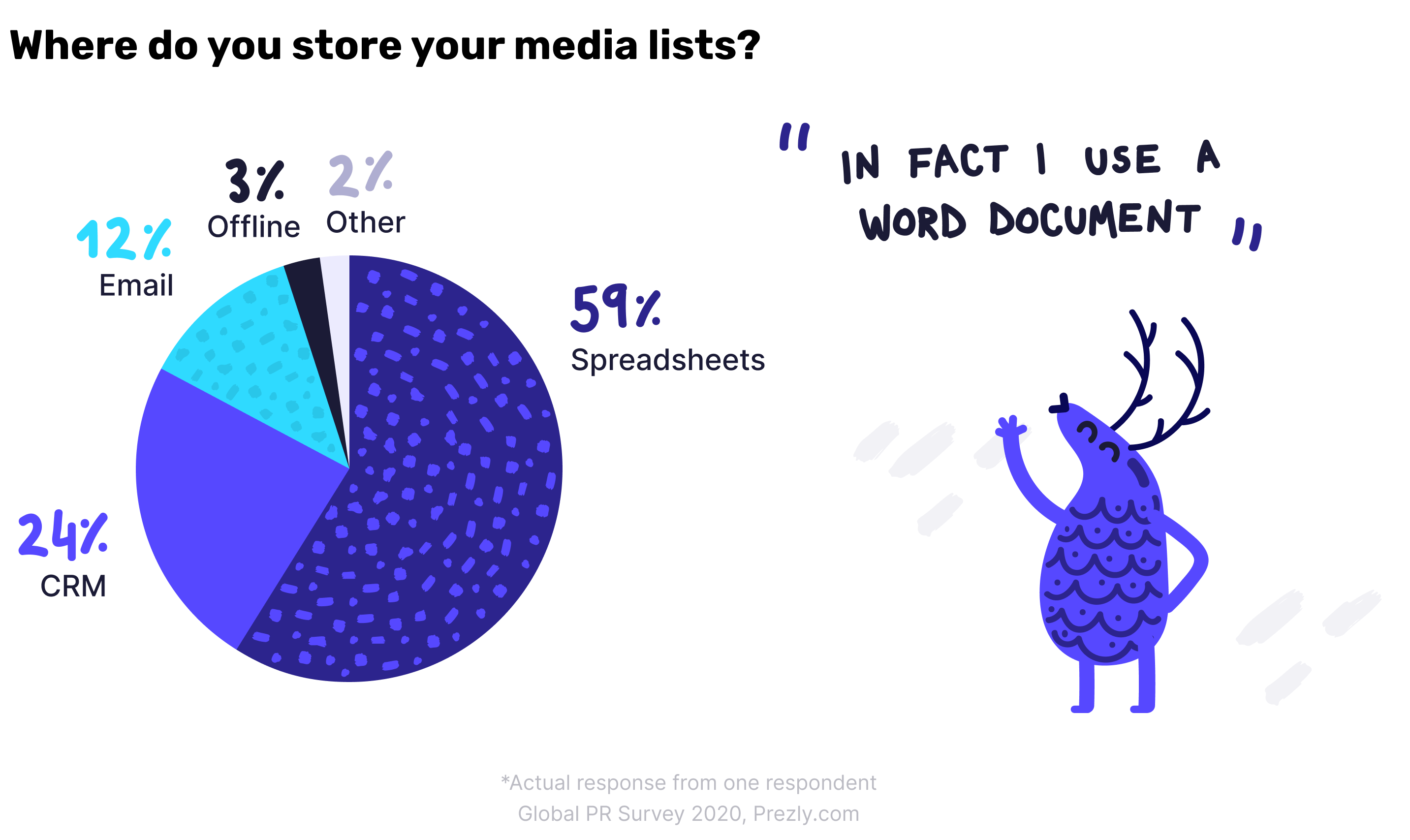 Have a single place you store contacts. Otherwise, it's a nightmare to maintain different lists with the same contacts.
How many hours could you save?
Of the people who highlighted "keeping the database current" as their biggest pain point, almost 2 out of 3 spend 5.4 hours each week using spreadsheets to keep their contact lists up to date. Of the same group, those using their email address book to keep their contact lists up to date spend an average of 4.6 hours on this activity each week. Those using their pen and paper lose the most time, spending a mammoth 15.8 hours every week on keeping their contact lists current – that's two entire working days.
In stark contrast, PR people that use a PR CRM ("customer relationship management" tool) spend just 3.4 hours each week on keeping their contact lists current.
Switching to a CRM for your contact management could save you on average 2 hours each week if you're currently using a spreadsheet in Excel or Google Sheets for your contact management.
Those using email can save 1.2 hours weekly and people still using offline methods, such as paper address books and rolodexes, can save a whopping 12.4 hours each week – more than an entire working day!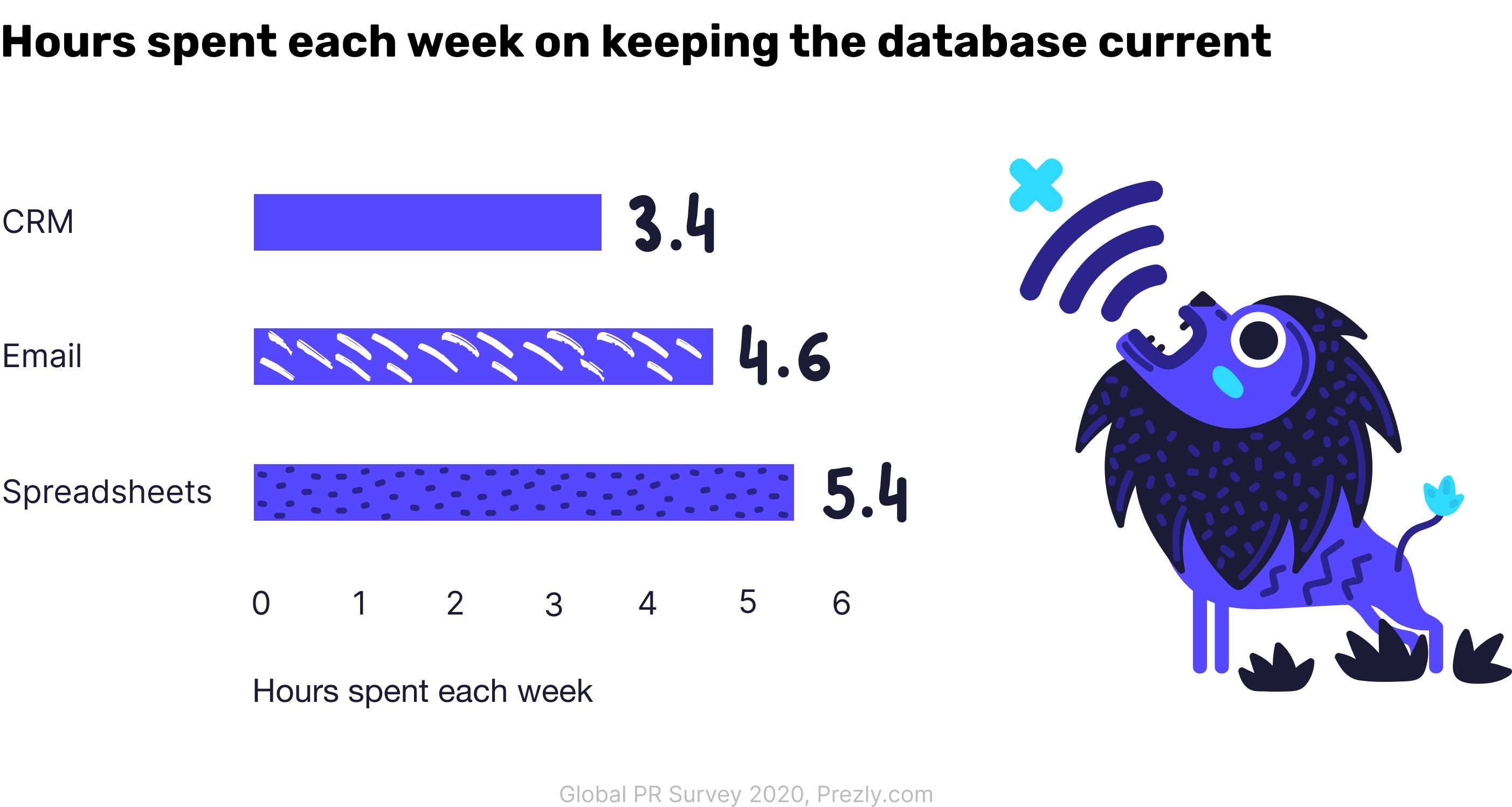 A high level of self-criticism among PRs
On average, respondents told us they have a "good relationship" with 14% of their contacts – not a bad proportion, considering many of those surveyed have media lists in the thousands. However, we also asked respondents how many "good relationships" they thought PR professionals have on average, and the answers show a startling pessimism.
Only 39% feel that they are achieving a decent number of close contacts; in other words, 61% of respondents think they're doing a worse job than their peers in building relationships.
"In today's world, even before the global pandemic, it's not surprising communicators feel they don't have great relationships with journalists," says Gini Dietrich, Founder & Author at Spin Sucks. "It can feel like we've been set up for failure. The good news is, with a little elbow grease, some time and some patience, we can get to a point that our media relationships are our secret sauce. There won't be thousands or hundreds of them, but you can build relationships with those that matter most to your organization."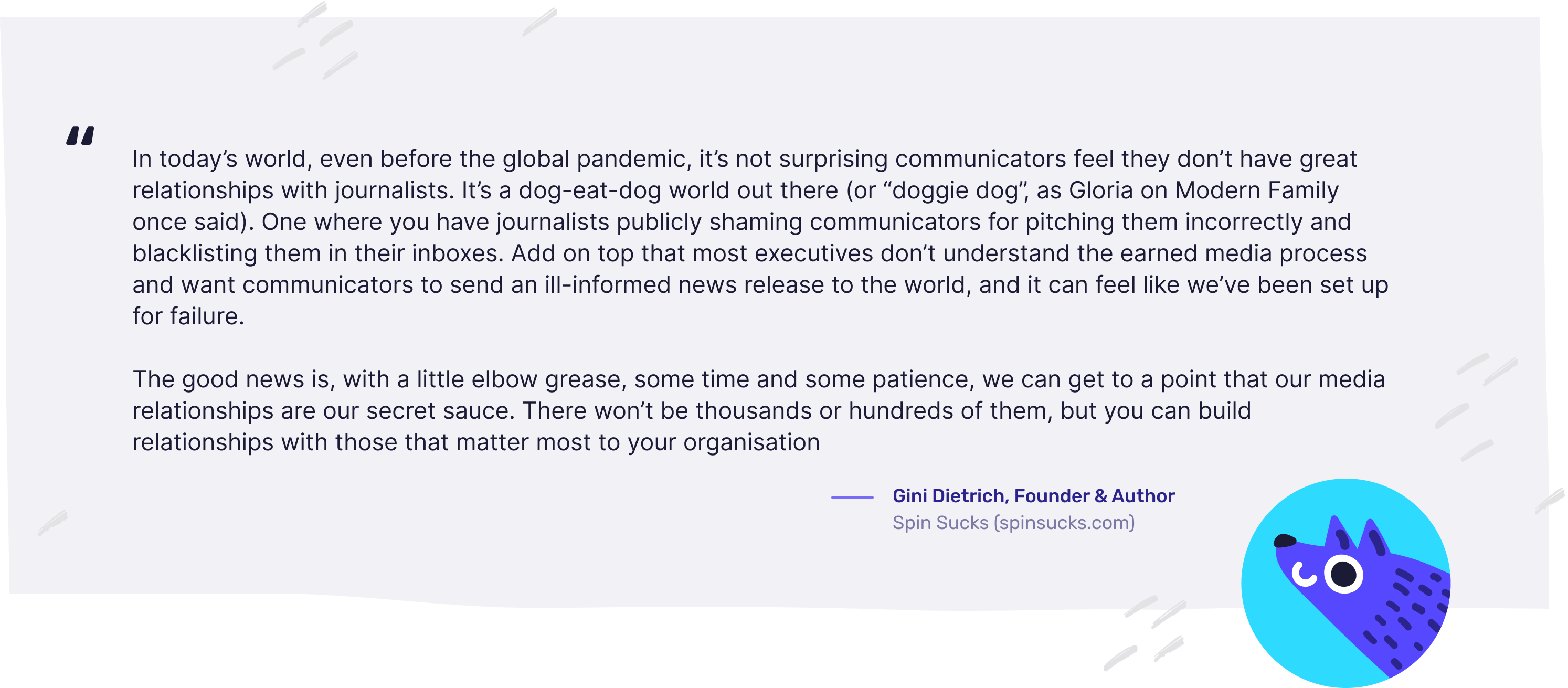 Defining what a good media–PR relationship looks like
One of the problems you run into when talking about whether or not someone has a "good relationship" with a contact is the simple fact that a "good relationship" can look different from person to person. At the same time, we wanted to find out what a good relationship looks like to most PRs – after all, there must be some common factors at play. So we asked them.
By and large, there seems to be a clear winner: 48% of respondents say that a media relationship has entered the friendzone when "they reach out to you for stories and updates", while coming in at a close second, 30% think it's when "they reply to your campaigns whether they're interested in the story or not". Surprisingly, only 6% saw staying in touch after moving jobs to be a sign of a good relationship.
While it wasn't part of this research, it would certainly be interesting to see what a good media–PR relationship looks like from the point of view of a journalist...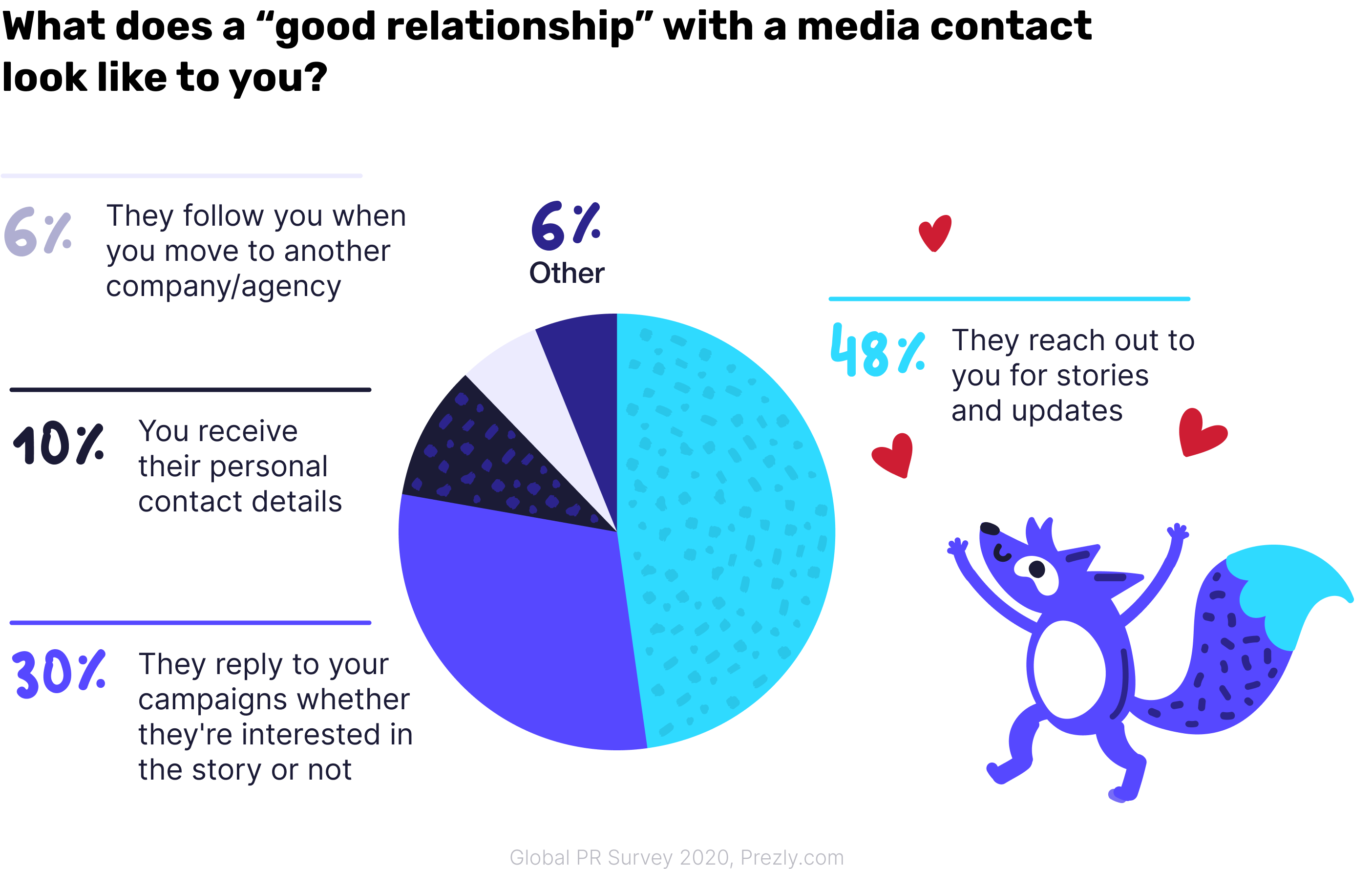 Conclusion: The 3 things that shocked us most
1. That Excel is such a time drain: We've never kept it a secret that we think spreadsheets are a torturous way to do most things, but the extent to which they eat into people's time is very worrying. (The finding that at least one person uses a Word document to manage contacts also had our jaws dropping to the floor.) Why do people cling on to old habits when purpose-built technology is being improved every day?
2. That comms folk are so hard on themselves: A bit of self-criticism is healthy, but 61% of PRs thinking they're doing below average is very sad. Could this be down to the social strains of performing a job the results of which are so hard to measure? Or maybe sending out pitches and getting little to no response takes its toll? Whatever the causes, it's all the more reason to be a bit kinder to ourselves as well as others.
3. That social media is still so underused: It's been 14 years since Twitter arrived on the scene, 18 since LinkedIn. Why are we all still so bad at using them? After all, most people are more likely to fire off a rapid tweet or update our work details on social than they are to update a website.
What finding most surprised you? Tweet us your views.
Meet new people for a coffee in the early stages of connection. It lets you see if you have natural chemistry or things in common, which lays the foundation for new relationships and saves you both wasting time on people you don't naturally click with.
Stay in touch
With the help of experts from around the globe, we plan to use this research to create guides and content to help you tackle your biggest frustrations, together. To be part of that journey, tell us how we can keep in touch; we'll even throw in a nice PDF of the survey results :)