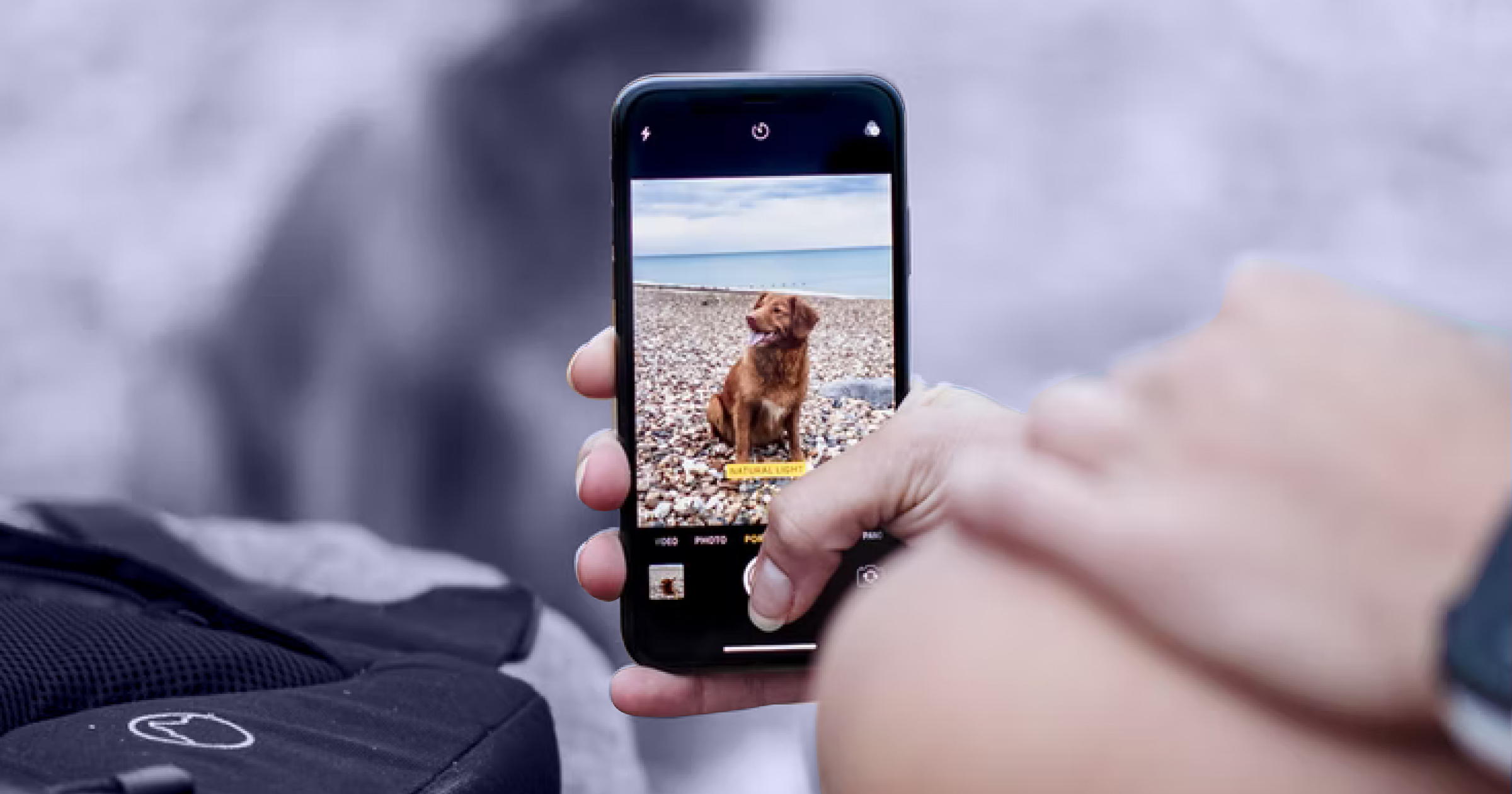 Content Creation
Adding images & video to your press release: Does it help? (Case Study)
Tips on what media to include in your visual press release to help journalists and influencers tell your story
One of the most common questions we hear from PR professionals is, "How can I make my press releases more visual?" Most PR pros understand that visual content is important, but for an industry that still relies heavily on pitch emails and text-based press releases, making the switch to visual PR can be daunting.
Well, PR pros, you're in luck. This post is your ultimate guide to creating multimedia press releases. We've got a lot of ground to cover, but we promise it will be worth it. Here's a quick overview of what's in store:
Types of visual content – There are four main types of visual content you can use in your PR programs. We'll cover them all, complete with plenty of real-world examples.
Best practices for each content type – Most of these are just common sense, but don't skip over this section. We've thrown in a few helpful hints that might not have occurred to you.
Helpful DIY tools – For those of you who want to go the DIY route, we've put together a fantastic list of online tools to help you do so. Bonus: they're all easy to use, free or inexpensive, and incredibly powerful.
Outsourcing tips – If you intend to outsource content development, check out our list of vendors and guidelines to make sure you get the most for your money.
There are many reasons to include visual content in your multimedia press releases, but the biggest by far is that visual content gets shared more. A lot more. Facebook posts with images get 53% more likes and 104% more comments than those without. Tweets with pictures are nearly twice as likely to be retweeted. And content with compelling images gets 94% more views than content without.
So yes, social media is a big part of this trend – you might want to take a look at our article on how to write a social media press release if you want influencers to become a big part of your distribution.
If that's not enough to convince you that visual content matters, chew on this: A study by PR Newswire found that press releases with photos garnered nearly twice as many views as text alone. The more multimedia you add, the more that percentage skyrockets.
Press releases with text, photo, video and downloadable files received up to x9.7 times the views as plain-text releases.
If these stats came as a surprise, content editors are one step ahead of you. They already know that visual content converts. They're urging journalists to include more visuals in their articles, and the more you can give journalists what they need to be successful, the more coverage you'll get for your clients.
Now that you're fully convinced of the importance of visual content (you are, right?), let's cover some key types of visual content and best practices for leveraging each type.
Some are so simple, you can start adding them to your press releases right away, while others require more time and resources to develop. Either way, it's definitely worth the extra effort.
Images are the workhorses of visual PR. Easy to use, cheap to obtain, and proven to increase views, adding images to your press releases will drive better results across the board.
💡 Pro tip: Images are especially handy when you share your press release on social media – they'll automatically generate an image preview, which, as you saw from the stats above, increases the likelihood of engagement.
According to PR Newswire, press releases with photos garner nearly twice as many views as text alone.
Below, the communications team at Brussels Airlines includes images to make their press release more interesting and engaging:

Example: Press contacts front and center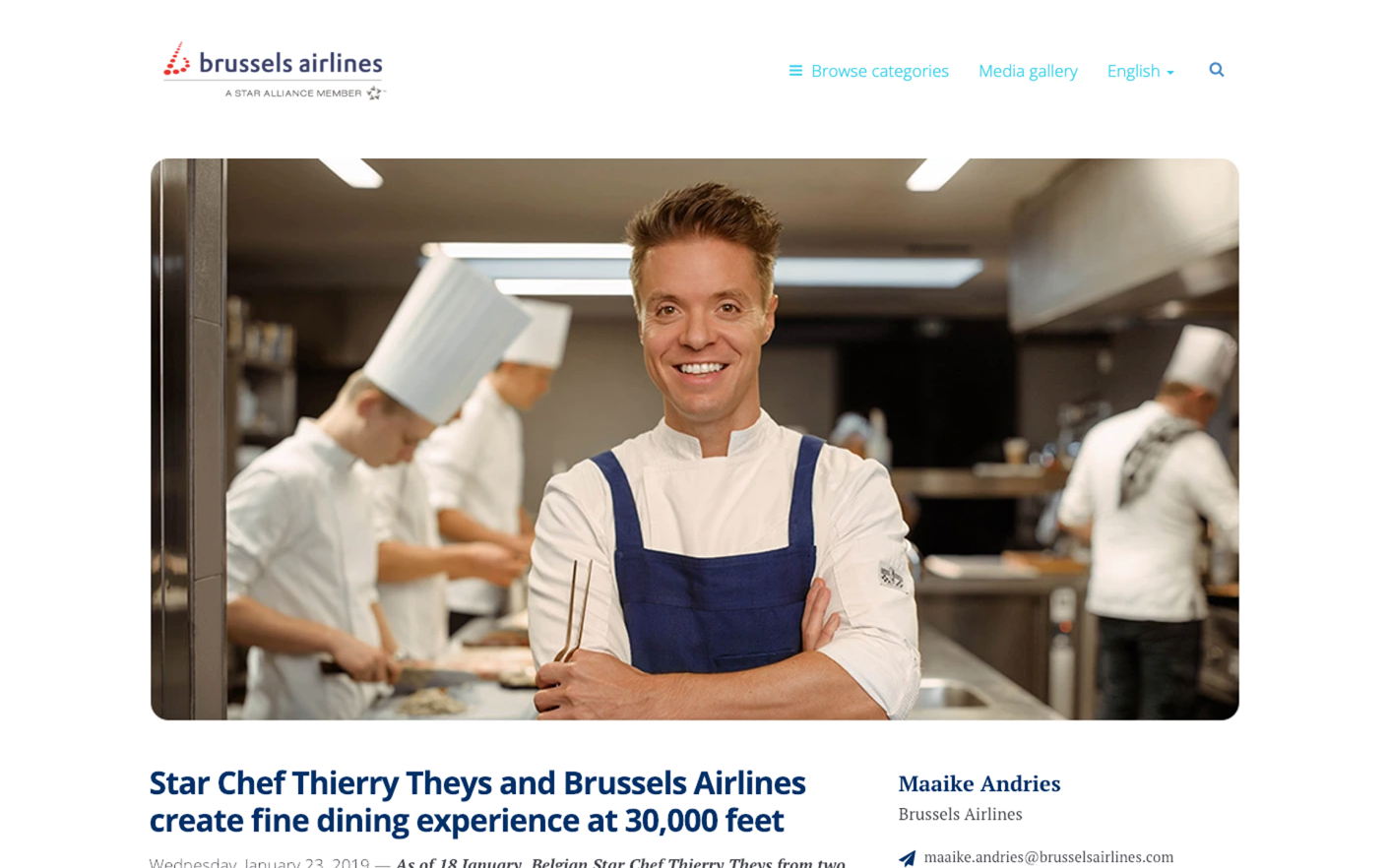 Brussels Airlines uses Prezly to share their stories. Here's a case study with the media relations manager.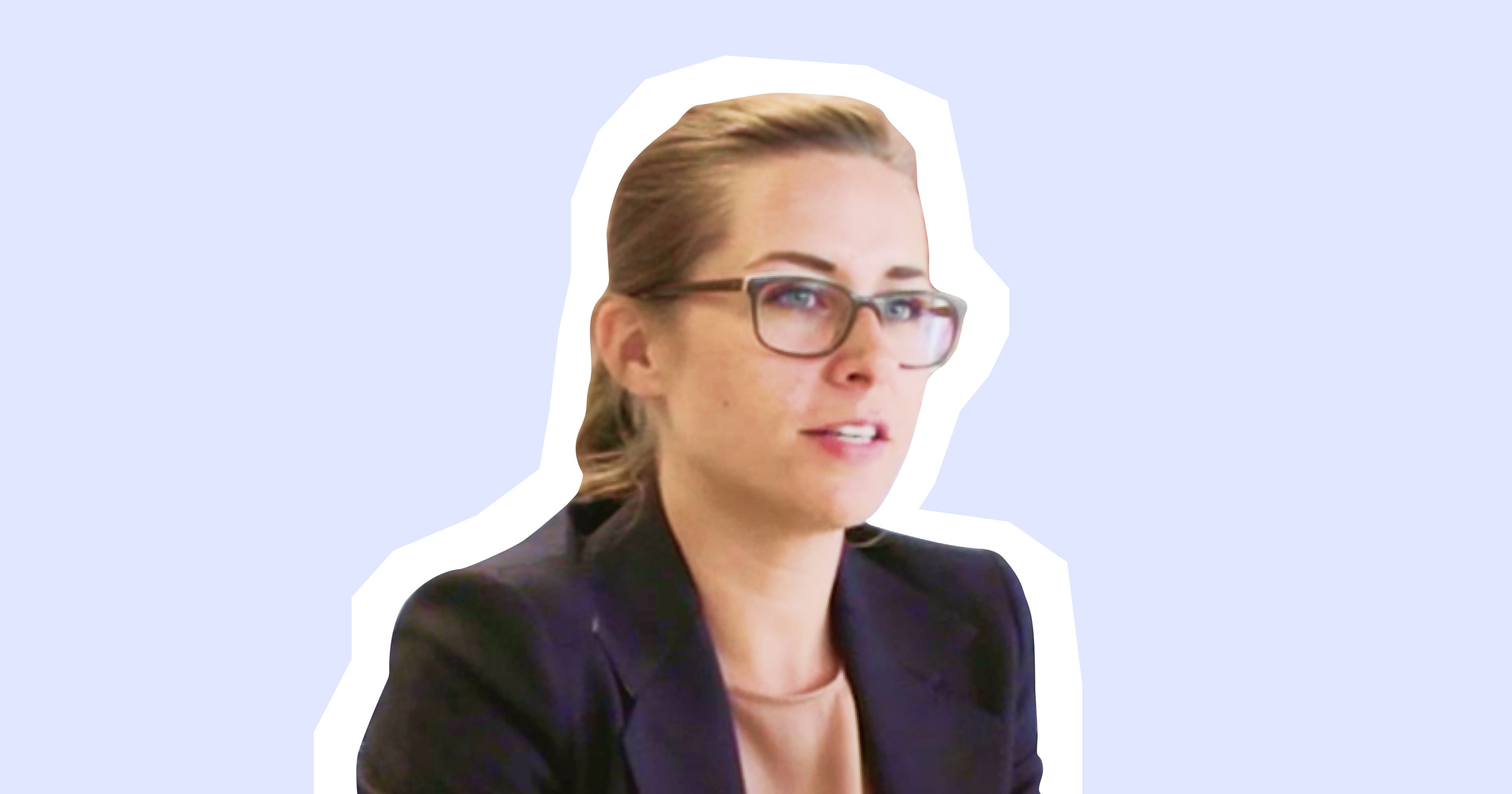 CASE STUDY
How Brussels Airlines get their story told to employees, press, and bloggers
Multimedia storytelling
If pictures speak louder than words, videos SHOUT. Here's how a few of our clients use multimedia to make readers sit up and listen.
More examples
Images work best when they are eye-catching, high quality, and relevant. Steer clear of generic stock photos. Instead, choose images that clearly relate to your story, as in the above examples.
For visual press releases, it's best to use high quality, high-resolution photos. For pitch emails, include an image preview that downloads quickly (shameless plug: publishing your press releases through Prezly lets you customize how your press release looks on social media).
Make sure it's easy for journalists to download your images by using a social media press release, not a link to a WeTransfer or worse, a password-protected image library. Trust me – or better yet, trust these journalists:
Watch the full interview at PR Roundtable: How Writers Want To Be Pitched ->
And while you're at it, consider adding a press release image to any story you publish in your online newsroom. That way, embeds and links shared on social pointing to your press release will display an eye-catching, relevant picture. Not too shabby, eh?
If you'd like to dive deeper into this topic, check out this great collection of tips from Meltwater on optimizing your visuals to get more engagement.
From a 15-second shot on Instagram to professionally shot commercials, there's a reason viral marketers love video – it's arguably the world's most effective storytelling medium, eliciting powerful emotions and memorable narratives in just a few seconds.
Videos add a human, relatable component to your multimedia-rich press releases that's difficult to capture with text alone. They're also great for explaining ideas that would be complicated to write out, such as how that new NFT-trading SaaS platform works, or how to fill out a tax return.
For example, check out how Lenovo uses video in this press announcement (of course, having Ashton featured in the videos doesn't hurt):
Example: Lenovo names Ashton Kutcher as its newest product engineer
Don't be daunted by the time and expense of creating professional videos. An off-the-cuff Instagram video filmed with your smartphone can be just as powerful.
However you choose to create your videos, remember to keep them short (a few minutes, tops!) and simple. Overcomplicate the story, and you risk losing your audience.
💡 Pro tip: Don't host massive video files on your server; upload them to a hosting service like YouTube or Wistia instead. There are several benefits to doing this: it helps your video press release load faster, automatically generates previews when sharing on social media, works across all devices, and perhaps best of all, gives your content an SEO boost. And if you're using YouTube, you can set it up to suggest related brand videos at the end of this one – bonus :)
Ready to get more creative with video? Have a look at these 25 brands that are winning on Instagram for inspiration.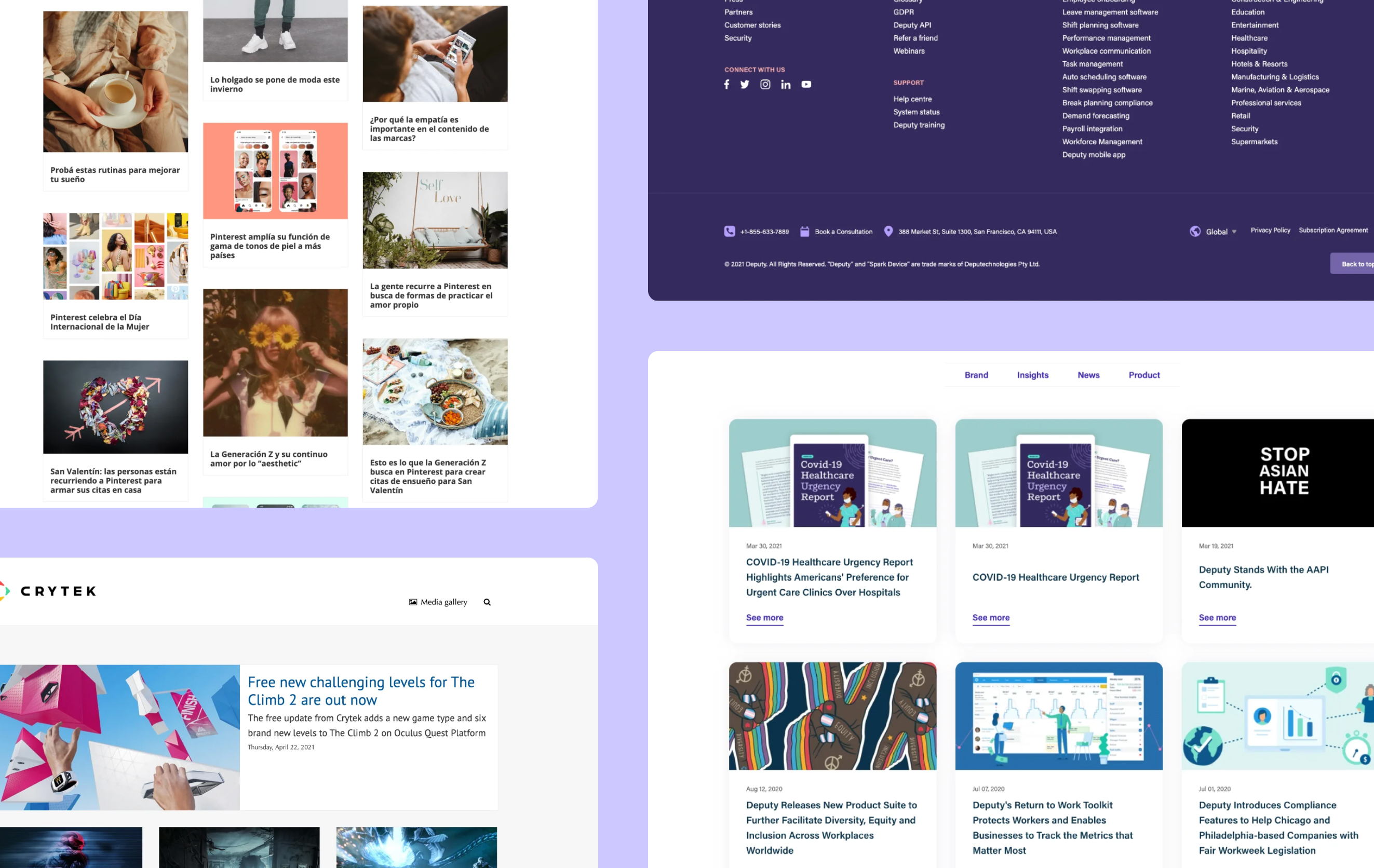 10 stunning online newsroom examples you simply must see
What makes a great online newsroom? We look at some of the best examples to analyse what they have in common
When you have a data-driven story to tell, infographics are a natural choice. Visually appealing, easy to read, and chock full of viral potential, the best infographics literally paint a picture with your data, making it easy to understand and simple for readers to follow along.
Simplicity, clarity, and good data are the keys to a successful infographic. Start with the question, "What impression do I want the reader to take away from this data?"
Design your infographic around the answer.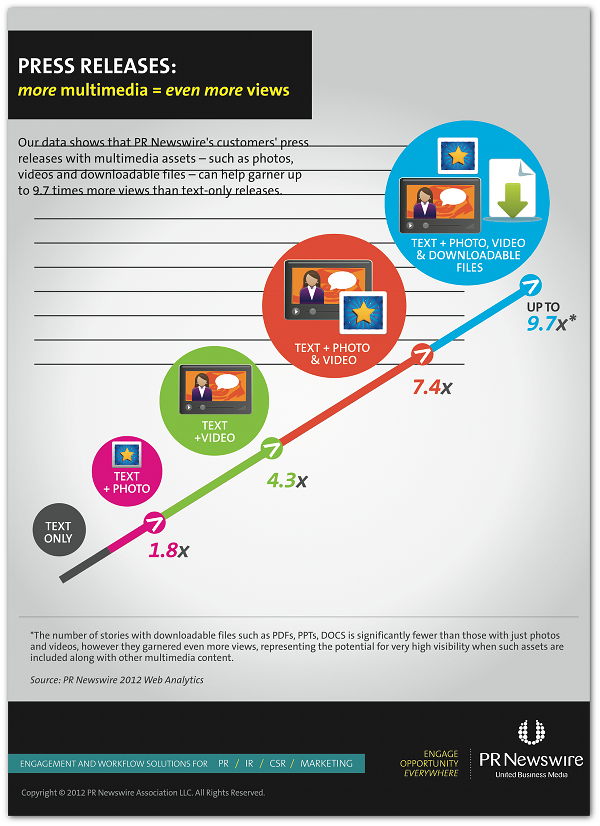 Use your data to tell a clear narrative, and don't deviate from it. Use only as many visuals as you need. A simple, easy-to-understand story is always better than an overcrowded collection of statistics, no matter how good it looks. If you'd like to try your hand at an infographic press release, here are three gorgeous examples to inspire you.
💡 Pro tip: Get more traction by sharing your infographics on Pinterest, the ultimate visual social media platform. ​
No longer a repository for dusty decks of old webinars and keynotes, SlideShare is the most trafficked presentation-sharing site in the world. At three-billion slide views per month, it's also an incredibly powerful PR and content marketing channel. Hit the front page, and your content is almost certain to go viral, generating tens of thousands of free views for your brand.
Check out this recent SlideShare from Prezly to get inspired. We're proud to have been the featured presentation of the day!
A great headline and a compelling cover are the two single best things you can do to improve your chances of succeeding on SlideShare. There's definitely an art to creating great SlideShares, so rather than reinvent the wheel, we'll direct you to these 10 tips for landing on the front page.
💡 Pro tip: You can embed links directly into your presentation, making SlideShare a powerful channel for both content marketing and lead generation.
Ok, you get it. Visual content can offer a huge boost to your PR success. Now how are you supposed to find the time and the budget to create all this content?
There are basically two ways to get more visual content for your press releases – do it yourself or outsource it to someone else. Whichever camp you find yourself in, here are a few tips to get started.
Creating your own visual content isn't as hard as it sounds, and it's usually cheaper than paying someone else to create it for you. Of course, there is still time involved as well as a learning curve if you want to do it well; the decision of whether you trade time or money to make it happen is down to you.
Saying that, you can likely start creating multimedia press release content with the tools you already have to hand.
If you carry a smartphone, you already have everything you need to create gorgeous photos and videos. Make it a habit to snap pictures and film footage throughout your workday, and you can create a solid backlog of visuals with only a little bit of effort.
💡 Pro tip: Ask around your team to see if there are any budding photographers or TikTok enthusiasts. If your colleague snaps a photo of their lunch on the daily to post on their Instagram, there's no reason you shouldn't put their skills to use.
When you're pressed for time or have limited resources for content creation, it often makes sense to let someone else do the heavy lifting. Outsourcing content creation doesn't have to be expensive, though it certainly can be.
In addition to the standard agency route, here are a few options to satisfy all budgets and timeframes.
The bottom line – if you aren't adding visual content to your press releases, you're missing a huge opportunity. Editors want it. Journalists need it. The data proves that it works. And with myriad ways to create it yourself or outsource it cheaply, you have absolutely no reason not to take the plunge.
Use the resources above to get started, or take a look at how Nicole Yeardley from Wallsauce uses multimedia to market this interior design brand.
Updated July 2023