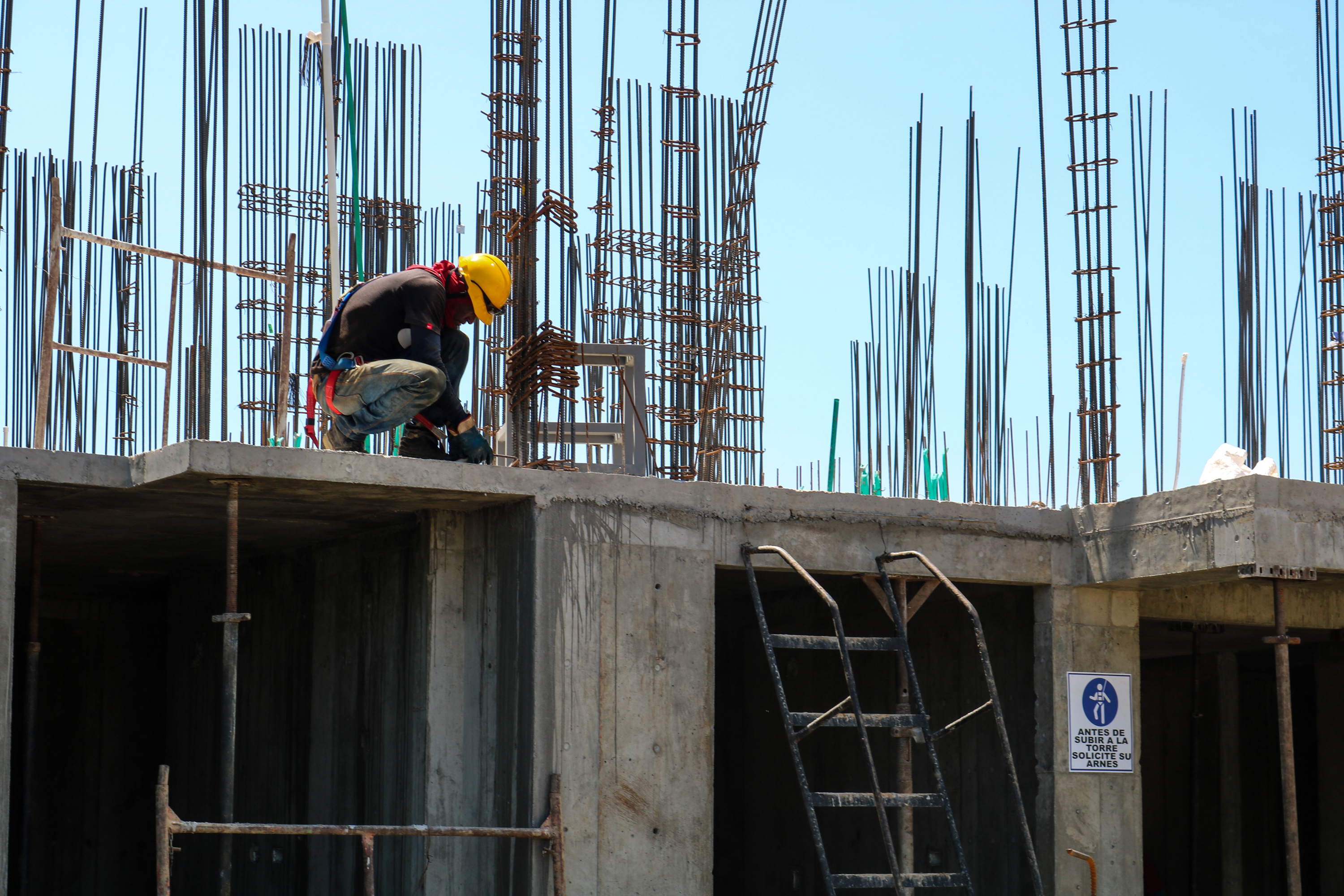 Basics
8 Key Public Relations Skills Needed in 2023
Times are changing! Here are some of the skills you'll need to succeed.
As technology improves, content changes and marketing encroaches on PR, you need to focus on upskilling.
Boosting your skills will help you avoid losing out to competitors or getting stuck in a rut when it feels as if the PR industry is starting to shift its practices under your feet.
We want to start this article with a look at 3 core skills that are going to be vital for any PR professional to focus on. You can also check out our How to create a successful PR strategy for 2021 article for ideas (and some stellar tips from Laura Sutherland and Gini Dietrich).
Most, if not all, of these skills, can be learned or honed with online courses, books, and a bit of elbow grease.
I know, I know – they're the bad guys. But hear me out.
Marketing and PR are not the same, but they are getting more aligned and there is a lot more overlap than before. The thorn in our side is this though: Marketing has done a much better job of embracing and navigating the digital space to meet their goals than PR.
Yeah, it's a pain.
But this is where we need to start learning from them, especially when it comes to content promotion and leveraging of digital real-estate to gain attention.
Paid, earned and owned media are both principles of public relations and marketing, but most public relations professionals haven't connected the dots when it comes to executing a coordinated campaign using all three.
Imagine never having to send an email to get coverage, and instead of developing your story, boosting it on social networks, then targeting key media contacts and getting it in front of them.
It provides a whole new level of control.
This is where I see marketing has found its opportunity to cut through the noise and thus resulting in a blurring of the lines. It's time for PR professionals to take these tactics and apply their own strengths to them.
For long-term success and the ability to go up against your competitors, focus on these marketing skills:
Here are some resources to get you going with these new skills:
There are so many new channels and possibilities, but that also means there is a lot of noise to cut through. Audiovisual media and graphics are essentials to make sure your PR content sticks out from the rest on a busy feed.
Types of content to know?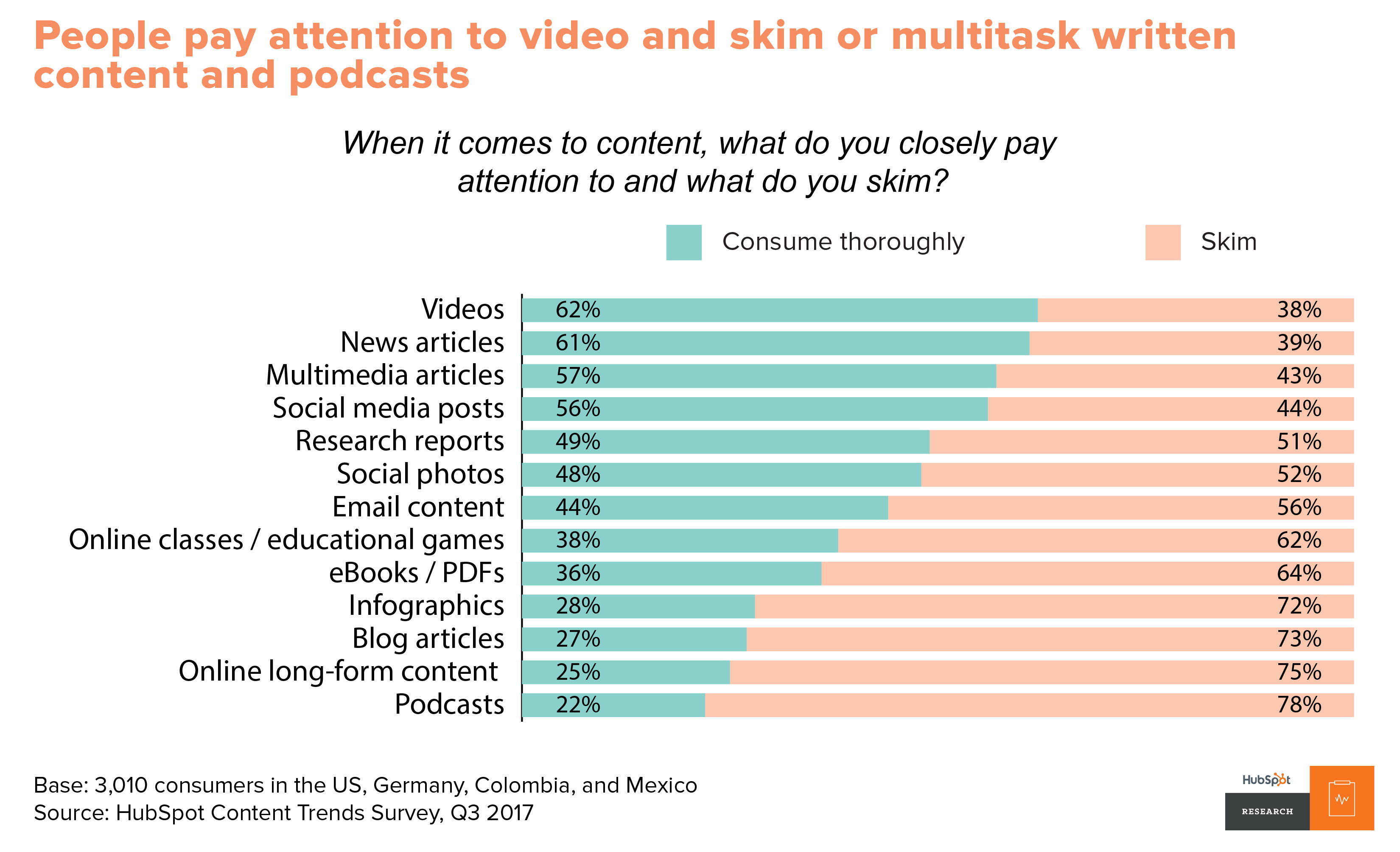 Video is the medium that is most likely (62%) to get thoroughly consumed instead of just scanned, or skipped. You'll also see high on that list sits Multimedia articles and social posts.
And what do people want to see more of?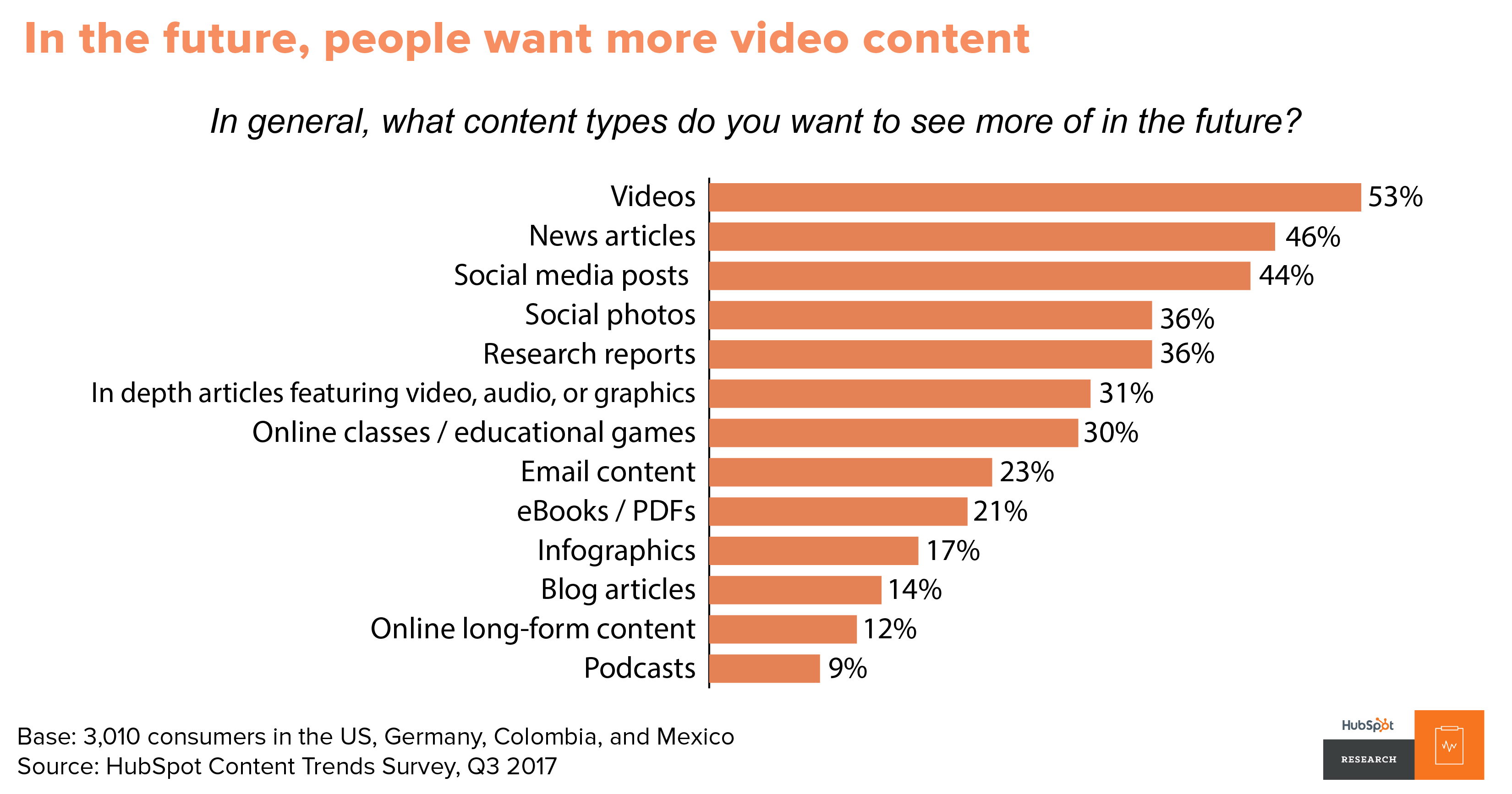 You guessed it! Video again!
It makes sense that a PR professional should work towards gaining these skills. Key messaging can be distributed through video and graphic design, helping build up the brand.
Nowadays it's difficult to post a piece of content online and hope that people click through. Video drives engagement and curiosity so it needs to be a standard part of your content creation in the future.
You'll either need to learn a thing or two, or hire a person or two.
Note: Waiting around for other people to create videos and graphics can be a real blocker for progress, and not all design is complicated enough to need a designer. You can make really cool things on the fly.
Here are some resources to get you going with these new skills:
There were 15,976,113 emails sent through Prezly in 2019. That's a lot of data.
We dug into it for any trends around the impact of including images in your email pitch, using the pitch clickthrough rate as the measure of success.
What we found is that pitches with 1–5 images got significantly more attention than those with 5+ images or no images at all.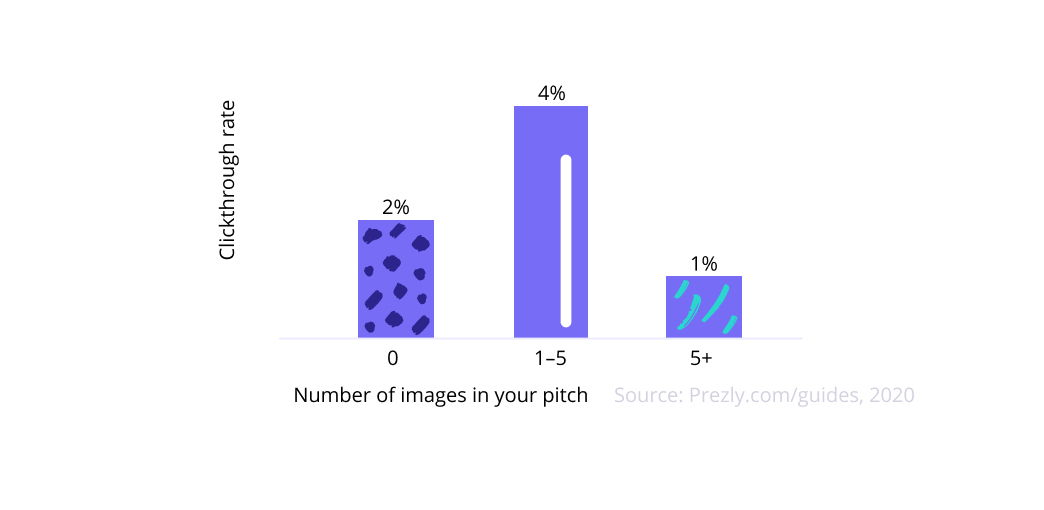 One thing you need to remember when you're making all this jaw-dropping new media is that it is heavy.
500 KB, 1 MB, 3 MB, 10 MB... it might not sound like much, but these things stack up. And as soon as you stick them in an email to a journalist you're trying to pitch, you're most likely relegating yourself to one place:
SPAM.
Fortunately, you can avoid that massive pitfall by using software specialized in handling media-heavy emails. Yup, you guessed it – Prezly is one such tool.
The way we handle this size issue is by hosting your media for you, and including a super lightweight version of it in the actual pitch or campaign you send to your contacts. This means beautiful emails full of embedded images, videos, tweets – whatever you want – at a teeny-tiny size.
This is how it works:
Take 10 seconds to activate your Prezly newsroom
Click "Create a Story" and copy in your whole press release, albums and videos and everything embedded seamlessly inline
Attach your Story to any pitch or campaign you send out
That's it :) Oh, and you can personalize your campaigns however you like.
Test it out for yourself with a completely free Prezly trial – instant access, no credit card or any funny business required.
AVE has been the PR teams go-to metric for success. But it's becoming a serious thorn in the side of the industry now as every department has the tech to report it's ROI. AVE is bloated, baseless, and increasingly useless.
If you are able to understand the metrics behind your content performance, you are able to provide insight into the actions of visitors.
You are able to know what pages are visited, how long for, test different headlines, styles, and layout. Data is only as useful as your understanding of it and ability to use it to your advantage.
Using and understanding platforms such as Google Analytics is a good place to start. For example with cohort analysis, you can start to see how well you bring people back to your site. What happened on a specific day that drove results and so on. AVE will soon become a mystic metric, relegated to the past.
These are what I call the core skills.
They are vital to your professional progress in this changing industry. Now we look at some more 'nice-to-haves' that will only help you with career progress.
Resources:
Because of the changes that the PR industry is experiencing, it's important to not only have analytical and creative skills but also soft skills.
Sharing of insights and knowledge, more integration with the sales and marketing teams and new duties are driving this need. Below is a selection of soft skills that should be developed.
With social media, it is very difficult to escape a crisis. News spreads fast and the actions you take will work as a positive or negative catalyst. Just assume you will experience one.
Composure is a need during a crisis which is why planning is so important. Planning as many scenarios as possible may feel strange but with the fast-paced world we live in, anything is possible. This is for potential PR crises that you may have to deal with.
Here is an in-depth crisis communication plan well worth checking out to make things easier. Planning doesn't mean that you only prepare for the worst. Planning means having a solid editorial calendar - for you and your media contacts.
If you can gather editorial features for the year ahead, you can plan your outreach and content strategy accordingly. You can also make lemonade out of lemons like these companies did, and knock your crisis communications out of the water. Extra coverage becomes a cherry on top.
As marketing and PR duties become entangled, teamwork becomes a necessity. Marketing has a grip on data and analytics, you have the creative angles and messaging to play on. Working together ensures no lost opportunities or mismatched campaigns.
Data-backed campaigns can and do provide a lot of media opportunities - rankings, trends, reviews.
Marketing will be able to provide this data and help with graphics/video too (remember this can become a blocker if you cannot make changes on the fly).
Side note: this is precisely why we built team permissions into Prezly, meaning that you can collaborate with those in your team as well as freelancers, consultants and clients. Check it out.
As much as data is vital to the success of any campaign, there does need to be an element of problem-solving too. Data needs a human touch to ensure it makes sense or even has any value to the readers (and thus editors who make the decision to include your content or not).
Or, a sure-hit campaign launched but nothing happened. Placid coverage if any and it felt like it was going to go well - what happened? Being creative and a problem-solver will be fundamental for future campaigns.
Learning from the not-so-successful campaigns is just as important as doubling-down on successful campaigns.
With social media being so fast and loud, reputation management needs addressing. The PR team or professional within the company will be the go-to person for this. So when the management team calls on you for a valid opinion and a strategy, you need to be able to lead.
This is skill is second nature for many communications professionals. But it doesn't hurt to improve it, especially as more people are joining the part (marketing team) in the near term.
Leadership is also about taking data and understanding where things need to go. How you will get there and when.
👉 This article on How to create a successful PR strategy for 2021 with Top Tips from Gini Dietrich and Laura Sutherland will help.
While the world changes at a rapid pace – new tech, trends, and strategies – the PR industry at times can feel a little slow.
Flexibility requires an understanding that new technology is coming to the industry. It's accepting that processes will change and adapting to them. If marketing becomes a core part of your team then you need to know the best way to get the most out of them.
It requires you to understand and use data, which hasn't been a strong point with PR. Media kits contain wishy-washy demographics, AVE is a burden and no clear ROI.
This area of the industry is ripe for improvement. But this will only happen if you are ready to be flexible and adapt to the change.
You're on a roll, so now is the time to lock in that momentum with some practical strategy creation. Figure out what you want to do and how you're going to measure your success in a way that not only justifies your work to your clients, but also helps you progress in your communications career.
This free 1-hour roundtable with our good friends and PR mentors Gini Dietrich and Laura Sutherland is the place to start :)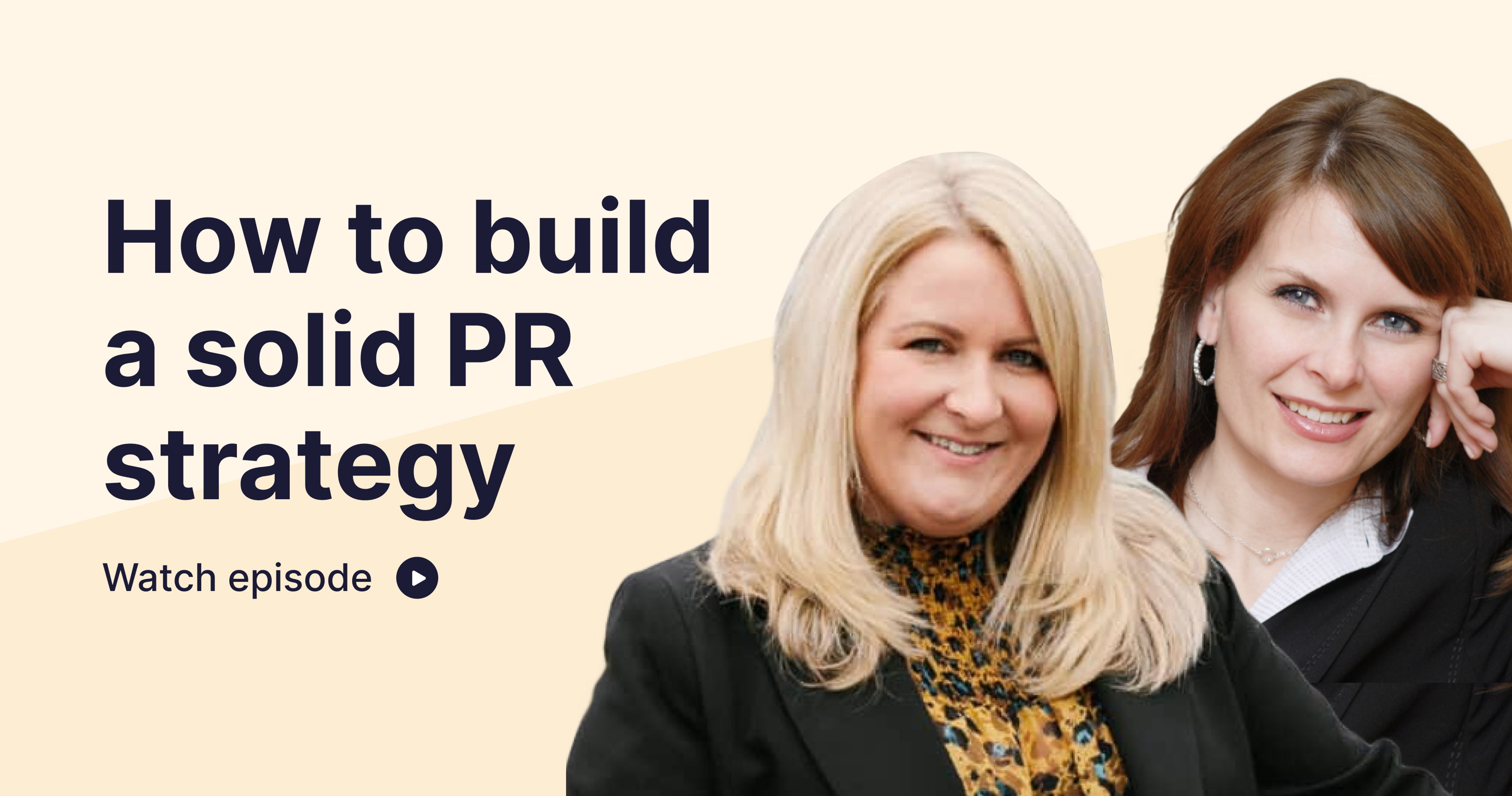 How to build a solid PR strategy feat. Gini Dietrich & Laura Sutherland
A solid strategy is the very basis of great PR – but much like New Year's resolutions, it can be tricky to stick with in the long term. That's why this January, Laura Sutherland and Gini Dietrich are here to help.
Updated July 2023