Case study : Bravo Group
How a global PR agency uses multimedia to keep journalists engaged
An interview with Bravo Group's Katelyn McNally.
Media-rich press releases with stunning images and engaging videos can be the make-or-break factor for whether or not a journalist engages with your story – but none of that makes a jot of difference if your email winds up in your contacts' spam folder, never to see the light of day. 
That was the challenge facing global PR agency Bravo Group. With clients and media contacts scattered throughout countless markets and geographies, the Bravo team was working tirelessly to keep those relationships alive. 
Getting the right content to the right contacts
"The news industry is rapidly changing, and reporters are changing positions pretty quickly," says Katelyn McNally, one of Bravo Group's key media relations specialists.
"One of the challenges for us is remaining aware of changes in these outlets and continuing to build new relationships all the time… It is definitely a never-ending, ongoing process, in terms of managing our contacts and trying to keep those relationships alive." 
A tall order for any PR firm, and particularly challenging for one that spans multiple countries. Fortunately, Bravo Group found an effective tactic for keeping their diverse contact base engaged: multimedia content. 
It is no longer enough just to send out plain text press releases or a pitch, it's really important to include visual elements that outlets can use. That's a challenge that Prezly certainly helped us with.
"The campaigns that have more visual elements to offer always seem to get more attention," says Katelyn.
"I think that business reporters are often serving under these rules where they're writing the stories, but they're also responsible for collecting the photos or videos. We found that when we're able to provide all of that in one place… those campaigns seem to get the most attention."
Bravo Group had hit the nail on the head. 
Multimedia press releases get up to 9.7 times as many views as those using text alone. Including images within your press release doubles the chance of it getting noticed; video quadruples it. 
The demand is there. "I begged, begged PR professionals to send video and multiple photos with their news releases," said Clay Morgan, former editor of The Daily News Journal – just one cry among thousands demanding simple, usable content from their PR contacts.
So, Katelyn's team was 100% on the right track. 
But there was one problem. 
Multimedia tends to mean bulky, bandwidth-choking emails. Big attachments, video links and other graphical media assets meant many of Bravo Group's press releases were ending up in journalists' spam inbox. It was frustrating. 
The problem is that when you attach photos, videos – any of those visual elements – a lot of the time the email fails to send or gets caught up in a reporter's spam filter.
"We had all these great visual elements for our clients, that we wanted to share with the media, and we were trying to send those out via different sharing tools and via email, and the problem is that when you attach photos, videos – any of those visual elements – a lot of the time the email fails to send or gets caught up in a reporter's spam filter," Katelyn explains.
"That was the biggest challenge we needed to address. Before Prezly, we didn't have a great way to package up all of our elements together and send it in a way that was going to successfully reach reporters."
The solution
Enter Prezly's full software suite for PR agencies
It was actually Bravo Group's COO Rhett Hintze that happened upon Prezly and requested a demo, and before long the entire team was using it. They've never looked back.
"My favourite feature (and what's most valuable to our team) is being able to embed photos and videos specifically," says Katelyn. "We have some really talented creative staff here that take photos and create videos, and being able to embed that directly in our releases and in our campaigns is really helpful."
Today, Katelyn's team uses Prezly to publish stories tailored to what they know works for each client.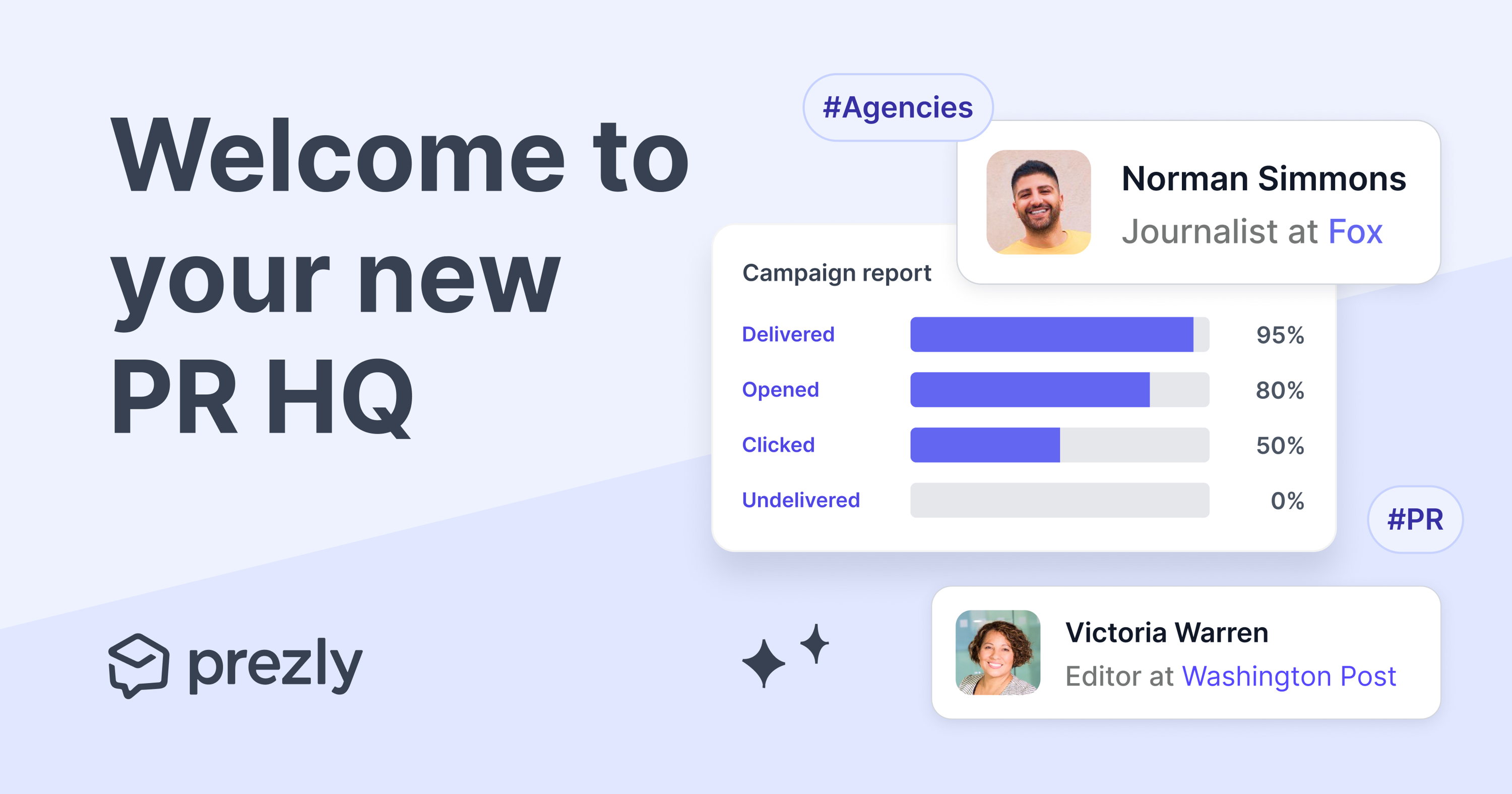 Prezly for PR Agencies
Tired of using a million tools to support your PR workflow? We got you.
"We're using Prezly for many, many of our clients, so [the kind of story we publish] definitely varies. There are Prezly stories that are pretty simple with one photo maybe, and then we've had Prezly stories that run through the different options that you can include in a story, photos, videos, documents, links… we had stories where we really encompassed all of that, and it's been really useful to us," says Katelyn. "We've been able to utilise it in a variety of ways to create all different kinds of stories."
So, Katelyn's chief pain point of being unable to create beautiful, engaging multimedia press releases and reliably get them seen by journalists was solved – hurrah! But that isn't the end of her story. As Bravo Group's team got more and more familiar with Prezly, they discovered features that made an impact they'd never even predicted. 
Adding value for clients
"When we are working with a client that's maybe a new client, or we haven't used Prezly with them yet, when we are able to show them what's possible with Prezly, it always comes off as a very impressive tool," explains Katelyn. "Our clients are always very pleased with the results."
That's right – the software Katelyn's team brought in to make their lives easier is actually making them look better in front of their clients. 
Here's the content that we can create, and here's a great way that we can package it together.
Since Prezly makes it possible for you to see which of your contacts are engaging with your content, you can use that information to decide when to schedule your releases to achieve the highest exposure – and this data can be a massive help when reporting back to clients. 
"We have some clients that are actually very interested in the data that we are able to pull in terms of who opened the campaigns, because they're able to see if someone, for example, from the NY Times saw the release."
Prezly to the rescue
We asked Katelyn to share an example of a time when they made a splash thanks to a little help from her favourite PR CRM.
"I can think of two examples." 
The first happened in 2018, when Bravo Group hosted a press conference at the state capital in Pennsylvania for a huge announcement that would impact on markets the whole way across the entire state. It was a big day for a lot of people, and so of course a great number of journalists was in attendance eagerly awaiting the big announcement. But not everyone could make it. 
We love that Prezly doesn't limit in the amount of newsrooms we can create in our account.
"We are very fortunate to have videographers on staff who were able to attend the conference, collect soundbites and b-roll, and then we were able to very quickly at the press conference, push that out to those other markets via Prezly," remembers Katelyn. "We did see TV stations and other markets that actually, through their newscasts that evening, pulled some of our video content. 
"If it wasn't for Prezly we probably wouldn't be able to push out that level of video content so quickly."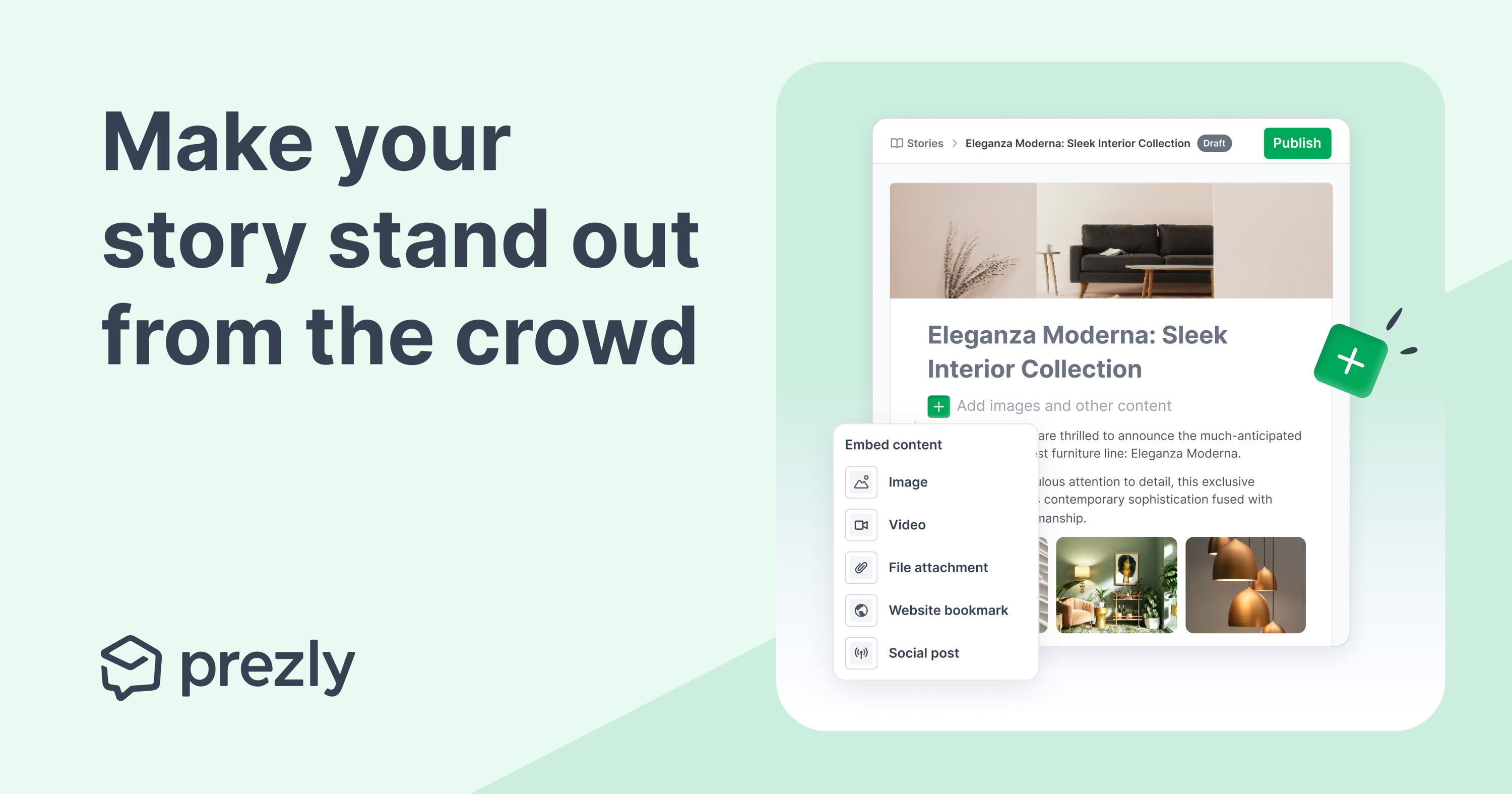 Make your story stand out from the crowd
A modern story editor perfect for publishing press releases, blog posts, newsletters, reports, and so much more. PR has never been this easy (or fun).
The other example Katelyn gave is a bit different. We love it because it shows quick thinking on Katelyn's part and her intuitive use of the tools that we've built – the ultimate reward for a bunch of tech nerds like us.
"We had a reporter who wasn't really looking for a specific story angle, but was just generally interested in learning more about this client."
What would you do in this situation – send over a general company bio? Manually go through old press releases looking for bits of information to copy into an email for the reporter?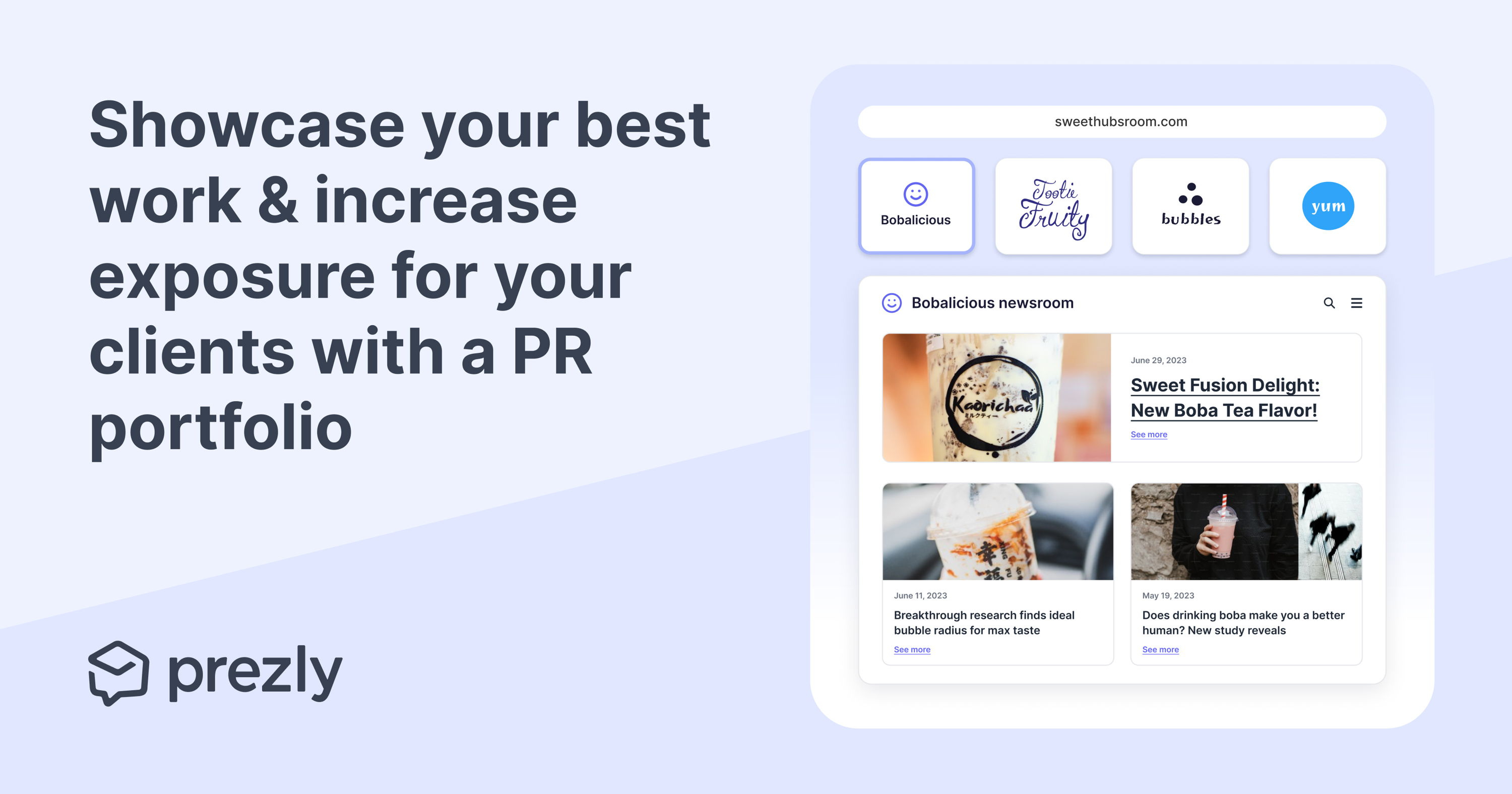 Create a stunning PR portfolio
You put in a lot of work to make sure your clients look their best. Why not showcase that to the world? With Prezly, bringing together your top work in a jawdropping PR portfolio is as easy as pie.
"We created a new newsroom for this particular client, and just put together a handful of stories that were more general information. For example, one story that was a fact sheet, and another one that was a profile on one of the client's employees, etc," says Katelyn. "We were able to put together a second newsroom kinda like a resource so the reporter could get a general background on what the client does."
Katelyn listened to what the reporter was looking for and was able to create a beautiful branded newsroom for her precise needs in no time flat. 
"We love that Prezly doesn't limit in the amount of newsrooms we can create in our account." 
Thank you, Katelyn!
A huge thank you to Katelyn for taking the time to provide some valuable insights into how her team uses our software.
Working remotely from all over the world means we sometimes forget to stop and appreciate how the features we're building are helping make people's day-to-day work that little bit simpler – often in ways we hadn't even planned! You're our greatest source of inspiration. So, thank you :)
More case studies
Read about how these PR agencies are using Prezly to power their workflow
Prezly for PR Agencies