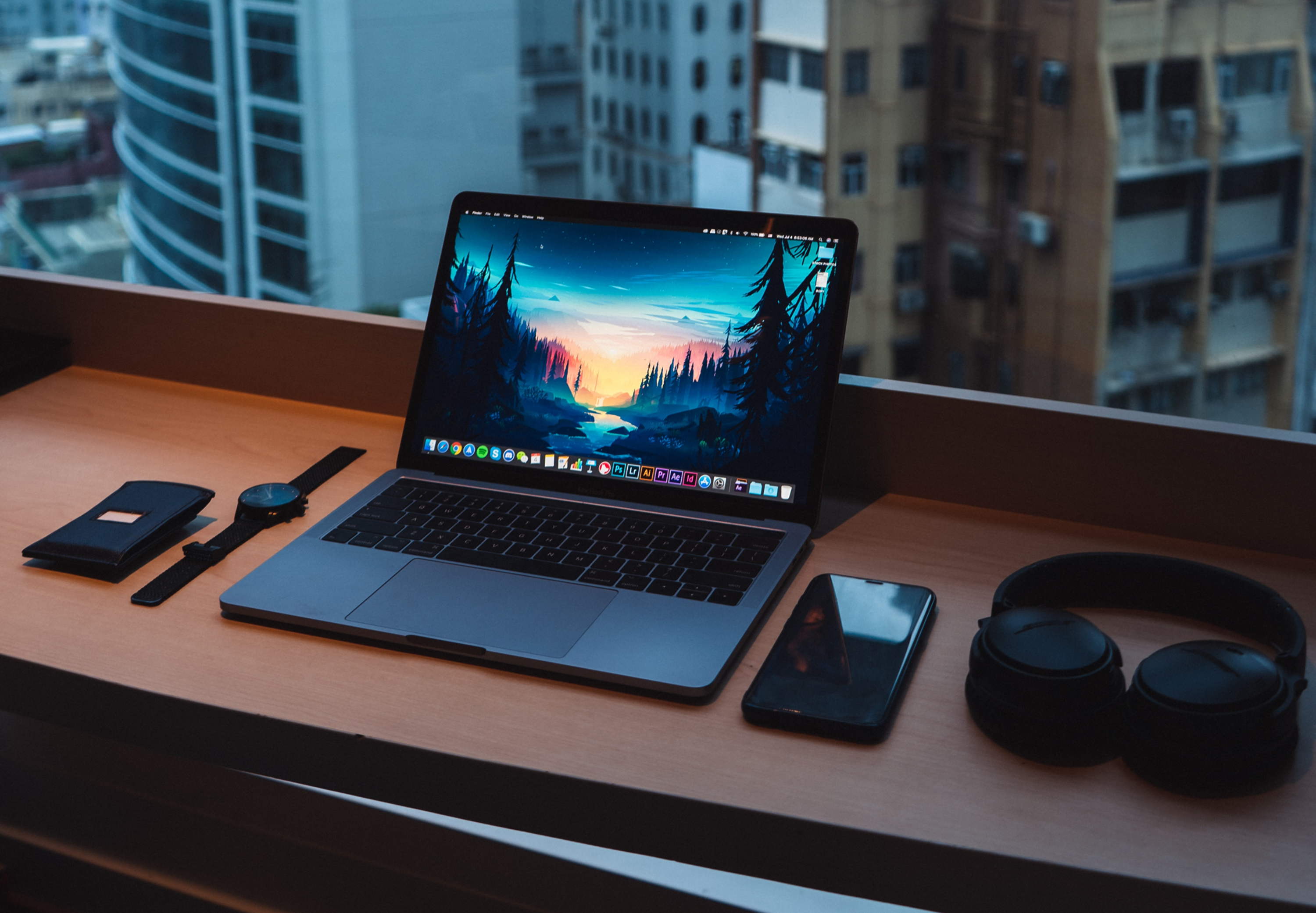 26 Best Digital PR Tools (incl. Monitoring) for 2023
Updated January 2023 | A list of tools that every PR professional should know about
Learn about the best PR tools that will make life easier
Without these techniques, I could barely do my job
And implementing PR strategies fast and well would be impossible
Our preferred list, how to use it, and a direct link to their site
Because new tech is exciting. The real buzz is AI though.
For the sweet, sweet SEO points
To show you that Prezly is pretty great at many of the below and see if you want to see that for yourself with our free trial
So without further ado, let's go 😎
When we say "PR tool" we mean any software, tech or app that may be used to make your comms better, faster, stronger. As you'll no doubt be aware, the public relations profession isn't always at the forefront of technology – a few years ago, 59% of the respondents to our Global PR Survey 2020 still used Microsoft Excel to manage their contacts. Only 40% used LinkedIn for researching new media contacts, while just 20% used Twitter. You think much has changed since?
Those are painful statistics because there are so many tools on the market that could be making your life easier. Good media relations is a core principle of public relations, and there are myriad tools to help manage them — if we use them.
The same research asked people to share how long they spend each week on keeping their contact lists updated. Respondents who use a CRM for contact management spend on average 3.4hrs a week on keeping their contact lists current – far less than those using spreadsheets (5.4hrs each week) and email address books (4.6hrs each week).
And that's looking just at contact management. How much time and effort could you be saving on your day-to-day PR?
Below are the most up-to-date, tech-savvy ways to improve your PR and make the work you already do go that much farther.
Update December 2023: List of AI tools you can use in PR
Visual press releases take advantage of modern-day technology to add some multimedia pizzazz to your announcements. They're not only eye-catching and more visually interesting than text-only press releases – they also arm the reader with everything they need to tell your story. That includes:
Images
Videos
Social posts
Audio clips
Pretty much any embeddable media you can think of
Simply put, they make covering and sharing your news a cakewalk. And because they're social-media friendly, they can be propelled to virality based on their multimedia content.
This is one of the key areas where Prezly really shines – and you can tell just from looking at some of the best press release examples our clients have published. Not only does Prezly support the embedding of virtually any media in your press releases – yes, even live stream videos – it also makes the whole process of publication and distribution super simple.
Drafted your press release in Word or Google Docs? Great – just "select all", "copy" and "paste" into your Prezly story. Everything will be carried across, including images and embeds.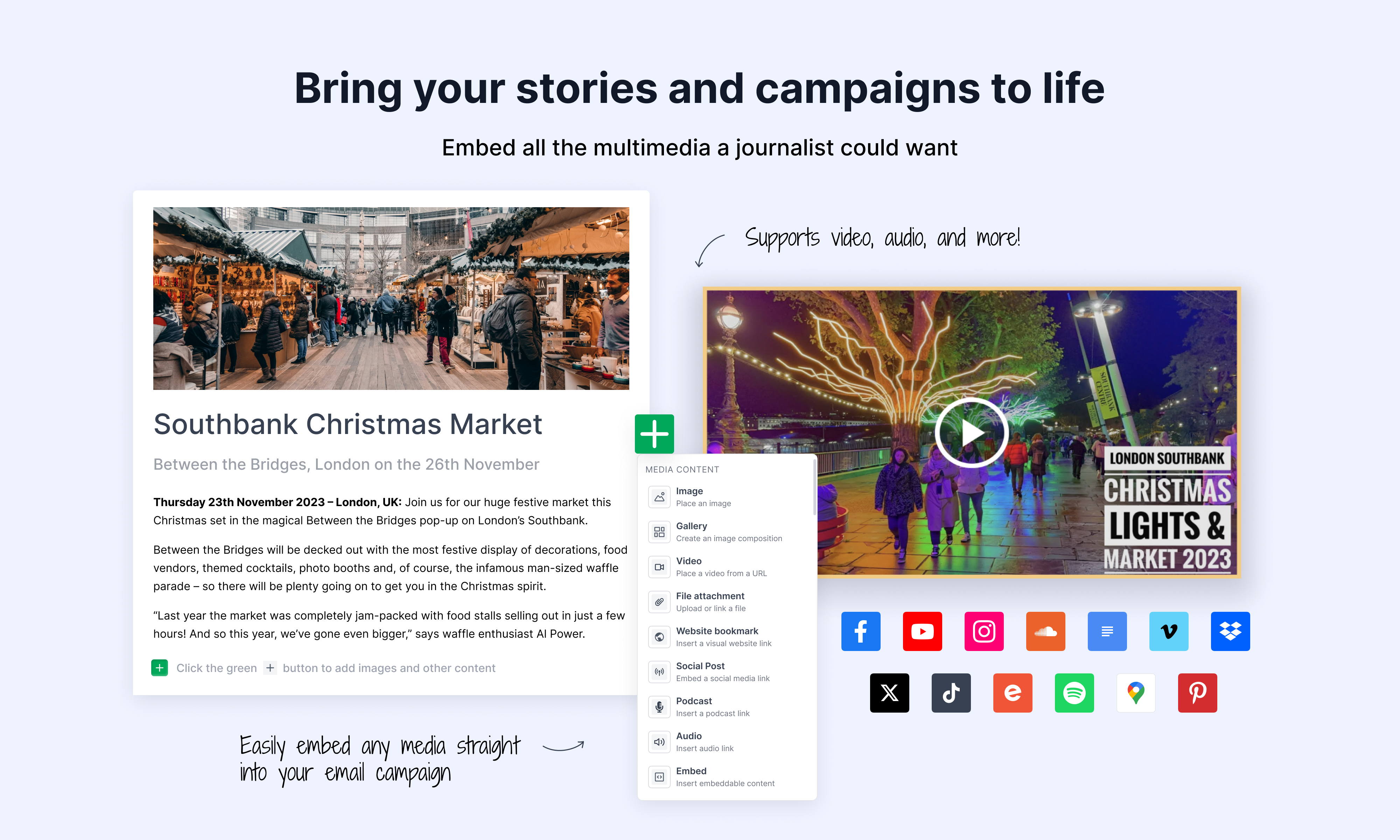 Need to localize your press release for different languages or audiences? No problemo – we support 40+ languages and even more cultures, and make switching between translations a breeze. See the full list here.
Prezly also helps you keep your content consistent since every Story you create lives in your Newsroom, which you can style to look however you please. In fact, we'll soon be launching some exciting new Newsroom Themes to make styling your Newsroom even easier – and more beautiful. Watch this space!
Here's a quick video to show you how the Story Editor works:
When it comes to redistributing your press release via social media, one of the things you need to ensure is that you have an accompanying sharing image that sticks out and grabs attention. If you have a designer on the team or a side hustle with Photoshop, great! If not, you'll want to have a tool that can get you most of the way to a professional finish.
Canva closes the gap between DIY and hiring a professional. By letting you combine images and text in a limited number of styles, it provides a safety net for those of us that are less design-savvy, while allowing enough flexibility for you to create the shareable image you need.
Other pros are that it's easy to use, has templates galore and comes with a library of stock pictures that help grab attention.
Pro tip - They have a free, handy infographic maker that can be a great tool for sharing eye-catching content!
Similar to Canva, Pablo was designed to give you a simple way to share your most choice quotes and excerpts on social media. The app comes to you from the team behind Buffer, the social media managing software, so you know they have insights into what kind of posts are likely to gain the most traction.
Pablo is a good option for anyone looking to keep things minimal, and those who aren't in the market for additional templates or the other marketing materials that Canva provides.
This option places a focus on speed and design so if a simple tool to design eye-catching social media images for your press release is key, give Pablo a spin.
We all know that infographics make for media gold since they grab attention, are great at relaying complex information quickly, and are easy to share. The problem is that creating a good-quality infographic takes time and money (or at least, a professional designer).
Custom is always best, but you'll be happy to know that there exist quite a few online tools that can help anyone create a professional-looking and shareable infographic in a pinch.
You have the data but you don't want to bore the world away by pasting in a data table, what do you do?
In most scenarios, you would try to get something together in Excel and see what sort of chart you can screen-grab and paste in. Or you could be lucky and have an in-house graphic designer who can whip a pretty graphic together in no time at all.
Infogram is your handy, simple-to-use infographics creator that will make your data look incredibly beautiful and most importantly, shareable.
A bit of a side note, here's a shortlist of fantastic and free stock image search sites where you can download and use high-quality images. Remember to always double-check the terms before using an image as some will stipulate crediting the artist as a condition of use (it's also just a decent thing to do, so please do give credit where it's due :).
Why should you care about web traffic, referrals and bounce rates?
Because data helps to provide some insight into which press release referrers are driving the most traffic, which articles are performing well, which not so much, and so much more.
Rounding up all of this data is vital for understanding which stories and angles work best. It's very similar to how you would use click and open data to assess the performance of your campaigns and make them better (check out our free downloadable pitching guide for templates, data, and how-tos!).
Tracking potential trends and identifying referrers is great for developing stories when looking at forward features and reviewing your PR efforts. Here are a few tools to help you do just that.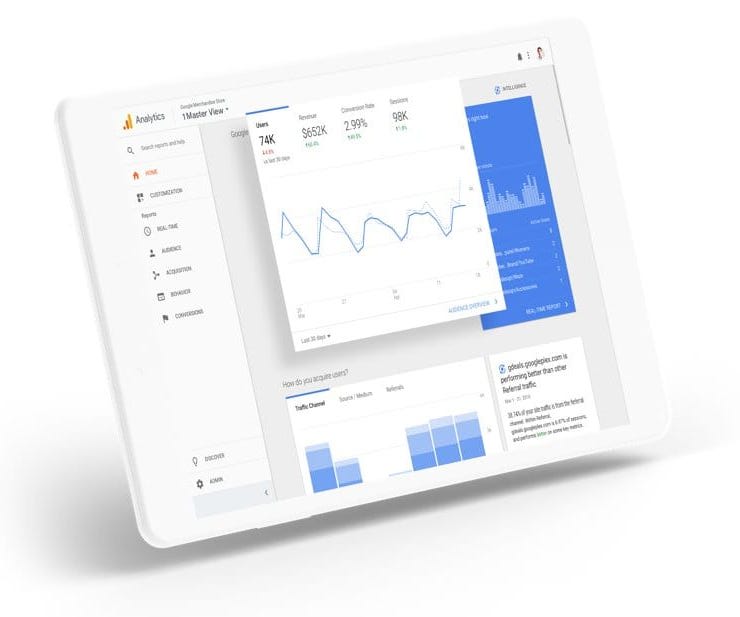 Google dominates the web, so when it comes to data about your website, Google Analytics should be your first port of call.
With the new age of PR, there has never been a stronger focus on knowing where traffic comes from, what works, what doesn't, what people like and what people don't, and everything else in-between. Little tricks, such as finding out the user flow and the most popular exit pages, will help highlight the areas that may need more focus.
The platform is free to use and essential if organic traffic to your website (or newsroom) is something you are prioritizing for your marketing and comms. The downside is that it isn't the most user-friendly tool. Decide how heavily you want to invest in your owned online presence and consider hiring a dedicated digital marketer to oversee your website. If SEO isn't your #1 priority, there are still some benefits to be gleaned from Google Analytics yourself – fortunately, Google provides a free beginner's course.
This free tool from HubSpot shows you how well your brand is doing across three crucial areas of your marketing – top of the funnel, middle of the funnel, and analytics – and assigns a grade for your website and social networking based on the results.
You'll also receive free recommendations on how to improve your score.
Prezly gives you engagement statistics for every pitch and email campaign you send. This does two things: it shows you which of your contacts are engaging with the content you send out, and it informs your follow-up.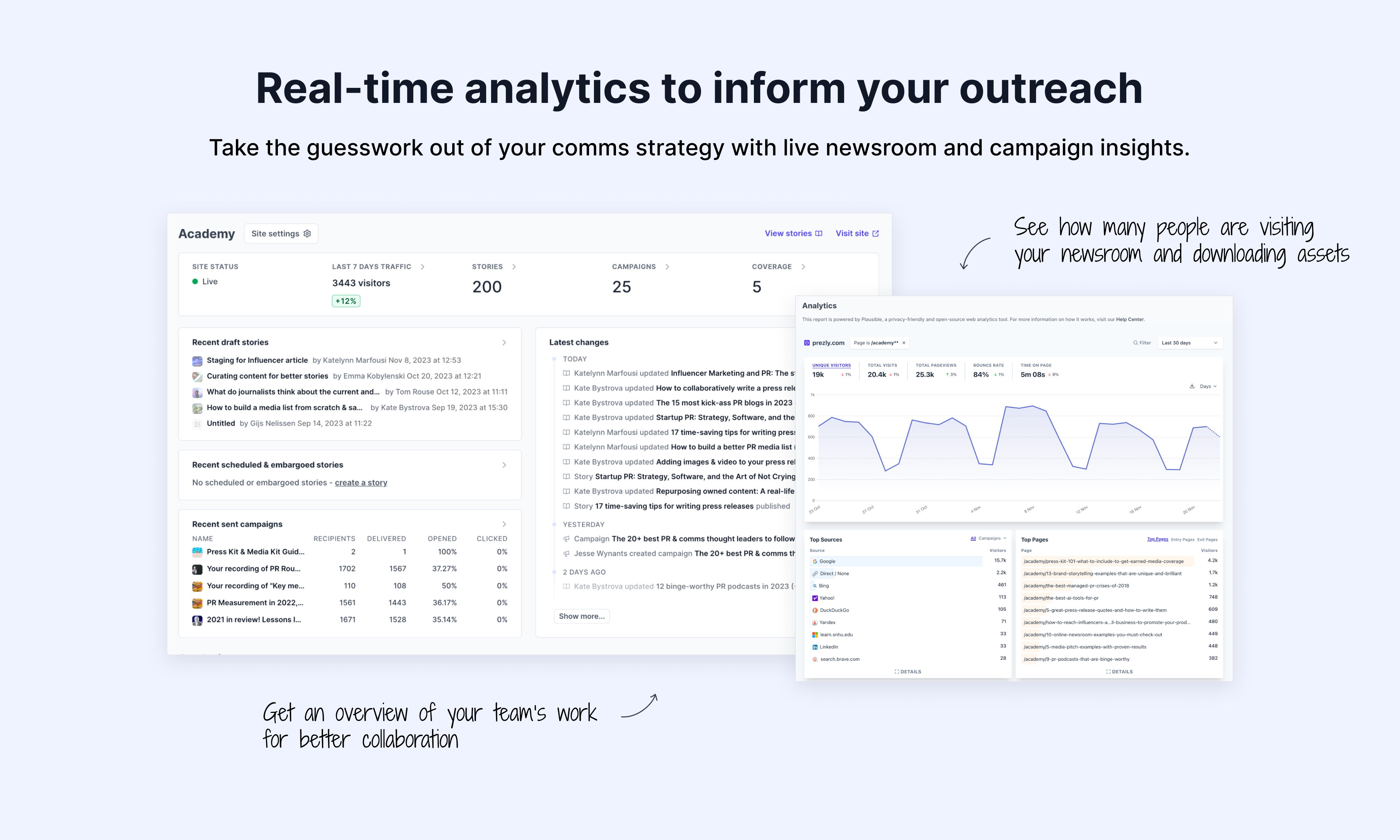 For example, if you see from your campaign report that someone has opened your email five times, that's a good indication that they're interested in your story, so you may want to reach out to them one-to-one and offer more information or exclusive content.
On the other hand, if you see that a contact has not even looked at the last three campaigns you sent them, you may want to review their details to make sure they're still correct, reach out to them through another channel (like a phone call or social media), or exclude them from your campaigns for the next few weeks so they don't feel bombarded with emails.
If you're interested in the tactical side of pitching, check out our free downloadable guide to pitching strategy, complete with a planning template and data from more than 16 million emails.
BuzzSumo isn't totally free, but they do have a free content analysis tool that lets you see how well a topic is performing. It spits out different coverage pieces and even shows you the social engagement of each topic.
Hootsuite has many valuable uses, from scheduling tweets to managing multiple social media profiles to monitoring what people are saying about you across multiple social networks, including Twitter, Facebook, LinkedIn, and more.
As a bonus, the free version offers Facebook Insights, Google Analytics, Twitter profile stats, and ow.ly click stats.
SocialMention offers real-time social media search across over 100 different social networking sites, allowing you to track and monitor social mentions of you, your brand, your competitors, your industry, or anything else you want to monitor.
They also have a widget you can add to your website to display real-time buzz about your brand.
There are plenty of social media scheduling programs out there that will help you streamline, organize and schedule your social media presence across the different platforms. But we like SocialPilot for a number of reasons. SocialPilot is great for HR pros because it lets you easily manage all of your clients' social media accounts through organized groups. When you have 10+ clients who all have 3-5 social media accounts, it can get messy quickly. SocialPilot intuitively streamlines that process.
The collaboration features are handy, and there is a portal where you can find fantastic content opportunities for sharing with your networks. Plus, the price is great! There are Small Business, Agency, and Enterprise options, and all are an affordable flat rate, as opposed to paying extra for each social feed (which can add up).
SocialPilot also has browser extensions and mobile apps. How fun!
Bonus tip: check out their blog for tons of social media advice.
Sometimes you'll want to speak to a specific reporter or media outlet if your story is highly relevant to them.
A phone call or direct email may be your best bet, but first you're going to need to track down that particular person's phone number or email – not the easiest of tasks, particularly if that information is guarded by vigilant gatekeepers and amass with out-of-date data.
Here are a few websites to help you pinpoint relevant individuals and send them an email pitch.
An incredibly useful tool for finding journalists, this includes when you want to find a specific person or trying to cast a net out to find potentially suitable contacts.
You can search based on location, media outlet, the topics they have covered, keywords or the content of their tweets/shares.
Some additional benefits include:
Receiving email alerts when a journalist mentions your company
Organizing your media lists based on press pickups
Adding notes to journalists' profiles to help with future outreach
Considered the world's largest database of media contacts, Anewstip makes it incredibly easy to search and find relevant journalists based on what they have tweeted or written.
The platform indexes 200+ million news articles and 1+ billion Tweets from 1+ million media contacts. So it's safe to say that you will find the right media contacts for your press release.
Sometimes, it's easy to find the person that you would like to contact with your pitch. But finding their particular contact details? Not so much.
Fortunately, there are a few ways to go about tracking these down, starting with manual methods like LinkedIn research and outreach, and ending with apps specially designed to unearth those contact details for you.
‼️ A word of warning ‼️
Remember that, while useful, apps designed to uncover contact details are far from infallible and will frequently get information wrong. So always do some preliminary research before you email that new contact.
In fact, I've been compiling a Twitter thread of the sorts of emails I've received, thanks to Hunter.io, from people calling me Katelyn (not my name) and pitching me articles on golf and the history of shoes (yup, really). Please enjoy, and remember to always do your research.
LinkedIn built its business on professional online networking, which is why I suggest you start here. What's nice about using LinkedIn as a research tool is that it immediately gives you a top-level overview of each person's expertise, making it less likely that your pitch will be hugely off the mark.
Secondly, you can use LinkedIn's built-in messaging system to approach your new friend directly, notwithstanding the usual hurdles
One thing to remember here is that people get spammed on LinkedIn all the time. My own friend-request inbox is littered with inane messages all reading from the same script: "Hi Kate! I love your work. *Hard sell* Let's connect?". Needless to say, those messages get left on read.
Make sure whatever message you send is genuine, personal to the person you're contacting, and has something in it for them, not just for you.
Ideally you should work on building some sort of relationship with the journalist over time by following them on LinkedIn and other social media, commenting on their posts and offering useful content before asking for anything in return. (It's all here in our pitching guide!) Media relations are absolutely vital for the success of your future PR outreach.
A nice solution for the "just one click" audience, ContactOut is a simple browser extension that sources the emails and phone numbers related to any profile on LinkedIn – yup, in just one click.
That means that it 1/ is very convenient, and 2/ has the potential to be incredibly spammy. So don't abuse it.
With any of these contact-detail-finding tools, be sure you combine their use with at least five minutes of actual research. Don't be the person sending hundreds of pitches claiming to "love your recent article" that you've never actually read and which has nothing to do with your story. Put in a bit of legwork and it will save you a lot of trouble in the long run.
This is pretty straightforward – you add a desired contact's first and last name, then you add their company.
Anymail Finder will then run a search to find any relevant contact information that is available based on 3 categories of results:
Found & Verified.
Found on the web.
Guessed from a common pattern (ex. firstname.lastname@company.com/a.name@company.com etc).
You can try the platform for free and they offer bulk or single search options.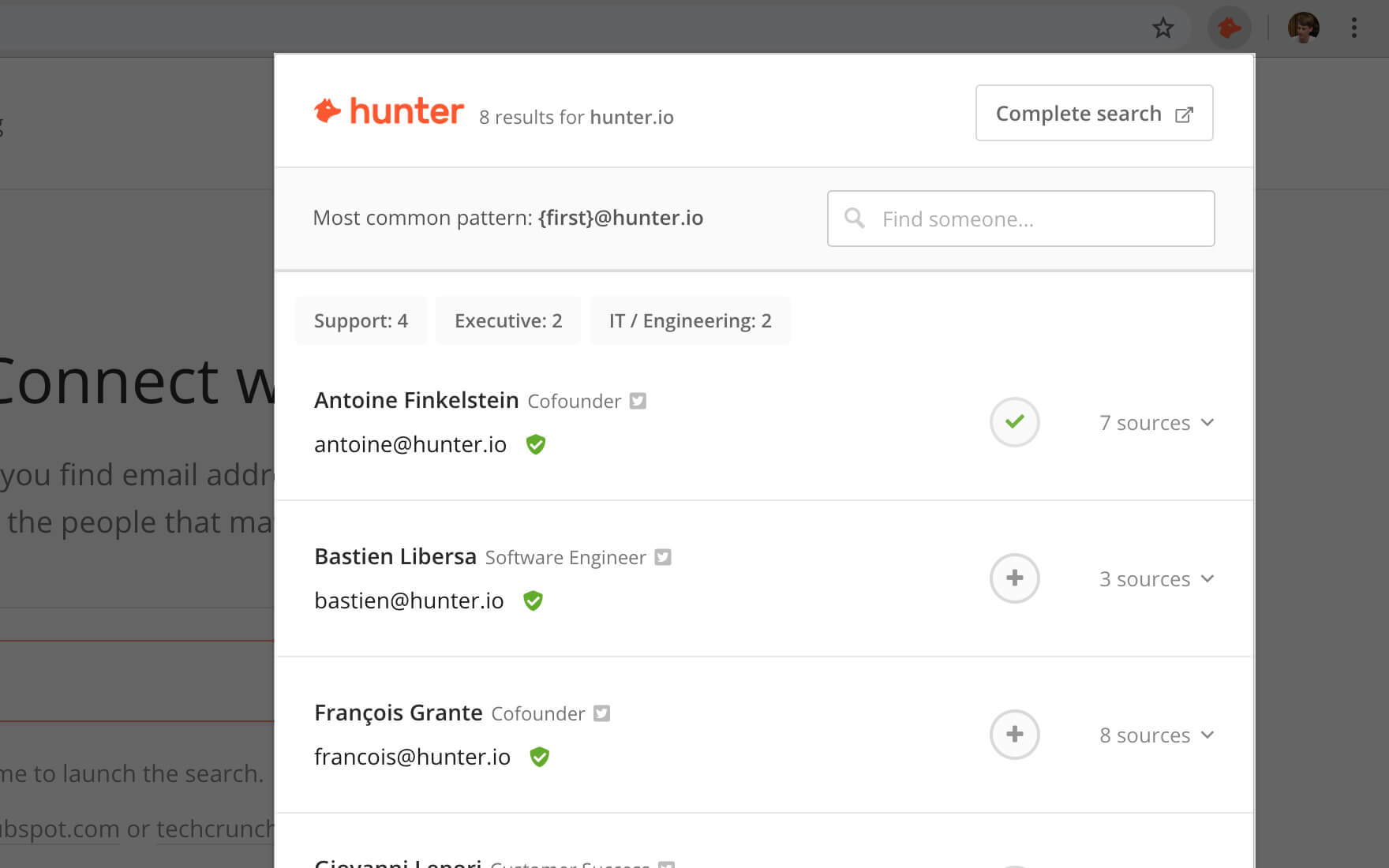 Honestly, there are so many companies churning these things out. I guess there's a lot of business to be made in selling people's personal data.
Much like Anymail Finder, Hunter works on the same basis of inputting a first name, second name and company name to spit out a relevant result. I have some personal beef with these apps because as I mentioned above, I keep getting spammed with completely inappropriate pitches for some other person. Is it kinda entertaining? Sure, but it also does nothing but waste time for both me and the person doing the pitching, so please take any results these apps give you with a handful of salt and always do some manual research before hitting send.
With more than 200 million email addresses indexed and the addition of various search filters, Hunter is a powerful tool for finding those contact details, even if they aren't always going to be correct. And since you get 100 free searches per month as standard, it's a popular one.
I'm glad you asked! This is certainly an option that many tools will provide, but honestly? It's not ideal. We have a separate article outlining the problems with using bought media databases for your outreach, and it's chock full of things like shaky GDPR compliance and getting your domain blacklisted. Have a read of the problems and then see some alternatives to buying a media list.
Once you publish a press release online and shared it with your contacts, who else can you contact? The below websites provide earned media opportunities to have your stories picked up.
Pro tip: A key part of pitching these opportunities is having an online press release that you can refer them to. There are myriad benefits to hosting your press releases in an online newsroom, among them being incredibly easy referencing of key information, the ability to include unlimited media assets, and the freedom to update any of the content as and when you need without having to accompany those changes with a million "we have a new picture" emails. Check out Why journalists love online newsrooms & how to create your own for all the deets.
This platform seeks out any journalist requests that have been tweeted in the UK. The results are provided either via a curated daily email or their online search platform. The app allows you to pick from a range of topics as well as set up custom alerts.
Of course, you can also take the manual approach by heading over to Twitter and searching for the #journorequest hashtag yourself – the downside is that you will need to do all the legwork of cutting through the noise, which can take monumental time and patience.
What seems to be the start of the email alerts for journalist requests, Help a Reporter Out (HARO) has been providing PR requests and opportunities for brands for a while now. And they do it really well, with the free version providing a list of requests and any additional information that may be required.
HARO has now been acquired by Cision, which is a testament to its usefulness to the PR industry as a whole.
How can you tell if you've hit it big with your latest press release? With all this tracking technology we have around the web, it's safe to say that you have many options for finding out if you have been picked up or mentioned, and how many times.
No more phone calls chasing journalists to find out if they had the time to run with your story. Instead, try some of these top media monitoring tools.
This is literally the least you can do when it comes to media monitoring. Free, integrated and easy to set up, there's no excuse to not have Google Alerts enabled for your most important brands – unless, of course, you're paying someone else to handle all that for you (but then, you probably wouldn't be reading this article).
Even after a press release campaign has gone out, there may still be some news pickups at a later date and Google Alerts are a really simple way to keep tabs on any mentions. You'd be surprised, but many of these smaller mentions are often missed and never reported back to the team.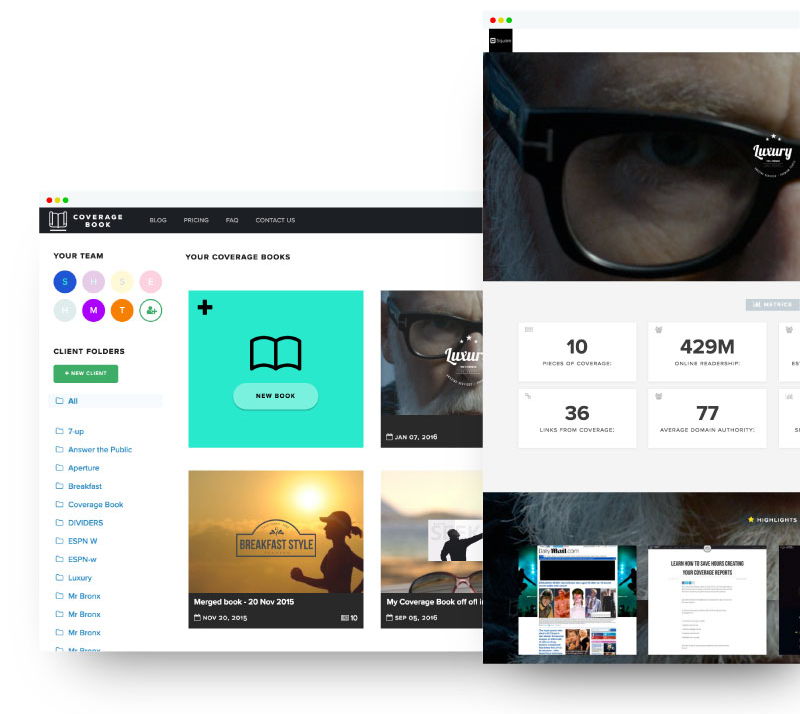 Finding coverage is a process that takes time, patience, and a lot of screen grabbing and pasting. I don't need to tell you that this is neither fun nor a great use of your time.
Coverage Book seeks to change all that. Simply paste the coverage URL into the tool and Coverage Book will generate a screenshot, generate a PDF/online report and calculate traffic*.
* whilst this is a great vanity metric, you should take traffic numbers with a pinch of salt. More important is to determine what success looks like for your specific campaign, and measure the outcomes from there. Have a read of the top advice from PR gurus Gini Dietrich and Laura Sutherland in How to create a successful PR strategy for 2021.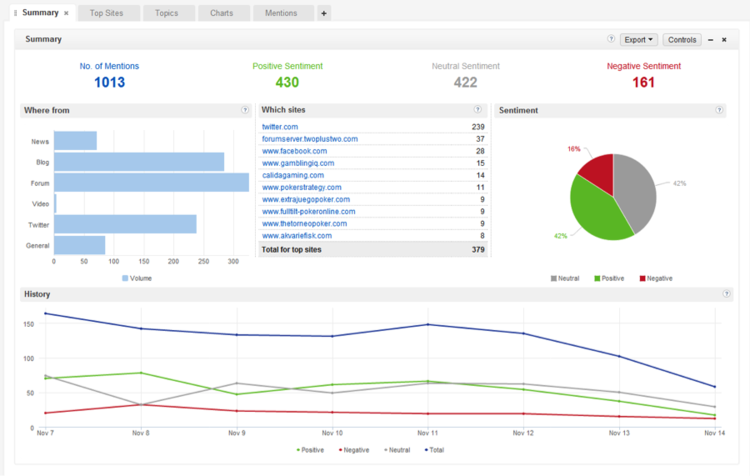 With a collection of over 85million sites where you can track mentions, Brandwatch provides a great way to monitor any mentions out in the big wide web.
Other additional benefits worth considering are the ability to highlight mentions that have had the most effect, which also includes the use of Brandwatch's Influence Score as a gauge. The tool also lets you track competitors to help you understand their PR focus and who is picking up their stories, potentially widening your pool of people to contact for your next big story.
Delivering your press releases needs to be an art form these days. Why? Because PR has become a go-to tactic for many digital marketers. And why wouldn't it be? Get a story picked up and you could have a tidal wave of free traffic heading your way.
Especially when it comes to visual brands with a lot of heavy assets to show off, delivering poorly designed, text-only pitch will no longer cut it. Style out your media pitching campaigns like you have with your press releases to ensure you grab interest right away.
Any listing of PR pitching software would be incomplete without a mention of Prezly, and I won't leave it out just because I clearly have a vested interest in the company. When it comes to public relations, I honestly believe this is the best pitching tool for the job – and why not? It's precisely what it was designed for.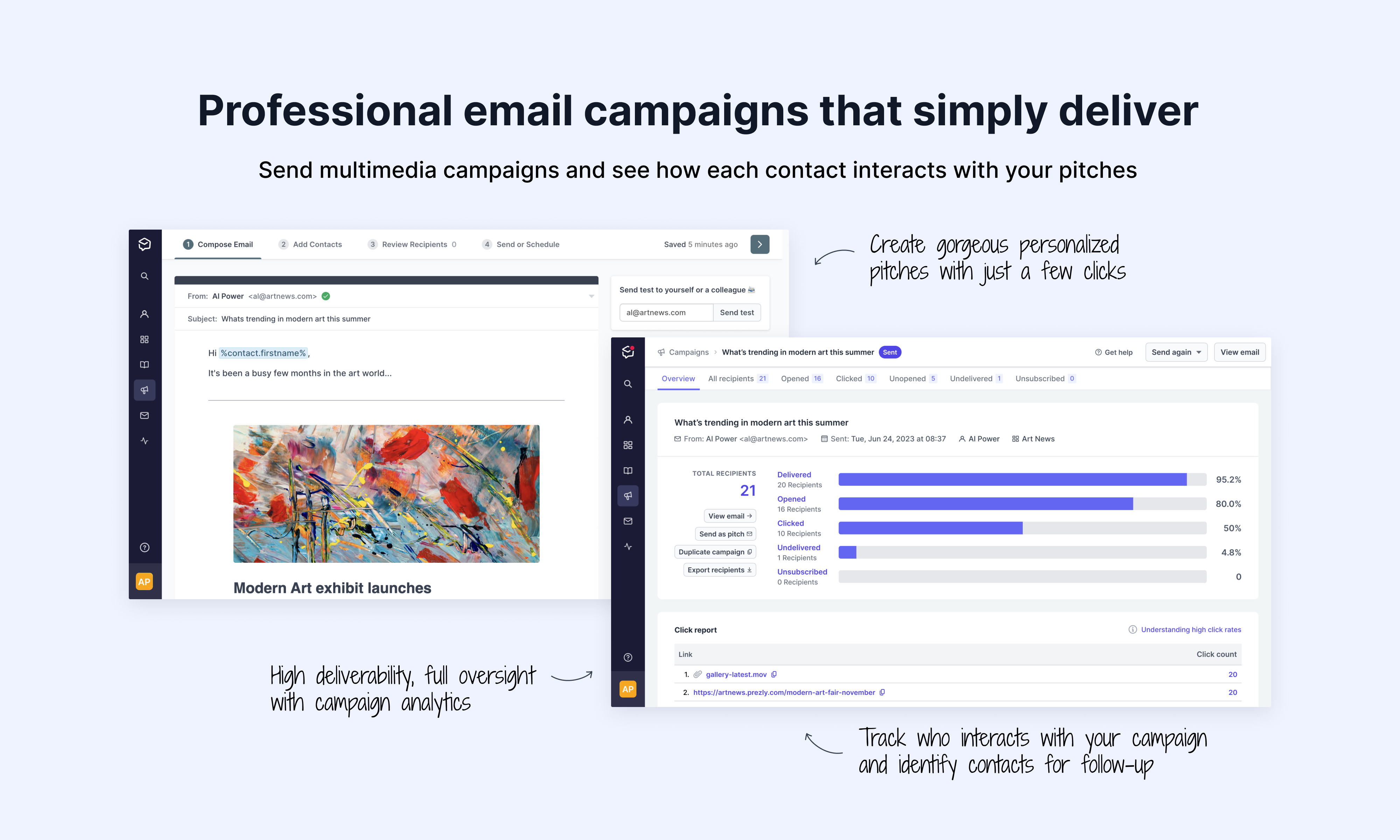 At Prezly we took the core requirements of a PR professional's day-to-day and worked on making it easier and smoother to deal with. With that we've been working diligently to deliver a press release distribution platform that ensures you can:
Personalize your pitch to each recipient
Create beautiful multimedia emails that never overload your contacts' inboxes
Use built-in reporting that shows you who is engaging with your content
This 30-second explainer from founder Jesse Wynants gives you the lowdown: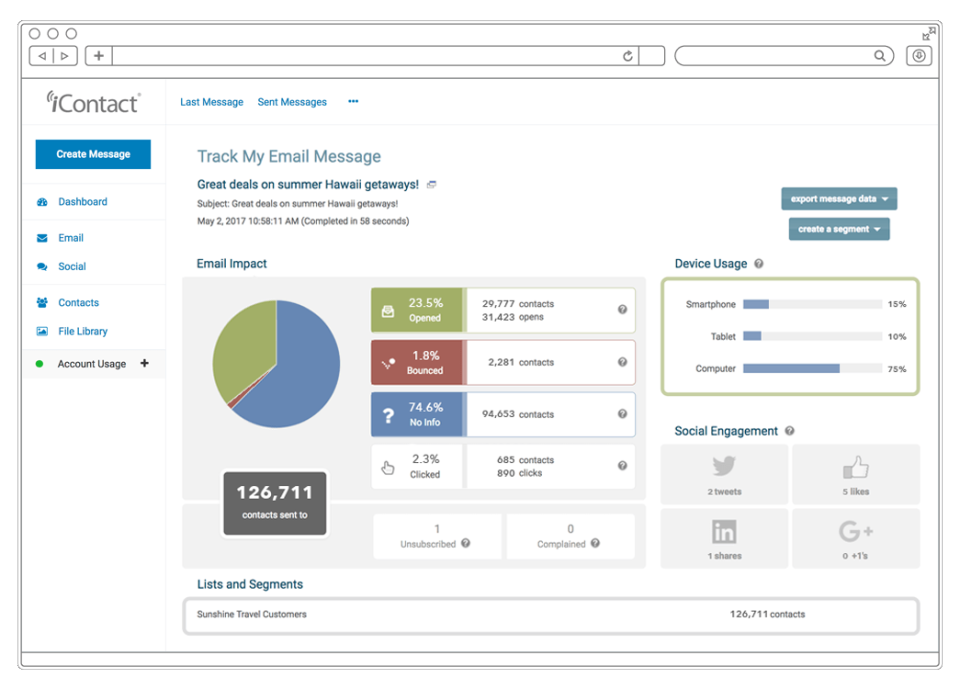 It's simple, it's straightforward, and iContact has been doing the basics of email marketing well for some time now.
They provide a number of offers for their services and are very active with email marketing articles and sharing tips, as well as having in-house staff to assist you with your efforts.
The bright and colourful platform that focuses their efforts on creating easy-to-use tools for small businesses to deliver quality campaigns. Their platform is particularly good if you want to curate a monthly newsletter to your members while tracking engagement.
MailChimp's generous free option still gives you plenty of shiny things to play with. The key here is that you can create templates, campaigns and monitor interactions with your emails. All of the above are essential for quality and engaging press release distribution.
There is no denying that Excel works well as a CRM but so does pen and paper and I would wager that you wouldn't go running back to that method right away.
Earned media means you have ongoing relations with your contacts - very, very rarely will you get any press release pick-ups if you just dump a huge email that has an Intro to you, your company, press release overview and a chunky PDF attachment of your release + images.
Media relations are vital to the success of any public relations campaign. Outreach to cold contacts with a lengthy email will rarely give you anything in return and so it's essential to focus on developing mutually beneficial relationships with your key media contacts.
Something else to consider is that there need to be collaborative capabilities, which is what Prezly provides with notes, mentions and the option to integrate your mailbox with the app.
Since revamping its pricing plans at the start of 2021, Prezly is also cheaper than most alternatives, starting at just $50 per month for the Starter Plan. You can also try a commitment-free 14-day trial, no credit card required.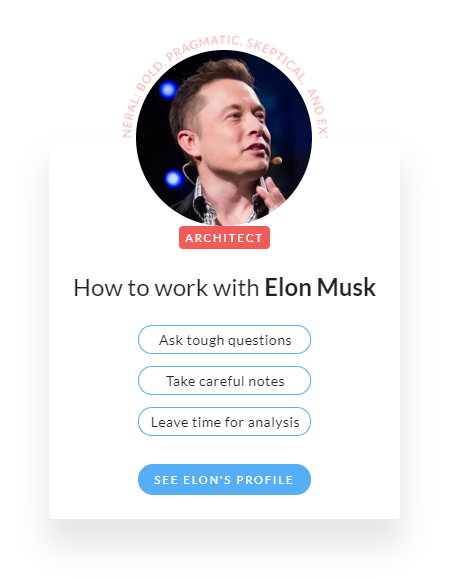 The tagline – 'Crystal provides personality assessments, predictions, and coaching tools for people-focused professionals' – pretty much sums up what you get with Crystal. It's the incredible ability to judge personalities to a high degree that makes it so special and very interesting for outreach and media relations purposes.
The more you know about a specific media contact, the higher your chance of pitching them in a way that works for them. This isn't about knowing when their birthday is or whether they own a shiba – it's about relevancy. How does your pitch relate to a previous story this person has covered? What audience does this person write for?
I've yet to try this one for myself, so can't vouch for its effectiveness, but the fact that it's been growing for the past few years should be reason enough to give it a go.
It's impossible to churn out error-free writing day after day . I'm serious – even working in publishing, I can't tell you the number of times I've received printer's proofs of a book or magazine to spot a glaring spelling mistake in a prominent headline.
And it's not just us. Pay attention the next time you pick up just about any widely published novel or watch a blockbuster with the subtitles switched and you'll find mistakes. (I recently spotted one early on in Tarantino's Inglourious Basterds. It's hard to enjoy things as a neurotic proofreader.)
So, it makes sense to have a safety net based on clever algorithms to help steer us in the right direction. Here are a few such recommendations.
Before I share the lists we have to talk about Generative AI in PR. We have made list of AI tools that can be used in PR. A lot of them can help with content production.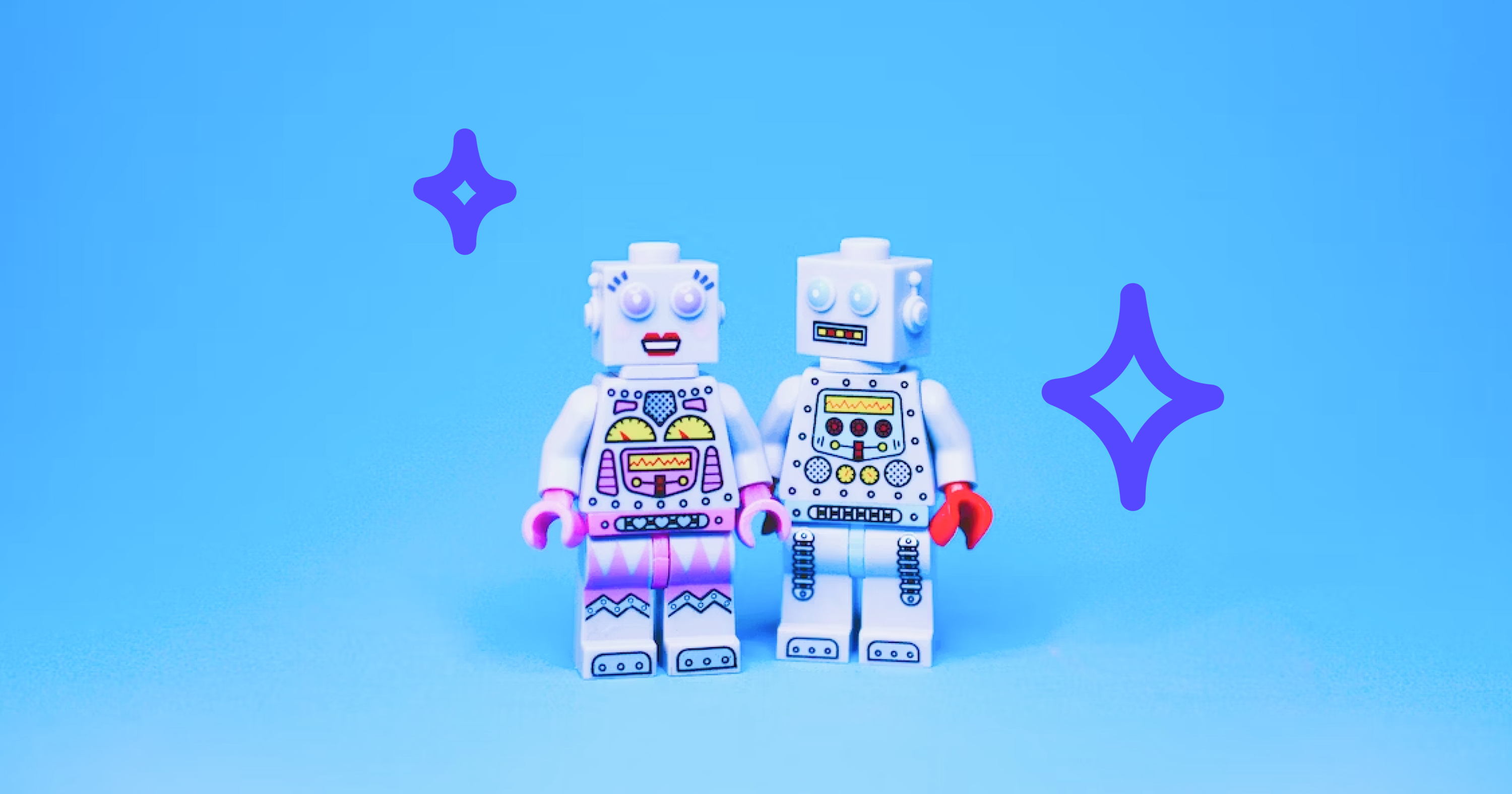 Future of public relations: 10+ best AI tools
How to work with the robots, not against them.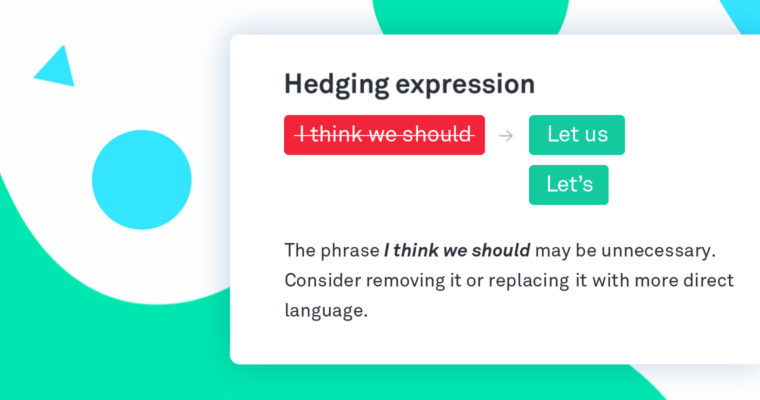 While you probably write great press releases every day and have a keen understanding of spelling, sentence structure and terminology that resonates with your audience, it can be nice to have a smart platform like Grammarly ready to step in when the odd misspelling or grammatical boob tries to slip through.
It's particularly handy for helping you brush up on your grammar, since it teaches you to spot the mistakes you make the most.
But as is the case with most "smart" tools, Grammarly isn't infallible and occasionally it will try to throw a spanner in the works, so there's a sliding scale between people who will find it useful (occasional writers, people who don't have time to proofread and those for whom English is not a first language) and those who see it more as a nuisance (experienced editors, writers and grammar enthusiasts). For the latter, scroll down to read about the Hemingway app.
In short, it's a helpful app to stop you from getting sloppy when dashing off emails, and to provide a helping hand if you know wordsmithing isn't your strongest suit. The Chrome extension is free, so give it a go and find out whether it suits you.
⚠️ Warning for browser-based coders ⚠️
I imagine this is a very niche use case, but be careful installing Grammarly if you also use a browser-based code editor, for example, for editing your website. Grammarly's integration can mess with some of the code and introduce mysterious errors that will baffle the dev team, as was the case when I did this exact thing a few years ago.
Hemingway is different from Grammarly in that rather than nitpicking your grammar, its chief aim is to improve the readability of your work. Over time, it drills into you practices that make your writing cleaner and easier to understand – things like using active voice over passive, and not cramming in ten words where one word will do.
Personally, I prefer Hemingway over Grammarly as I find its feedback more useful, particularly if you're interested in spotting patterns in your writing style and improving it in the long term.
If you write often and are comfortable with your grammar and spelling, but would like suggestions that will help you improve your writing style, then Hemingway is for you.
Give it a go right now by copy-pasting your latest press release into Hemingway's browser page here.
---
The list above is by no means exhaustive. The world of public relations tools and tech changes on a daily basis, so please use this list as a starting point. Check out the tools, play with them and see if they're a good fit for you and your team.
New tools (especially in AI) are popping up all the time, so keeping any list like this up to date is a big job! That's why we'd love your input. Have we missed any apps that help you with...
Social media monitoring & posting
Research
Media relations
Coverage & PR tracking
Finding advertorial opportunities
Finding and planning business events
Finding speaking engagements
Internal comms
Community relations (see this case study with gamigo group for an example)
Employee advocacy?
If there's a PR tool you couldn't live without, we'd love to hear from you. Get in touch on Twitter or by email. Until then, have a productive day :)
Updated July 2023