Configuring stories
Using filters to search for stories
Quickly search for stories by status, site, author, multimedia and more.
Here are a few ways you can easily search for stories:
By typing keywords into the Search Stories bar
Simply enter a few keywords from the title or content of the Story you are looking for in the search box located right above your Stories grid. The search results will come up with Stories with content or titles that contain your search term.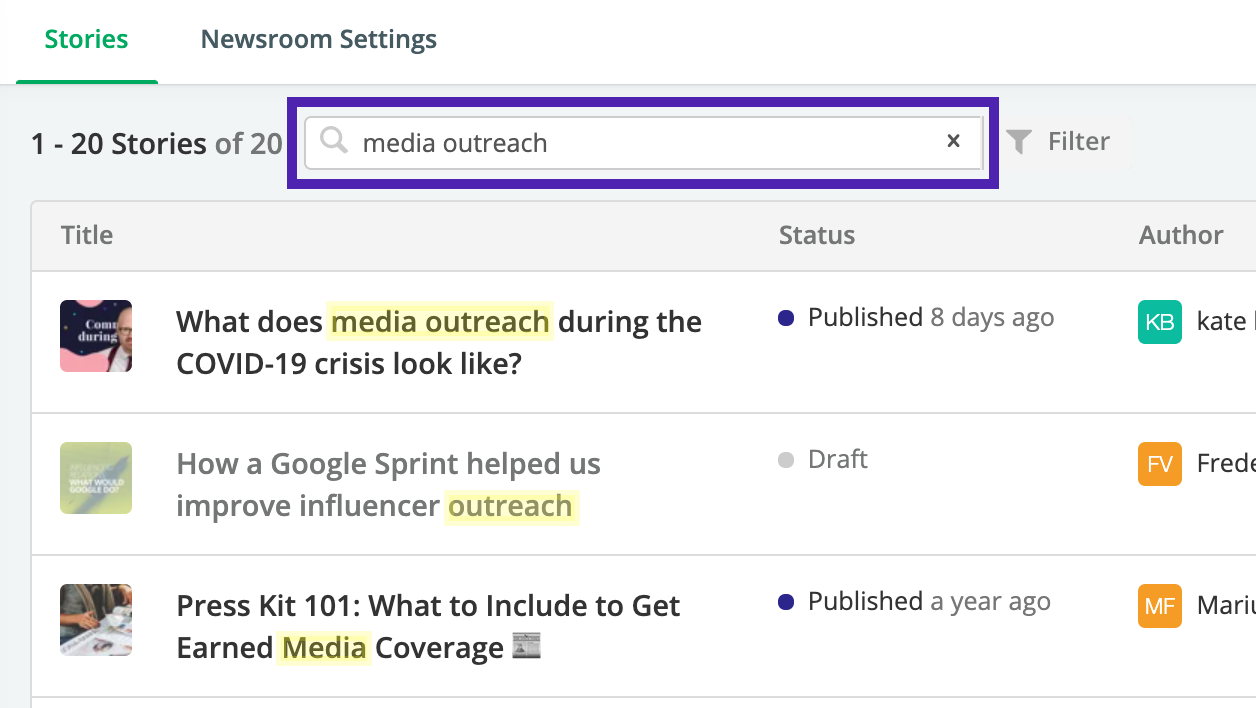 By selecting a predefined filter on the left-hand side of the page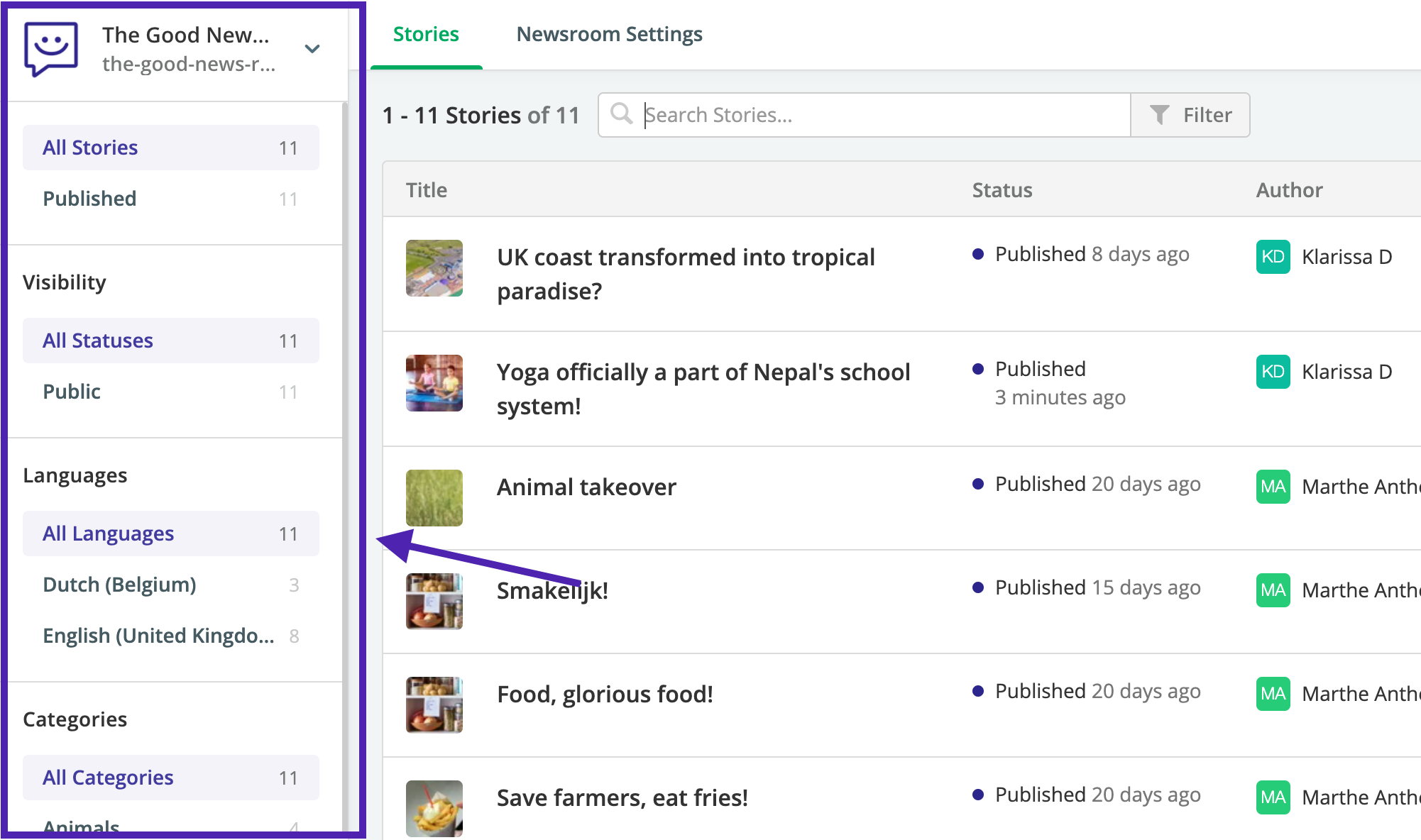 By using advanced filtering, where you can add multiple Rules to the filter form
When searching for Stories, you can add multiple Rules, such as Language, Status, Site, Published At, Visibility and even by Multimedia.
Watch the video to see how we used the 'Site', 'Language', 'Has Header Image', and 'Published At' rules to search for Stories that:→ Are in The Good News Room→ Are in English (United Kingdom) and Dutch (Belgium)→ Have a Header Image
→ Were published after May 1, 2020
Make the most out of the Stories grid filters!
Filtering using Multimedia
Filtering by Multimedia helps you search for Stories that have or don't have images or videos.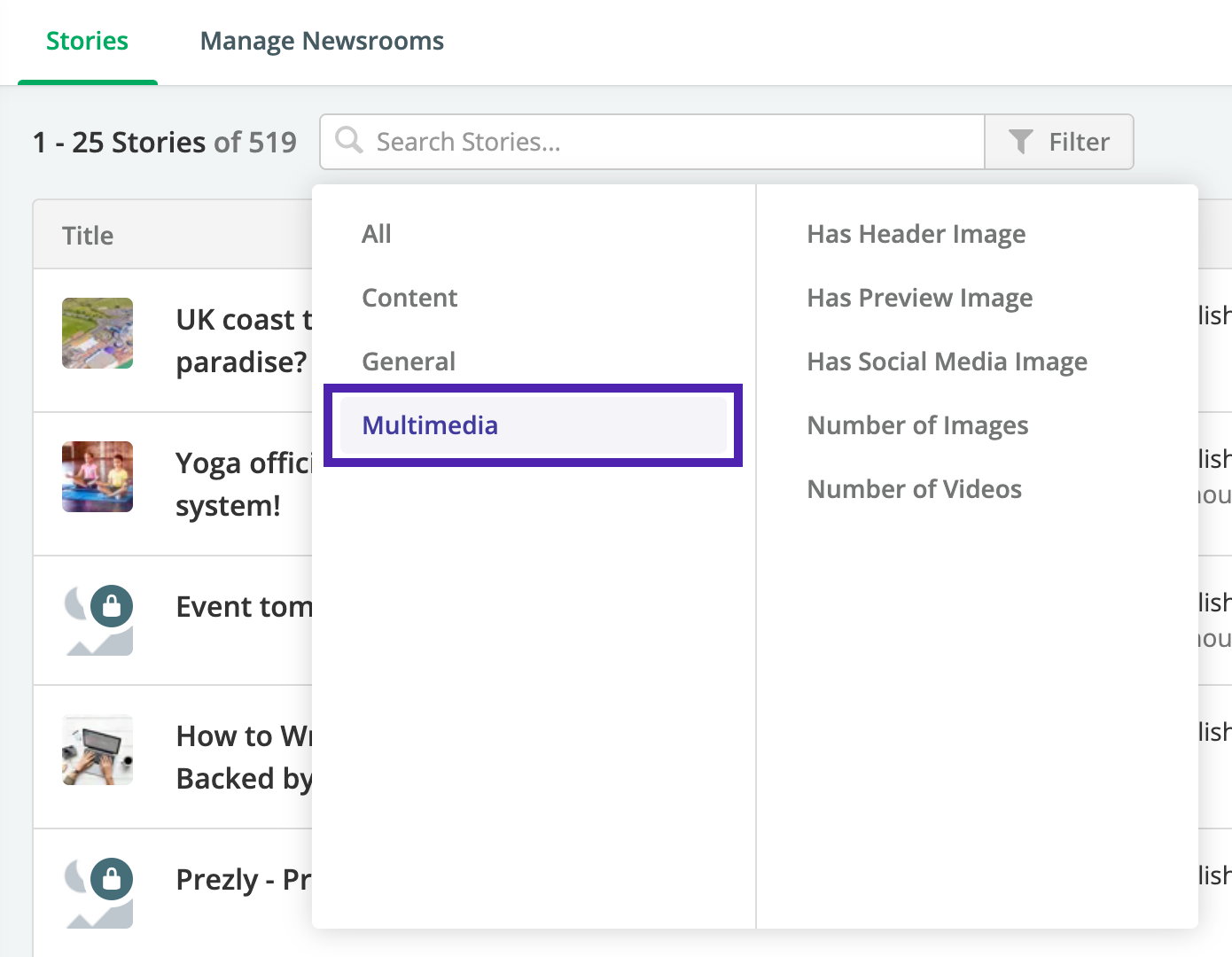 For example, you can easily search for Stories that don't have images yet, so that you know which Stories you can add images to, in order to make them more visually engaging for your audience.
Or you can find Stories that don't have social media images yet and add some, so the links to your Stories have a nice image to go along with your social posts when you share them.
Another hack with filtering by Multimedia is, if you're looking for images or videos that you may not have saved in your computer, but you know are in your Stories – you can quickly find the Stories they are in and download the multimedia when needed.
Share the search with your teammates
If you want to share the search results after applying custom filters to your Stories with your teammates, you can easily copy the link of the page and send it to them. When clicking on the link, they should see the same search results, as long as they have appropriate permissions in the team.