Where to find help
Customer support ❤
Our support team is your co-pilot 👨‍✈️👩‍✈️
At Prezly, we try our best to put ourselves in your shoes to understand your PR needs.
If you run into any trouble or need help figuring out how to make the most of your account with Prezly, our established support hotline keeps you in the loop of all progress and developments, from the moment you contact us about an issue to the second it's resolved.
💡 Prezly accounts on the Enterprise plan have dedicated support available 24/7.
Need a hand?
To report any issues, get advice or discuss options around changing your Prezly subscription, simply email support@prezly.com or start a live chat with our team by clicking on the chat icon in the bottom-right corner of your account.
It usually takes around 20 mins to hear back from our team, though often it's a lot faster 😊
Looking for help articles & how-tos?
You're in the right place! To reach our Help Center from anywhere in Prezly, just click the "?" icon and choose "Help Center". Here you will find all our help articles, guides and tips on using Prezly's features.
---
If you aren't a Prezly client yet and want to see if it's a good fit for you, give it a try today!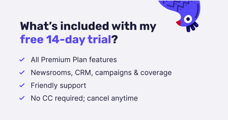 Eager to get started? Try Prezly for free
Organize your contacts, publish your news, pitch the media and track coverage all from one platform. With prices starting at 40€ per month, what's not to love? Try us free for 14 days :)