Team settings
Signing up & paying for your Prezly account
How to pay for your account and a brief walk-through of our monthly and annual billing options
If you want to seal the deal and start with Prezly after your trial, you can choose a plan and purchase your subscription here.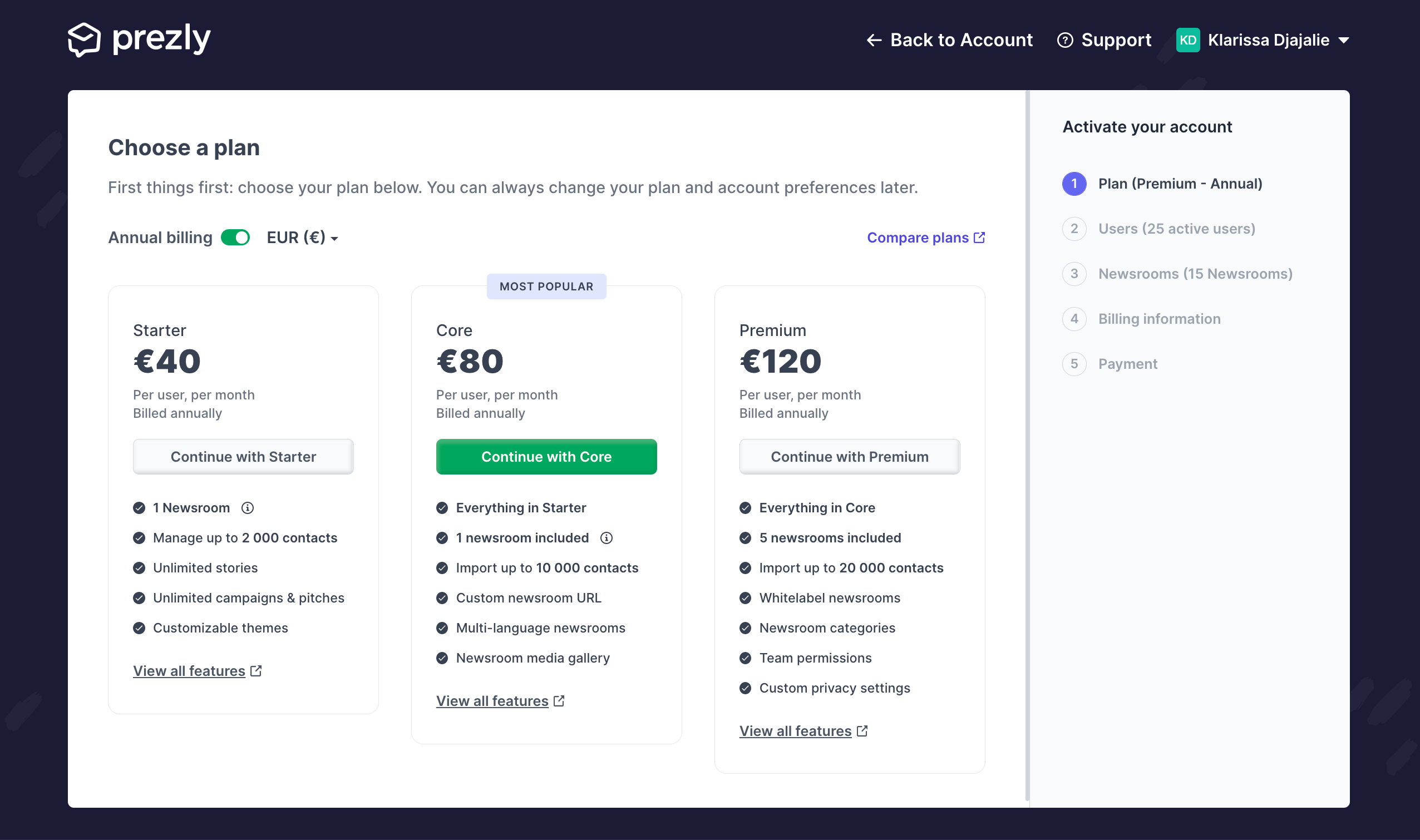 👆The License activation page is where you can find the best features included in each of our plans, set your number of users, fill in your billing details, and make it official!
---
Payment methods
We accept the following payment methods:
Credit cards
Bank transfers
Wire transfers
Billing through external vendor management portals
⚠️ Available only on Enterprise plans ⚠️
We are committed to providing you with quality storytelling tools. We rely on the payment methods above to ensure our attention and resources are focused on building and improving Prezly while actively partnering with you for your storytelling needs.
We recognize that expanding businesses must standardize and outsource some processes over time. Our Enterprise plan is well suited to handle the storytelling needs of growing organizations, including administering your subscription billing through third-party vendor management portals (e.g. SAP, Coupa, Ariba, etc.).
Please contact us at [email protected] for more details.
---
Monthly vs. annual payment options
With Prezly, you have the option to pay for your subscription on a monthly or annual basis. If you decide to sign up for Prezly on an annual license, you may also choose to pay via bank/wire transfer.
We currently give a 20% discount to accounts that choose to pay annually* and also offer a 20% discount to non-profits. Contact support through the support icon or at [email protected] for more information.
It's important to note that the monthly billing option has a different rate from the annual billing option. Learn more about our monthly vs. annual pricing here.
*Discount is subject to change
Frequently asked questions