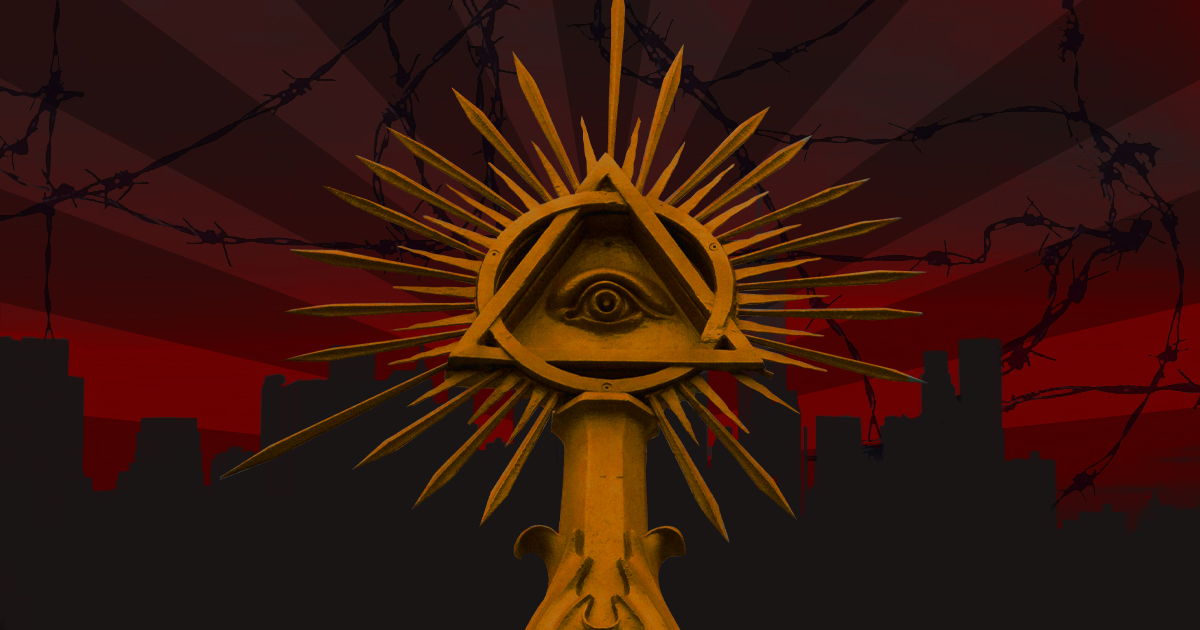 Measurement
3 analytics tools better than Google Analytics 4
Meet the privacy-centric underdogs standing up to Google's Goliath
As privacy-conscious countries cancel Google, we seek out the good-guy alternatives for your analytics.
Italy has become the latest in a slew of European countries to ban the use of Google Analytics. It joins Austria, France and Holland in holding the tech giant to account amid criticisms surrounding data privacy and mass surveillance.
This isn't exactly new news.
We've all become accustomed with living under surveillance. We understand that when we interact with technology, someone, somewhere is always watching. That our seemingly mundane data is being collected and traded for unconscionable amounts of money by businesses and politicians who have their own interests at heart.
Marko Saric, the co-founder of Plausible Analytics – the David to Google's Goliath – puts it this way:
We have a vast industry specifically designed to take our data and turn it into a product they sell to the highest bidder. They gather personal information about us, follow us, and target us around the web to influence our behavior. ​
​​
​The good news is that awareness about these practices is increasing, and the number of alternative services is growing.
​​
​
– Marko Saric, Plausible
In Europe, the introduction of the GDPR turned a spotlight onto how rife the commoditization of personal data within our digitized world has become (and, yes, introduced the infernal cookie banner – testament that noble ends don't always justify the means).
Before the GDPR, this was done without our permission and without us even knowing what was going on in the background as we browsed the web, read the news, or interacted with our families.
But revelations such as those made by Edward Snowden and the Cambridge Analytica scandal have collapsed any sense of naivety; we're all well aware of the seedy data underbelly that permeates big tech.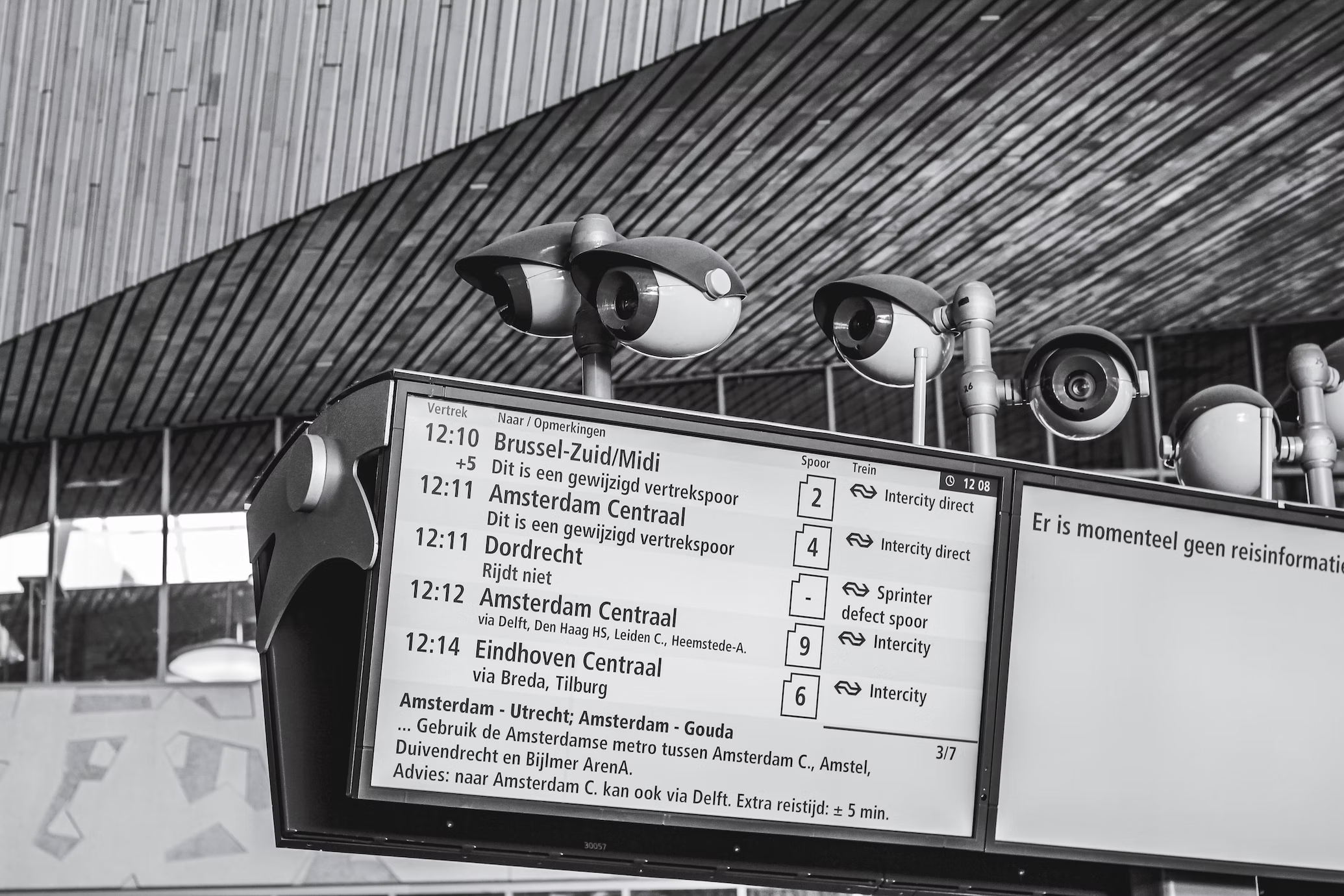 And despite its early mantra of "don't be evil", Google hasn't come out squeaky clean.
In 2020, an Australian watchdog accused Google of misleading millions of users about the collection and use of their private data. In 2018, Google encountered a bug that exposed data from 52.5 million Google+ accounts; the same year people discovered that Chrome habitually rifles through your computer's documents in the name of security. The list goes on.
No wonder countries are starting to put their foot down on how much they're willing to feed the tech giant, with Europe and the European Parliament leading the charge (in part, perhaps, due to being left red-faced after inadvertently floundering their own privacy regulations thanks to – you guessed it – Google Analytics).
The fallout for Google has been disastrous.
As well as resulting in a mass exodus of organizations within Italy, Austria, France and Holland, the bans on using Google Analytics portend of more widespread changes to come. Any company looking to do business in Europe is beginning to rethink its analytics setup; more and more websites are starting to block Google Analytics from trawling their traffic, resulting in a clear vacuum where visitor numbers should be.
That means bad data.
Investigations show that the data you see in Google Analytics could fall as much as 26% short of your actual website traffic.
Tell me that wouldn't have been helpful to know at your last marketing meeting.
The main criticism coming out of Europe is that Google Analytics is, well, illegal as far as the EU is concerned.
Google Analytics gathers heaps of personal data on each one of us every time we browse the web, and then transfers that data to the US. That data includes things like the IP address of your device, the time and date of your online activity, your browser information and so on.
Your data is transferred without the privacy measures required to meet the EU legal standard, thus directly violating the GDPR.
And as this process is governed by US law, Google is obligated to disclose data to US intelligence services when requested – that includes information on European citizens. As you might imagine, this doesn't sit well with the EU.
​
It's almost impossible to run Google Analytics legally according to the EU, and any legal framework around this is still very far away.
​

​– Funmi Sobodu, Coast Digital
With Google Analytics 4 comes improved privacy and more nuanced control over what data companies collect (or omit). It's built to take into account many of the criticisms levered against the current Google Analytics, and certainly makes some strides towards becoming a more secure product.
Some of the key changes introduced with the new software are that GA4:
Will not store IP addresses
Will make it possible to choose whether or not data is linked with Google accounts
Will allow greater configuration of whether/how geo and device data is collected
Will process data collected from end devices within the EU on servers in the EU
While these are steps in the right direction, the waters around GA4's full EU compliancy remain muddy.
Though it markets itself as being "privacy-centric", in truth, a number of other features would need to be switched off for GA4 to fully comply with EU standards, meaning that many of Google's current subscribers are likely to jump ship to one of the many smaller, pro-privacy alternatives that are on the market.
Google analytics 4 isn't just an update of your regular GA dashboard – it's a whole new piece of software. To use it, you will have to migrate your entire analytics setup.
And once you've onboarded, it's not going to be the same Google Analytics dashboard that we all know and tolerate. It's a brand new tool with different functionality that you're going to have to spend time relearning.
​Not only are they asking you to lose your historical data by switching, but they also want you to adapt to a product that no longer has analytics as we know them as its primary purpose.
​​
​Seems like a good time to consider whether Google Analytics 4 does what you need and whether an alternative could provide a better solution for your needs.
​​
​
– Marko Saric, Plausible
So whether you decide to stick or twist, you will need to invest time collating your historical data and moving your entire analytics configuration from one place to another by the summer of 2023.
Let me reiterate that: whether you choose to go with GA4 or a completely different analytics provider, the amount of work you'll have to put in will be the same.
That's why so many businesses are taking this opportunity to see what better solutions are available in the market.
Let's go into some of the industry's top contenders.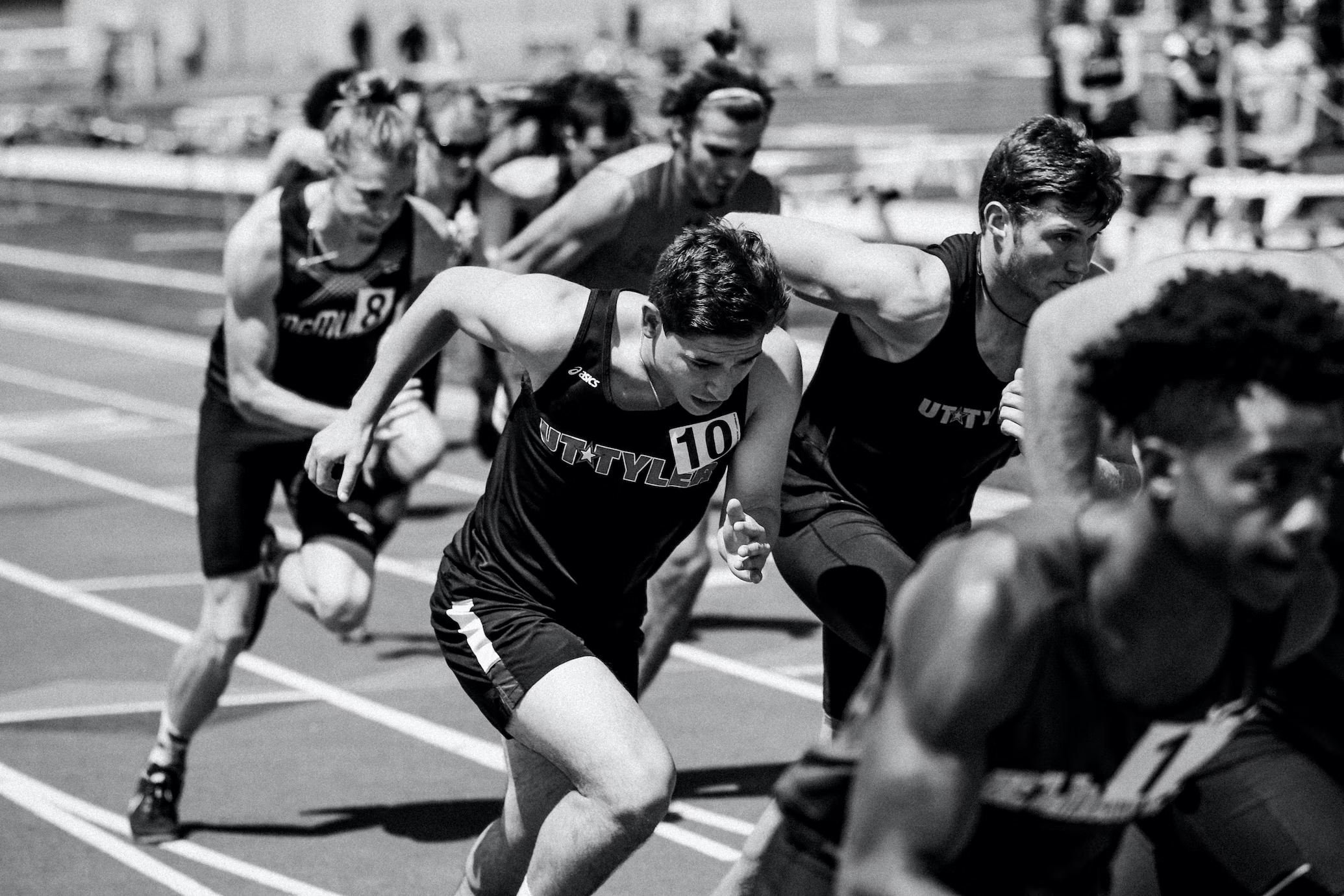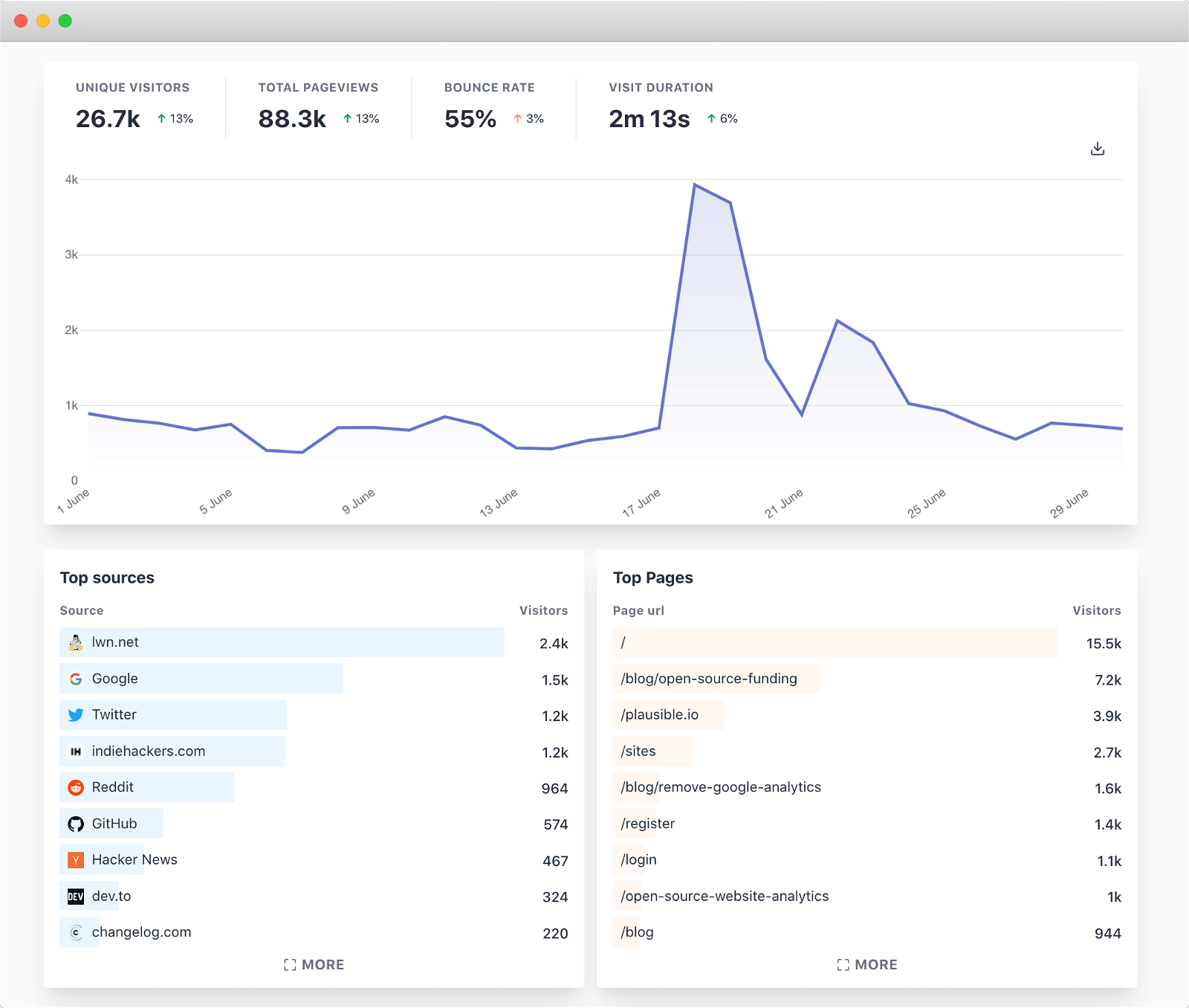 Plausible is our favourite forerunner in the battle for moral analytics because it's always put privacy at the centre of its software. It's one of the reasons we use it for our own websites.
The project was bootstrapped by co-founders Uku Täht and Marko Saric in 2019, and without the pressure to scale scale scale that investor-led startups face, the team behind Plausible chose instead to take their time, and build a conscientious product that would let them sleep easy at night. The result is the most effective privacy-first analytics product on the market.
​Plausible is more like how web analytics used to be before surveillance capitalism became the default business model of the web. ​
​​
​
– Marko Saric, Plausible
Plausible:
Doesn't collect any personal data
Doesn't use cookies or any other long-term identifiers (which means no cookie banner!)
Doesn't perform any cross-site or cross-device targeting
Here's what it does instead:
Shows you the most meaningful website metrics in a single simple interface (so you don't need to take a course or employ an expert to start using it)
Loads lightning fast, meaning it won't burden your website
Tracks traffic, events and goals, including conversion rates and referral sites
Is fully compliant with the GDPR, CCPA and PECR
For the full details, see Plausible's data policy and about page.
---
As of September 2022, Plausible's reporting tool became available for reporting within Prezly. This allows you to see data on how many people are viewing your published Prezly content through a built-in analytics dashboard. More about your analytics dashboard →
---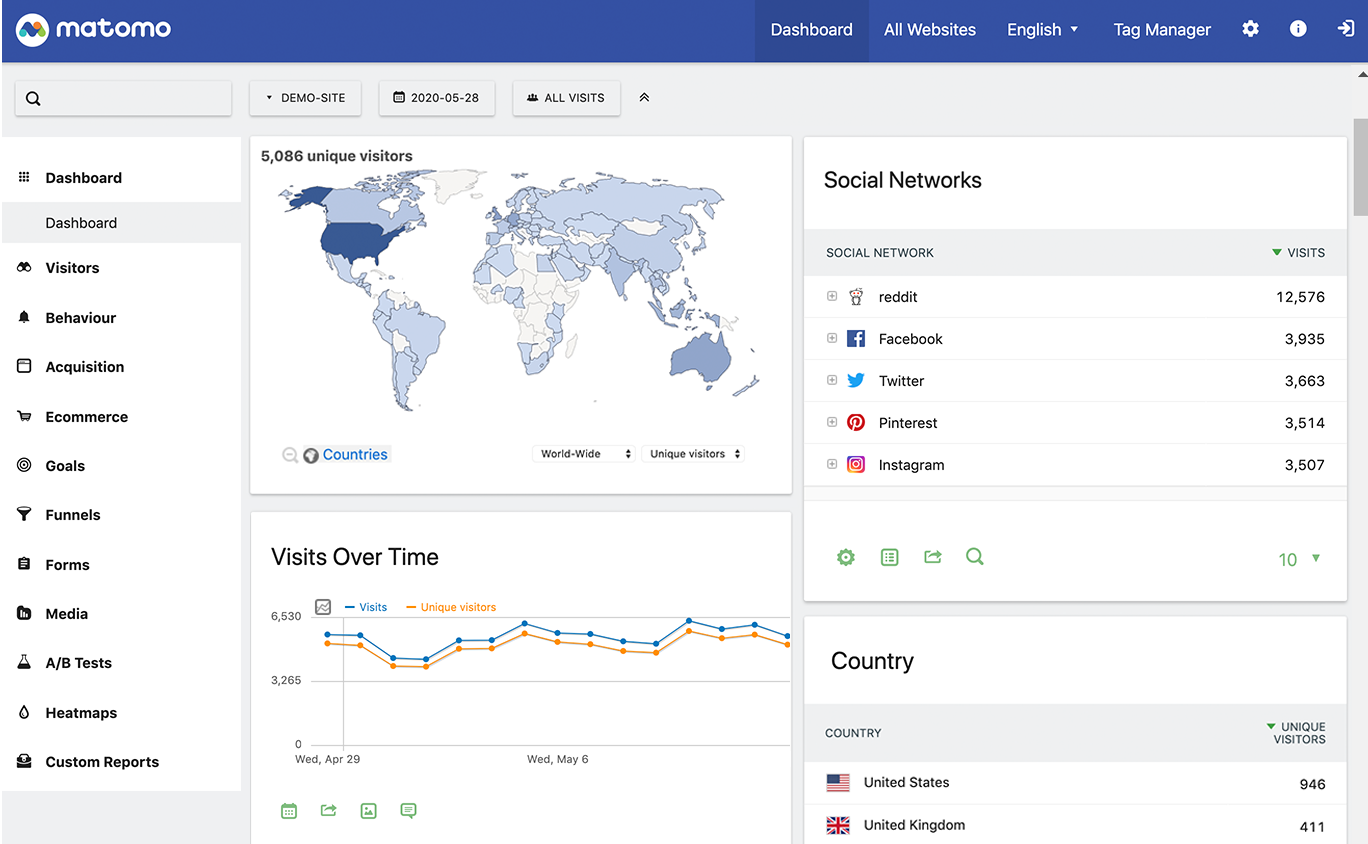 Similar to Plausible, Matomo is an open-source web analytics tool that prioritizes data privacy. Where the two differ is accessibility – while Plausible is plug-and-play, Matomo offers a more complex product that you can set up to work exactly how you want, provided you're willing to learn its ins and outs. It is far closer to Google Analytics in that regard.
Matomo:
Offers 100% ownership over your own data
Offers complex web analytics that you can set up any way you like
Uses cookies and collects personal data by default, but you can toggle this off or ask for viewer consent
Can be set up to be fully GDPR compliant
For full details, visit Matomo's Google Analytics comparison page.
---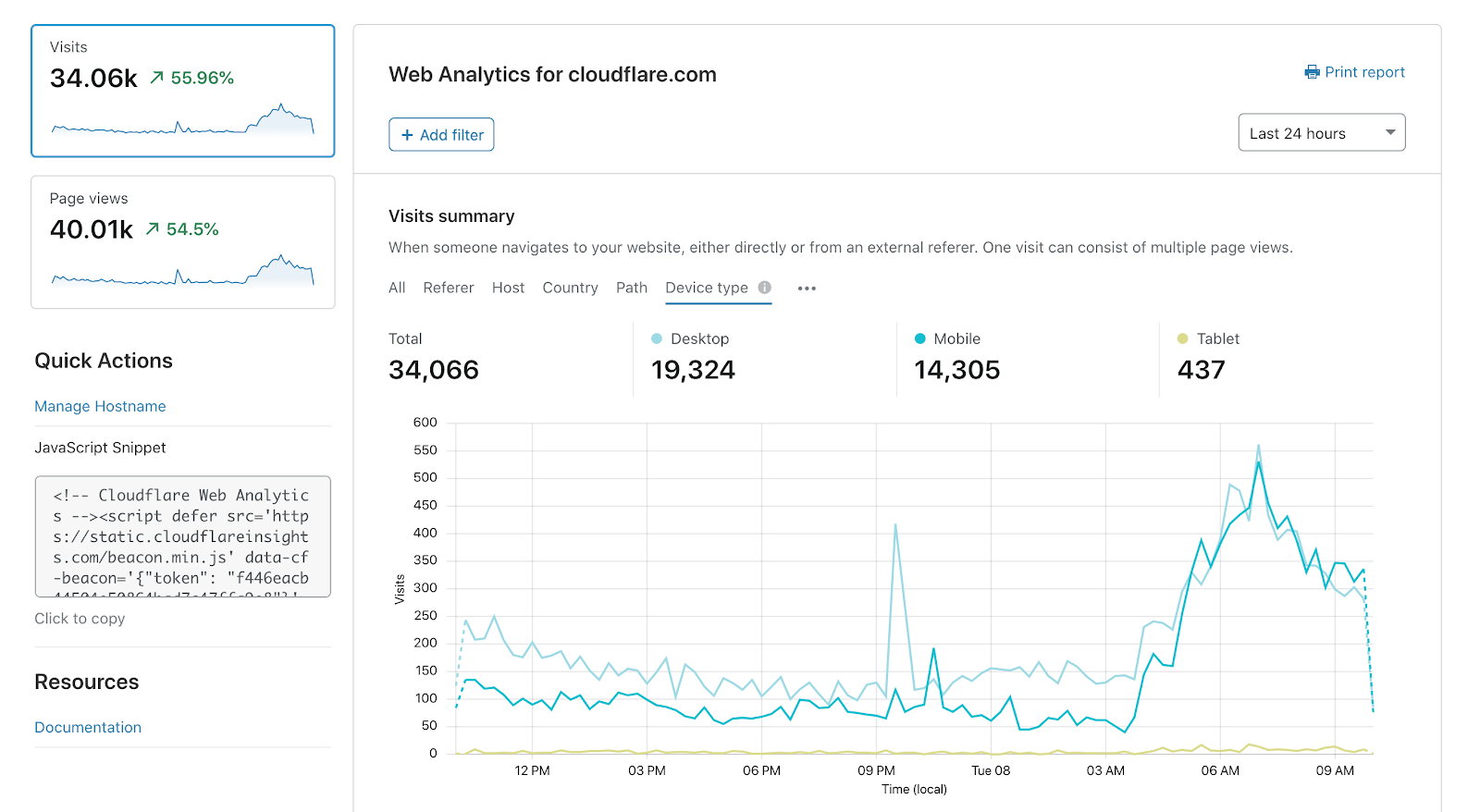 Cloudflare Web Analytics, as you might expect, belongs to the Cloudflare cohort of web tools and as such is well established online. It is compliant with all major data protection regulations, and differentiates itself by offering a free subscription to all but enterprise clients.
While Cloudflare is a strong contender, it does has some downsides – namely that its data retention is limited to six months (at time of writing, August 2022). That means you can't compare your latest figures with those from a year ago.
In addition, Cloudflare uses a sample of 1–10% of your real data to generate your analytics results, so accuracy can vary greatly depending on sample size, and isn't great at filtering out bots from your traffic, which can result in skewed data.
Cloudflare Web Analytics:
Is available for free
Does not use cookies or collect personal information
Is fully compliant with the GDPR, CCPA and PECR
For full details, visit the Cloudflare Web Analytics product page.
Published August 2022