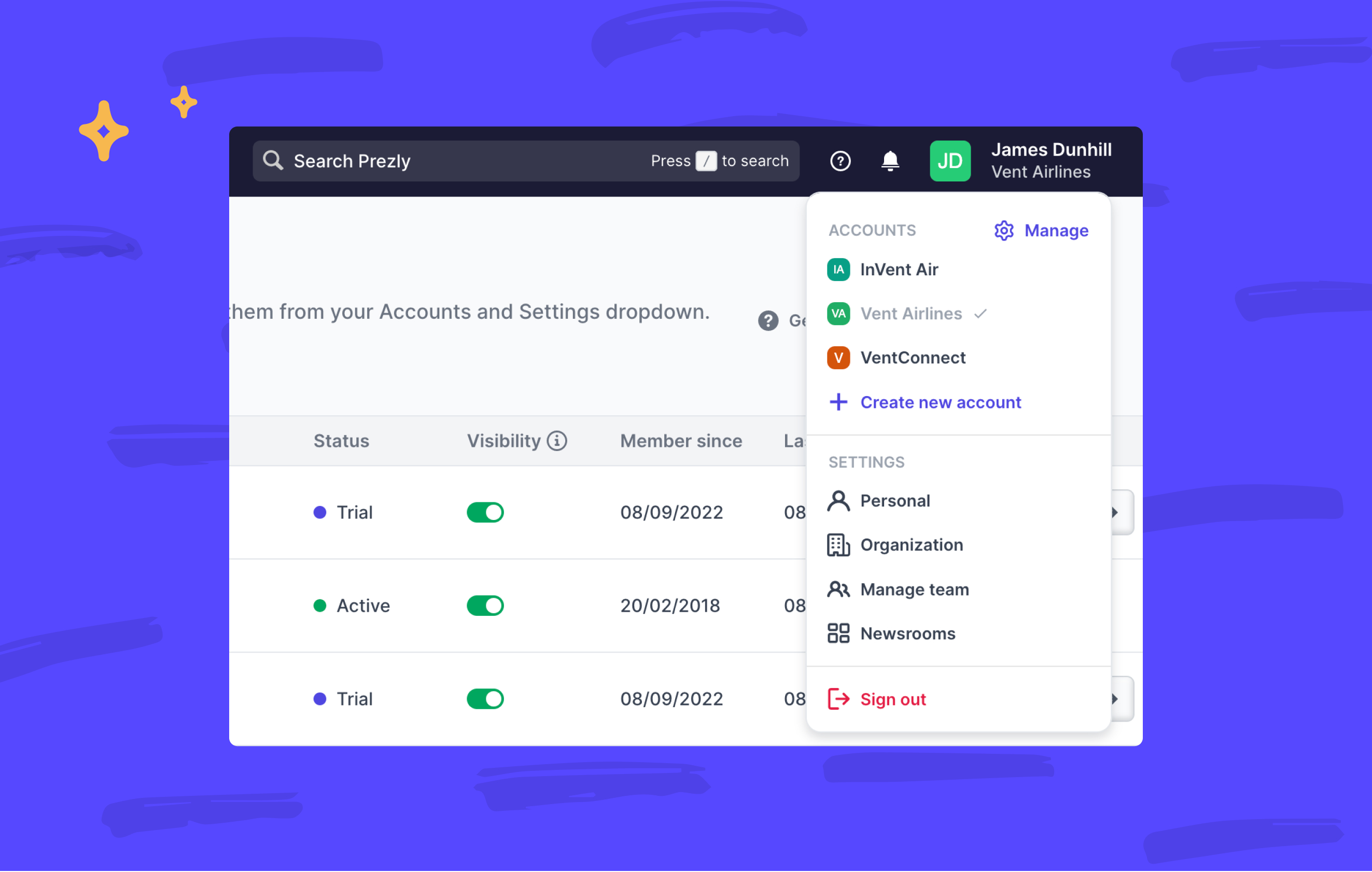 September 8, 2022
Manage multiple Prezly accounts
Switch between your Prezly accounts without having to log out and back in
Whether you're from a big-time Marketing or PR agency, working in comms for a global company, or going solo as a freelancer, one thing remains constant – you need a quick and easy way to manage your or your clients' accounts.
This is where account switching in Prezly comes in handy! 
​​You can create and manage multiple Prezly accounts using your one email and password, and switch between them without having to do the run-of-the-mill work of logging out and back in again. Timesaver!
People and teams use Prezly for publishing their latest updates and outreach, and for juggling multiple brands or clients. Oftentimes, this means that they have to alternate between different client accounts, projects, stories, releases, and contact lists, and so on.
But even with the help of tagging and segmenting contacts, keeping your constantly growing contact lists organized is a huge responsibility on its own. And while being able to create newsrooms for each client or brand can help distinguish where stories get published, always having to triple-check that the right content is going out to the right contacts for each account can be quite daunting – nobody needs that pressure!
So, to keep things organized and make sure things don't overlap, we've seen Prezly users create individual Prezly accounts for each client, brand, or subsidiary, but logging out of one account and back into another again and again isn't most productive of ways.
This is why we created account switching. 🔁
It's like switching between workspaces. It simplifies the way users manage multiple Prezly accounts by keeping all accounts in one easily accessible place – helping PR and marketing agencies, global companies, or even individual contributors with just a handful of clients, who use Prezly as their full storytelling toolkit.
Think: Instagram accounts. When you're managing different brands or clients, doesn't being able to switch between multiple accounts speed up sharing different content for different audiences? 
Your account(s) are listed under the Accounts and Settings dropdown on the top right corner of the page, where you can also see the option to create new accounts.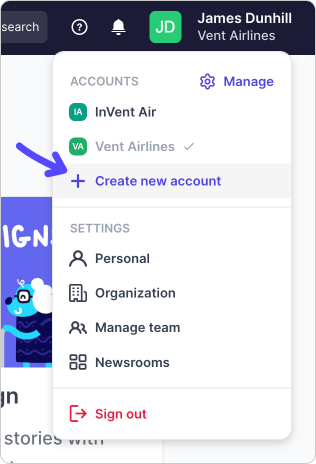 A new account can be created in a matter of seconds! You only need to enter the name of the new account and it'll automatically be added to your list of accounts in your Manage accounts page, where you can choose to show or hide it from your Accounts and Settings dropdown.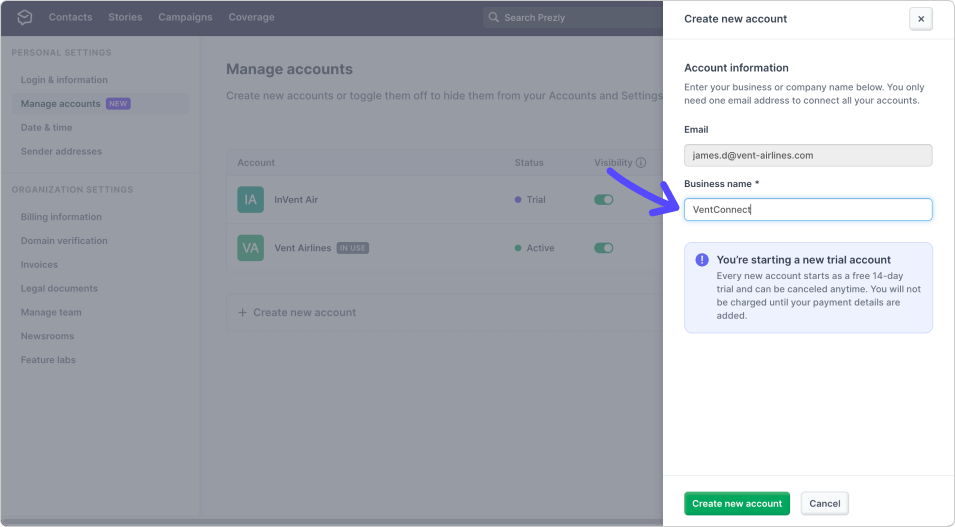 Yes, there is another way to manage another account without creating a new one.
You just need to be invited to an existing Prezly account and the invitation must be sent to the email address you use for Prezly. After you accept the invitation, you will see the additional account in your straight away and be able to switch from one account to another in a matter of seconds.
Learn more about managing multiple Prezly accounts →
Account switching makes collaborating easier for Prezly users who collaborate often but work for different teams or companies, such as brands that frequently work together with agencies, freelancers working on a project-by-project basis, or corporations with regional offices.
GLOBAL ENTERPRISES
International corporations tend to have multiple businesses or subsidiaries operating under their wing. For example, Sonova, a leading provider of hearing care solutions ​ acquired German audio company Sennheiser, which was announced on Sennheiser's newsroom created using Prezly.
When it comes to reaching their audience and communicating with their consumers, the Sonova team made the choice to keep the existing Sennheiser account, but wanted a way to just as easily start sharing stories and managing their comms under the Sonova brand. So, Sonova decided to also take on Prezly as their storytelling toolkit and in doing so, wanted to set up a completely separate account that had the same functionalities and privileges – all with the flexibility to also start structuring their own account without interfering with the Sennheiser account.
Both Sonova and Sennheiser have separate contacts, IT requirements and newsrooms, but as part of the acquisition, some members of the Sonova team required access to the Sennheiser account to edit stories and check on contacts within the Sennheiser account. In this case, account switching helps the Sonova team do just that. They can easily switch back and forth between the Sennheiser and Sonova accounts with just a few clicks when necessary.
AGENCIES
When it comes to coordinating PR and comms with your clients, you can easily create Prezly accounts for different clients or brands, which gives you a more straightforward way of staying on top their contacts or audiences, content, and campaigns.
For example, a PR agency may have a well-known brand like Samsung as a client and are hired to publish their latest new and releases on their behalf, as well as report on how their stories are performing and make sure their contact lists are up to date. While most of the groundwork is managed by the agency, clients may want to check in on the comms and contact management their agencies are working on, and see what's new in their storytelling toolkit.
Having a separate account for different clients makes it easier for them to navigate the tool when they want to check on their contacts, newsrooms, reports and more. This also restricts them from being able to enter or accidentally make any changes to your other clients' accounts. Potential crisis averted!
FREELANCERS OR INDEPENDENT CONTRACTORS
Let's say you're a freelancer and you manage comms for a couple of cafes in your city and they already have their own Prezly accounts. As long as your clients already have Prezly accounts, they can quickly send you an invitation to their accounts and you can switch between working from one account and another.
On the other hand, it's not always the case that every Prezly user will use all the features across the tool. This depends on their roles in their teams – it may just be that they are hired simply for temporary contract assignments, like translators, for example. 
Many global teams or companies with subsidiaries choose to use Prezly because the tool enables them to publish and translate stories into multiple languages, so it's not uncommon that these teams have a translator working across two or more of their accounts, and being able to account switch can boost efficiency – saving them time on constantly logging in and out of accounts and making sure they don't lose any progress on their work.
Have any ideas for how account switching could work for you? Go all out – we want to hear it all! Start a chat with our team or send an email to support@prezly.com.
Published 8 September 2022