June 14, 2023
Introducing: Formatting options for header image, title & subtitle
Centered title? ✅. Resized header image? ✅. Italicized subtitle? ✅ and more.
Previously, the header image, title, and subtitle placeholders were separate fields from the rest of Prezly's story editor. Now, they are part of the editor's content fields, which enables you to use additional formatting and positioning options for all three, like centering your title text, bolding your subtitles, or even adjusting the alignment of your header image – the list goes on!
---
What can I do with my header image, title & subtitle?
Header image size & positioning
You can now align your header image (left, center, or right), as well as adjust the image size manually or choose an image size from the menu. Header images now also support image captions and can be linked to any URL.
Title and Subtitle text formatting
You can now format your title and subtitle just as you would with your text throughout a story. This means that centering your title and subtitle text is possible, as well as choosing font styles! The only thing that isn't possible is hyperlinking the text in the title and subtitle fields.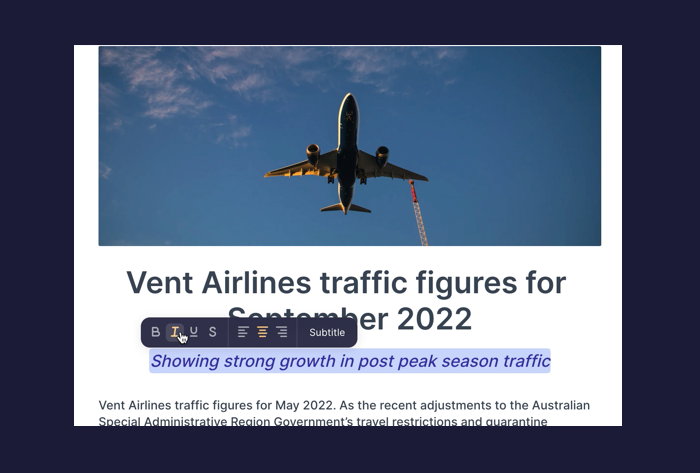 ---
My site uses a custom theme. What does this mean for me?
While all users can now utilize the new formatting options in the Story editor, the actual formatting is only visible on stories published to sites that are using our current themes (Lena, Bea, Greta, Marcel). Sites using custom themes or legacy themes will not display any formatting beyond the default – a centered header image in its default size, and left aligned title and subtitle in plain, unformatted text.
---
We'd love to know what you think!
Have any feedback or questions about the Story editor updates? Go all out – we want to hear it all :)