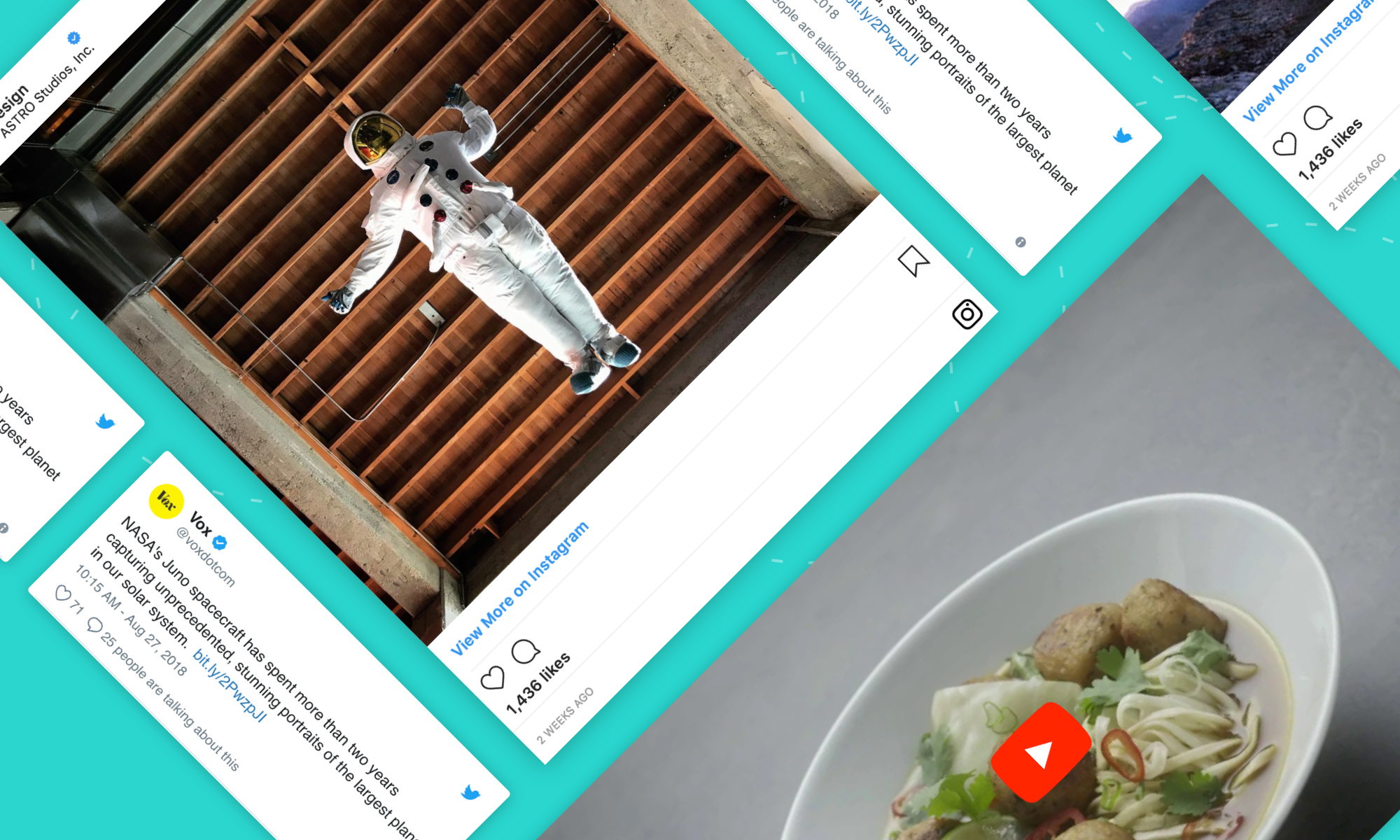 August 27, 2018
Create Stories & Campaigns with social posts, videos, GIFS, and more
With a quick copy and paste, your Stories and Campaigns can now hold your favourite Tweets, YouTube clips, songs from Soundcloud, Slideshares and more.
We love seeing all the different Stories and Campaigns that are being created with Prezly every day. Some can make us hungry, some give us the urge to renovate the office, and others excite and inspire us.
With our latest release, you can include content from over 400 content providers directly in your Stories. Your stakeholders will now be able to stay engaged in your Stories and consume the right content at the right time.
Here are just a few samples of the content you can now add to your Stories.
Twitter, Facebook, Instagram, Soundcloud, Pinterest and even MySpace, because why not. You can now easily embed social posts from all your favourite social media services.
This makes sharing your user-generated content and your own moments that much easier.
Here you can see an Instagram post from our 2017 team retreat of our Trusty Engineer Ivan standing in front of some contraption I am still yet to find the words to describe, one year on.
No longer attached to the bottom of your Story, now you can include videos from services such as YouTube, Vimeo and Wistia at the beginning, the middle, the end, or anywhere else.
One of 400 content providers we now support is SlideShare. The largest presentation and infographic sharing platform in the World. Allowing you to share so much of your internal and external content right from your Prezly Newsroom.
Just two of the music streaming services you can use to include links to your artists, playlists, podcasts or more.
Don't worry; links aren't going anywhere. In fact, they are getting a whole lot better. You can now add links anywhere in your story, and we enrich them automatically for you. We pull information from the link you add and embed it right on the page. Take this example of an article from the Boston Globe.
Phew! That's a lot of excitement packed into one release. Now it's time for you to start creating your Stories and Campaigns with all the new content options available to you.
Need more info? Read this simple how-to ▸