Prezly basics
How to embed multimedia in your story
Embed everything from YouTube videos to audio files, contact details to tweets in your Prezly stories
It's easy to embed multimedia into your stories using the green + button:
💡 Pro tip: Already know what you want to embed? Bypass the green + menu and type "/" ​ on a new line followed by the thing you want to embed, e.g. "/image", then hit enter to select the option you want. Easy peasy.
---
Types of embeds you can add to the Story Editor
Image or GIFs (you can also add links to an image embed)
Video: Youtube, Vimeo, Wistia 
Audio: Soundcloud, Spotify
Files or documents: Slideshare, Prezi, Word, PDF
Contact information
Social post: Tweets, Instagram, or Facebook
Typeforms
Links from other websites
Story bookmarks (published stories from your site(s))
Tables
See the full list of supported content here.
How do I add an embed to my story?
1. Click the green + button within the Story Editor. This will open a dropdown menu that includes the full list of embed options: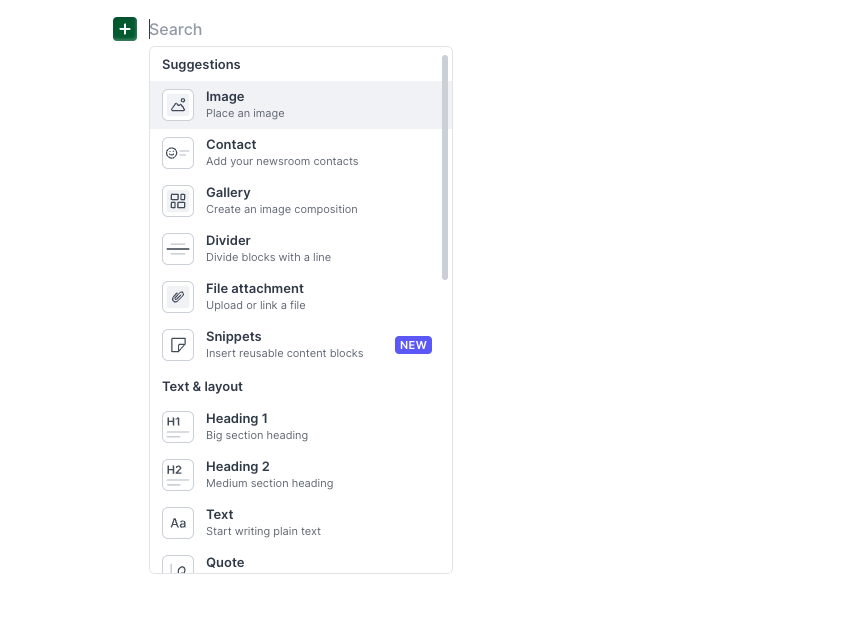 2. Select the embed you wish to add to your story. Depending on the type of embed, you can either upload a file or simply copy and paste the link of the embed (e.g. YouTube link) and it will be placed inline within your story
Removing embeds
Select the embed you want to remove
Hit the "delete" key on your keyboard if no menu appears; if a menu does appear, click the "remove" option at the bottom (see image below)
The embed is now banished from your story 🎉