Prezly basics
Coverage
Upload and manage your media mentions, and share them with your contacts

Logging your media coverage is a great way to keep track of what people are saying about your brand. This is why we decided to add Coverage as one of the main features in Prezly – to help you stay on top of all your online or offline media mentions by linking them to specific Contacts, Organizations, and Stories.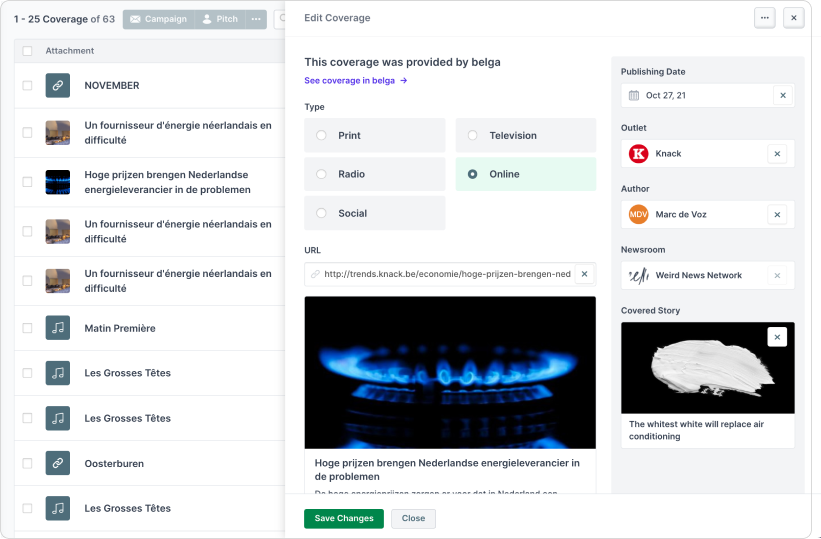 You can easily upload, manage, and report all your media clippings and press coverage from your Campaigns. Or if you'd like to show your clients or investors which media channels and journalists are buzzing about your brand, you can quickly send logged Coverage to them using targeted Email Campaigns, all within one tool.
When logging Coverage, it is helpful to tell Prezly more about the coverage item. When was it published? Which journalist wrote about your brand? Which story and site does that coverage relate to?
Once you've logged coverage, it is automatically saved in the Coverage feature page where you can easily find and keep them organized.
Stay on top of negative Coverage
In a world where the media pay more attention to failures rather than your success, it's important to be quick to respond. Logging Coverage helps you keep track of any red flags or negative press, so you can see where you should take control of your narrative and turn it into a positive one.
For Online Coverage, you can add links to news articles, videos, social posts or other online content.
For Offline Coverage, you can upload files like Word documents, PDFs, images and more.