Coverage
Track all your media mentions with Coverage
Learn how you can create or log Coverage using press clippings or news articles

Coverage in Prezly lets you store coverage from journalists, influencers, and other media. You can highlight which stories have been covered by any of the outlets/organizations or contacts in your list and add that into Prezly, so you get a full overview of all your coverage in one place. This gives you the full picture of how effective your PR outreach is.
Watch the video to see how it works!
Where do I log coverage?
Coverage feature page
If you have an online article or a document you would like to store in Prezly, click on the Log Coverage button and the Coverage form will appear on the right side of your screen.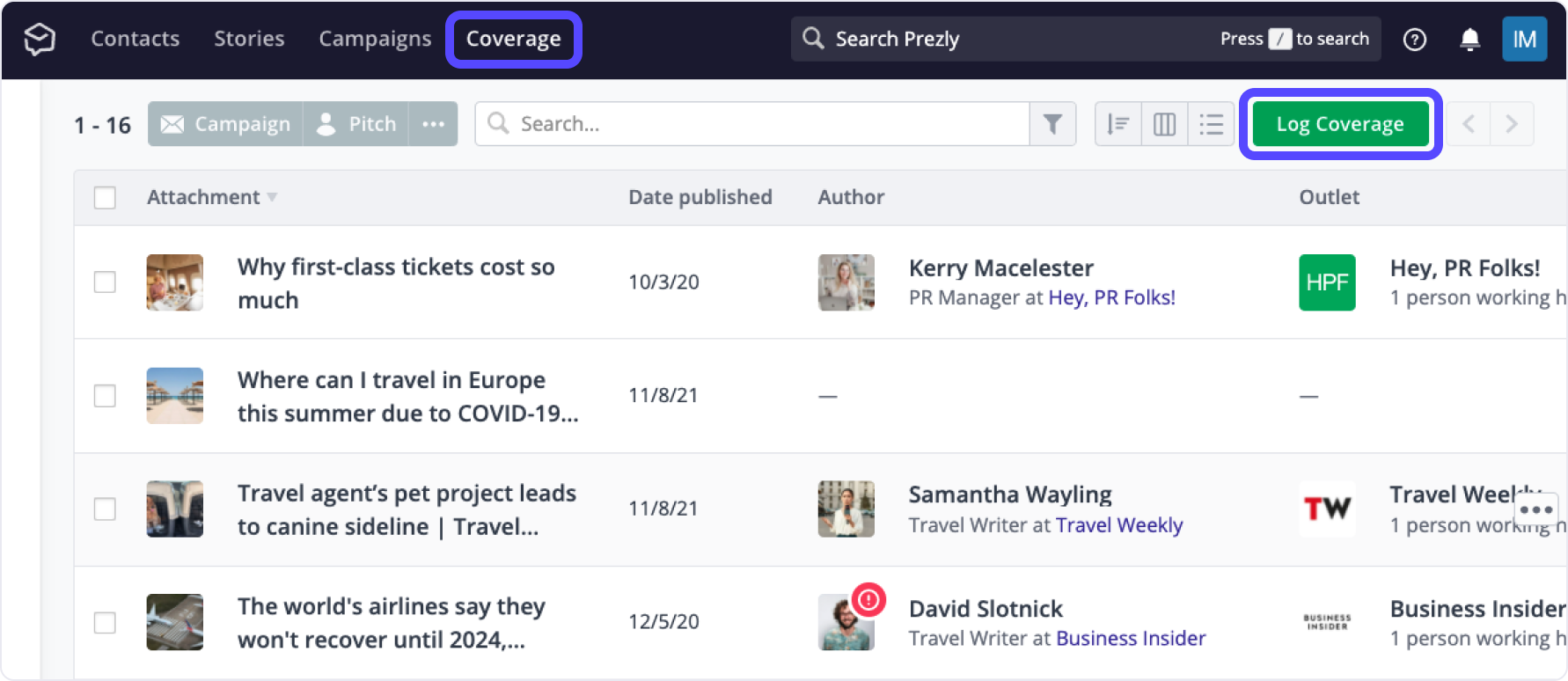 After clicking on Log Coverage fill in the details of your press clipping or online article.
Online Coverage
Simply paste a URL/link of an online article, a social post, or video. Prezly automatically imports the article's title, image (if available), and its short introduction.
Document
Upload or attach files for your coverage. We support all major file formats for images, documents, and keynotes/powerpoints.
💡Pro Tip: Full list of supported files: pdf, doc, docx, xls, xlsx, rtf, txt, key, ppt, ppts, jpg, jpeg, gif, png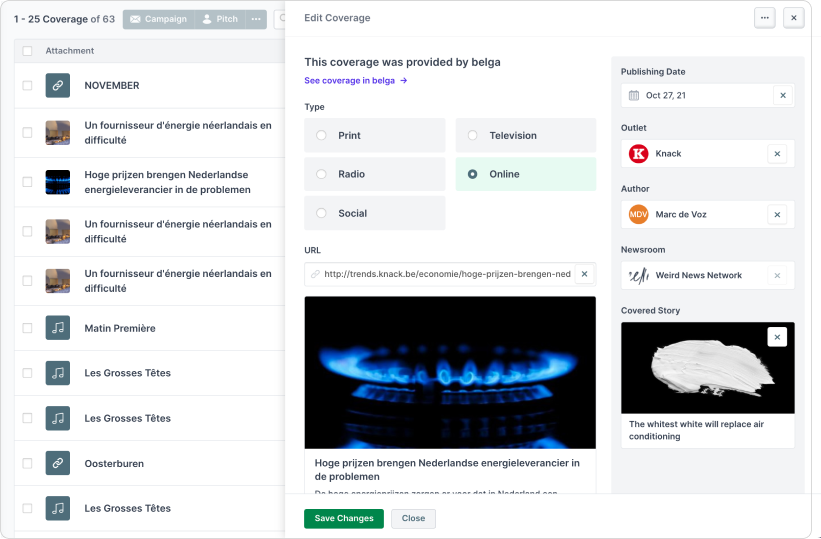 Tell Prezly more about your Coverage
Add more information about a Coverage item by filling in the details. These fields are optional but filling them in makes it easier for Prezly to organize your coverage and easier for you to keep track of them all.
Publishing date: Store the date your brand was covered.
Outlet: Add the news outlet your coverage is related to. In Prezly, this is usually represented by the organizations that are linked to your contacts. For example CNN, New York Times, etc. 
Author: Match the coverage with an author from your Contacts list.
Newsroom: Add the newsroom where the covered story is published.
Story: Add the story linked or related to the coverage.

​💡Pro tip: Don't worry about losing your work – Prezly automatically saves all the content added to the coverage form, so don't hesitate to hit the refresh button if you need to.
Contact profile pages
You can also log coverage by clicking on 'Track Coverage' and adding a URL/link or uploading a file.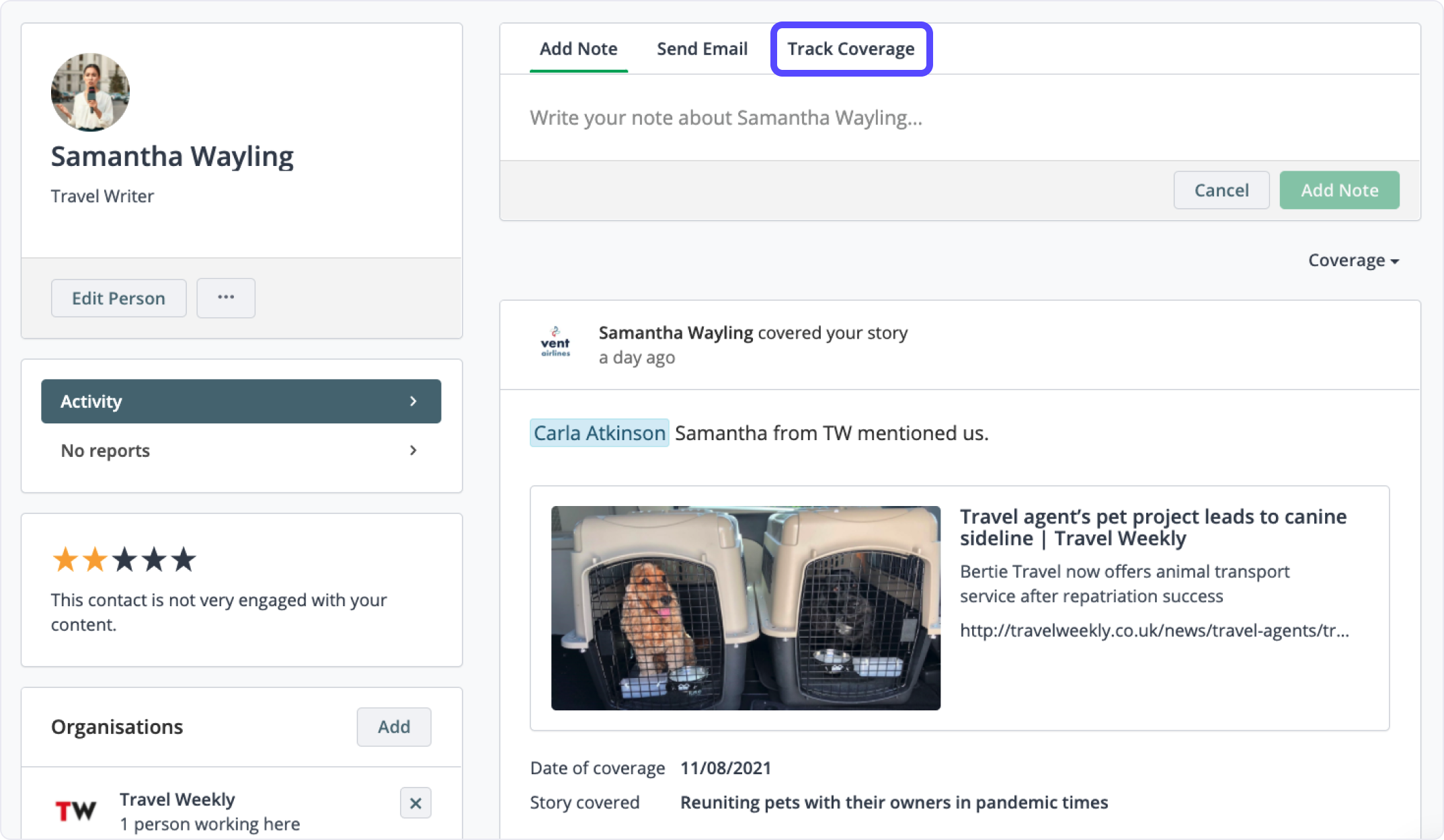 How to find logged Coverage
1. Coverage overview
When you access the Coverage page in Prezly, you'll be able to see all pieces of coverage that are added to your account.
You can use the sidebar filters on the left or the filter form for a more specific search by Type of Coverage. Newsroom Outlet, Published Date, and more.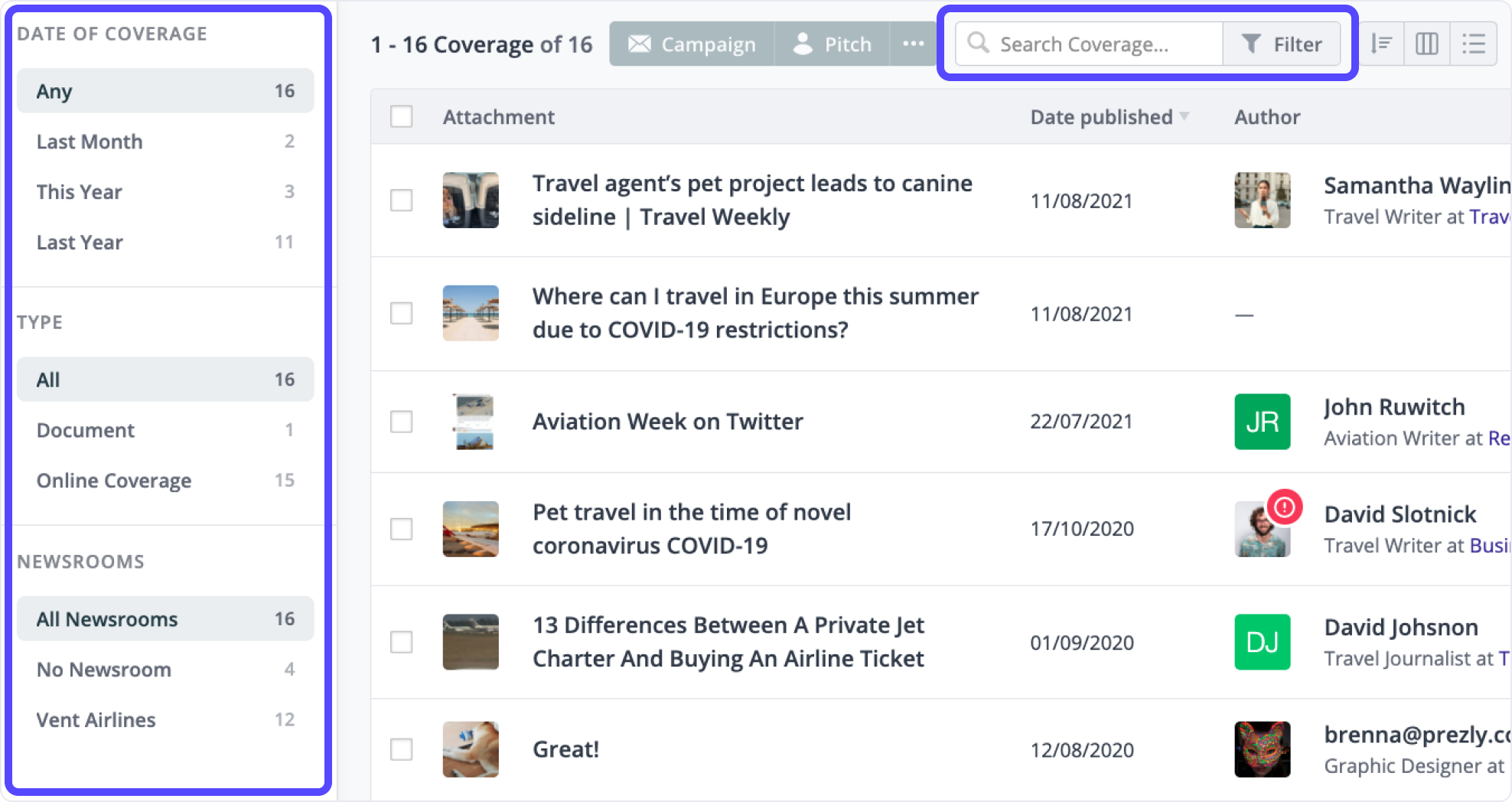 2. Contact profile pages
When you click on a contact or organization's full profile, you can choose to see only Coverage in the feed. Click on the "All Activity" dropdown and select "Coverage."