Creating Campaigns
Composing an email
How to choose a sender address, personalize your email body, add a story, and more
In this article, you'll learn the functions around choosing a sender address and adding content to your Email Campaigns.
Step 1 of Prezly's Campaign Composer consists of:
Sender addresses
Email body
'Add a story' placeholder
'Send Test' option
Sender addresses
By default, Prezly automatically adds the email address of the user who is logged in.
If you are on the Premium or Enterprise plan, it is possible to add up to 2 sender addresses per user.
Learn more about sender addresses here.

🚦 If you see an exclamation mark at the end of the email address, it means there is a potential deliverability issue. See how to improve email deliverability →
Email body
Adding multimedia to your Campaigns
Apart from adding text to your email body, you can also add inline images, videos, and attachments. All you have to do is click on the green "+" button and select the content you wish to add.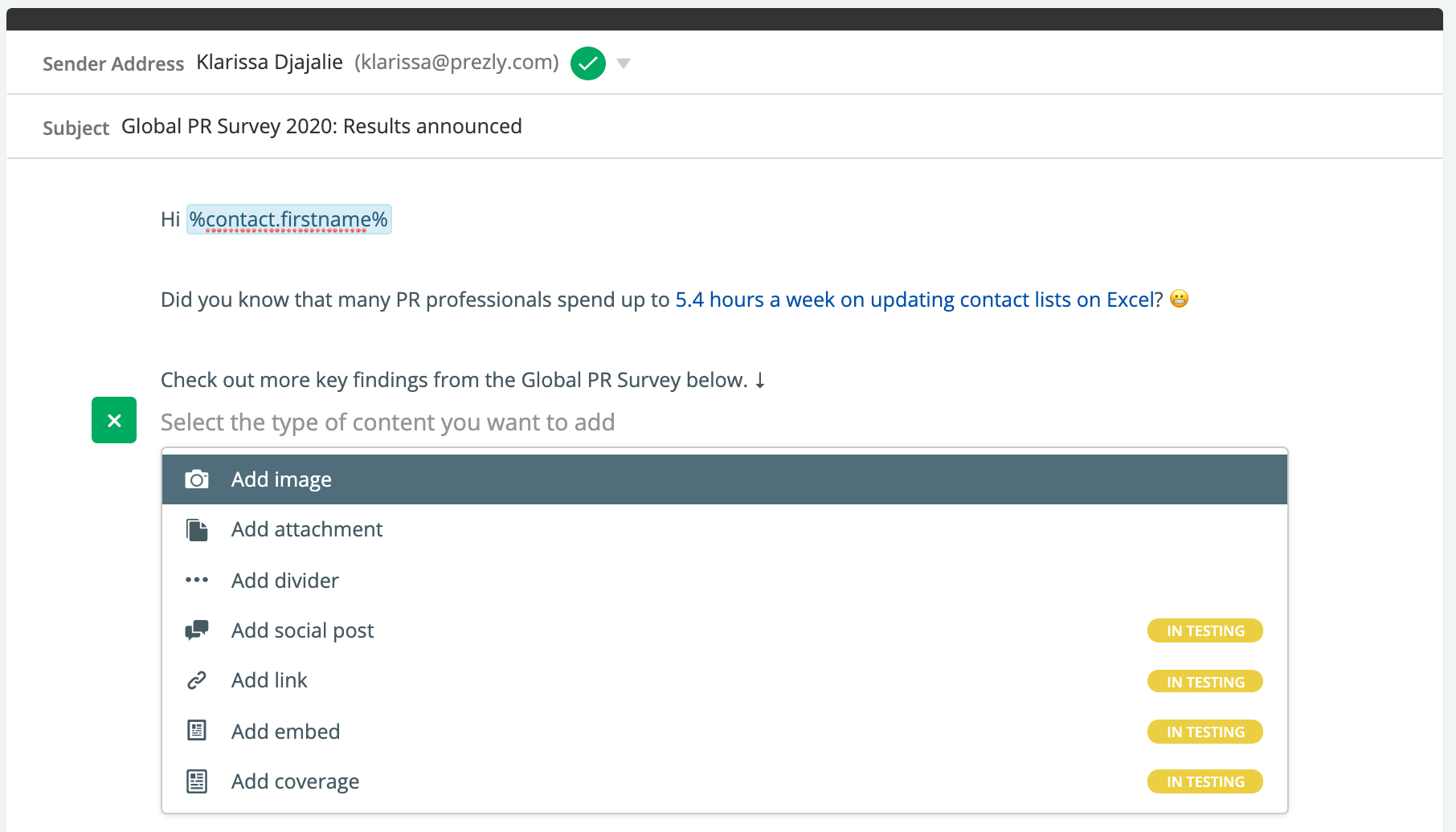 Custom fields
When sending email campaigns to multiple contacts, you can personalize the email intro for each contact by typing in the "%" key and choosing a custom field. Read more about personalizing your Email Campaigns →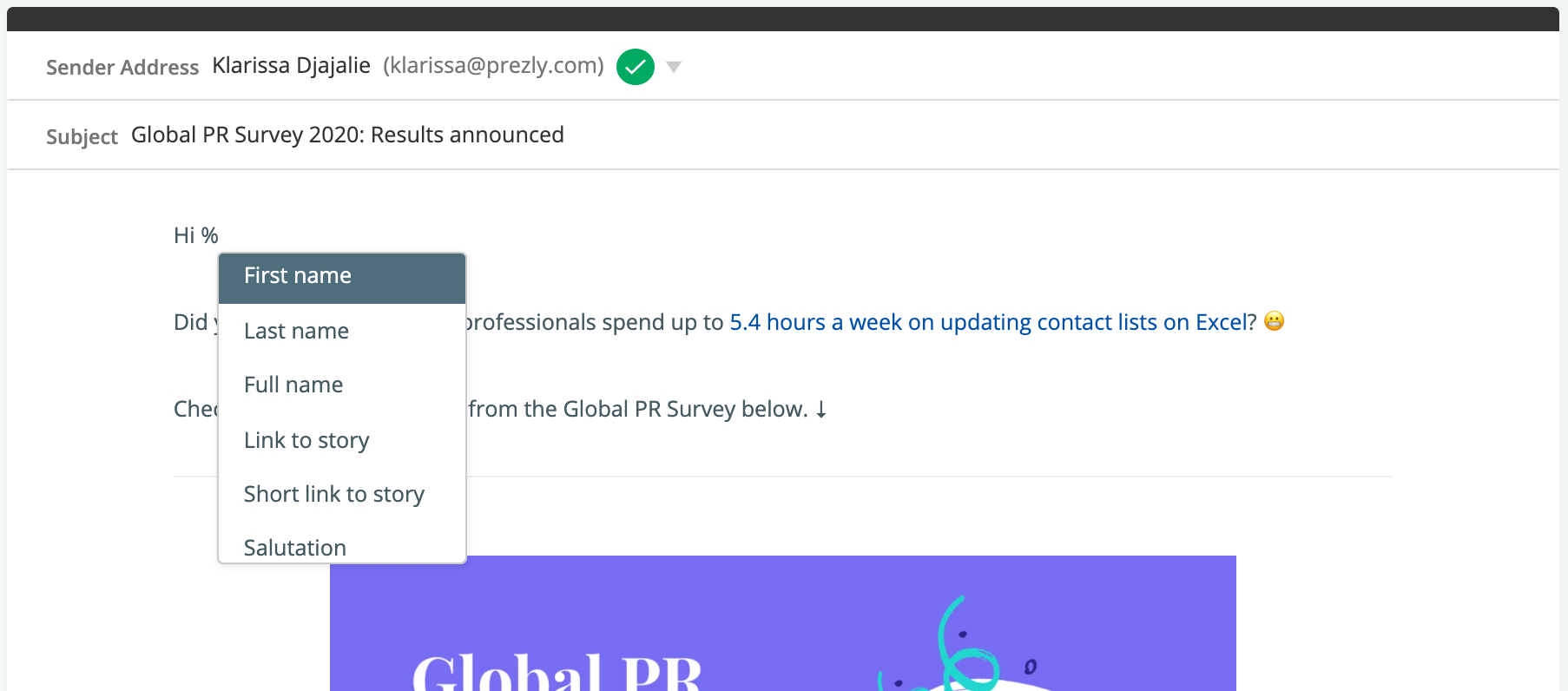 Add a story
Insert published Stories into your Campaigns or Pitches
Click on the "Add a story" placeholder and select the story you'd like to include in your email.
If you have more than one site, click on "All sites" and select the site from which you would like to add the story, then select the story.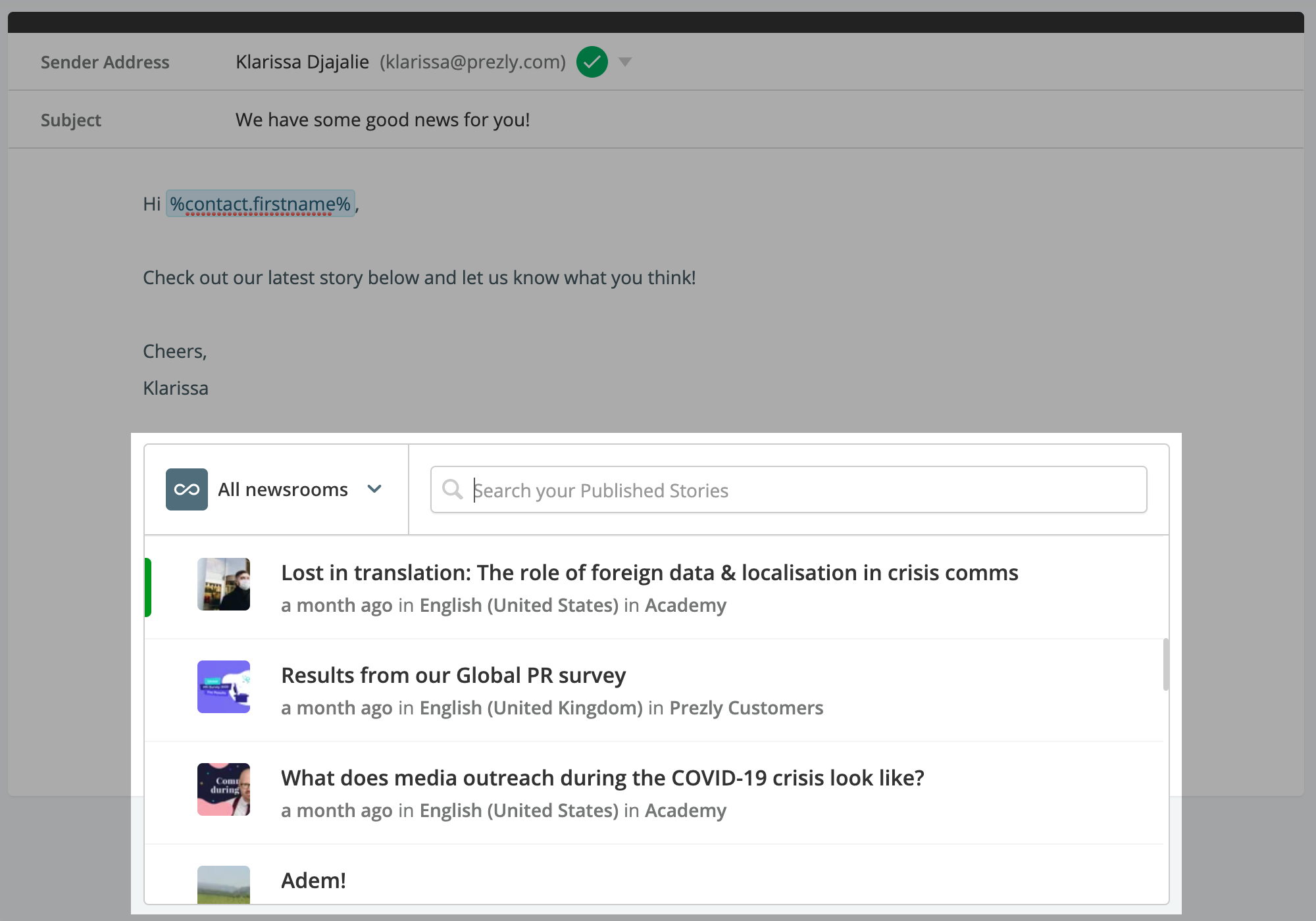 You can insert only one story per email. However, if you would like to add more stories to your campaign you can embed them as links.
Customize the layout of your Story in the Campaign composer
Here you can select an alignment for your story, and also choose whether to include the full story or show just the introduction of your story.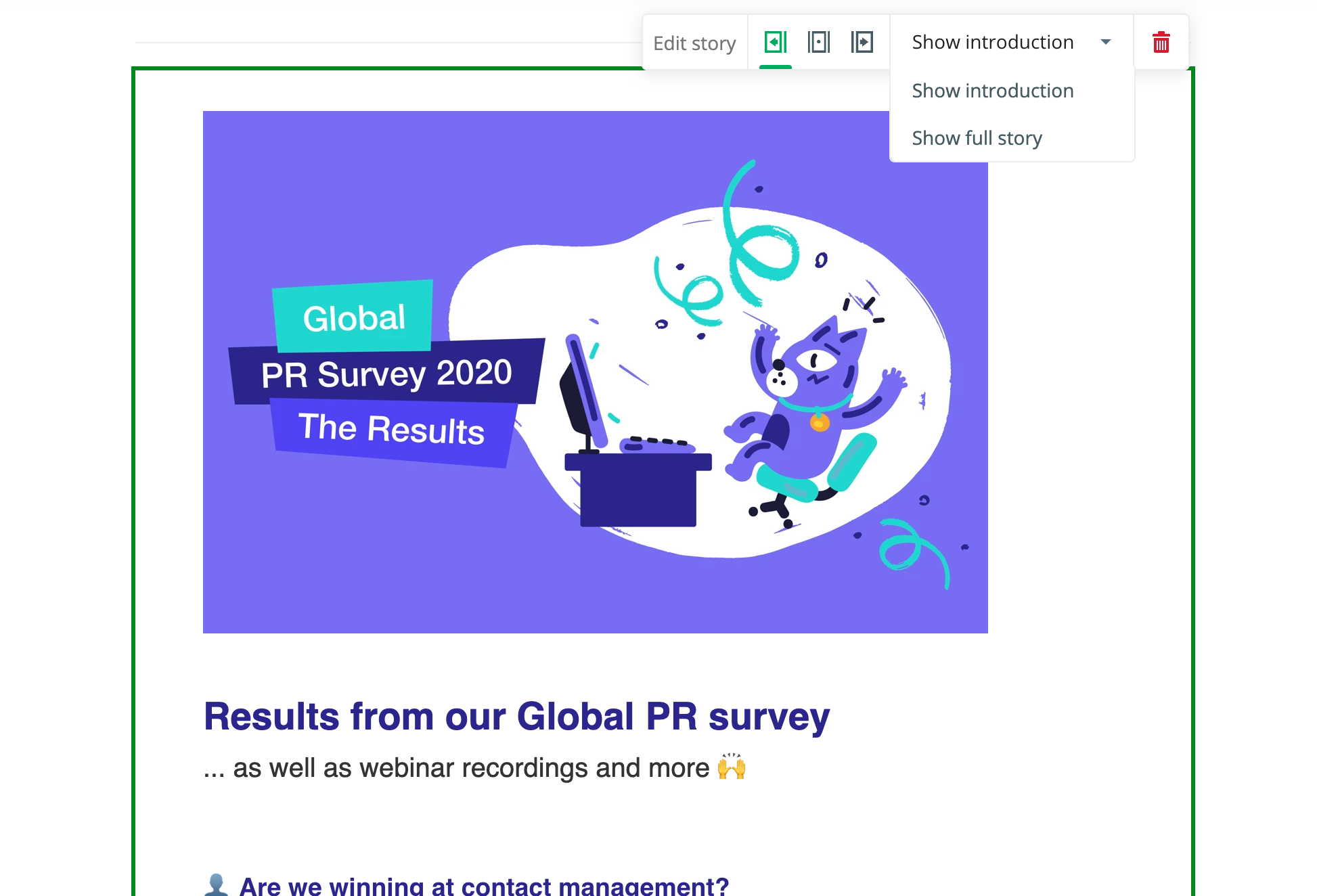 When you choose to Show introduction of the story, your recipients can click on the "Read more" button to view the full story in a new tab.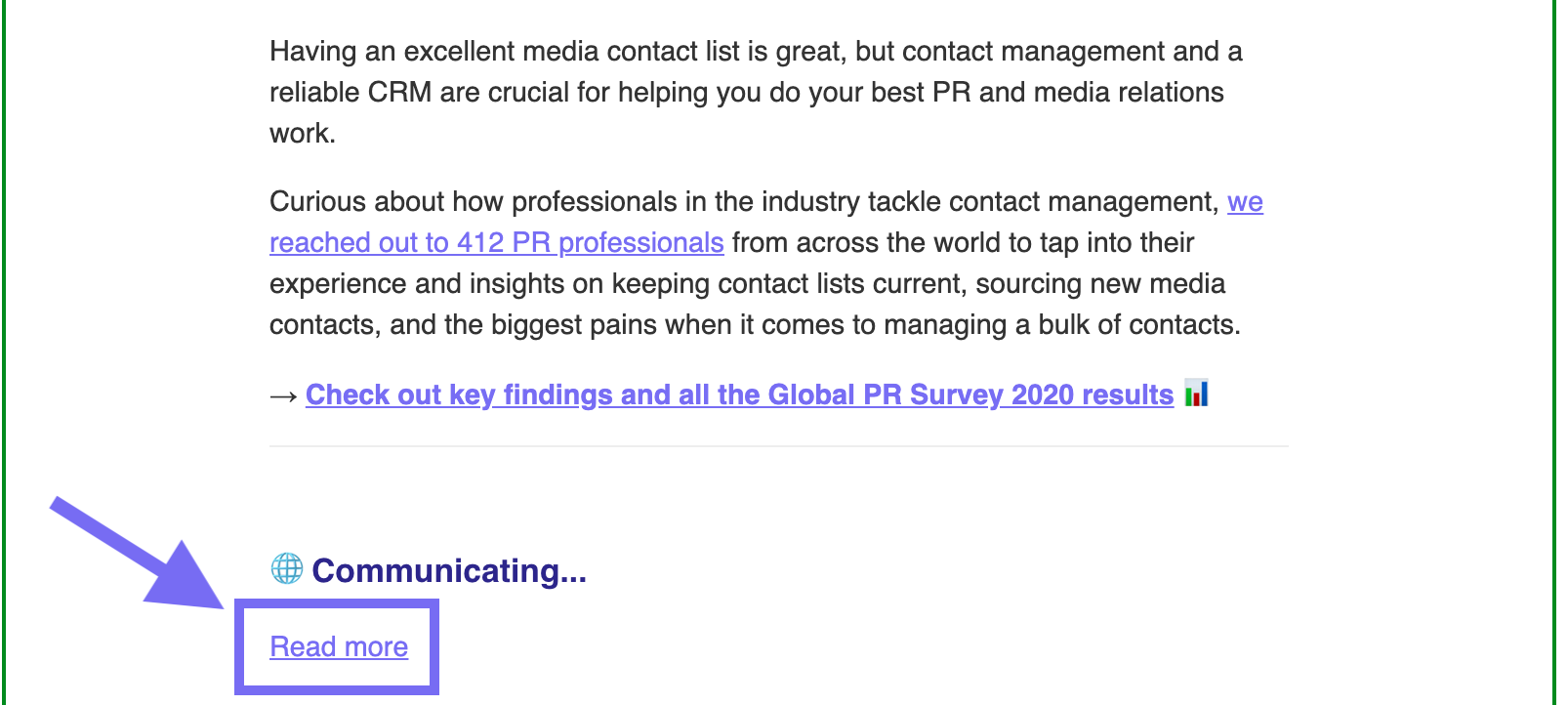 Send test email
We recommend sending a test email of the campaign to yourself or a teammate. This way, you can double-check your campaign and be 100% sure that it's ready to go to your contacts. 🚀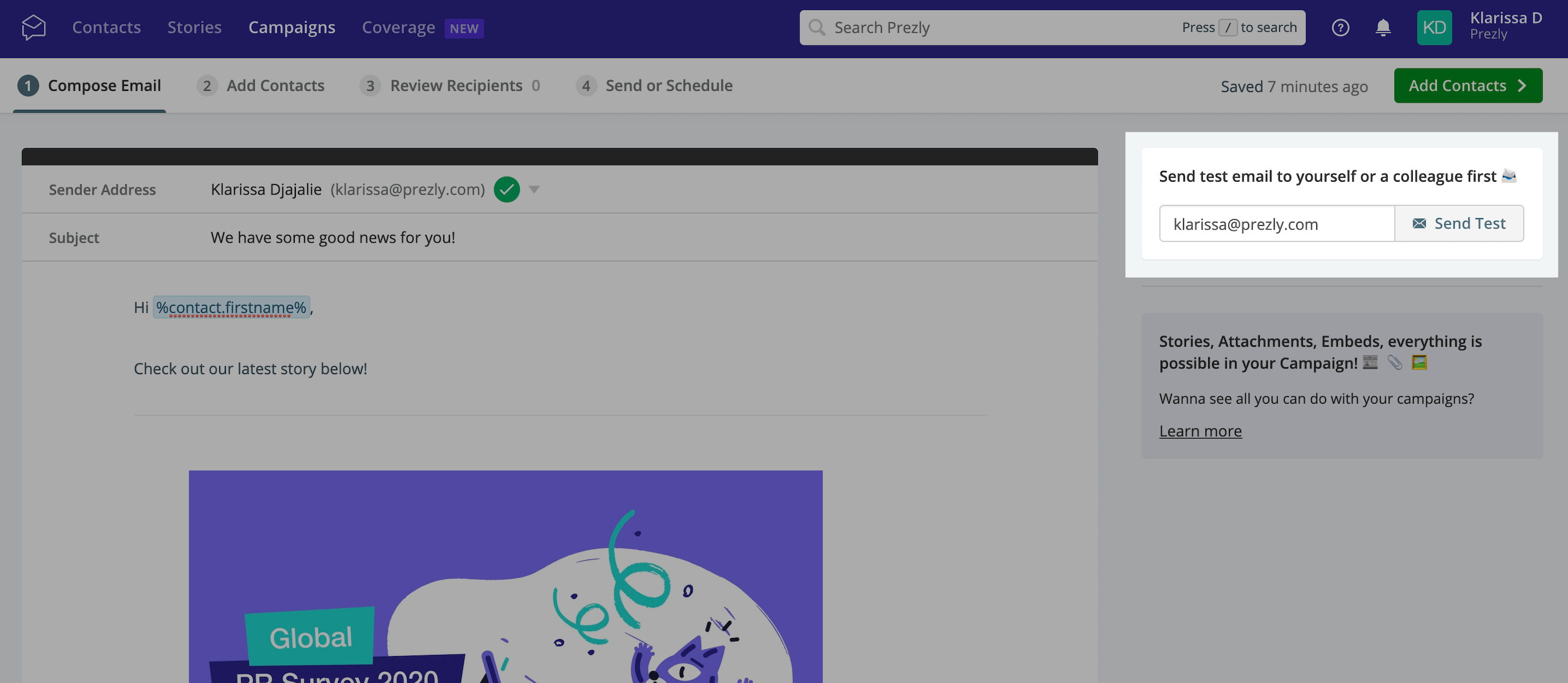 ... and you're ready to move on to the next two steps Adding contacts and reviewing recipients! 👯‍♀️