Tips & tricks
Ways to use stories for more than press releases
Use a story for your Instagram link in bio, host internal comms, run a help center, and more
Prezly's Story Editor was mainly built to help PR and Comms pros create effective press releases with rich media, and publish them to stylish sites that align with their brands.
But other than creating press releases, there is actually more you can do to make the most out of our Stories feature. Here are a few ideas to get you started:
Because Prezly already has Campaigns and a CRM built in, creating and sharing a newsletter through its own dedicated site couldn't be easier. In fact, that's what our own team at Prezly does. Here's how to do it for yourself:
Decide which site your newsletters will live in – this can be part of an established site, or you can dedicate an entire site to your newsletter. Remember: if you publish your newsletters as private, they won't show in your site overview, but you'll still be able to share them :)
Create your newsletter as a Story – complete with all the multimedia bells and whistles you want
Send your newsletter as a Campaign – much like with regular Campaigns, you can personalize your newsletter intro however you like
See who's reading your newsletter – it's always good to know your content is being appreciated!
Jebsen & Jessen Group use a dedicated Prezly site to host their newsletter, The Mackerel. As well as keeping their subscribers informed through their inbox, the site establishes a history for the organization:

Example: Global conglomerate JJSEA publish & distribute their newsletter through Prezly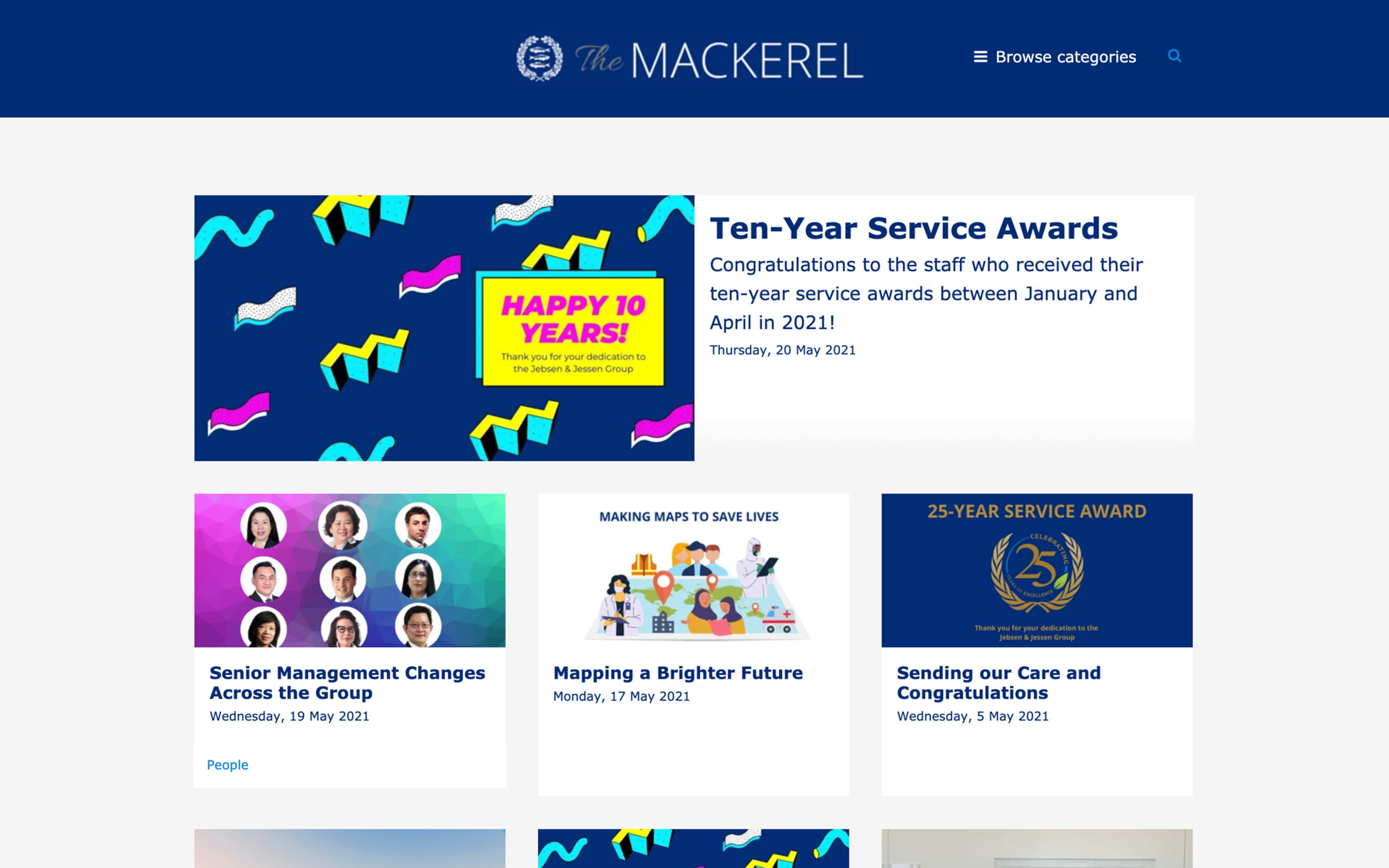 When catering to an external audience, you might want to enable the subscription feature in your site, allowing anybody who visits to leave their email address to keep up to date with your future updates. People who self-subscribe in this way are automatically added to your Prezly CRM and are GDPR-approved.
One the other hand, if it's an internal newsletter you're planning, simply set the Story visibility to private and distribute to your list of employees much as you would any other group of Contacts.
For more tips, see How to improve your internal communications with Prezly ▸
Because Instagram limits its users to just one bio link, most brands use Instagram bio link tools like Linktree or Tap.bio to add more than one link to their Instagram bios. This helps you promote several different products or stories, all on one page.
But who needs a bio link tool when you already have Prezly Stories?
👇👇👇
Create a company site just for internal communication and team updates, such as the latest organization reports, new hires, latest wins, and more!
How about creating a dedicated space where your investors and board members can find a history of your investor updates?
Since Prezly Stories support all sorts of attachments as well as the embedding of multimedia such as SlideShare presentations, it makes them the perfect tool for hosting investor reports.
Need to keep things under wraps? Just publish your Stories as private and you're good to go.
Rich media press releases make all the difference so why not use the same embeds and formatting options available in the Story Editor to create educational, informative content you can share internally or with an audience?