Free guides
How to improve your internal communications with Prezly
One tool to help you take control of your company comms, inside and out
Everything in Prezly was set up to make your comms as smooth as possible. It's a channel for managing your communications with people, and that includes those who are already part of your team.
In fact, everything in Prezly can be used for internal comms.
Sites
Campaigns
Contact manager
Team permissions
How? In precisely the same way as you'd use it for external. Let me show you.
You can use this to publish and distribute everything from company updates to progress reports, delivering business-wide announcements and introducing new hires. This builds a fantastic tome of company history for the whole team, and is invaluable in demonstrating your company culture to those just joining.
By publishing the site as "private", you can create a published narrative for your team that's accessible only through a secret URL.
Our internal site is called Heartbeat precisely because it's so integral to the lifeblood of Prezly. It's a record of how far we've come over the years, the challenges we've faced and all the milestones we've celebrated. We use Heartbeat to record things like:
Quarterly progress updates
Intro posts by new team members
Learnings from company workshops
Photos from team retreats
And basically any company announcements we feel make up part of our story.
We sort these under separate categories in Heartbeat, so while the main page shows the latest updates up top, you can also choose to view, for example, just the quarterly updates all in one page. This makes it incredibly convenient to get an overview of how the company has developed over time, and helps with reporting on progress to people like the Board.
Or if you're me, you'll use it to overshare all the book recommendations that no-one asked for.
Want to make sure only your current team members have access? Do what we do: configure your site to make it viewable only when you're connected to your company server via VPN.
You can do this by mapping your site to your domain and setting the server permissions using a reverse proxy or a dedicated solution like Cloudflare. Or if you're on our Enterprise plan, speak with us and we'll set it up for you :)
How to set it up
Go to your Stories tab and click Create a site as normal
Style it however you want, adding the name, colours, logo and so on
Publish it as "private"
That's it – you're ready to go! Now for the distribution part.
When you have a team announcement to make, use campaigns exactly the same way you would for media comms. The benefit here isn't just that it's easy to do – it's that you can see if someone's missed an update by checking the "Unopened" list in your campaign report.
Go to Campaigns, click "Create campaign" and write your message in all its glory
If you've already published your update as a Story in your internal company site, then you don't even need to bother writing anything extra – just attach that story to your campaign
Select your recipients (we recommend using tags – more on that in the next section!)
Hit send 🙌 
Depending on the size of your company, you might want to segment your distribution. Our team is pretty small (<20 people!), so when we send out a company update, we simply filter the recipient list by organisation type, i.e. "works at Prezly". This is easy since that association is automatically stored in the Prezly CRM.
If we had hundreds of employees and didn't want to spam everyone with team-specific updates, we would use tags to refine that contact list however we want: e.g. "Prezly" + "marketing team" for marketing-related mail-outs.
Of course, we could also use segments to achieve the same thing – it all depends on how you like to work :)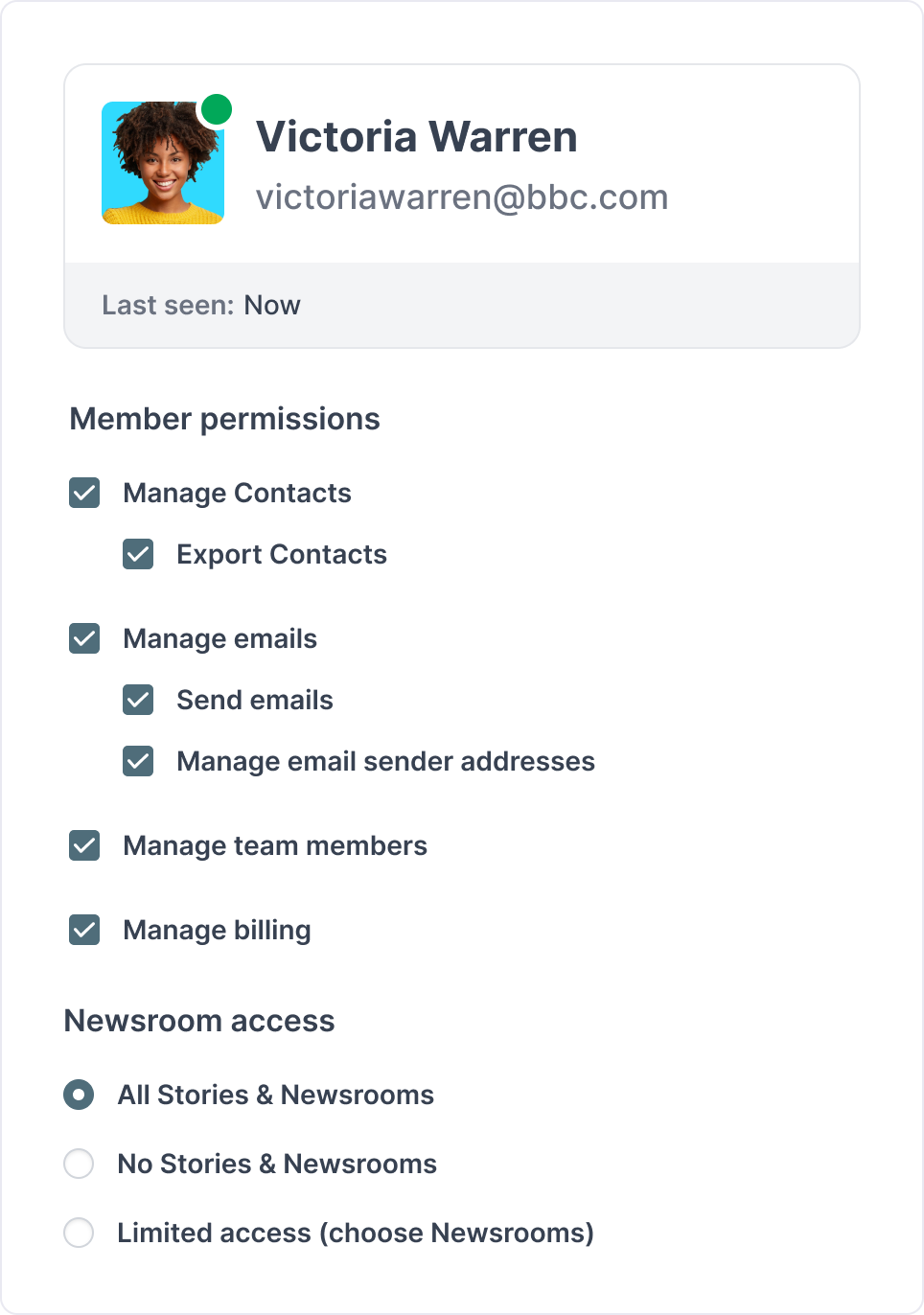 Worried that a shared company site will get messy fast? No need :) Remember, you can set individual permissions for every team member in your Prezly account – so if you want just one person in charge of updating your internal site, you can easily make that happen.
You can change these settings however you like, whenever you like through your team permissions page.
So, that's how we use Prezly for internal comms – what about you? Maybe you have a better practice you want to share with the world, or some questions we can help answer? Either way, get in touch – I'd love to hear from you :)