Type: New Features
December 7, 2022
Introducing: Sites
Get an overview of the latest Prezly updates, improvements and bug fixes here. To see a quick history of our previous releases, check out our 
monthly roundups
! ✨
We've renamed the Newsrooms feature. It is now called Sites in the Prezly app and help center.
Over the years, Prezly has been the right-hand man, the sidekick for many PR and comms teams. But somewhere down the line, we started to see clients using Prezly for creating content outside the PR/press releases bubble, like for blogs, online magazines, internal company updates, portfolios, and so on.
And so we thought that continuing to call it "newsrooms" would be fencing your creativity in, when you can do so much more than that!
This has been brewing in the Prezly lab for a while, but we're excited to let you know that this update is happening very soon and we hope it helps boost the way you create and share content with the rest of the world :)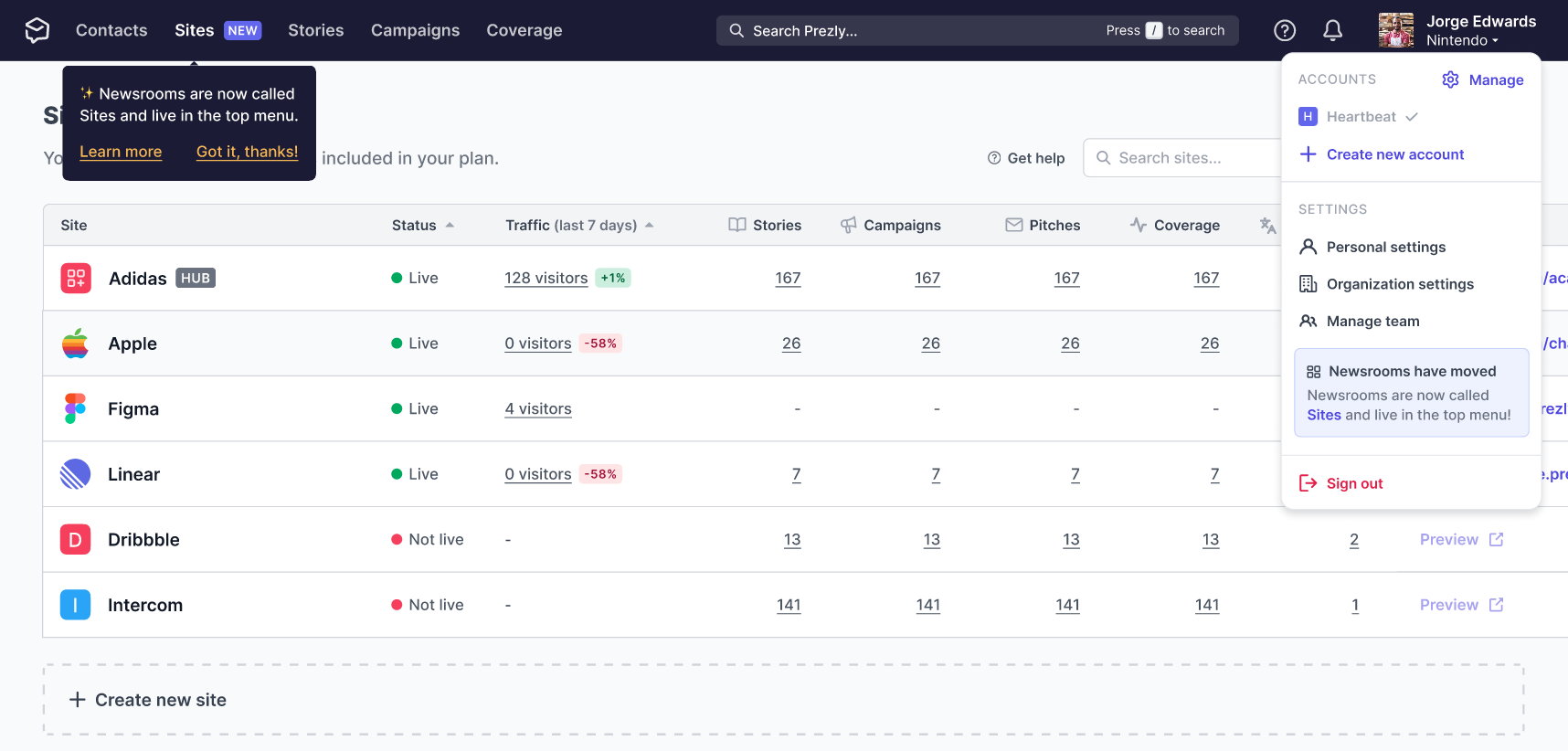 ---
Other fixes and improvements
Added breadcrumbs to the Story editor header that links back to the site's stories or settings page
Moved trial sign up inside the app
Added skeleton loading for the Story editor
Added more ways to get to sites settings from different parts of the app
Fixed issue with accessing site analytics, settings, and visit newsroom panel
Fixed story editor issue showing warning modal even when changes were saved
Created new success modal for when stories are scheduled
Added 'Share' story options in the story editor settings
Fixed bug with URLs in campaigns being changed once story is published
Embargo and Confidential story visibilities have been moved to Feature labs
Fixed error with selecting PRpro in story editor when trying to publish