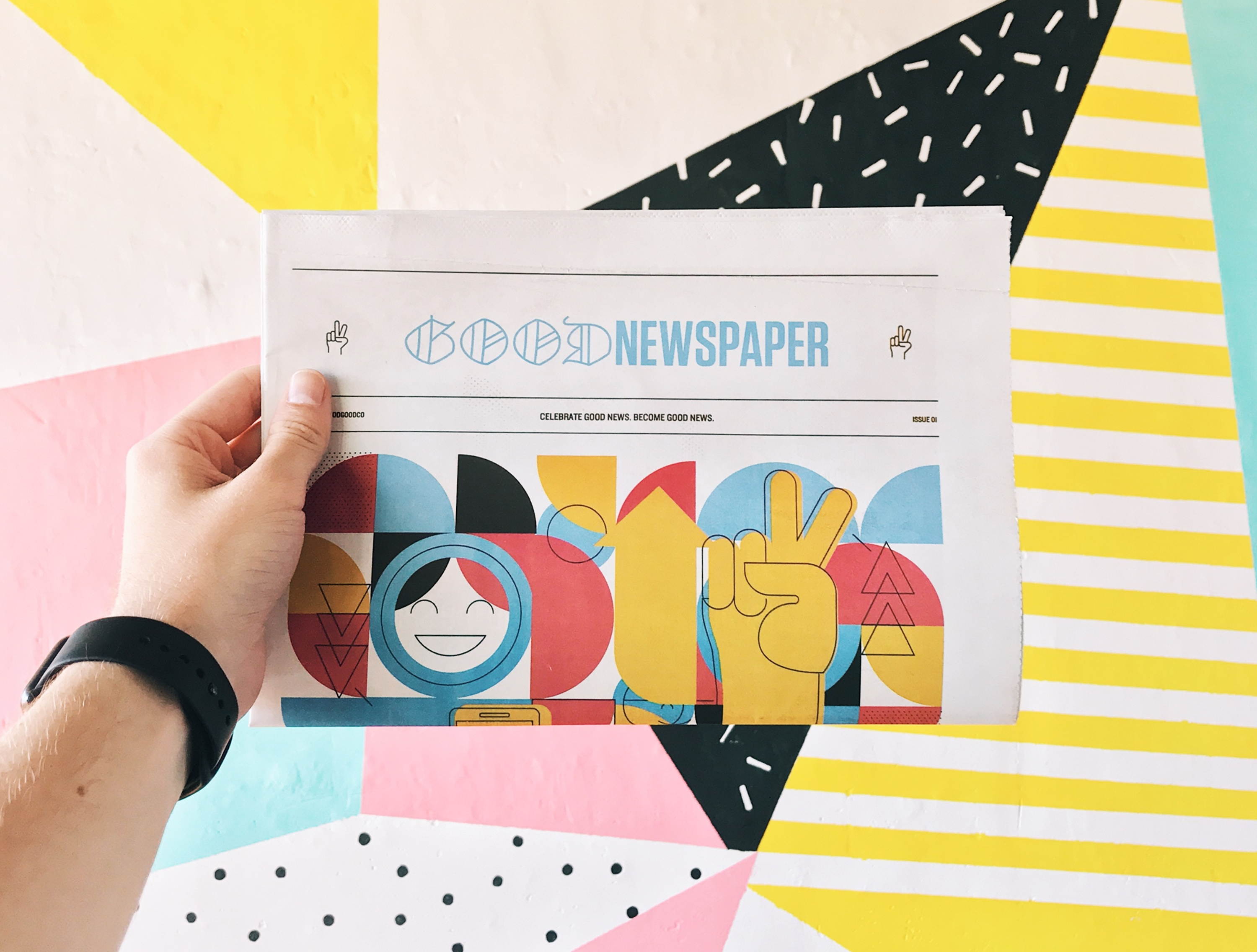 Best Practices
How to Improve Media Relations with Prezly's PR CRM
How can you use Prezly to better build relationships?
Relationships matter. They always have mattered. But in today's buzzing digital world, it seems more difficult to build and maintain them. There are so many people, so many channels, and everything seems quite impersonal.
At Prezly, we firmly believe that success in business really does come down to those close working relationships you have with people.
We also know that to build and maintain strong relationships, communications need to be:
Personalized
Targeted
Timely
We have made sure to build these necessities directly into the Prezly platform.
---
How do you feel when you receive an email that looks like it was sent to 1,000 other people… We certainly don't feel the love!
Technology has made it easier to communicate en masse in a fraction of the time but unfortunately, too often this communication is not very personal.
This begs the question: how can we make sure communications are personalised and still sent quickly?
1. Use the First Name Field
At an absolute minimum, all email campaigns should include the person's first name as it's an easy way to capture attention.
By typing %First Name within the email text box, no matter if the campaign has 5 or even 500 recipients, each will receive a personally-addressed email using their name.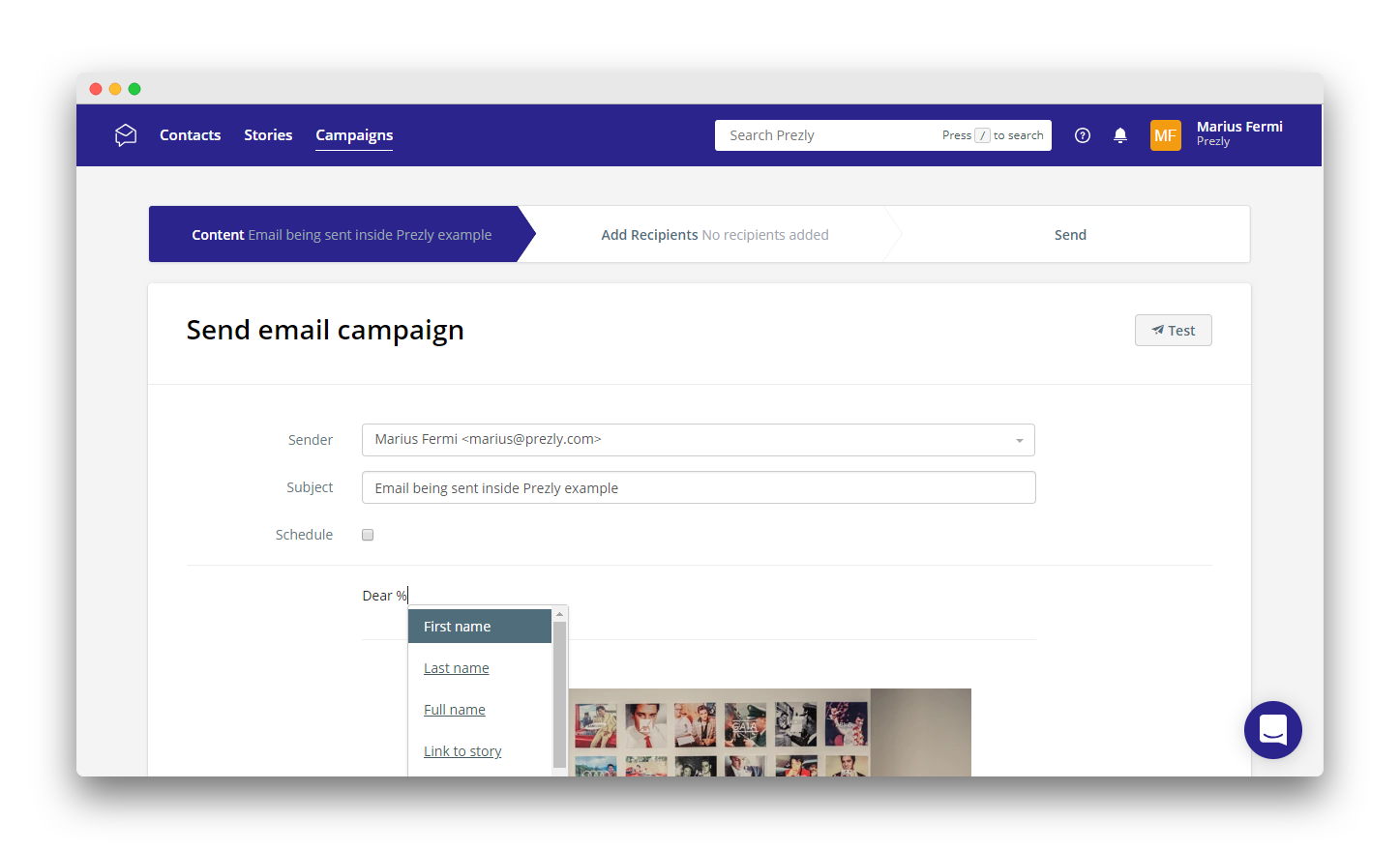 2. Send a 1-to-1 Pitch
Although this takes a little longer, a 1-to-1 pitch really is the best way to personalize emails through Prezly.
It's like sending an email from your inbox with the added benefits of tracking capabilities (i.e. did the recipient open, click or reply) and embedded photos, videos and even sound-clips to make your story more visually appealing.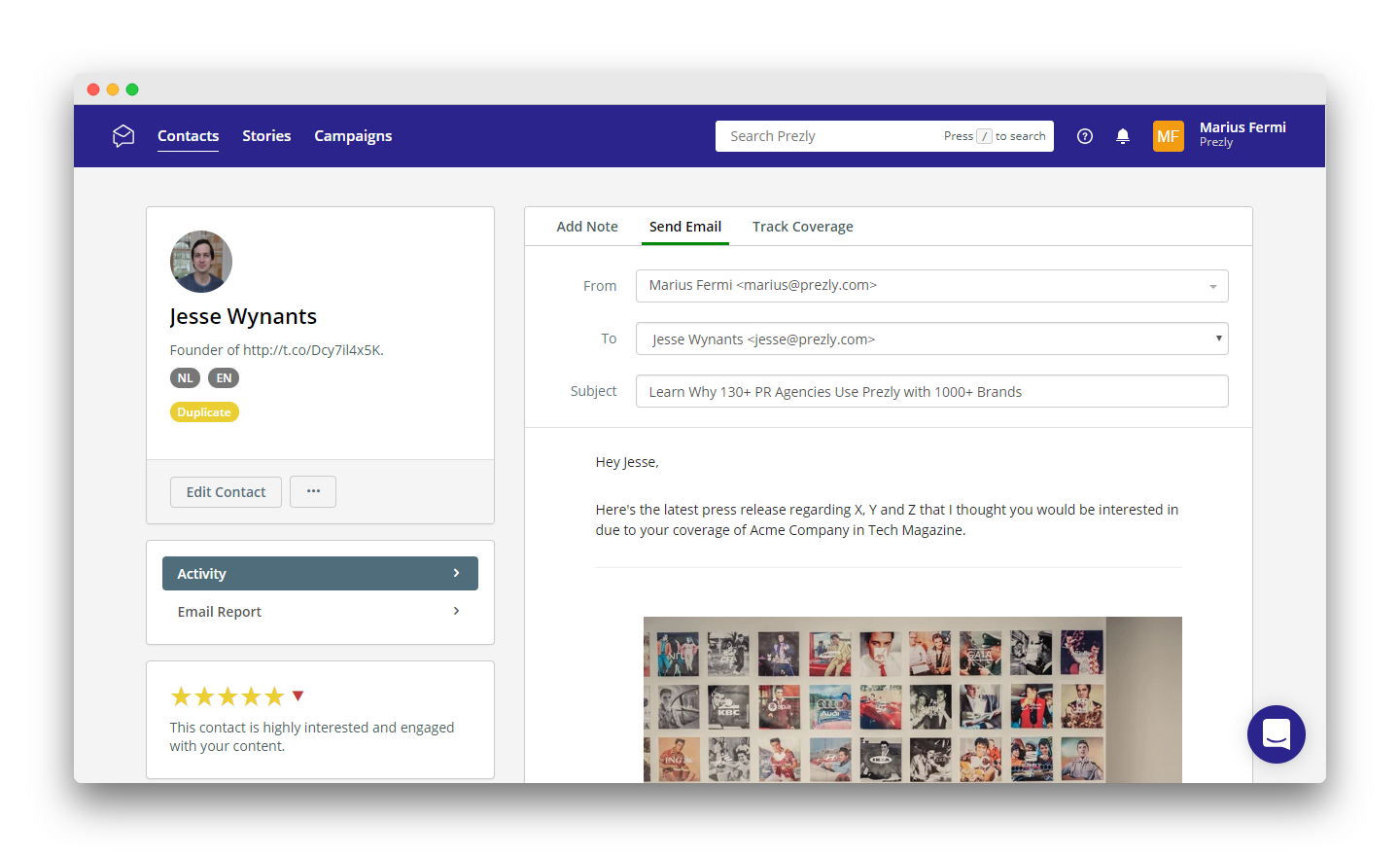 3. Make Notes of Activity with Contacts
Say you left a voicemail with someone; make a note of this activity. Or perhaps you tried calling this person again and were able to connect; make notes of this conversation.
All interactions, or attempted interactions, should be logged as activities against the contact profile in Prezly. Not only will this help you keep track of interactions with each of your contacts, it also gives your team visibility of who's speaking with who about what.
This is particularly useful for teams working across different locations, as well as when team members leave the organization; no longer will this valuable information walk out the door with them.
Tip: include non-work related points to refer to in future conversations e.g. a contact is going to Colombia on holiday next month, make a note of this so that next time you speak with them, you'll remember to ask how their trip was.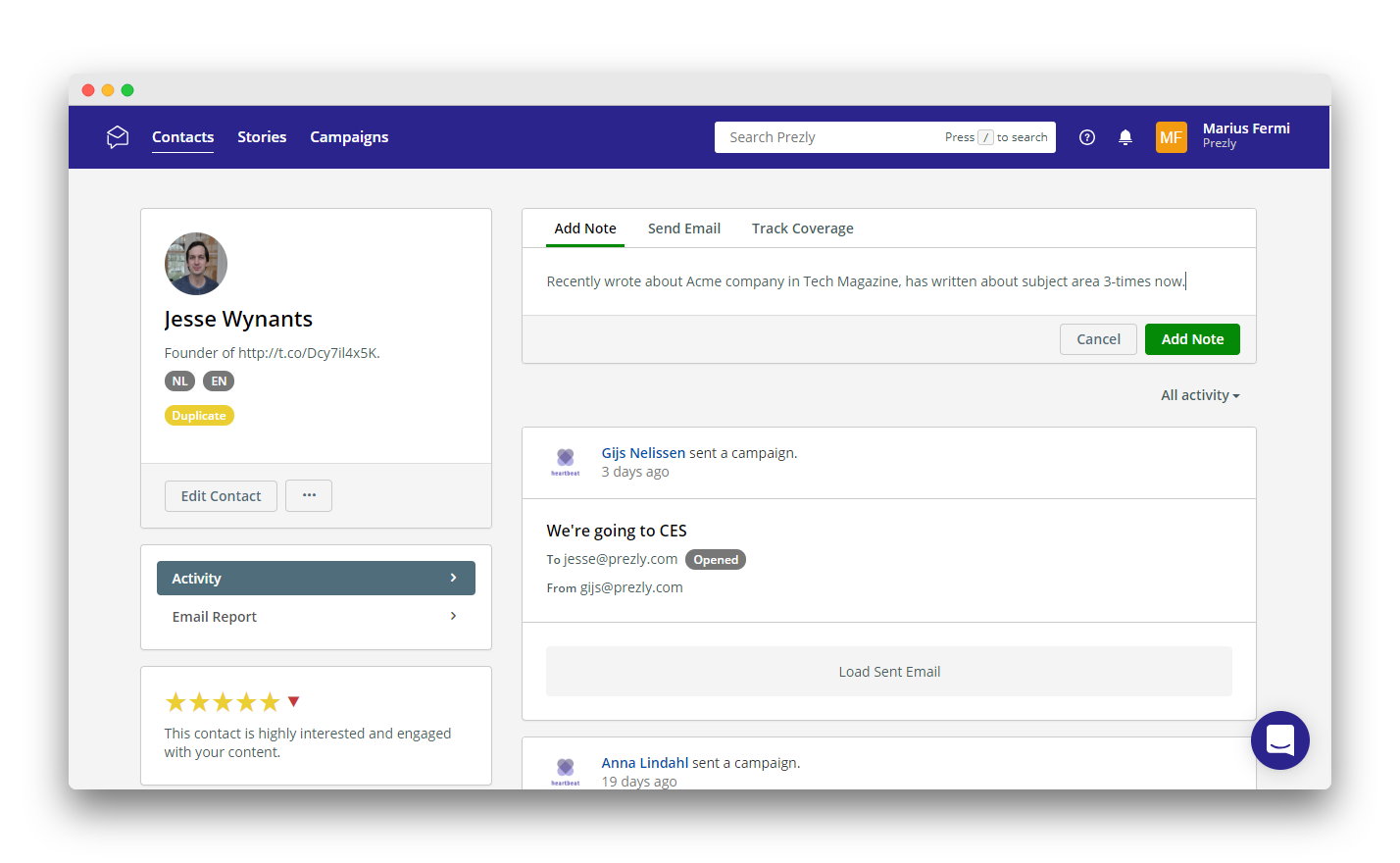 4. Integrate Your Inbox
Integrating your inbox makes sure that all sent and received emails associated with an individual are automatically uploaded into Prezly. You only have to do this once using your company email domain, after which all team members' email conversations will be logged into Prezly.
This is especially helpful when trying to avoid pitching a contact more than once.
---
None of us want to receive junk mail. We want to read content that has relevance to what we do and what we are interested in. The onus is on you, the communications team, to make sure the content delivered to each recipient is relevant, or else you risk losing the precious relationship you have built with that individual.
So, with this in mind, how can we improve the targeting of our emails?
1. Know Their Interests
Firstly, know what they're interested in. We can find this out by either asking directly (no harm!) or researching online. Research the content they cover and the publications they write for.
When you upload your contacts into Prezly, they automatically undergo a process called Enrichment. Enrichment searches the internet for information associated with the contact email address. Once found, this information is then automatically populated against their Prezly contact profile.
Most of the time, Enrichment will match the contact with their LinkedIn Profile. LinkedIn profiles are a great source of information particularly because they are written by the individual about themselves.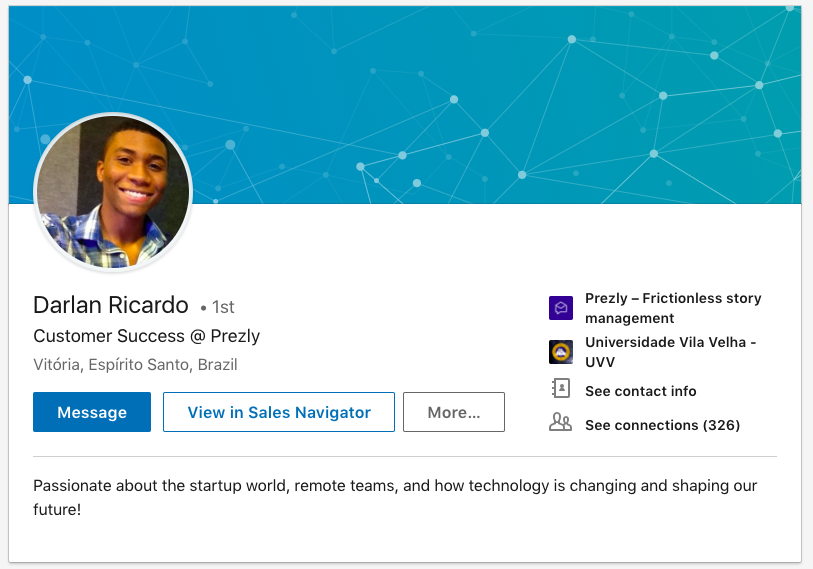 2. Categorise Your Contacts
Once we know what they are interested in, we can link this information to their contact profile within Prezly. Traditionally this was done in Excel spreadsheets and media lists.
Today, we can use Prezly's tag and segment filtering system that provides a far more dynamic and quick way to recall the interests (or categories) of an individual.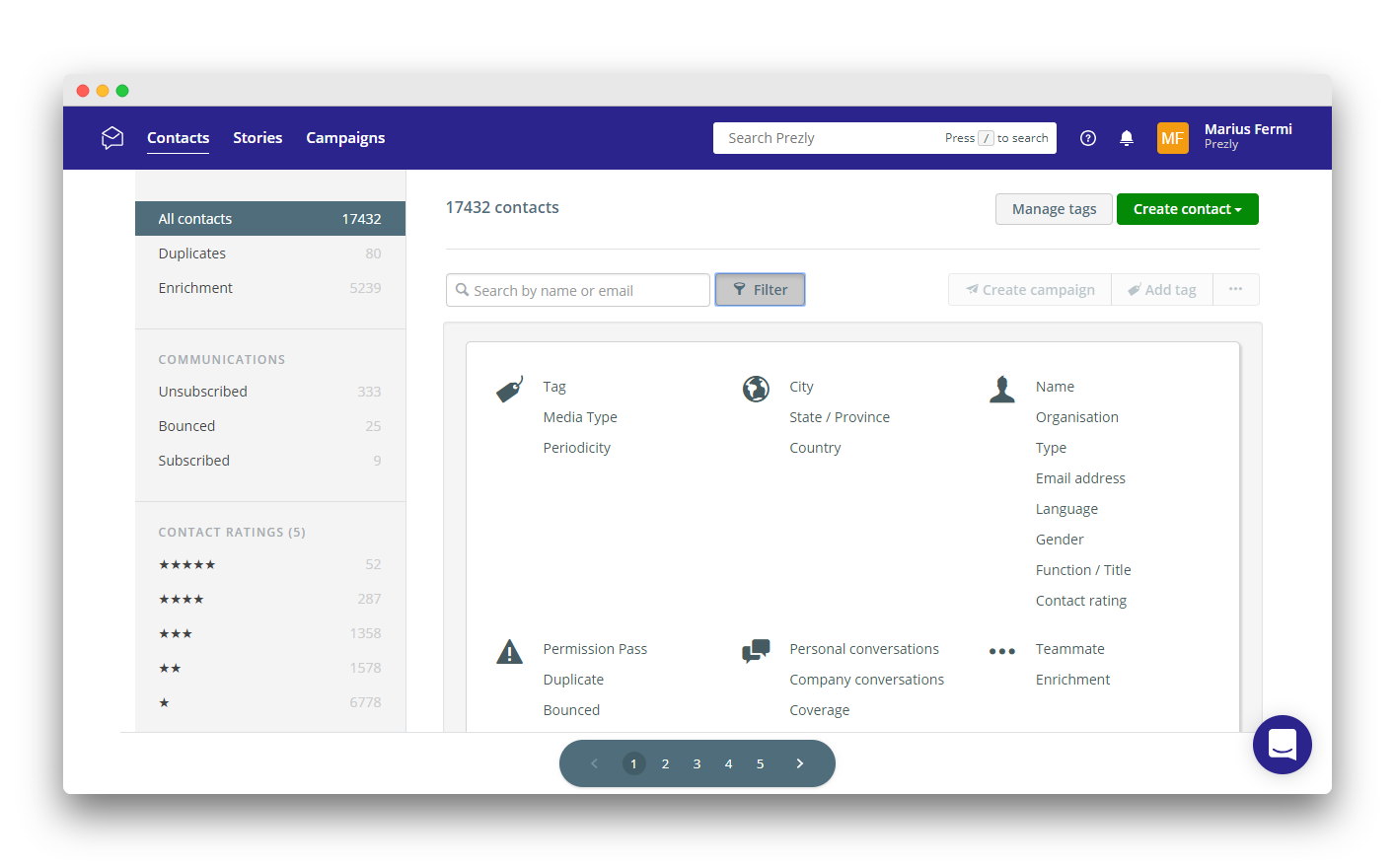 3. Test and Review
Now that we have systematically categorised our contacts by interest, we can test whether or not this actually is what they're interested in.
Campaign engagement (open, click and reply) is a strong indication of a contact's interest in what they are receiving. Prezly takes this campaign data to assign your contacts a star rating, ranking them from one to five, one being least engaged and five being most engaged.
You may choose to develop goals for your team that are related to the increase in the number of four and five-star rated contacts. This is a tangible way to calculate how successful you are at building relationships.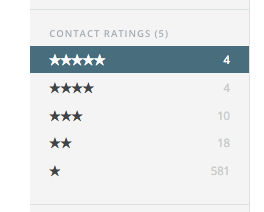 ---
Communications may be considered "timely" based on whether it was planned or in response to an unexpected event.
1. Planned Communications
Planned communications should be sent when the greatest number of people are likely to engage with your content.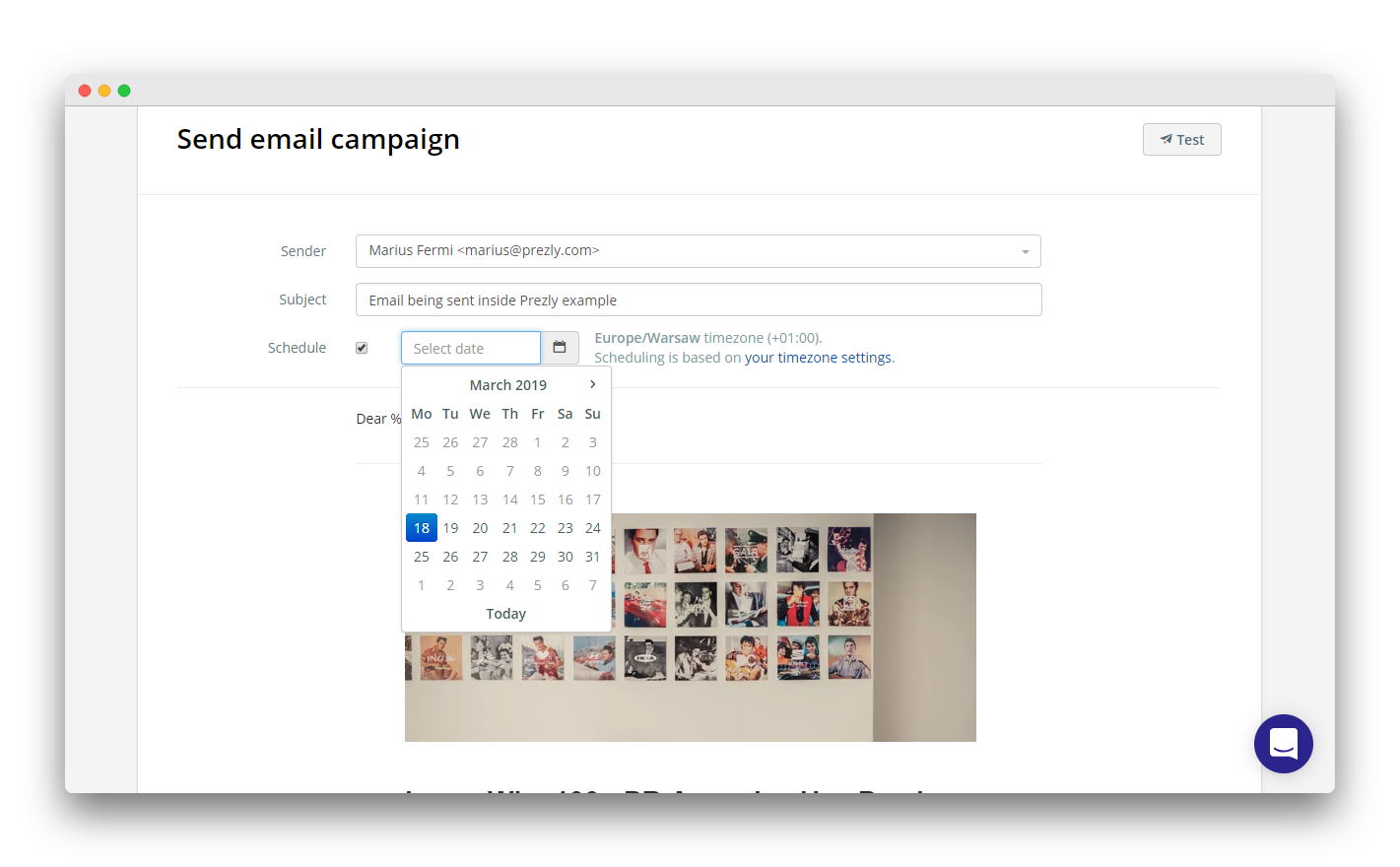 This "best time" is of course up for debate, with myriad posts detailing the best time to send email. Similarly, we combined these external findings with engagement data across all Prezly users to determine the best days and time to send your email campaigns. Here's what we got:
The best day: Tuesday
The second best: Wednesday
The best time: 10am
The second best: 8pm – midnight
The third: 2pm
Note: It's important to be aware of the recipient's time zone!
Take the opportunity to A/B test different days and times to determine when works best for communications at your company.
Tip: Strapped for time, or won't be in the office at that critical "best time to send" moment? You can schedule your campaigns in Prezly.
2. Communicating Unexpected Events
When an unexpected event occurs, the goal of the communications team is to disseminate this news as quickly as possible. The speed at which this happens depends on how prepared you are for potential events.
How can we be best prepared within Prezly? By creating:
Story templates: fill in as much detail as possible so that when the event occurs, it's a matter of just plugging in a few extra details
Contact lists: assign incident-specific tags to relevant contacts, e.g. the airline industry may use "crisis – weather", "crisis – incident" etc.
Contingency newsrooms: private newsrooms based on incident-type, include as much detail as possible such as contact name, contact number, pre-prepared story templates so that in the event of an emergency, the blanks can be filled in quickly and newsroom switched to public mode.
Living in a digital age means we can use the technology to our advantage when building and maintaining relationships.
Using tools like Prezly can help you do just that. Now that you are armed with ideas and tools to help you deliver personalized, targeted, and timely communications, go out and give it a go!