Creating Campaigns
Create & send Pitches
How to send one-to-one emails using Pitches
Pitches are perfect for when you need to send an email to that one VIP contact quickly. Unlike sending Campaigns, Pitches are more straightforward – there is no adding contacts and reviewing your recipients list before you hit that send button. ⚡️
Let's start with the Pitches tab on the Campaigns page. This is where all your Pitches – drafts or sent – are stored so you can easily see if they were delivered, undelivered, or opened.
Once you've found the contact you would like to send a Pitch to, you can create a Pitch simply by clicking on the contact's email address.
Alternatively, hover over the contact row and click on the "•••" menu. There, you'll see the option to click on "Send a Pitch" which will open up the composer on the right side of your screen as seen above.

Here, you can select the story you wish to share in a Pitch. Click on the "•••" menu on the right, then click on "Create Pitch" and Prezly will automatically add the Story to the Pitch.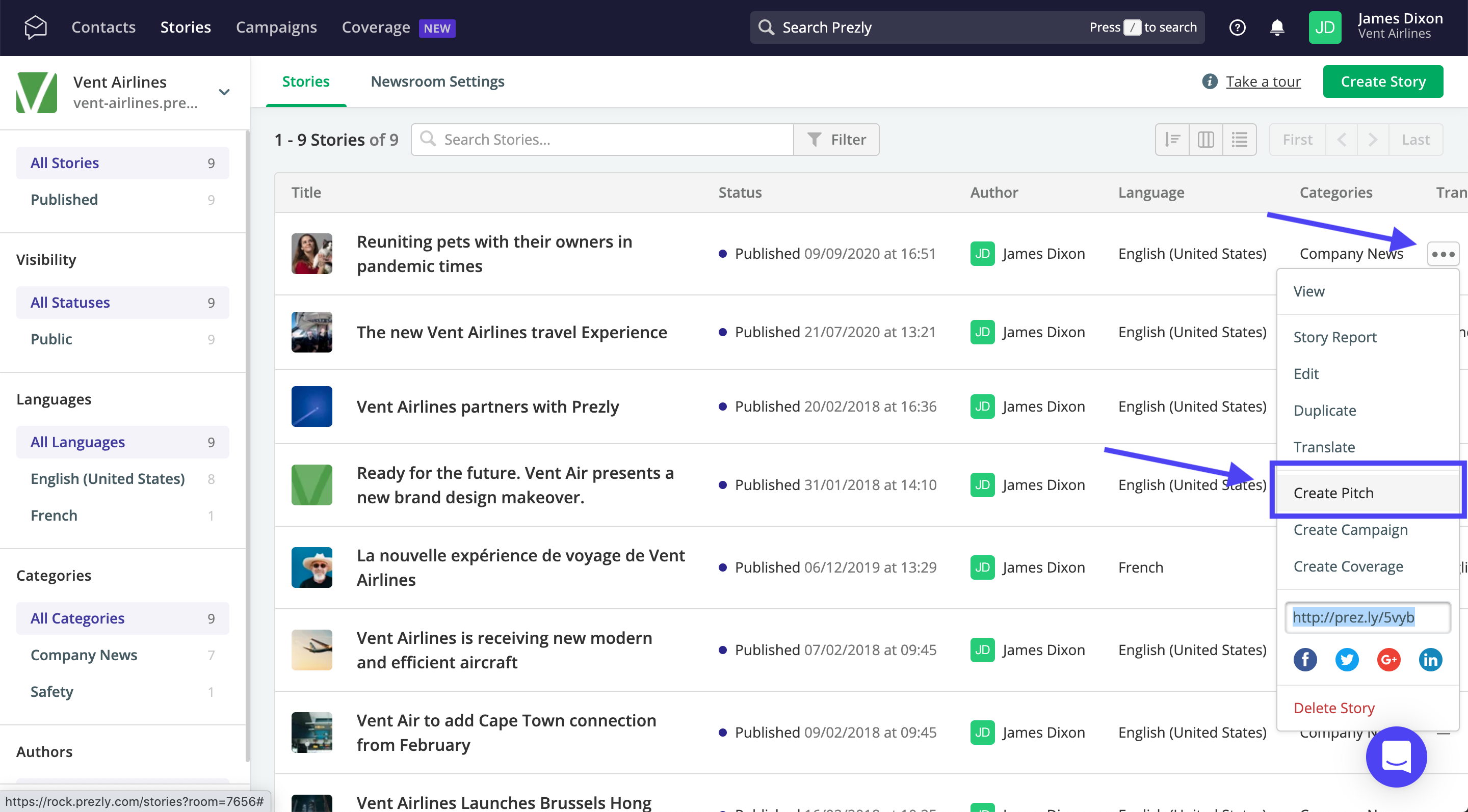 On the Campaigns page, you can resend an Email Campaign as a Pitch. Click on the "•••" button and then click on "Create Pitch" and all the content from the Email Campaign will be added automatically to the new Pitch.

Oftentimes, Pitches need to be sent urgently, which is why we have made it easy to create and send Pitches from several other areas in Prezly, such as
Contact Profile page
​Clicking on the "Send Email" tab creates a new Pitch that will be sent only to that specific contact
Campaign Report page
​Resend the Email Campaign as a new Pitch by clicking on "Send to" in the top right corner of the report, and then selecting "Another contact"
Story Editor
​Create a Pitch directly from the Story Editor by clicking on the "Manage" button on the top-right corner, and then click on "Create Pitch"