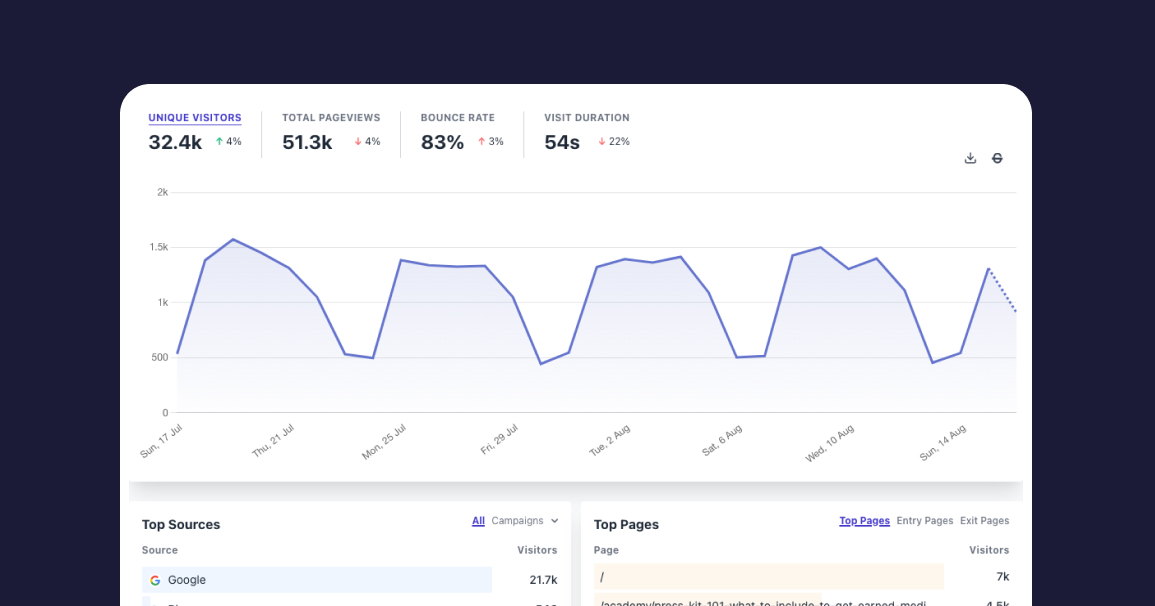 August 26, 2022
Meet your new analytics dashboard
You can now see how many people are visiting your sites!
❗️ Please note! This feature is still in testing, and as such is likely to change with time and feedback. Similarly, while the analytics dashboard is currently available to all clients, in future this may change to it only being part of select subscription plans.
---
You can now see how many people are visiting your site and individual stories in your brand new analytics dashboard!
Thank you to everyone that requested this feature – we're building a tool for you, so if you have ideas for how Prezly could make your life easier, please let us know :)
The dashboard is powered by web analytics good guys Plausible – a project centred around privacy and data protection. That means full GDPR compliance, no personal data collection, and no cookies 🍪
More info on that below 👇
You can access your new analytics dashboard through the Sites area of your account then click on the site name for which you wish to see analytics. You'll automatically be brought to the analytics page.
You can also access analytics for each published story via the story editor.
Since this is a brand new feature, you will be able to see how many people visited your site from 20 August 2022 onwards; historical data from before this date has not been tracked.
Learn more about your analytics dashboard →
No. Google has come under increasing criticism in recent years as more and more governments tightened up their data privacy regulations. As investigations continued, it became apparent that Google Analytics does not do enough to safeguard people's personal data.
Actually, we wrote an article about why people, businesses and even whole countries are moving away from GA →
We felt that Google Analytics did not sit well with our own company ethics. So we decided to give Prezly users an integrated alternative that both provides meaningful at-a-glance data and puts privacy first.
We chose Plausible over other providers because of their team's strong ethics and their tool's accessibility. Instead of reams upon reams of complex data, your analytics dashboard gives you a smart overview of your most important statistics, so you can make informed decisions quickly – without getting bogged down in unnecessary details.
Simply put, you don't need to read a 30-page manual to get to grips with your data. (Plus, we use Plausible for our own site analytics, so we know it's good!)
See how Plausible compares to Google Analytics →
Your actual traffic may be 6% to 26% higher than what Google Analytics shows.
That's no problem at all – you'll simply be able to view both your usual Google Analytics and your new analytics dashboard, powered by Plausible.
It's worth noting that the data shown within the two tools may differ, as many sites block Google Analytics from tracking visits. Plausible's published research into this phenomenon shows that your actual traffic may be 6% to 26% higher than what Google Analytics shows.
Have feedback? We'd love to hear it! Start a chat with our team or send an email to support@prezly.com.
Published 26 August 2022