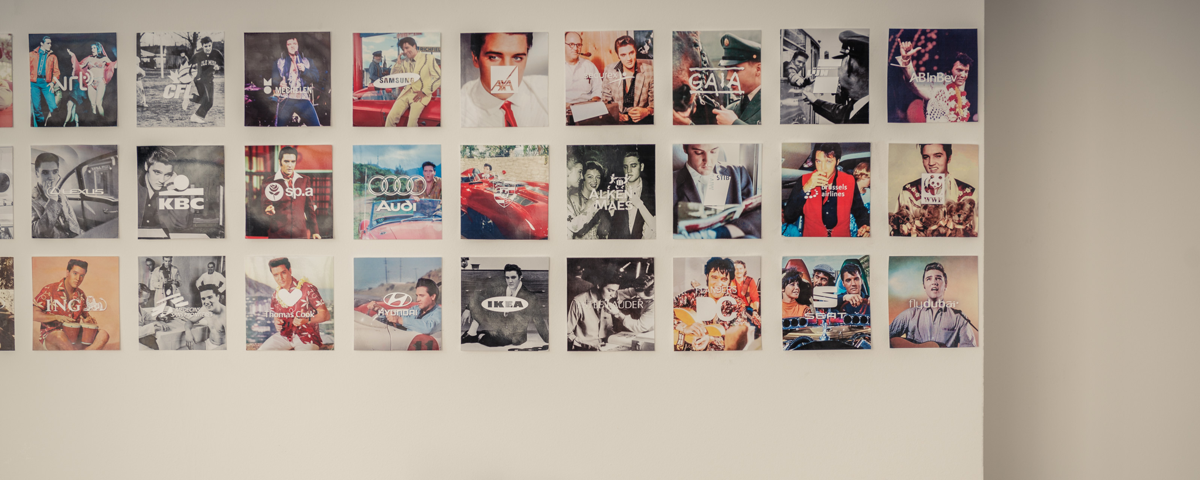 Learn Why 130+ PR Agencies Use Prezly with 1000+ Brands
See why we are the PR Software of choice to manage contacts, publish online newsrooms and distribute press releases.
After 10 years of Prezly we are still working on improving not only our PR software but also your day-to-day operations as a communications professional.
We thought we would highlight just a few of the core features that we provide so you can see why PR agencies across the world use us.
You can also check out case studies from our customer base to get an idea of what they think and how they feel about Prezly 👉 customer stories.
---
Hub Room
As a PR agency with multiple clients, you may want to showcase the brands you manage alongside each other as well as maintaining a brand identity too. This can all be achieved via our Hub Rooms which you can see an example of below.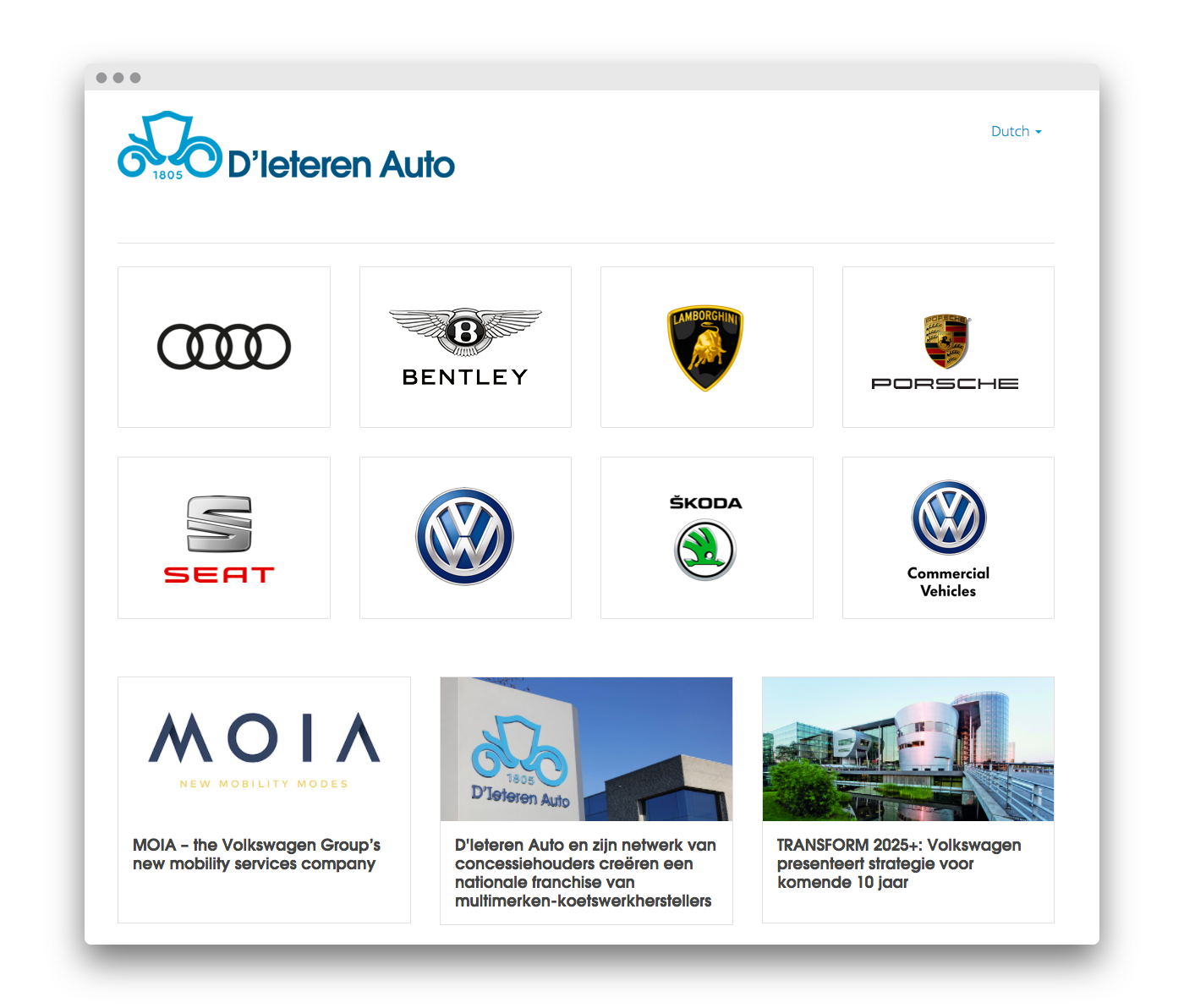 From the hub room, readers can click through to one of your newsrooms and your selected newsrooms' stories will be visible to review below the brand logo's.
No need to click around and visit multiple pages, visitors simply select the room and can read all of your press releases.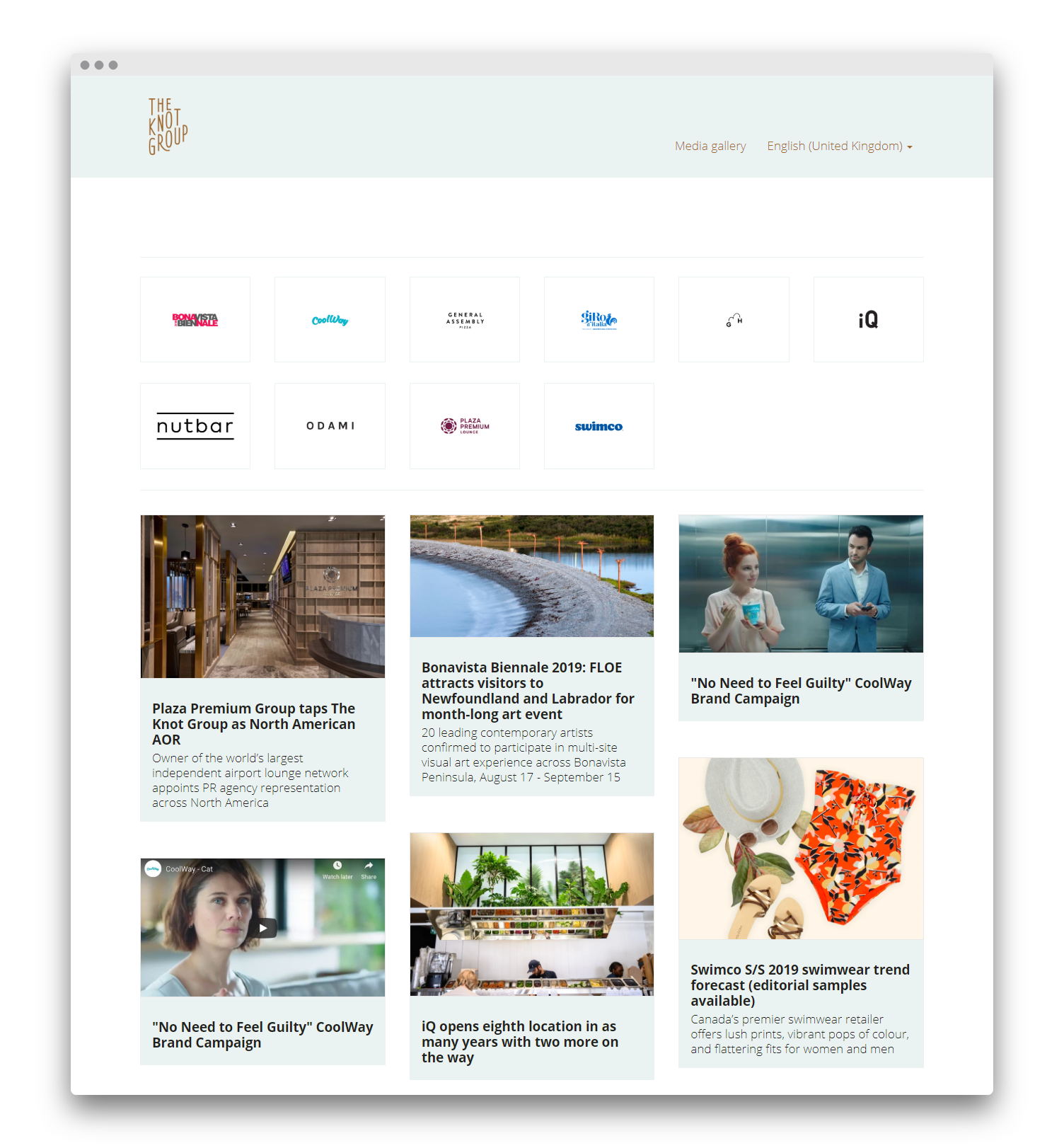 ---
Contact Management (CRM)

Managing contacts within Excel is certainly not a tricky task but it's incredibly time-consuming once you get your contact database into the triple digits.
Do you have multiple users who engage with contacts and make notes? As more people need to add notes or make alterations to contact records, things can quickly turn into an admin problem resulting in any notes or updates potentially being missed.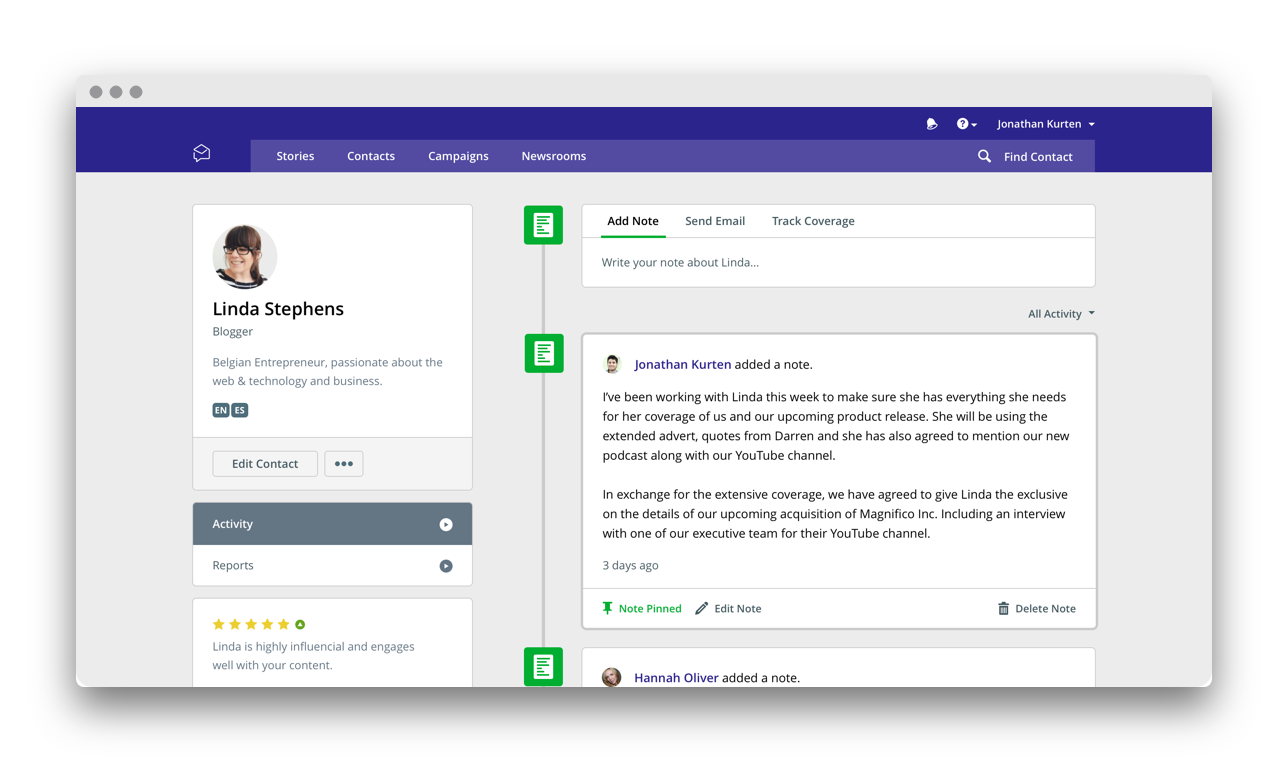 With Prezly you can easily collaborate with multiple users to ensure contacts are updated, notes added and general contact management is smooth and efficient. To make the process even smoother you can see everything in a timeline that tells you who edited what.
Easily organize your contacts into logical and useful groupings or segments. This provides an easy but powerful way to search and filter through your saved contacts.
Prezly provides automated contact enrichment via FullContact to ensure social media accounts can be visited and engaged, as well as relevant job titles and current employers.
Mailbox Integration so all of your campaigns can be sent via your company mailbox whilst never having to leave the Prezly platform.
---
Stories & Newsroom

Prezly Story Editor provides rich-content options such as embedded videos, social media updates, image galleries and much more. No more plain-text press release pitches getting lost in the inbox.
Schedule publishing of press releases with timed embargoes, send mobile-friendly press releases, duplicate and translate content.
Create branded online newsrooms to store and manage all press releases for each brand you represent.
Go fully-branded with newsrooms to easily integrate into your clients existing website.
---
Campaigns
Another major issue that we wanted to address was deliverability, personalization, and visual appeal when you pitch stories to your media contacts.
To make campaign deliverability easy and engage your media contacts we've ensured that you can:
Send campaigns to segmented contacts - we want to help you deliver the right news to the right people. Relevancy is King in the PR world.
Personal messaging with simple mail merging and placeholders.
Embed your press release/stories directly into the email.
Capture behavioral analytics to further understand how your contacts interact with your press releases and newsroom.
---
Use Data to Improve Coverage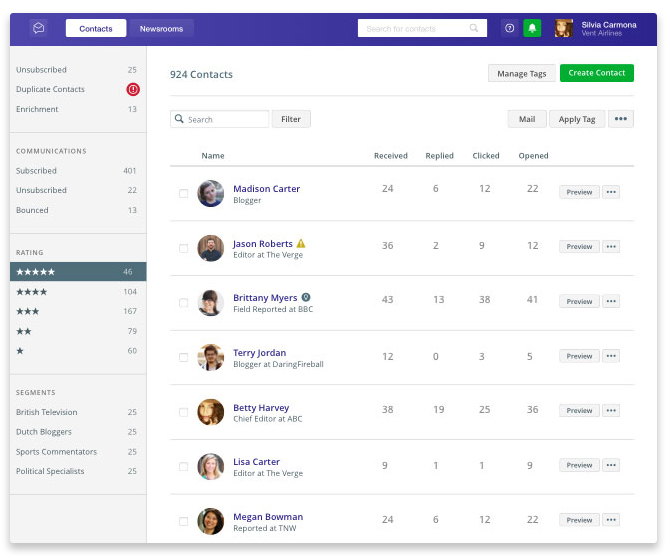 Valuable information as open rates, bounces, and link clicks are essential if you want to make each campaign highly customized to focus on high-open rates and most of all - coverage.
Through Google Analytics integration you can know how contacts interact with your newsroom and press releases, and we are also GDPR compliant which ensures your data is kept safe and secure.
Some additional features of the reporting and analytics component within Prezly:
Insight in the performance of an email campaign (click, open, reply rate)
Identify which stakeholders have email deliverability issues (bounce, out of office,...)
Generate press clipping/coverage reports tied back to a story or campaign
---
Save Time & Improve Media Relations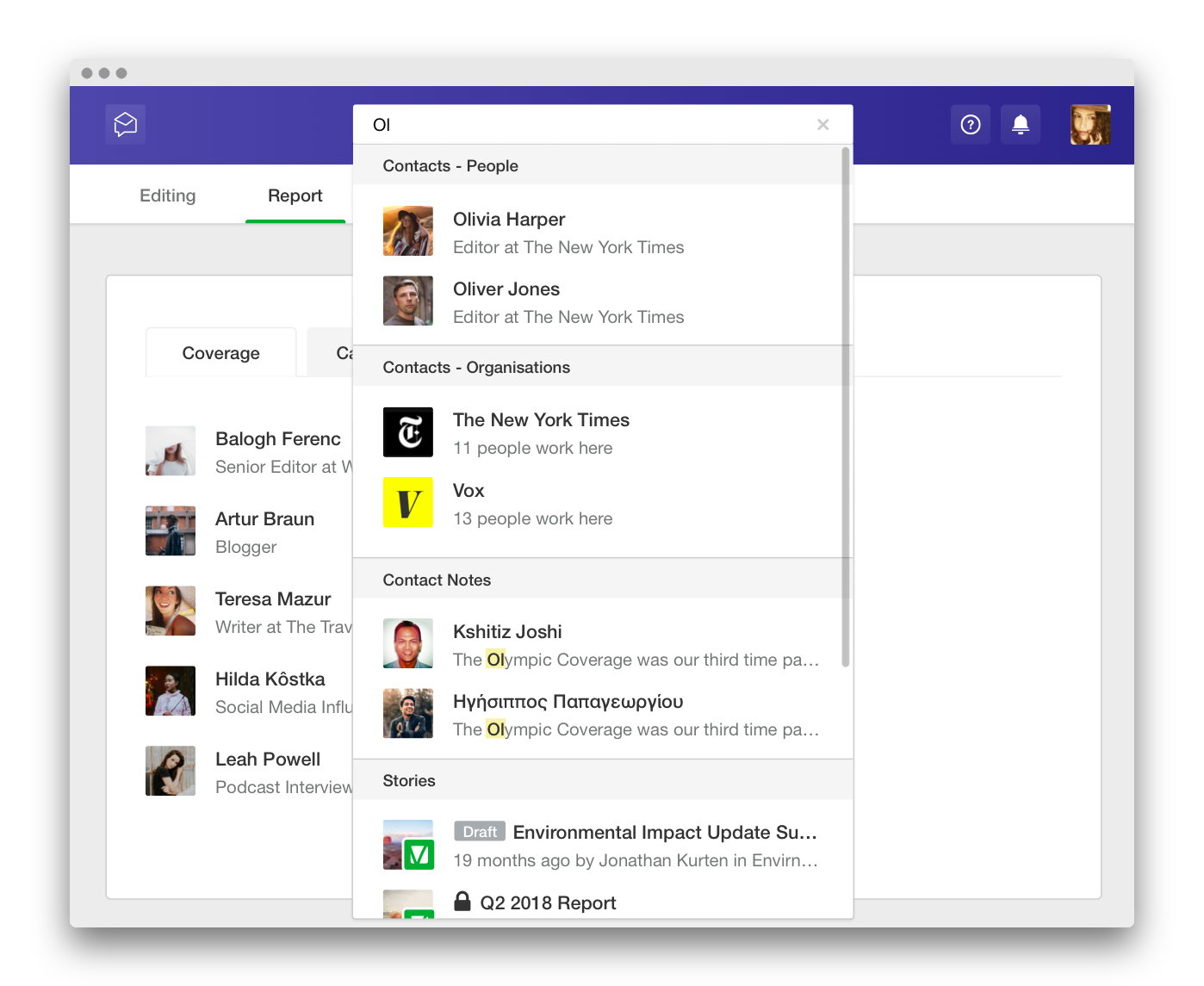 At Prezly we focus on making your day-to-day work more fluid, saving you time, all the while helping you improve your media relations.
By reviewing how public relations and communications professionals work on a daily basis, we have pinpointed trouble spots that slow them down and get in the way of doing valuable work.
These are things like disorganization, repetitive tasks and manual work that could be automated. Let's face it, public relations and communications professionals have better things to do than copy and paste all day.