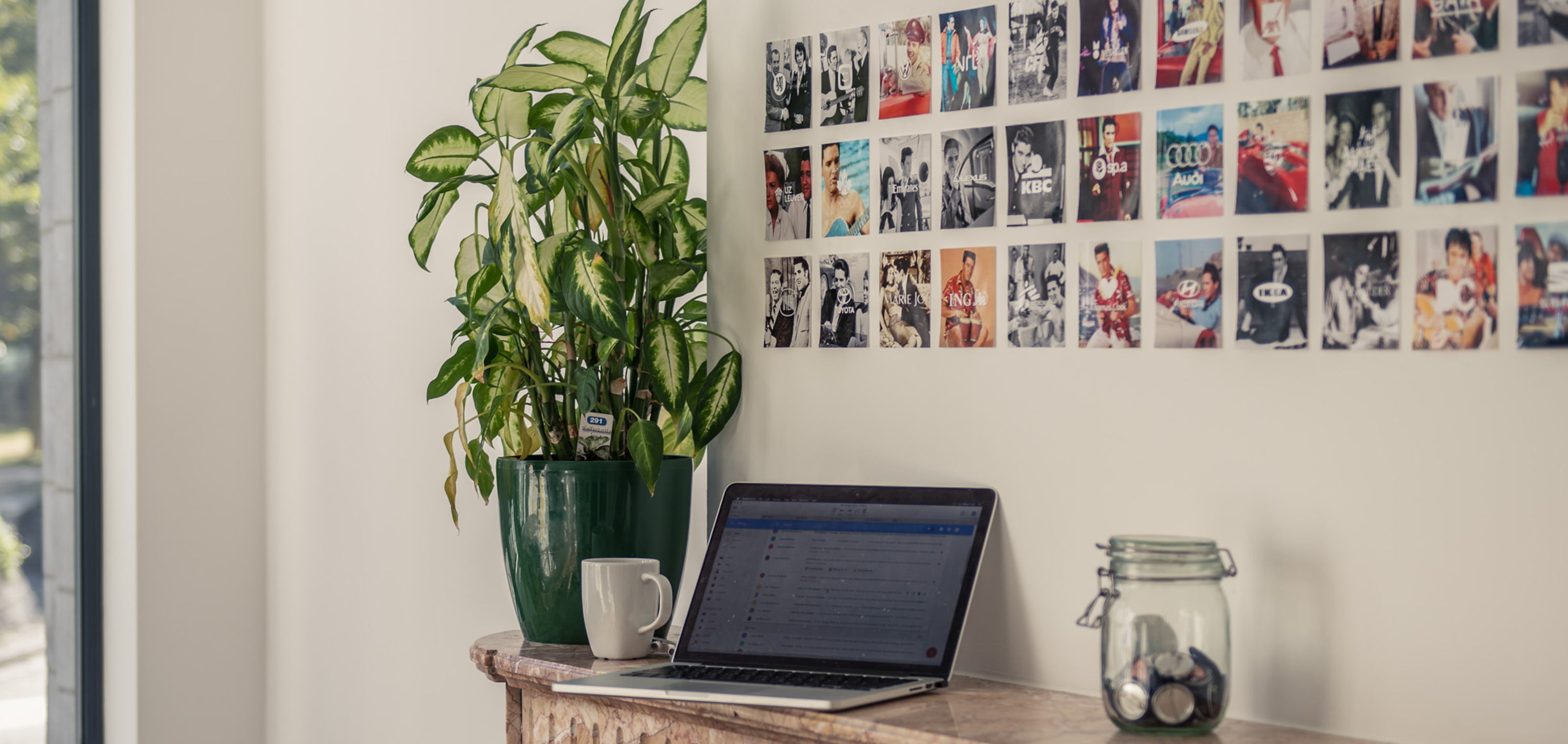 February 27, 2019
5 Reasons to Start Using Prezly for Media Relations
Learn about our media relations software that helps manage media contacts, create online newsrooms, develop visual press releases and much more.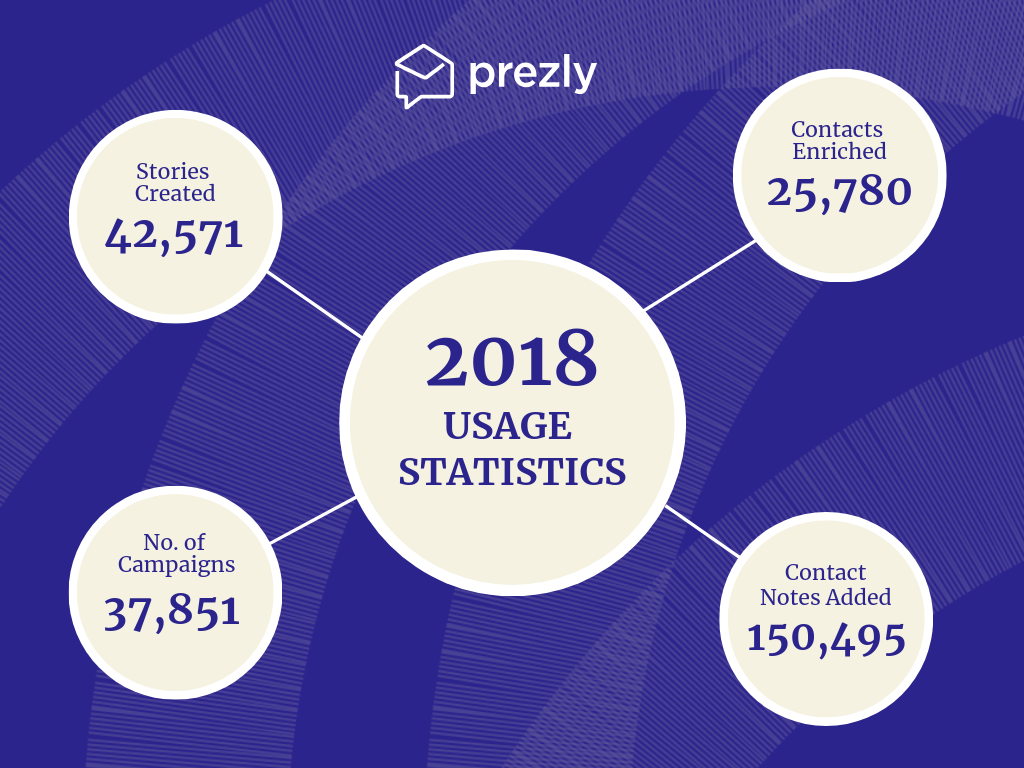 At Prezly we focus on making your day-to-day work more fluid, saving you time, all while helping you improve your media relations.
By reviewing how PR and communications professionals work on a daily basis, we have pinpointed trouble spots that slow them down and get in the way of doing valuable work.
These are things like disorganisation, repetitive tasks and manual work that could be automated. Let's face it, PRs have better things to do than copy and paste all day.
We built Prezly to tackle all these problems in one easy-to-use tool. Below you'll see what Prezly replaces and how our platform can help you work smarter in your day-to-day PR tasks.
---
Replaces: Excel, Google Sheets, Hubspot, Salesforce 
Updating, note-taking, engagement metrics, personalisation and general contact management are all vital aspects of an effective PR CRM. This isn't rocket science, but some of the greatest things aren't. It's simply a better way to manage your contacts and media relationships. Try to do the same in a spreadsheet and it gets really tricky the more sophisticated your PR becomes.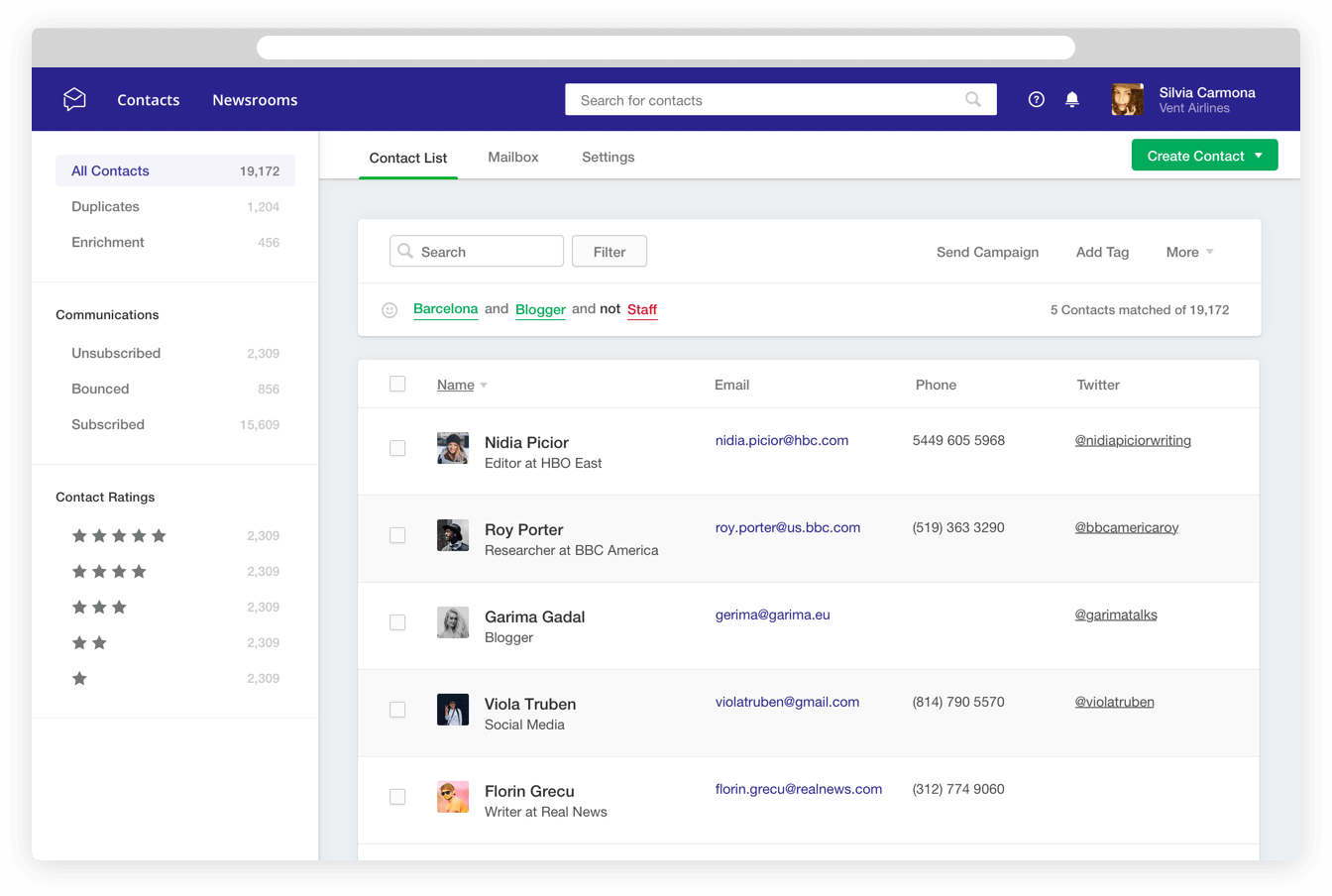 For example, entry-level data can be easily managed within a spreadsheet. When it becomes chaotic is when you try to add more data to each contact, have multiple users trying to edit the sheet, or try to keep chronological notes about each contact.
Within Prezly you can easily collaborate with multiple users to ensure contacts are updated, notes added and general contact management is smooth and efficient. To make the process even smoother you can see everything in a timeline that tells you who edited what.
Easily organise your contacts into logical and useful groupings or segments which provides an easy but powerful way to search and filter through your saved contacts.
Automatic and easy contact enrichment to ensure social media accounts can be visited and engaged, all with a focus on improving and understanding media relations.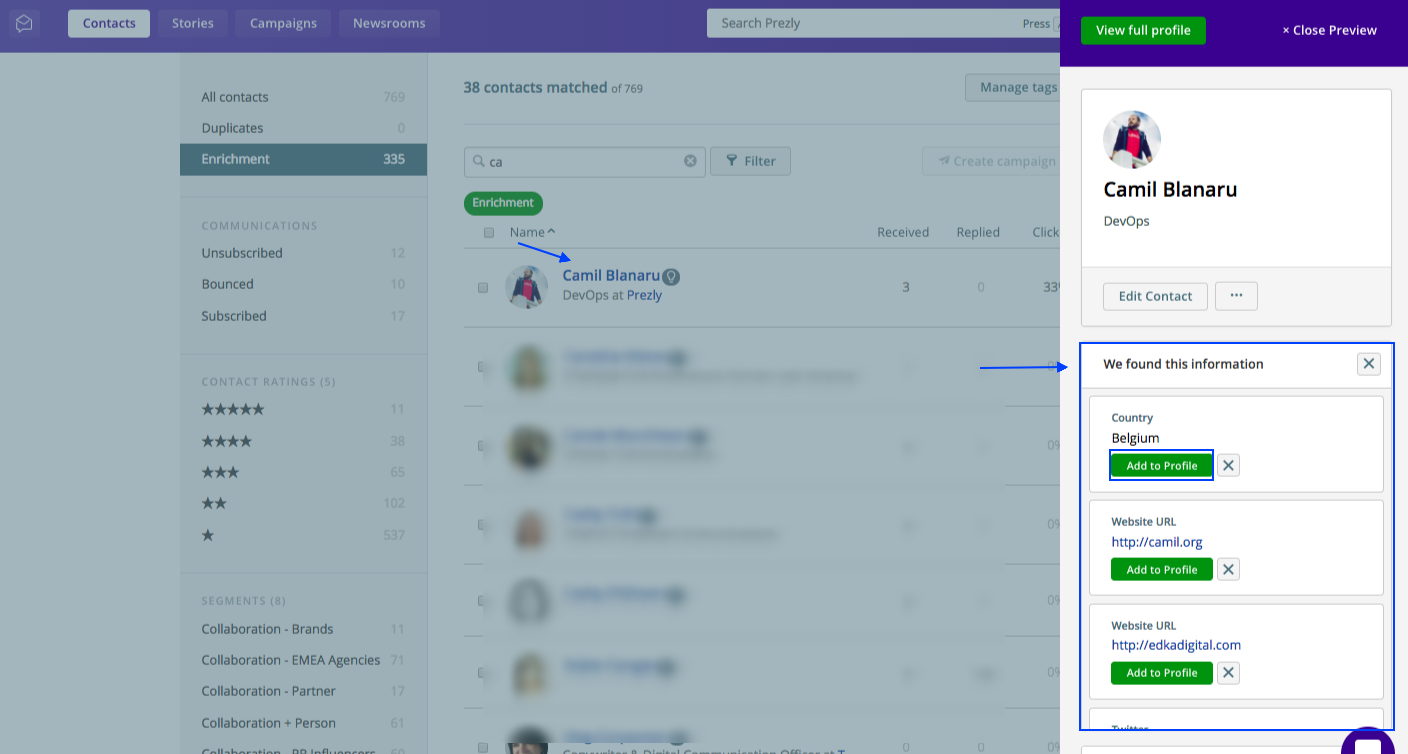 If maintaining all your notes and interactions about contacts is your daily nightmare, then consider that solved with our mailbox integration. What this means is that you can sync your own inbox and email address with Prezly so that everything is automatically logged.
Instead of copy-pasting email addresses from your spreadsheet to your email client you can now use Prezly as your email client. You can see open rates and collect valuable interaction data to ensure future campaigns are highly targeted and bespoke to your contacts.
---
Replaces: Wordpress, Drupal, Medium, Word, Dropbox
It is getting more and more difficult to get noticed by journalists and the media. With so many brands and companies out there all doing great things, how do you get attention? This is where Prezly has spent time developing key products within our platform to ensure your stories get read.
Prezly Story Editor provides rich-content options such as embedded videos, social media updates, image galleries and much more. No more plain-text press release pitches getting lost in the inbox.
Also, journalists love Prezly because it delivers everything they need in one place including downloadable content, images, and media galleries.
You can easily store archived press releases and make it super easy for media contacts to access these, whenever and wherever they want. This is made possible, incredibly easily I would also add, with our online newsrooms which can be customised to match up with your company's branding. 
---
Replaces: Gmail, Hubspot, Mailchimp, Salesforce, Outlook
Another major issue that we wanted to address was deliverability, personalisation and visual appeal when you pitch stories to your media contacts.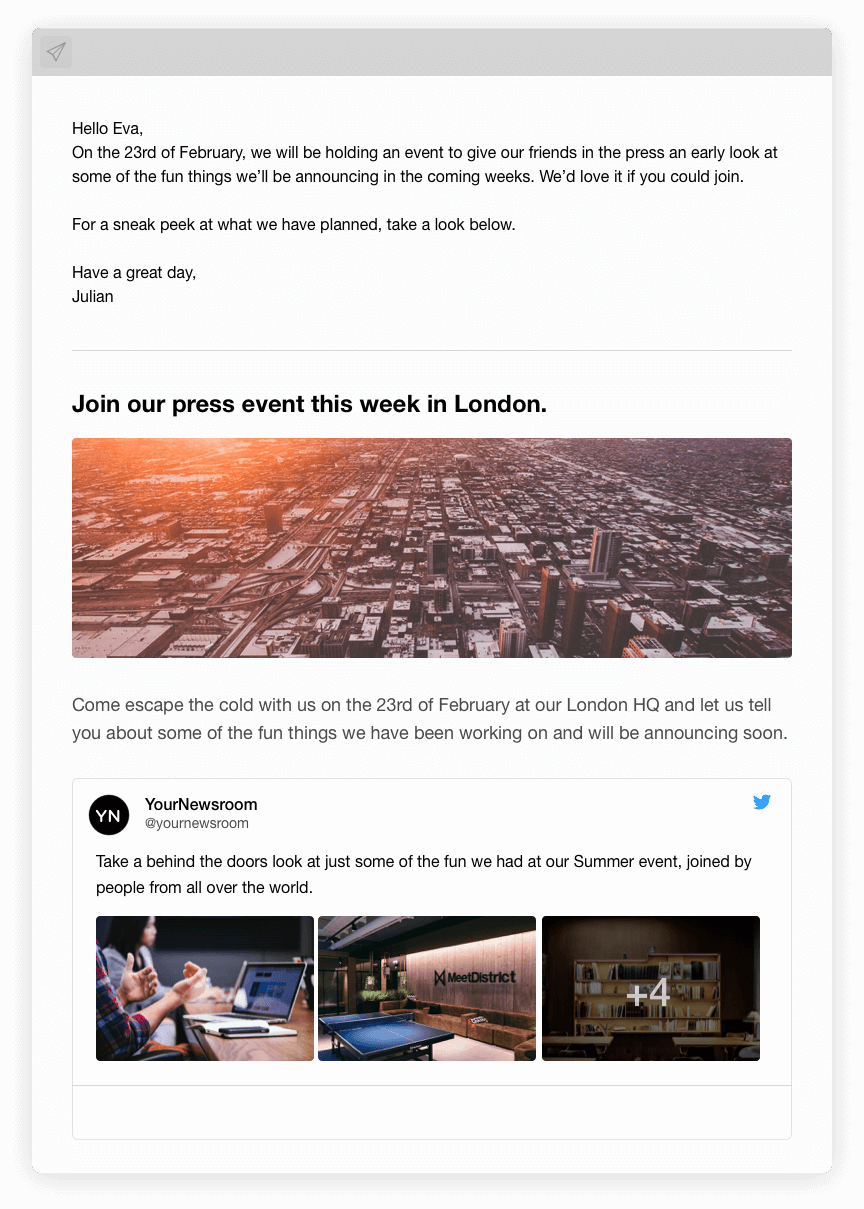 We also wanted to help ensure that you understand just how your campaign contacts are behaving when you distribute your pitch.
To make campaign deliverability easy and engage your media contacts we've ensured that you can:
Send campaigns to segmented contacts - we want to help you deliver the right news to the right people. Relevancy is King in the PR world.
Personal messaging with simple mail merging and placeholders.
Embed your press release/stories directly into the email.
Capture behavioural analytics to further understand how your contacts interact with your press releases and newsroom.
---
It's one thing to send out press release pitches but it's another to understand how your contacts are interacting.
Valuable information as open rates, bounces and link clicks are essential if you want to make each campaign highly customised to focus on high-open rates and most of all - coverage.
Through Google Analytics integration you can know how contacts interact with your newsroom and press releases.
We are also GDPR compliant which ensures your data is kept safe and secure.
Some additional features of the reporting and analytics component within Prezly:
Insight in the performance of an email campaign (click, open, reply rate)
Identify which stakeholders have email deliverability issues (bounce, out of office,...)
Generate press clipping/coverage reports tied back to a story or campaign