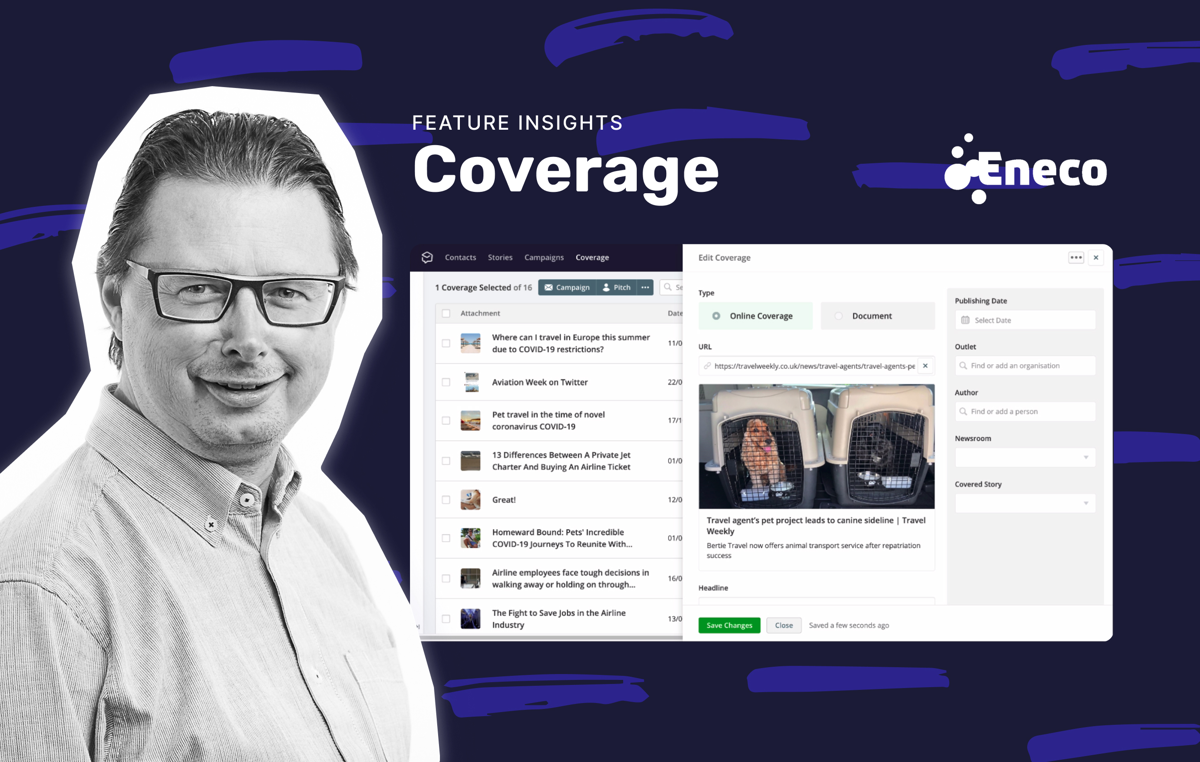 Customer spotlight
Using coverage to help you manage your contact lists
How a PR Comms Manager uses Prezly's Coverage feature to keep track of what journalists are saying
Feature insights: Coverage
Spanning across the Netherlands, Belgium, Germany, and the UK, sustainable energy company Eneco has a strong presence in the energy sector. They plan to be completely climate neutral by 2035 by providing eco-friendly energy options for their customers. Being one of the most sustainable electricity suppliers among large companies means Eneco gets a lot of coverage and media mentions. This is why PR and Comms Manager of Eneco, Mark van Hamme, uses our Coverage feature to get an overview of who's saying what about the company – and quickly!
Not sure where to start? Whenever you have a piece of coverage, you can easily record it in Prezly. From an article, clipping, video, or tweet – all you have to do is upload your file and fill in the details, or copy the URL of the news article, video review, Instagram post – whatever you want – and let Prezly do the rest. Here's how →
And just like Eneco, if you are already a Belgapress customer and would like to see your media coverage and mentions updated daily in your Coverage page, just let us know, and the integration is free of charge. More about the Belgapress-Prezly integration →

---
Other feature insights
Every month we release new feature insights which showcase our customers' best tips and tricks, and how they get the most out of Prezly!
In case you missed it:
Got feedback or questions about our updates or how our emails could be better? Email us at [email protected] or start a conversation with us in our in-app chat.
---
Refer a friend to Prezly
Know someone who might benefit from Prezly? Give a friend a free 2-week trial and earn up to a 20% referral bonus when they sign up through our official referral program.