Prezly basics
How to create a Story
Make your press releases and company updates even better with multimedia embeds
Say goodbye to boring Word documents and plain email, because visually engaging Stories are the real deal now!
Prezly's Story Editor gives you all the tools you need to create Stories that will drive more coverage and traffic to your pressroom. When adding in-line multimedia, you can choose from a selection of embeds, such as images, videos, social posts, attachments, and more.
Once you're in the Stories page, click on Create Story and this will bring you straight to the Story Editor.

---
Tutorial: How to create and add visuals to a Story
---
What you can do in the Story Editor
Text Formatting
Text alignment
Image alignment
Setting Language, Categories, and Visibility
Sharing and previewing Stories
Inside the Editor
Here you will find the different sections that make up a Story, such as where to place a Header Image, Title, Subtitle, where to add text, as well as setting the Story's Language, Category, Visibility, and more.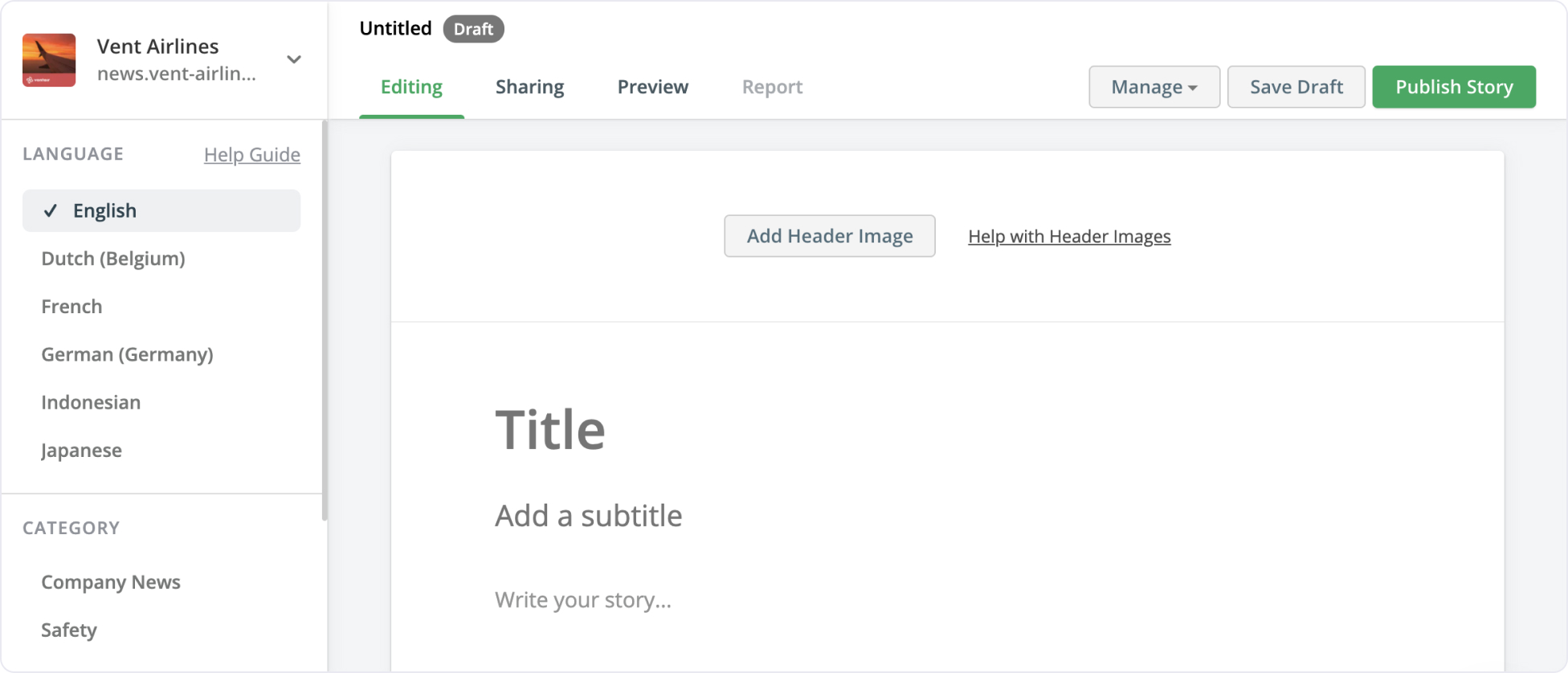 Header Image
Header images are one of the most important parts of a Story or press release, as they are often the first thing visitors notice after opening it. They help convey what you want your audience to know about your Story before they start reading it.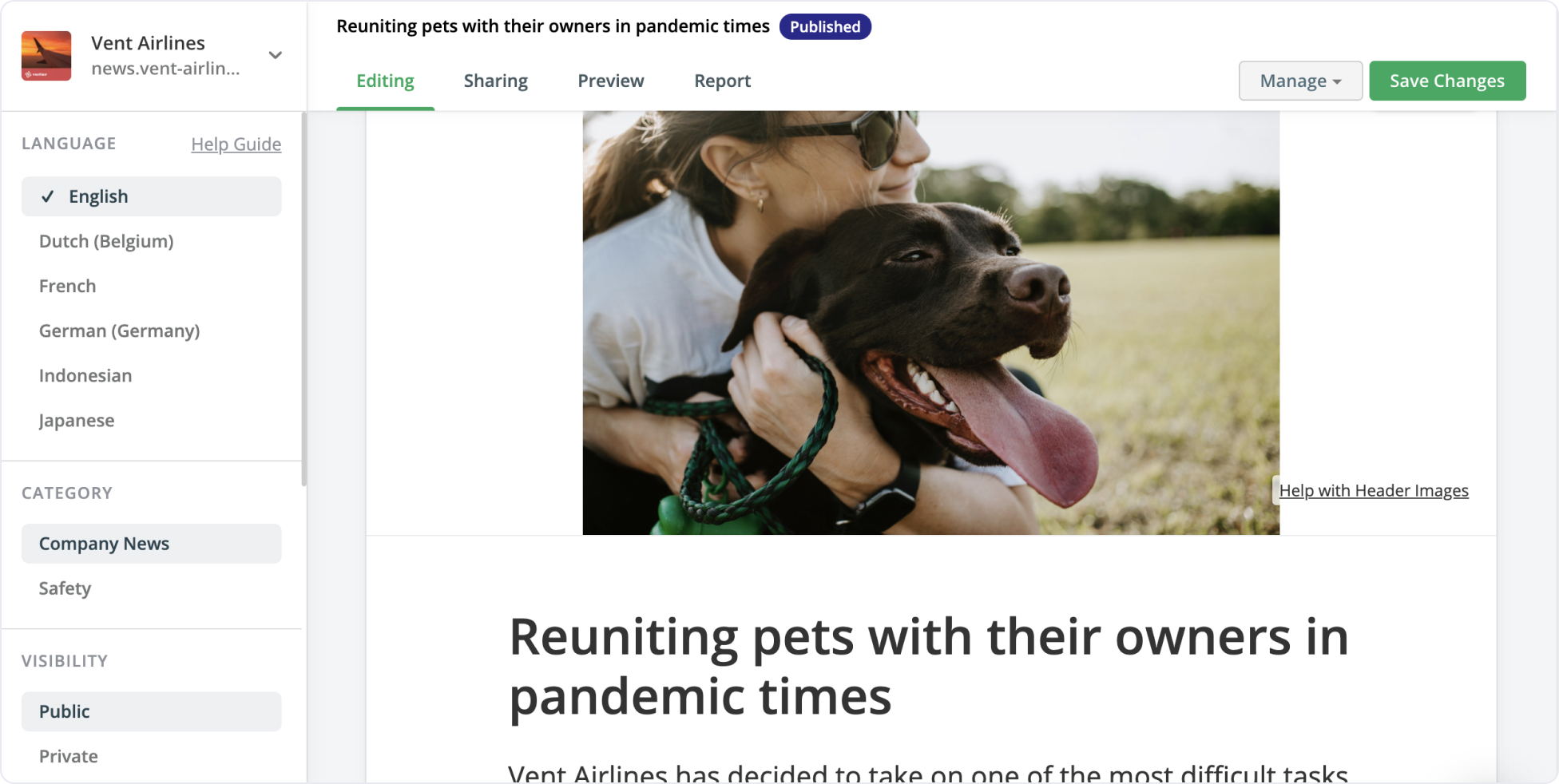 Writing your Story
Titles & subtitles
A Story can't be published unless it has a Title, whereas a Subtitle is optional. However, we do recommend always adding a Subtitle to your Stories, as this text will also be displayed in the Newsroom's homepage once it is published.
Text format
When you've selected a portion of your text, an editing menu will pop up right above the selection. We currently offer basic formatting options for text and quotes, such as text alignment, Bold, Italics, Underline, Subscript, Superscript, adding links to text, and more.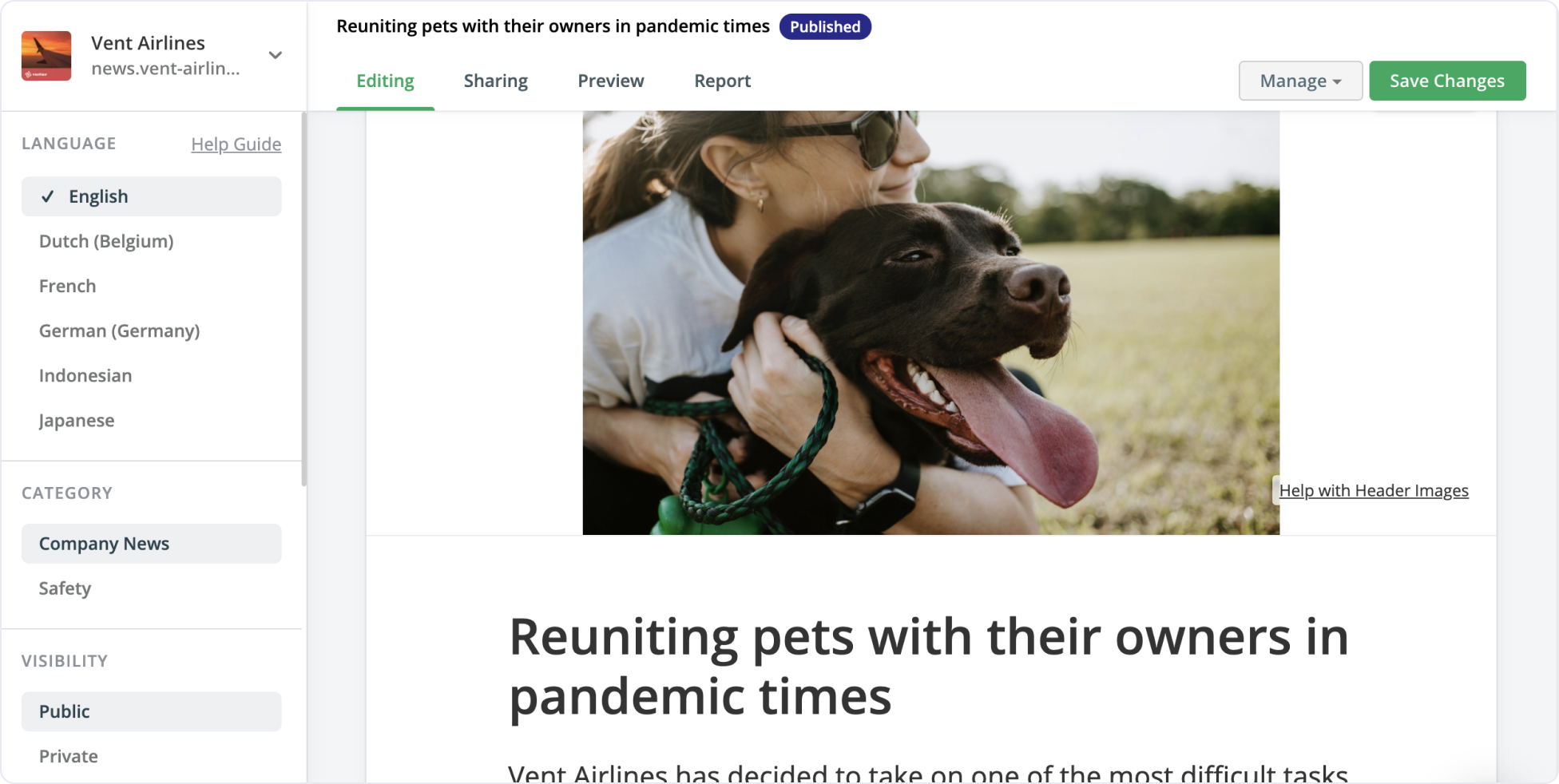 Adding in-line multimedia to Stories
Clicking on the green + button will show you the different media types you can add to your Story.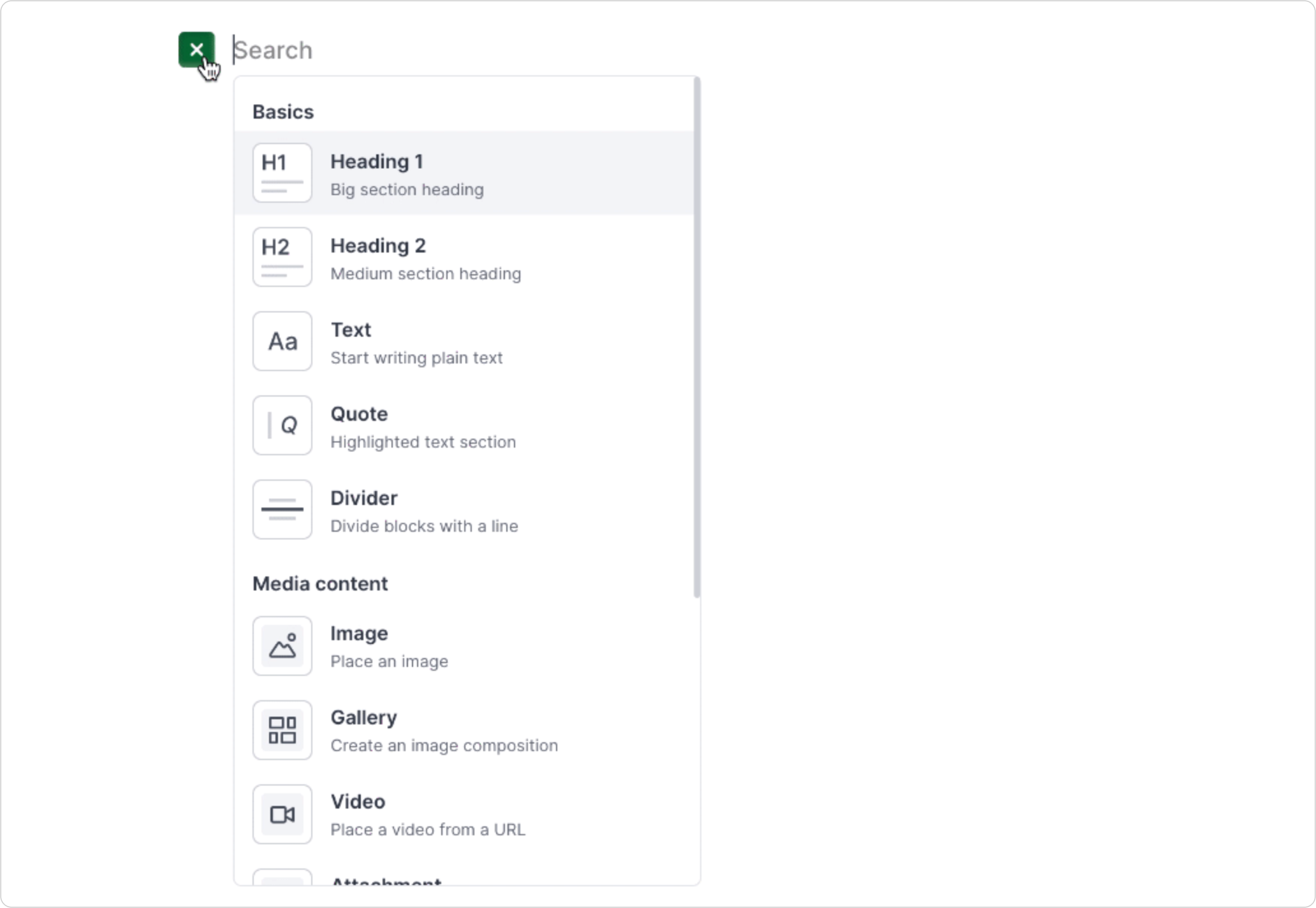 Image embeds can also be aligned to the left, center or right.
The left sidebar of the Story Editor
Select language
To change the language of a Story, you must first enable the language in the Newsroom Settings for the Newsroom it will be published to. Please refer to this article for how to add languages to your Newsroom.
Once added, choose the language the Story will be published in.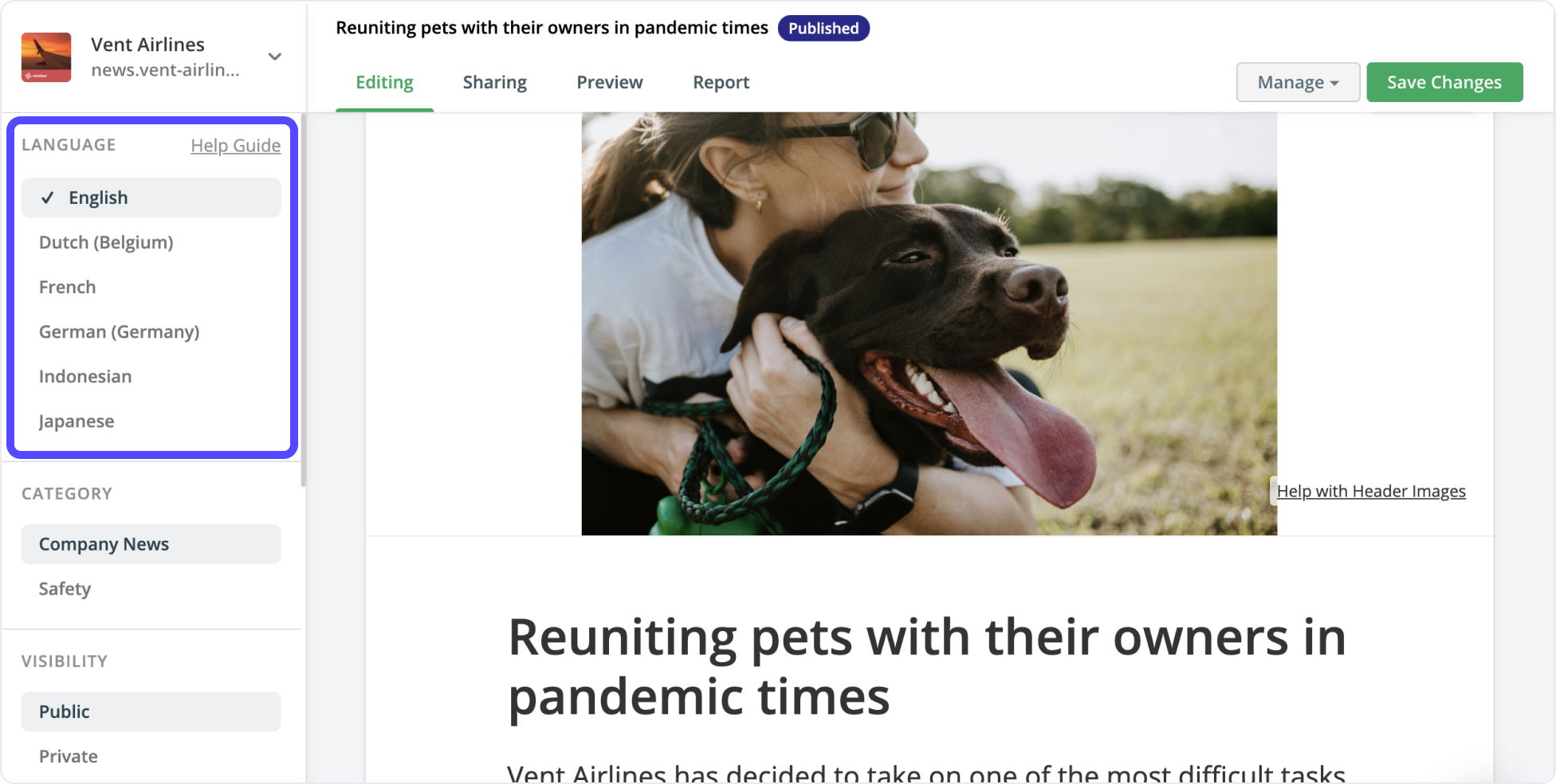 Pick a category
Similar to adding languages, you will first need to add the category in your Newsroom Settings. See how to categorize Stories.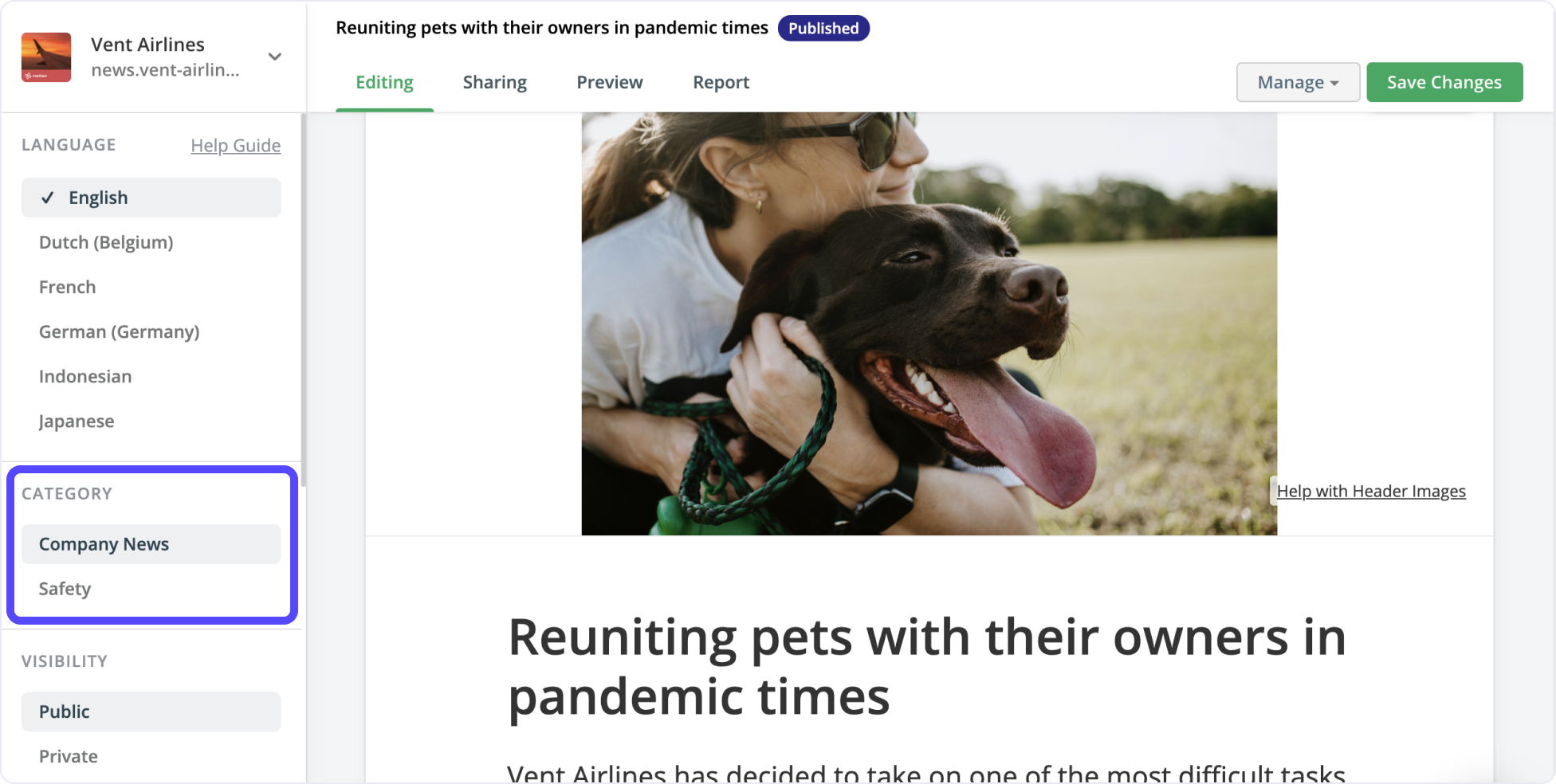 ⚠️ Note: Categories can also be displayed in different languages, so remember to check if the category you wish to add is already created in the language that you're writing the Story in.
Setting your Story's Visibility
Here you can choose to publish Stories that are Public, Private, or Embargo.
Learn about the difference between Public, Private & Embargo Stories.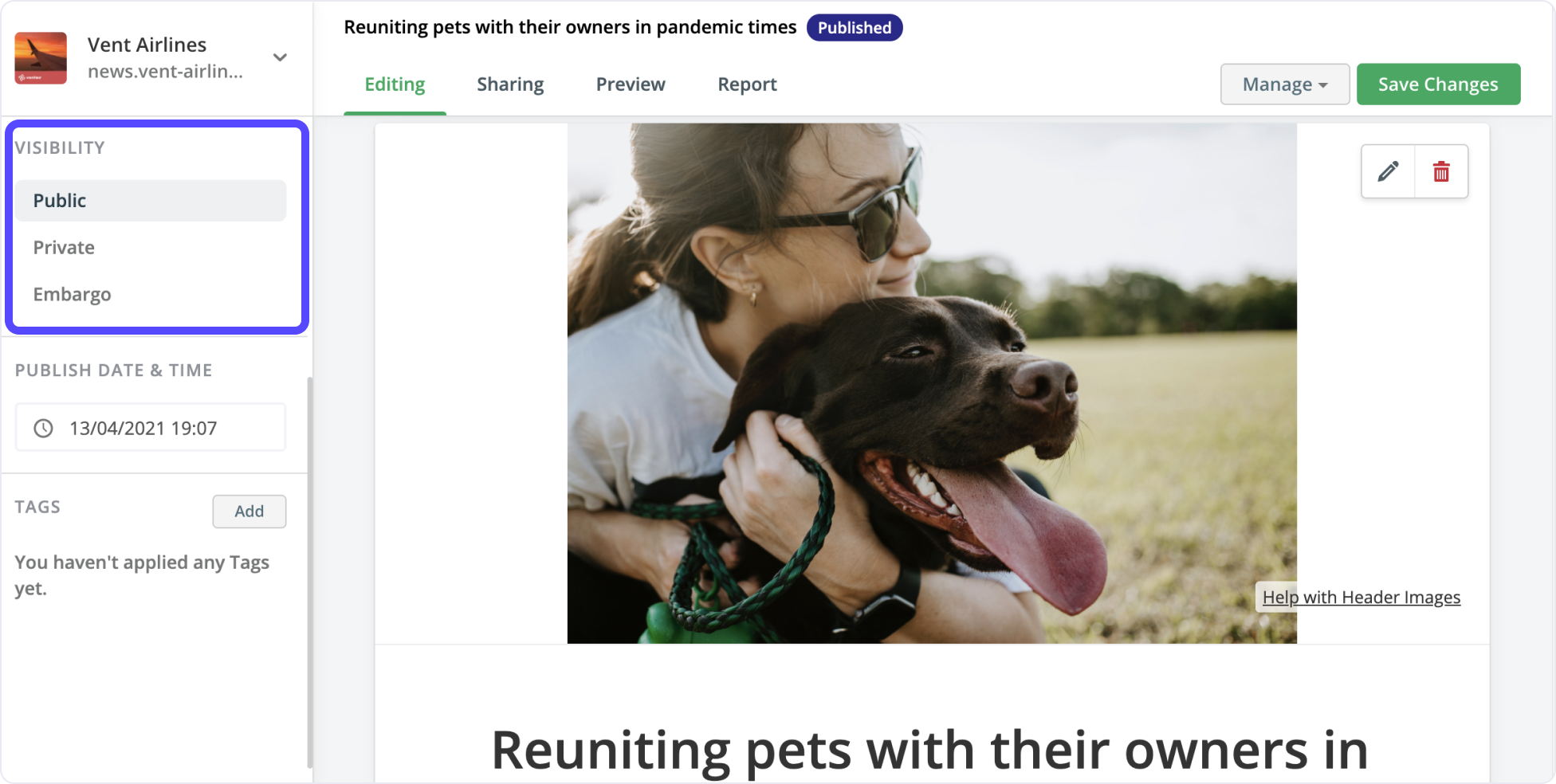 Newsroom home image
In the 'Sharing' tab of the Story Editor, you can set an image that will show in the Newsroom for your Story. This is different from the Header Image we talked about above, as these images show specifically in Newsrooms and not in Stories.
Here is where you can also customize how a Story's link will appear when shared on social.
Learn more about sharing Stories on social media.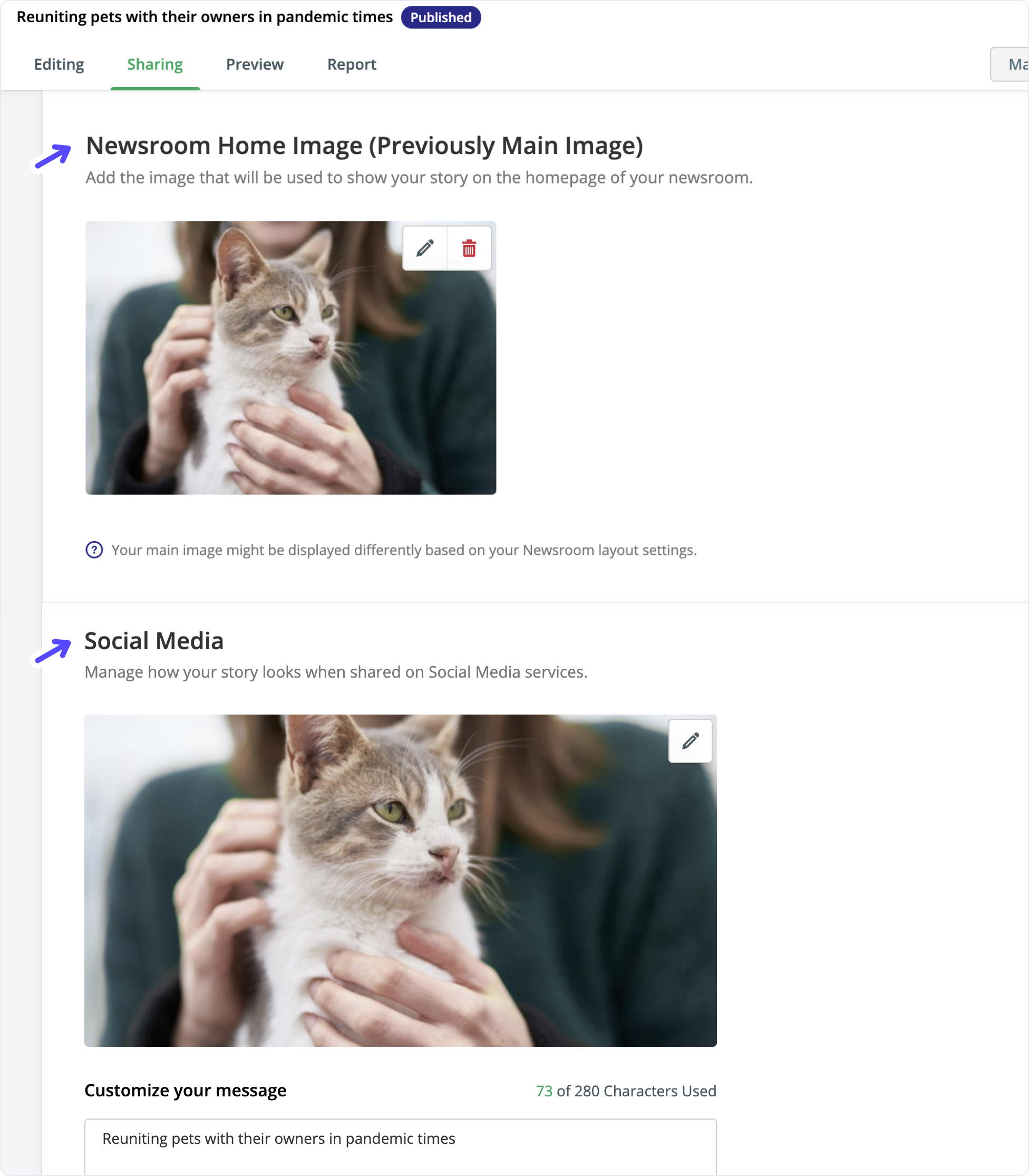 Previewing your Story
At any time, you can preview your Story to see how it will look when it's published. Above the preview is a link that allows you to open the preview in a new tab.