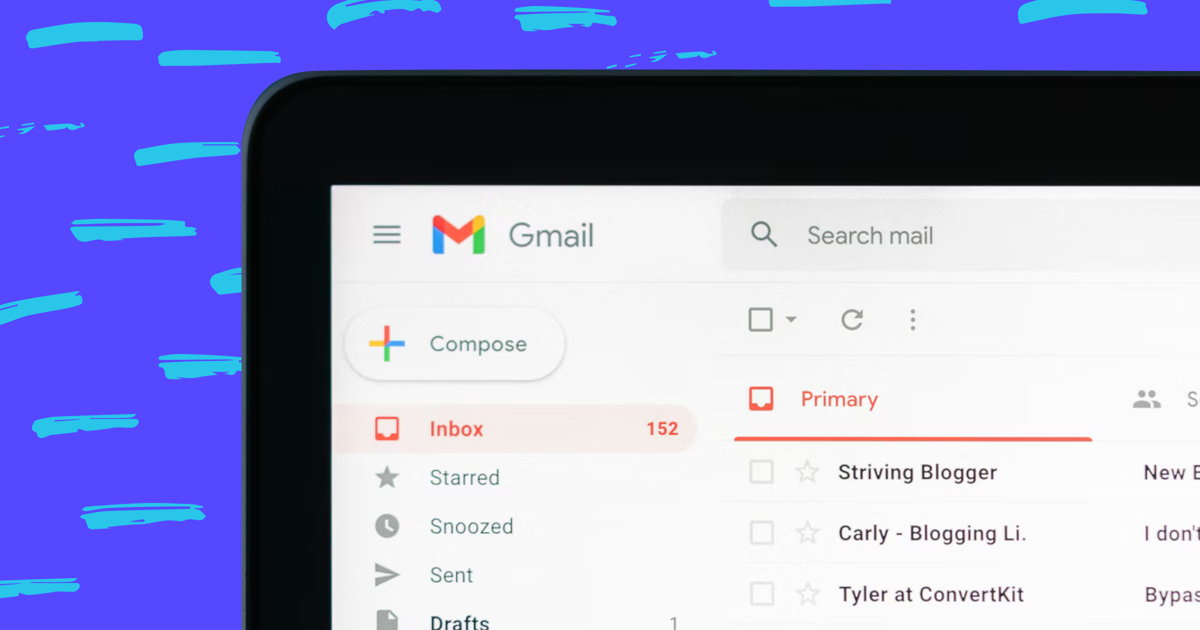 Email Marketing
How to write the best press release email pitch
Step-by-step guide to planning your strategy, data on what makes the most successful emails, and templates to get you to pitch perfect.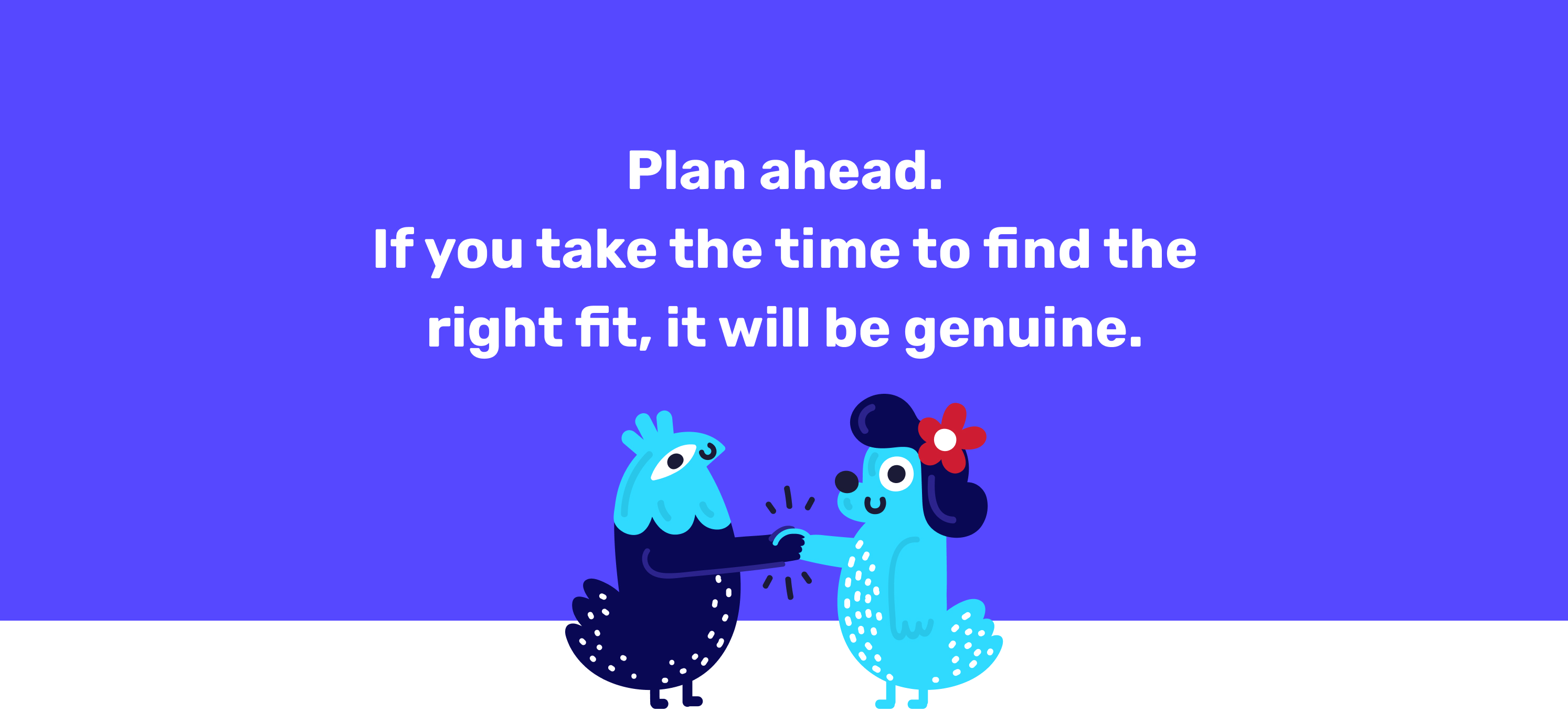 How to send a press release by email
A few simple guidelines before we begin:
If you're sending a press release as part of your pitch, paste it into the body of your email. This has two advantages: it's easy for the recipient to skim without having to open any bulky attachments, and it becomes easily searchable in that person's inbox
Link to your media assets, don't use attachments. These can overload your contact's inbox and land your email into their spam folder – aka the pitch graveyard. Instead, host your media in an online press kit and link to it. Don't password protect your assets, but use a secret unlisted URL to preserve privacy and keep it off Google, while making it easily accessible to journalists
If you're using Prezly to send your press release, you don't need to worry about the above: just create your press release, embed all your media and send. We'll take care of the rest :)
In fact, one of the best places to get the lowdown on how to pitch well is from journalists themselves. Which is why we asked them. You can watch our full hour-long interview with Kelsey Ogletree and Holly Brockwell over at PR Roundtable: How writers want to be pitched ▸
Publish your first press release in 5 minutes
Start with strategy
1. Plan ahead
Great PR is worth investing in. So, take your foot off the brake and make a plan.
As Josh Sternberg wrote in Media Nut's newsletter, "Media relations, at scale, is a Pyrrhic victory. Sure, you get your name in ink or on air, but to what end? If there's no strategy behind it, it's empty calories."
Decide what you want to achieve and work backwards from there. Do you want a feature in a specific publication? A guest slot on a podcast? To be seen as an authority in your niche by this time next year?
What does success look like to you?
Once you know what you want to achieve in the long term, you can break it down into short-term goals and use those to inform your strategy.
Slowly slowly catchy monkey
Odd proverb, isn't it? And a wise one too. For most of us, success doesn't happen overnight – it's a gradual process born of consistent effort applied over a long term. Here are a few things you should be doing outside of campaign time.
Specialize
​Find the niche you personally want to be the expert in and go deep – follow newsletters, engage with communities, actively keep up with the conversation.
Participate
​You can't only be active in communities when you have something to sell; return to the mantra of give first, ask later.
Gather resources
​As you encounter new people relevant to your niche, add them to a list that you can revisit later, whether that's in your CRM, Twitter lists or somewhere else. Same for related posts and articles that may be of use further down the line.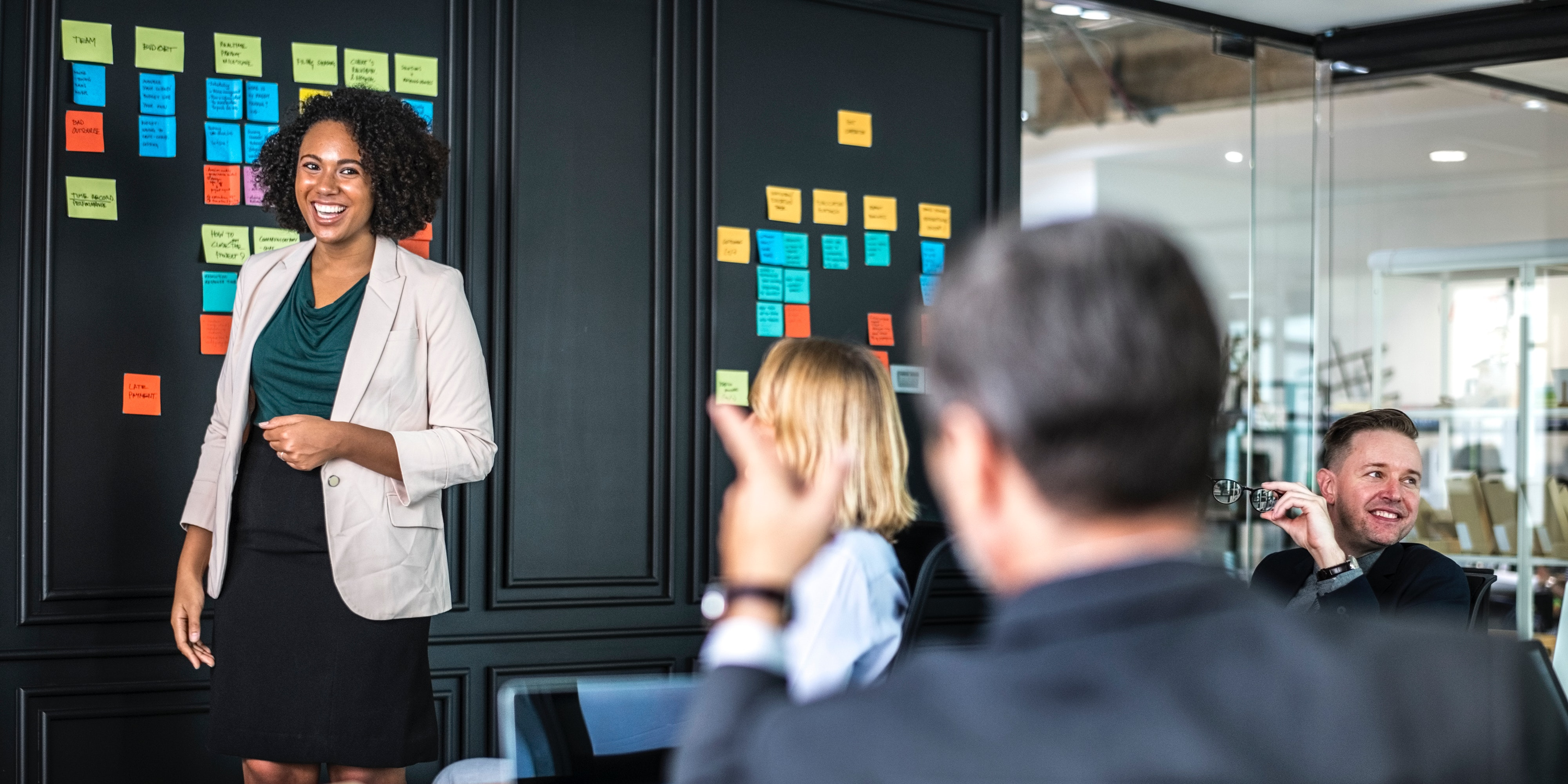 2. Research
Now begins the hard part. It takes time, but by going the whole hog and building a strategy you're investing into the success of not only one single pitch, but that of all your future campaigns.
On the next page is an excerpt of a skeleton plan you might draw up when approaching your strategy; you can find the full strategy planner template at the end of this guide.
An important question to ask is, what will I do with this content once it is published?
You've spent all that time researching, liaising and pitching to achieve coverage in a big paper.
Would it be better to a) plan how you can get the most out of that content once it's out, or b) log it as "coverage", add it to your report and start the whole process from scratch with Publication Number 2?
If b) is where your planning ends, you're going to be wasting a lot of effort.
Instead, you need to build out a plan where each success lays the groundwork for the next. Or as Andy Crestodina puts it, "The job is never done. It just begins again."
There's no such thing as a press release email template
Anyone who tells you otherwise is cashing in on SEO juice for the term "press release email template". Life is just too nuanced.
Instead, here's an example of how to start a conversation: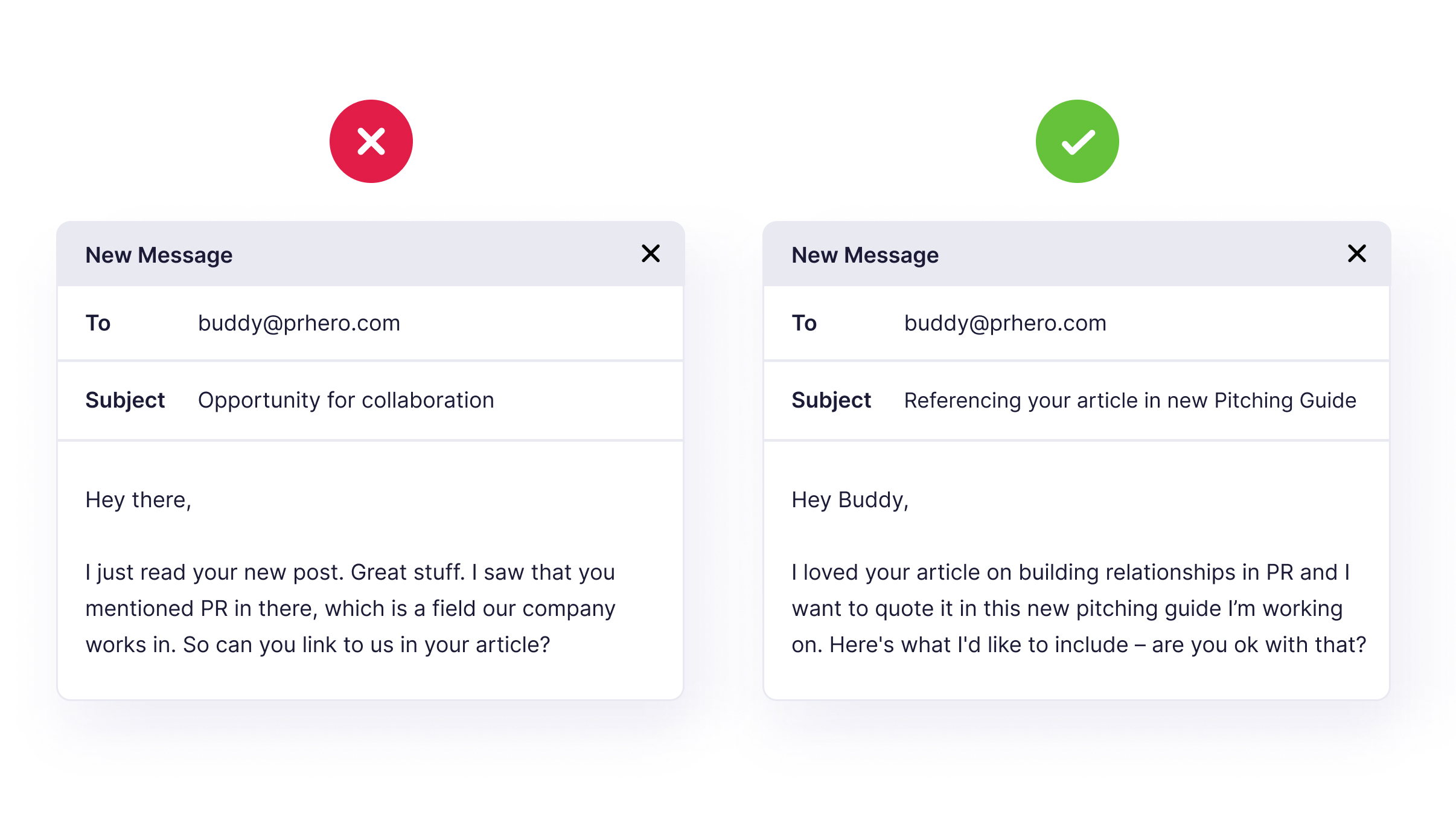 3. Knock them off their feet
Find a way that you can be of value to this person, and do it. For example...
You're involved in an upcoming article and want to reference them ​
or their work
You've created a follow-up to their article (a blog post, data visualization, tweet etc)
You've researched what they're writing about and can refer them to resources for a new angle they've yet to cover – new data, a study, an expert quote...
You take part in conversations on social media or other communities where you have recommended something this person has published
Give them something of value and let them know. Then keep doing it.
You really got to pamper that person upfront. You're trying to get that reciprocity going, so you want to knock them off their feet with everything you've done.
If someone does something that you find helpful, that you enjoy, take a moment to let them know. Comment or email or whatever. Just start that conversation.
I would walk up to somebody and say, hey, love your article. I'd love to reference it in my blog post. Would that be cool with you? Most people don't do this. Most people just link to it. But the idea here is to build that relationship.
Then I'll send them the link when it's ready. Then I'll ask them for their feedback on it. All those touch points are building that relationship. The more touch points you have, the better. Eventually, that person is going to click on a link in your signature just to check out who you are.
And most of them need data and insights, and they want the personal connection. Just give them what they want.
4. Get them to come to you
Keep demonstrating that you understand your new contact's audience and can give them quality information. Be useful. Build up that trust.
Make them curious.
If you show that you are genuinely engaging with their content, being helpful, being active in their communities, they will start to recognise you as someone they can trust to provide information relevant to them.
They will take the initiative to click on your profile and find out who you are.
The key here, of course, is never to abuse that trust. It takes a lot of work to make sure you are consistently giving something of value, but it's the only way a mutually helpful, respectful relationship can work. There are no shortcuts.
If your new connection seems open to it, this is the perfect time to offer to have a call – not to pitch them, not to sell anything, but to introduce yourself in person, learn a bit more about who this person is and see if you have a natural rapport. It can do wonders to boost your relationship.
💡 Tip: Include links to your social media profiles in your email signature, whether that's LinkedIn, Twitter or somewhere else where you're active. It doesn't need to be a work account – we're all human; it's ok to show a little personality.
It helps to write
This might sound like overkill, but if you're serious about your sector or discipline and know that you'll be working in it for a good long while, if not forever, then it helps to start writing about what you know.
Writing specialist posts is a great way to establish yourself as an expert, find new connections and create an opportunity to link to the work of journalists or content creators that you want to work with.
As an added perk, if your writing has been featured by a recognised publication, you can mention it at the start of your email pitch to get that stamp of legitimacy in the eyes of a stranger.
There are plenty of ways to get started; if writing isn't your strong suit, take a course or pick a different medium. Here are a few ways you can share your voice online:
LinkedIn Pulse
Twitter/social threads – Julian Shapiro is a great example of how to publish a truly engaging thread without asking for anything in return
Social videos
Livestreams – that's what we do with PR Roundtable
Remember, don't write to promote your clients; write to share your knowledge and build up a genuine "personal brand" that reflects you. It all helps.
5. Pitch
By this stage you know what your new contact is interested in and have an idea of how responsive they are. When you email them, use what you've learned to personalise your pitch and make sure to send it from your own name, which by now will be familiar to them.
If the fit is there and you have shown that you will put in the work to give them something of value, they will most likely say yes.
If, despite all your research, it turns out the fit isn't there? Follow up once and then take a step back – the worst thing you can to for your relationship is to get pushy.
The key elements of a great press release email pitch
Based on data from the 15,976,113 emails sent through Prezly in 2019.
Keep your subject line SHORT
Looking at all ~16 million emails sent through Prezly in 2019, those with just 3 words in their subject line performed best.
Translating that to character count, the most successful subject lines consisted of just 10–20 characters, followed by 20–30 and then 0–10 characters.
Add to that the fact that subject lines get cut to around 50 characters on most mobile phones, and the takeaway is simply keep it short.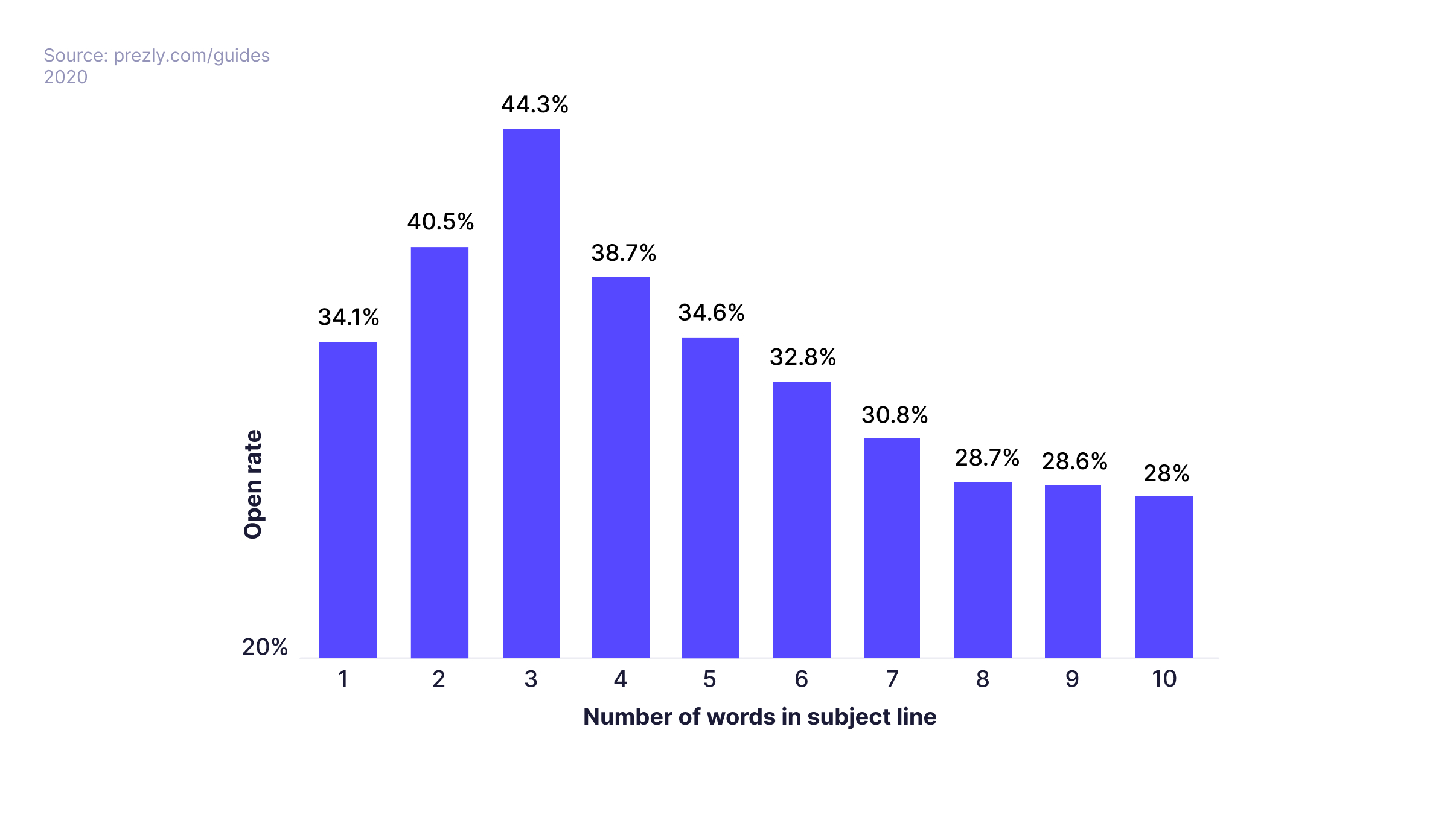 Use analytics to hone your headline
If you have a lot of people to pitch, don't do it all at once. Work on creating a catchy subject line and use it to pitch 5, 10, 20 people who you think will find it interesting. Then check your open rate.
For most campaigns, 20% is considered a decent open rate; you should aim for 50–70%.
There's a lot of info available online on A/B testing subject lines; use it to refine and test yours.
A major thing to remember is that subject lines flop when there isn't a good audience fit. But all that research you did at the strategy stage should help you with that; go back to your notes, remind yourself of what your contacts are interested in.
💡 Tip: Use contact tags and niche segments to make it easier to target the right audience in future. Do certain contacts respond best to a particular no-nonsense style of subject line? Great – tag them with "use serious headline" so you remember next time.
For a close look at some examples, see what makes a great press release headline ▸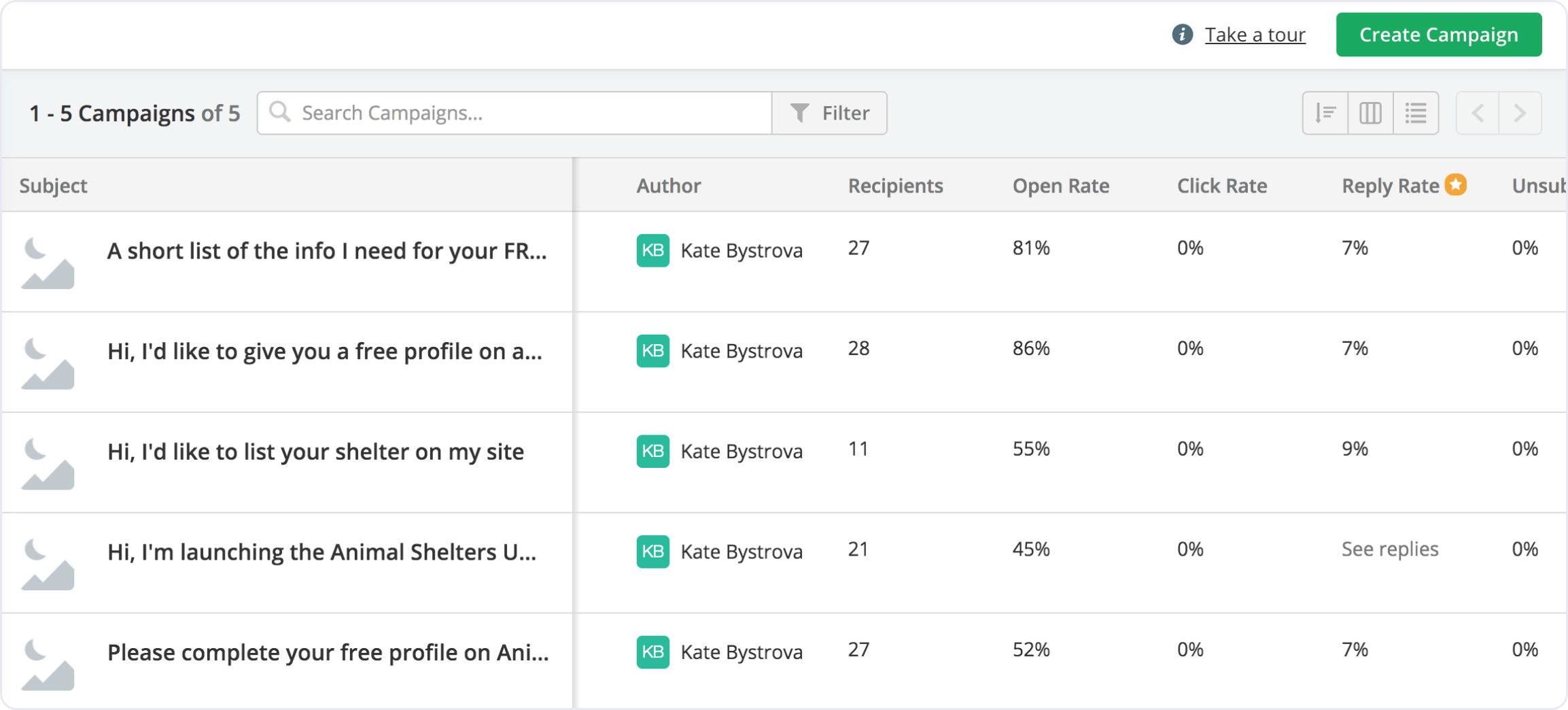 Send to small, targeted groups
Pitching small-scale doesn't just give you the opportunity to try out different subject lines, it also allows you to carve out your niches.
Less targeted email = Lower clickthrough
Near 16 million emails were sent through Prezly in 2019.
Looking at that data in aggregate, we were able to see how the number of recipients tallied up against email clickthrough rate – making the assumption that the smaller the mail-out, the more targeted it is.
As you'd expect, the data showed that the less targeted an email campaign is, the lower its clickthrough rate.
The point here is one that we keep returning to: targeting. In order to send your audience something relevant, you need to understand who your audience is.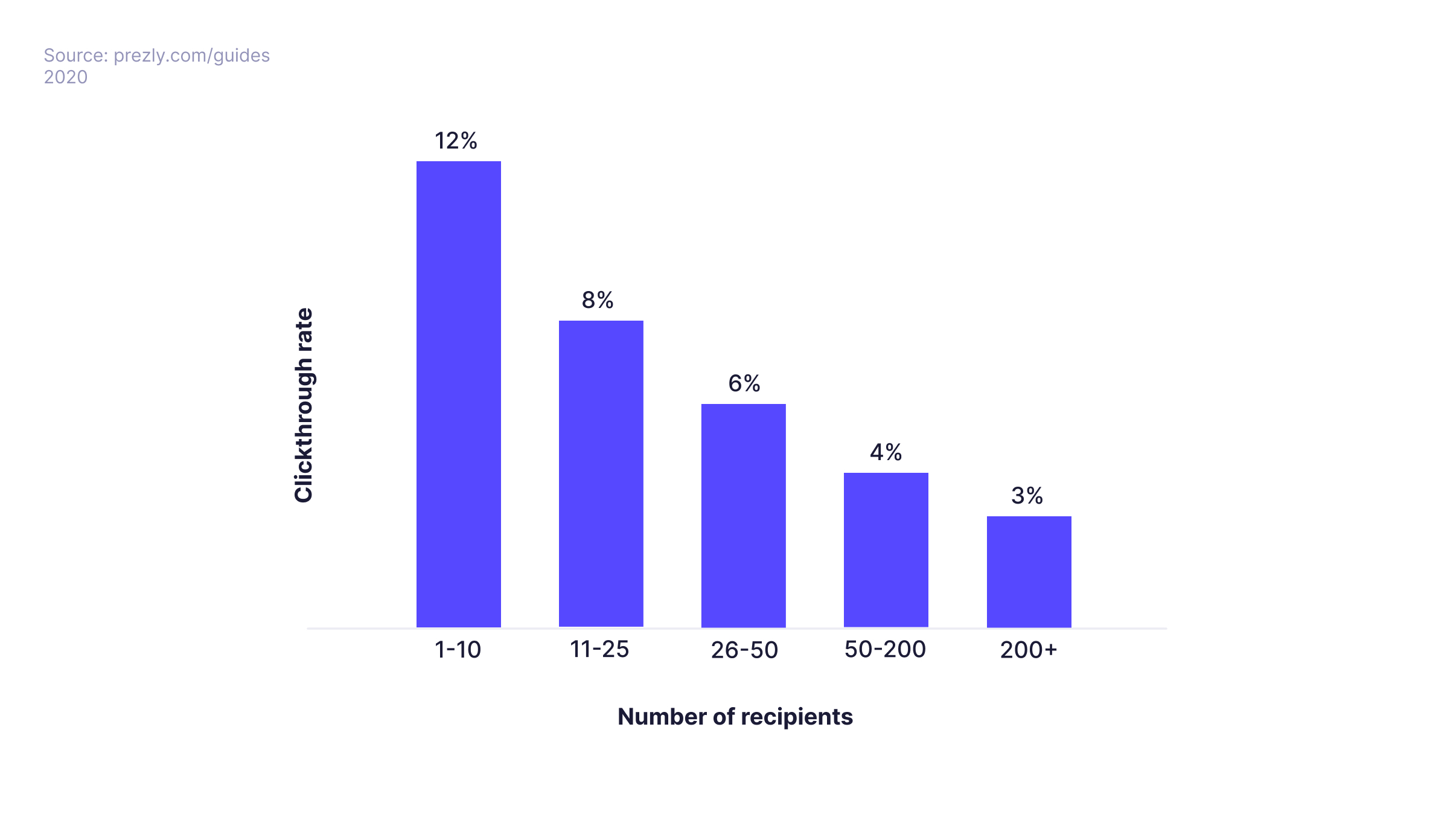 Without proper tracking, you don't even know what's going on. You send the message and you don't know if someone opens your email or what's happening on the other side.
With the statistics from Prezly, we have a really clear picture of whether a person opens our email or ignores it, and use that information to improve things if this feedback is not what we expected.
Read story
Make it personal
For your most important pitches, go one-on-one.
Second best is to carefully research and compile an audience of 10 people or fewer. This audience will be niche enough by virtue of targeting so as not to require further personalisation, gaining a 14% clickthrough rate regardless.
However, if you must send a campaign to 10+ contacts, use mail merge to personalise it at least a little.
💡 Tip: When using mail merge, go beyond the salutation. You can use dynamic fields to insert your contact's name or other details anywhere in your pitch – use it to catch their attention mid-sentence or as you sign off.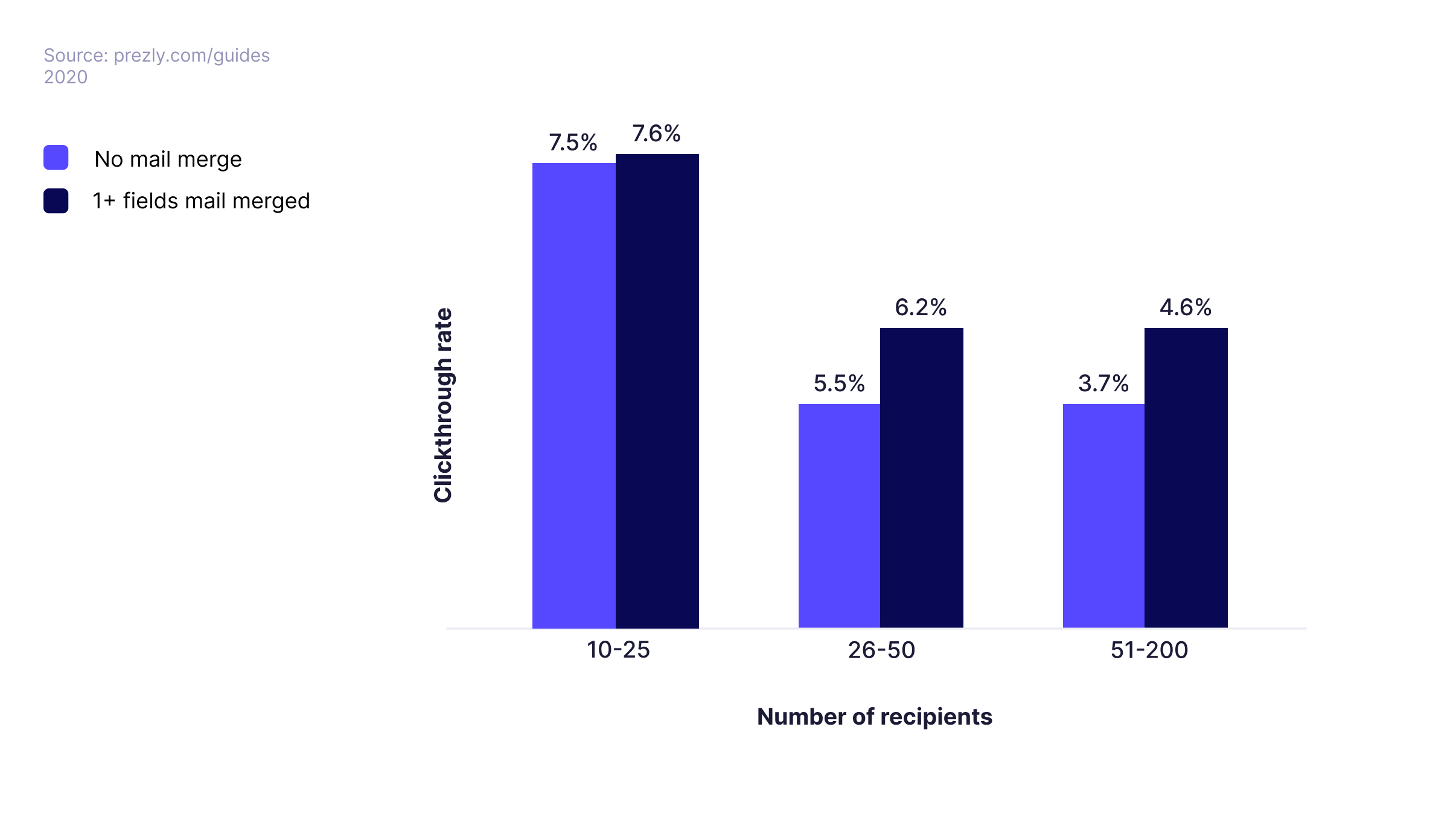 Keep it to <100 words
Our data suggests that, on average, email pitches of <100 words perform up to 4x better than those with 300 or more.
Simply put: the shorter, the better.
Recent survey data from Muck Rack supports the claim that shorter is better: "92% of journos also said their ideal pitch length is capped at ​
​ 2–3 paragraphs."
This is why it can help to add only the introduction of your press release into your email pitch and link it to your online newsroom, where journalists can find the full story and any related assets – like your press kit.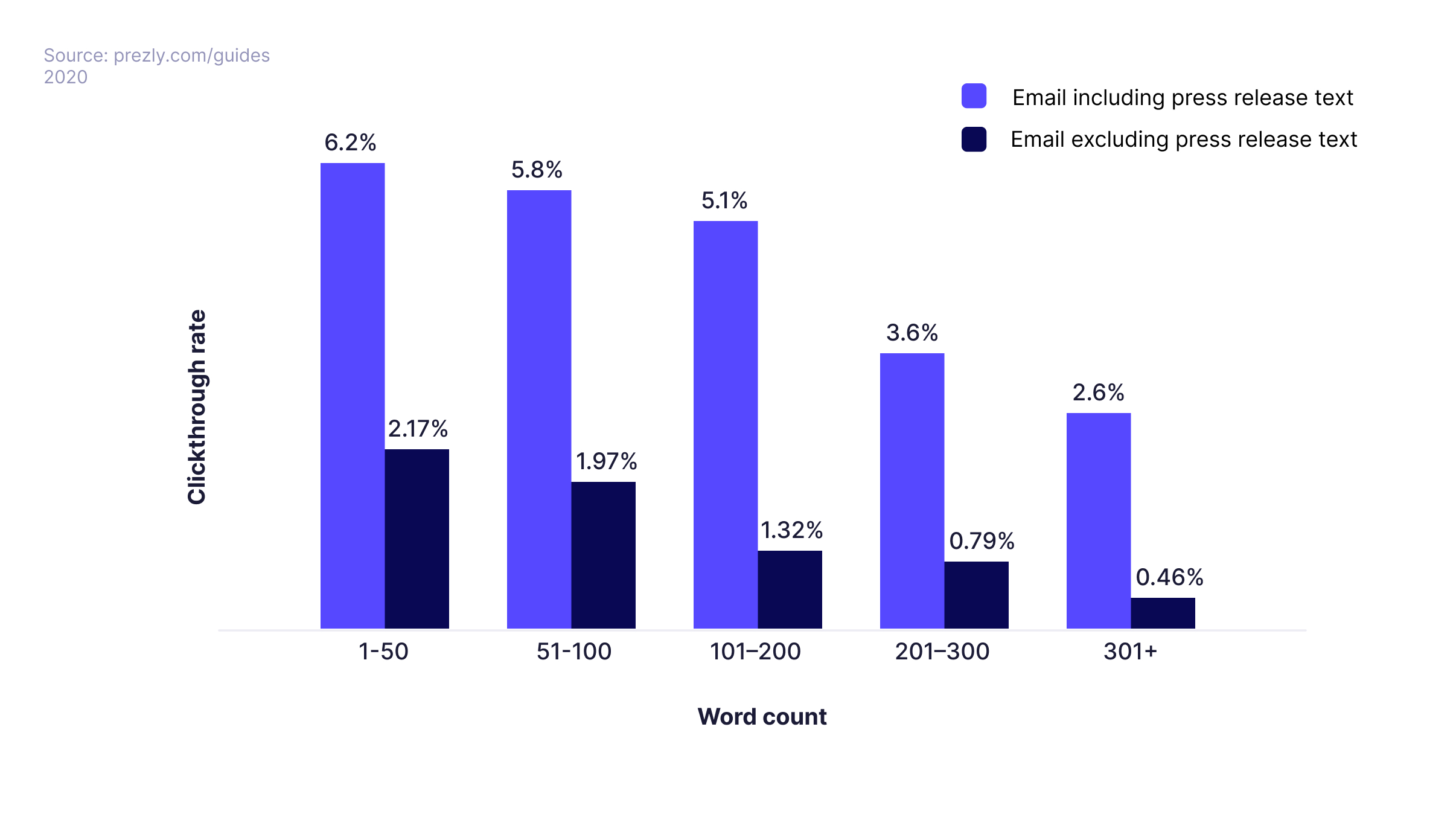 Include 1–5 images
Time to put the final pillar of emails to the test: images. Should you use them in your email pitch?
Two years ago, we found that email pitches with no images performed best. It appears times have changed.
Looking at the data, press release emails that use 1–5 images score the highest clickthrough rate.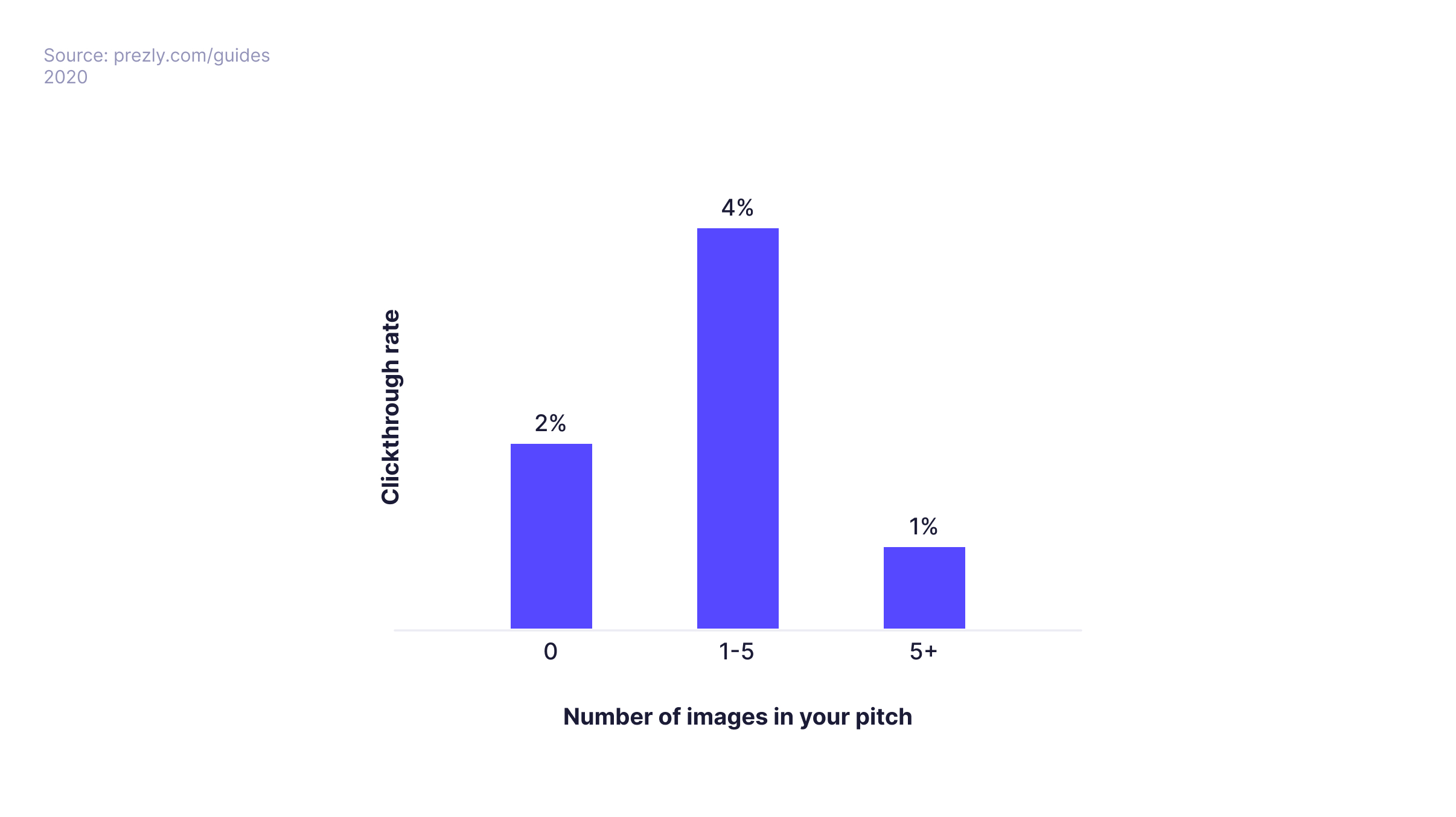 Download your free pitching strategy framework template
You can download the separate pages as image files from the gallery below, or as a PDF attachment:
The secret sauce
Once you start communicating with your new contacts and learning more about them, use that experience to shape your relationship with them.
It will naturally become more organic.
At the same time, continue to use your strategy outline and refer to it frequently as a form of guidance and quality control.
Writing out and revising your strategy will:
Keep your ultimate goals front of mind
Make sure you stay on your contacts' radar
Put you in a position to assess the results of your efforts and adjust your strategy accordingly
Plan, execute, assess, repeat, all with the aim of adding value. That's the secret sauce.
💡 Tip: In today's hectic world, it's easy to fall out of touch. Set yourself reminders to check in with people. Do it even if you're at a point where you consider one another professional acquaintances or friends. Treat it as part of your job, because it is.
Published February 2022