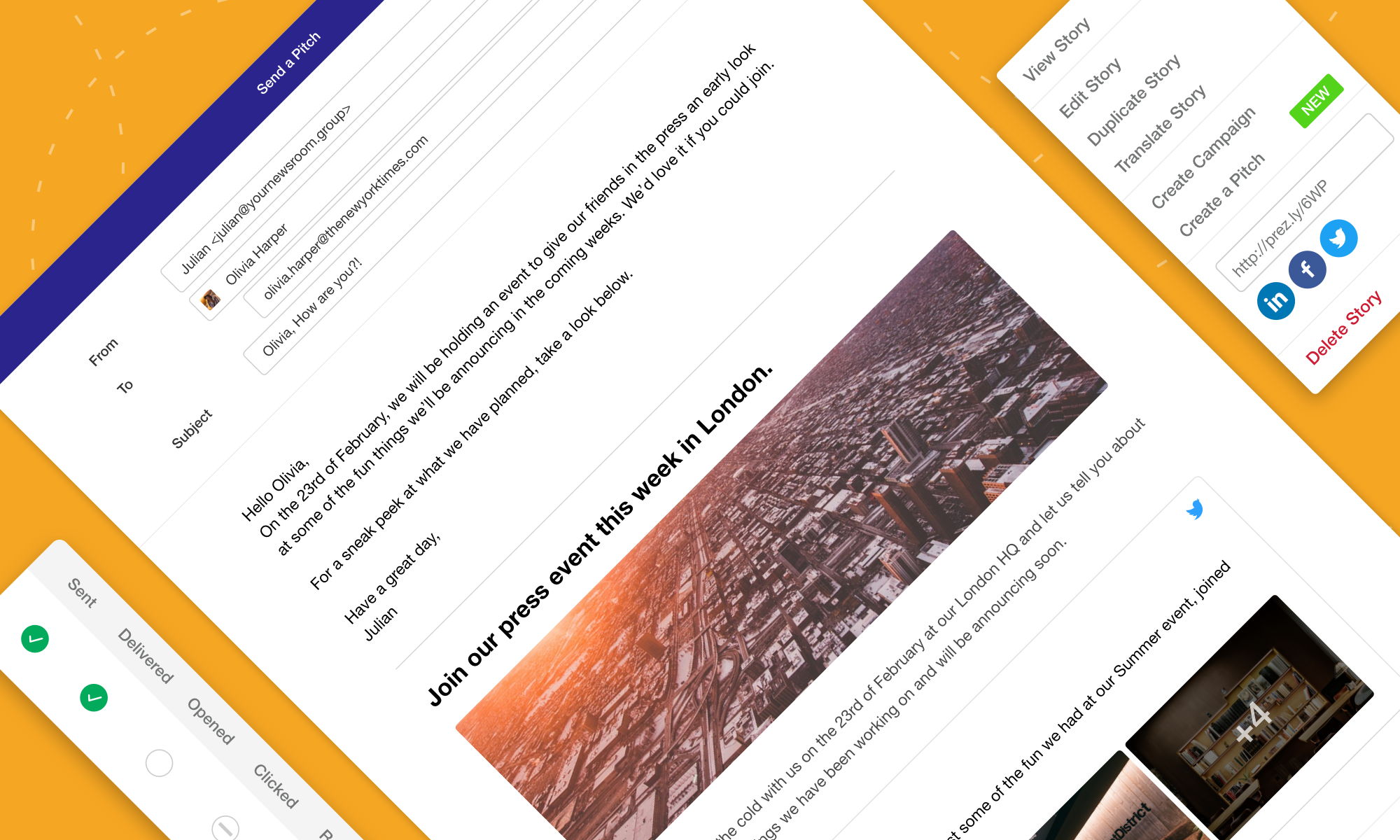 August 25, 2019
We've made Pitching faster, easier, and smarter
Quick and personal outreach has become even easier with some big improvements to 1-1 pitching within Prezly.
Sending thousands of emails to your contacts in hopes of something sticking is now a thing of the past. These days, the best way to move your brand forward is to connect your Stories with the right people. That's where Prezly Pitches come in.
From today, not only can you continue to send 1-1 pitches from your Contacts Profile, but you can also create and send your pitches from almost anywhere just as easily within Prezly. This changes your workflow for the better and gives you more time to spend on creating quality content that your resonate with your audience.
---
You no longer have to leave your Contacts List to send a pitch. Simply find the Contact you would like to pitch, select an email address to send it to, or use the quick menu to open the Pitch Form.
Alternatively, if you're one of the thousands of people using our Global Search to navigate your Contacts and open your Contacts Preview, you can use the more menu.
---
Browse through your Stories and easily pitch away using the quick menu! We'll automatically include the Story in the Pitch ready for you to send. Let's take a look:
You can also easily make quick edits to your Stories and send a Pitch from within Story editing.
---
Imagine having just sent out a campaign and moments after hitting the send button, you remember another Contact the story would be perfect for. We've all been there. That's why we've made creating pitches from Campaigns super easy. We'll copy the campaign message and add any Stories included in the original campaign. This way, nobody misses out on the good news!
But that's not all. Once you have sent a campaign, you can quickly follow up with your recipients using Pitches from the Campaign report. Let's take a look at a campaign we've already sent:
---
And of course, you can easily send Pitches from the New Prezly Pitches grid. See all your teams pitches in one place and create pitches right then and there.
---
These changes are available within Prezly today and we're excited to see the improvement this release will make to your PR workflow! Sign in to your existing account or Book a Demo to learn more.