November 17, 2022
The Story Editor has a new look!
From a brand new sidebar to easier access to your story settings, here's what's new in the Story Editor
The newest version of the story editor offers users a cleaner workspace – bringing all the settings in one place and giving you easier access to publish options, visibility, sharing controls, and more.
---
Over time, newer publishing options and settings have slowly been added to the editor interface, allowing you to do even more with your stories. However, as more controls were being created, it became clear to us that the story editor was running out of space, and we would ultimately reach a point where adding more controls located in different parts of the editor could become overwhelming instead of useful to all users.
The primary focus of our Story Editor has always been on content creation. So, we decided to simplify the interface, making it easier for you to set up your stories and save changes whenever you need to.
As such, our team is excited to officially announce the launch of the updated and revamped Story Editor!
The left sidebar housing the Language and Visibility settings have been moved to the right-hand side, aligning all settings with the Publish options, Campaign or Pitch creation, and Save controls.
The Sharing settings can now also be found in the new right sidebar, which makes it easier to update your Cover image (previously called Newsroom home image), Social image, and Social message without having to leave the page.
And if you would like to stay laser focused on just your content, the new sidebar is collapsable! You can hide the settings so that you have zero distractions getting in the way.
The story overview on the top right corner gives a clear summary of your story – showing its visibility and status, author, newsroom, analytics (when published), as well as links to the campaigns or pitches the story has been added to. This area also allows for quicker and easier creation of new campaigns or pitches that include the story.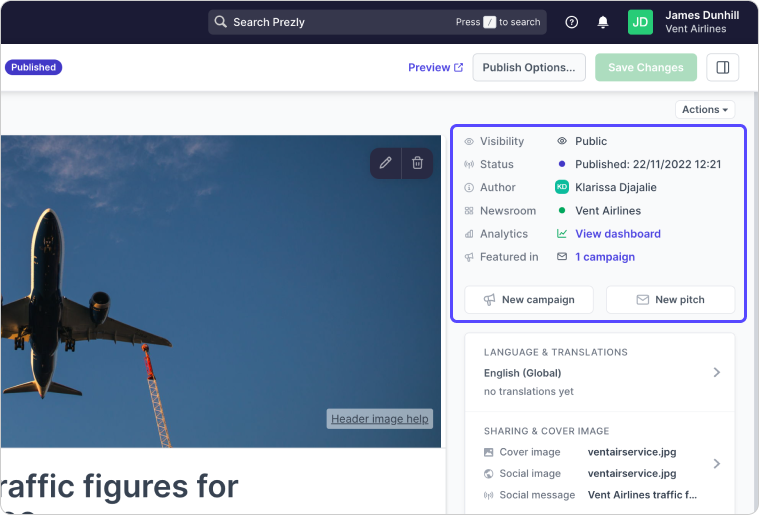 The new header offers a cleaner editing experience. Previously, the header housed several tabs – Editing, Sharing, and Reporting (if the story has been published). This meant that the editor was harder to use on smaller screens, as a few of the story settings were scattered in different places.
The Sharing and Reporting tab contents can now be found in the right sidebar, under the new Sharing & Cover image section and the Published story overview.
Now, when opening Publish Options, you will see a combined list of visibility and publishing options. Previously separated, this list now makes it easier to stay on top of your published or scheduled dates in the picker, instead of managing dates and publishing options on two different sides of the screen.
---
We hope you're as excited about this update as we are and that it helps you tell even better stories! If you have any questions or feedback, feel free to get in touch. We'd love to know what you think :)
And if at any point you would like a refresher on what's new in the story editor, you can click on Get help in the right sidebar and then on "Introduction to the Story Editor features" link to view the tour anytime.