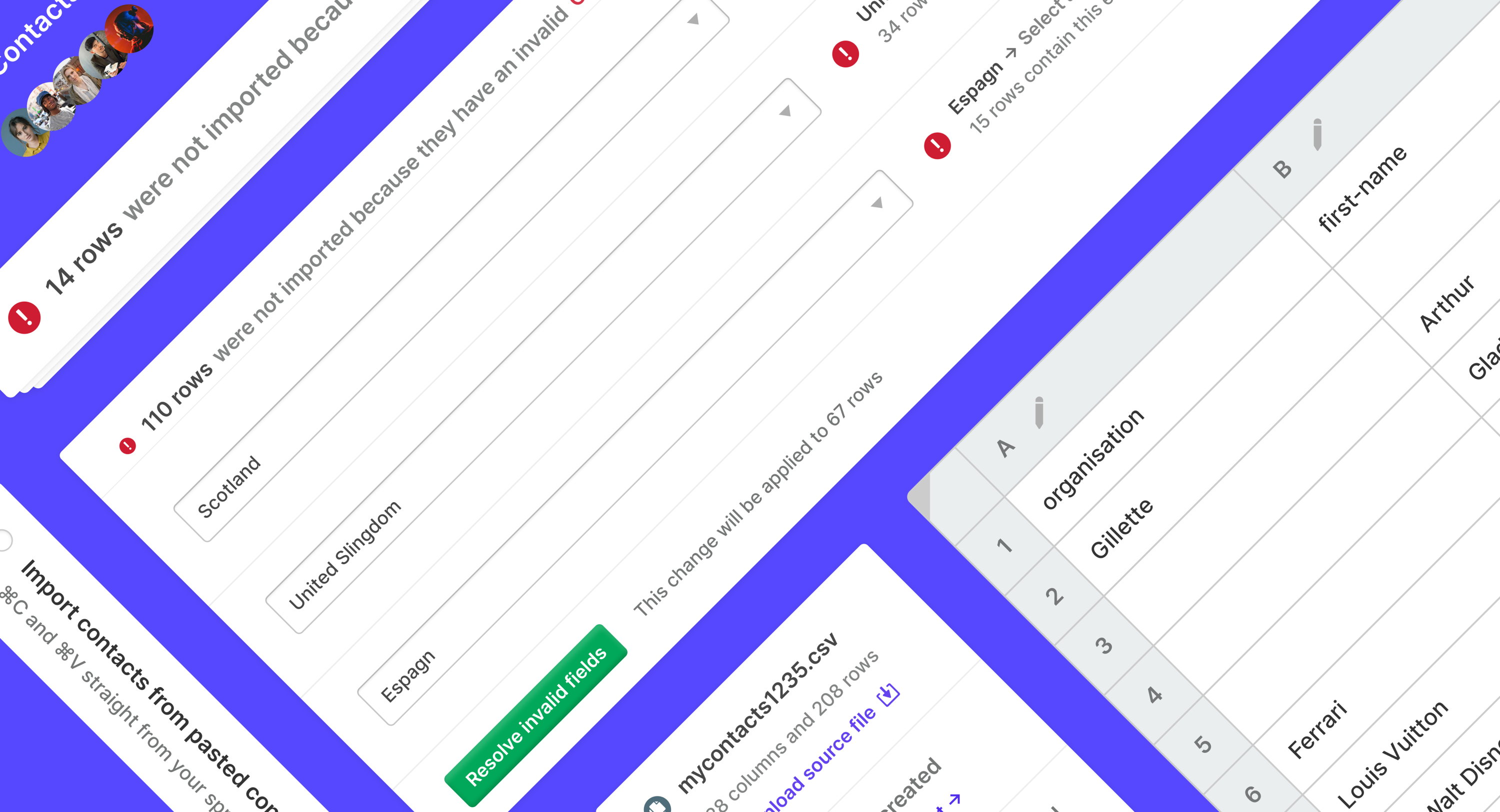 November 26, 2020
Our new Contact Importer is live!
At the Prezly lab, we've been working on building the *best* Contact Importer out there. Here's how it works 👀
When it comes to helping our users create and manage their contacts database, everything starts at the Contact Importer, which is why we decided to give it a full revamp that will help you make sure your contacts are imported with zero fuss.
With the new Contact Importer, you're still able to choose between importing an Excel/CSV file or copying + pasting from a spreadsheet. So don't worry – nothing has changed there, except that you can now work smarter by dragging and dropping your files, and pasting content from a spreadsheet is much easier if you want to upload contacts from various lists.
Overall, you now have a better run-through of your imports and can make edits to your import list if needed, without having to leave the page and re-open that bulky spreadsheet. Also, your snazzy purple assistants are here to make sure that everything runs smoothly. 😎
We try to detect whether or not your upload contains the right column headers by looking for both the column name and the data in the upload. Think of it this way: having column headers (Column 'first-name' vs Column B) makes it much easier for us to match your upload with corresponding Prezly fields during the mapping process.
But don't worry if you've made a mistake with the column headers. If we sense that something isn't quite right, you'll get the chance to confirm which row your column headers are in.
We'll also ask you to fix columns where needed, saving you the time on having to look for it manually.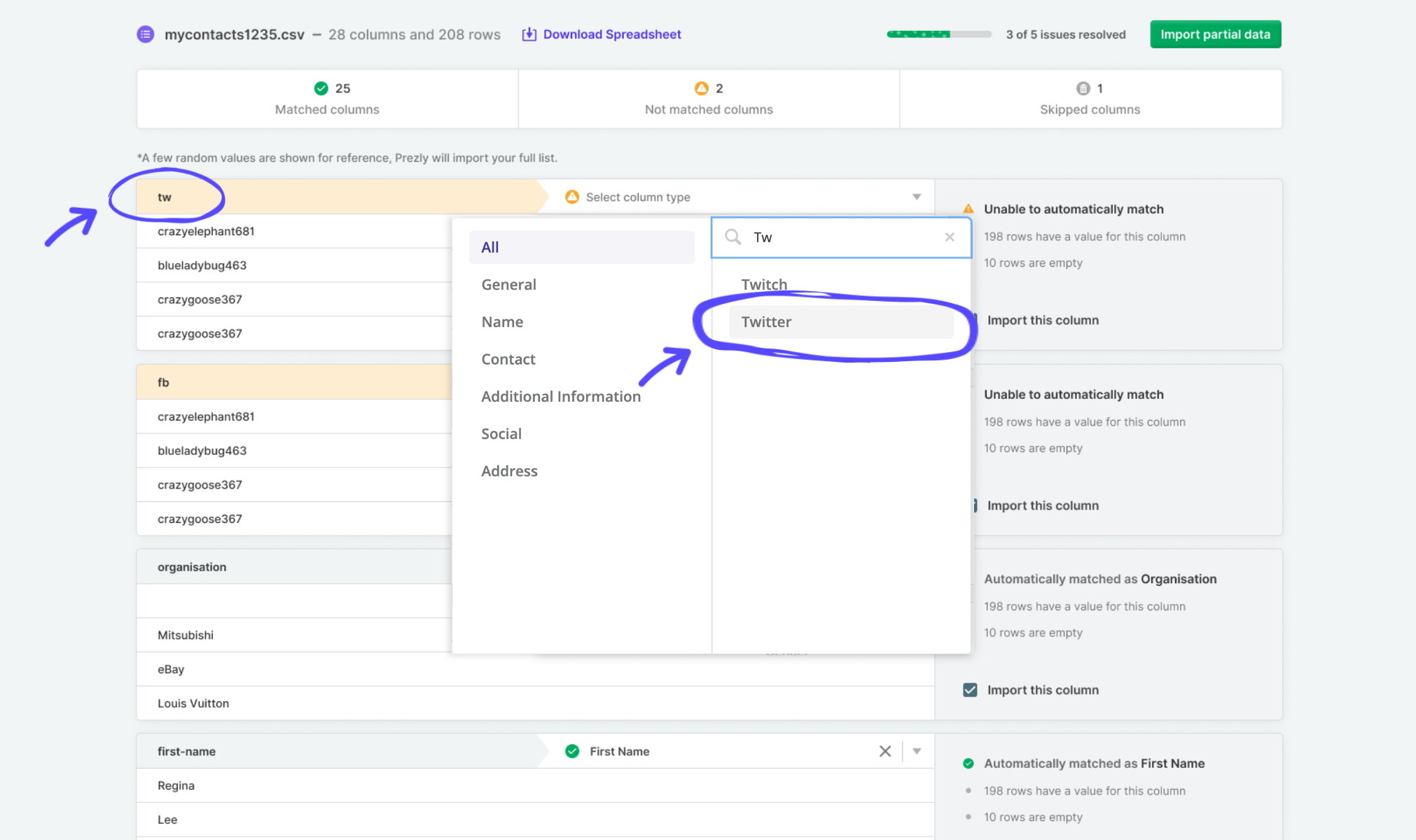 With smarter detection of countries, languages and data conflicts, the new contact importer has a step specifically for fixing invalid fields or conflicts found in your upload, such as invalid email addresses, unrecognized countries, or missing data among others.
This gives you more freedom with making amendments to your contacts' information without having to start the process all over again.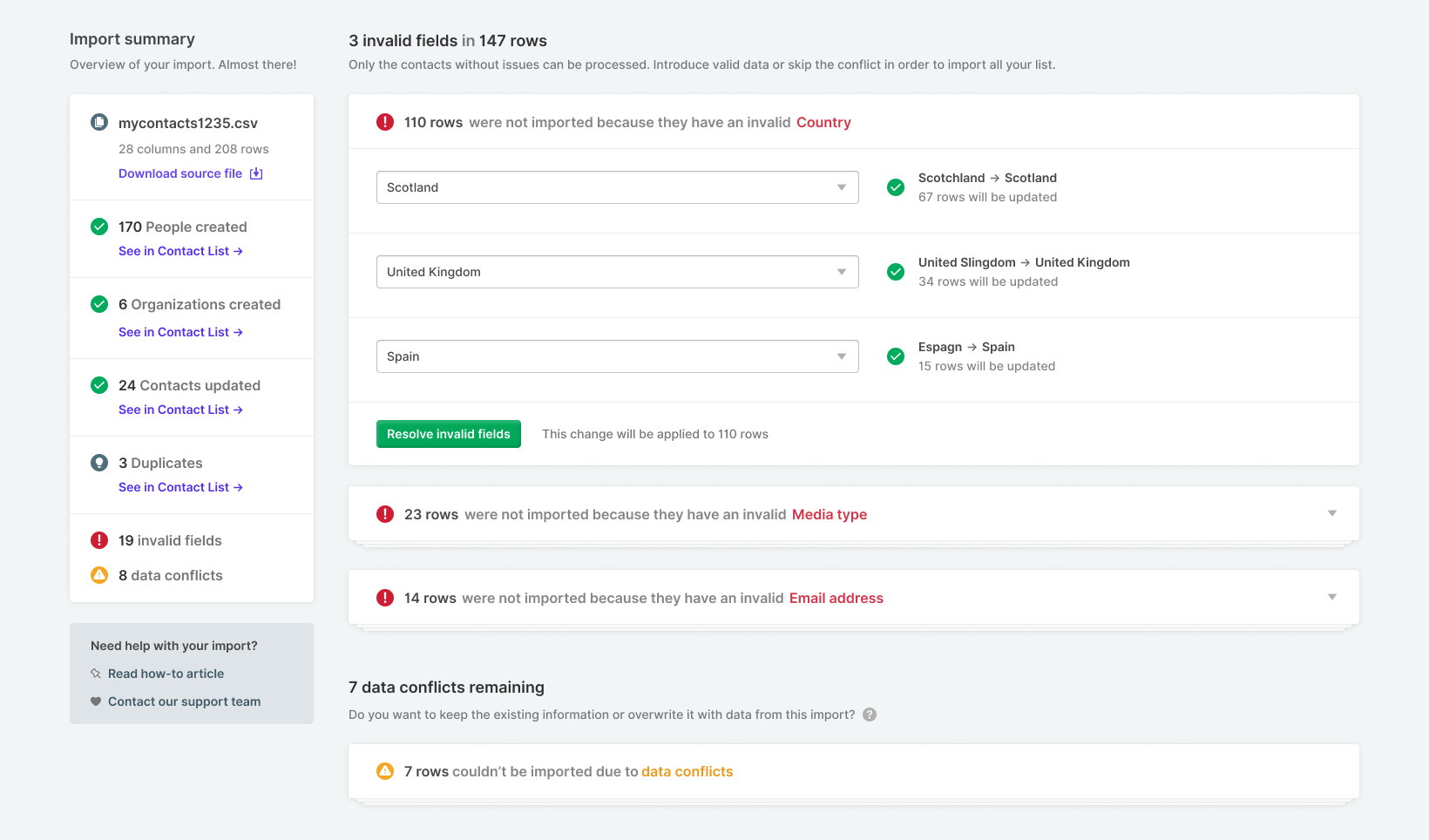 In order to reduce the number of errors that happen due to localised content, we had to make easy detection and quick fixing possible, so we added aliases for fields using data localization, such as country and language fields.
For example:
Engels, Inglesa, Anglais, Englisch = English
The Import Summary also features steps you can take to prevent the unwanted merging of contacts. Prezly automatically detects any duplicates or missing contact information, and lets you decide whether to ignore the conflict, or update the contact with new data or keep it as-is.
With great power comes great responsibility. Choosing the "Overwrite all with new data" option is not reversible, but luckily, you can choose to "Ignore" or "Resolve conflict" for individual rows to make sure you've got the data conflicts cleaned up to a tee. 👌