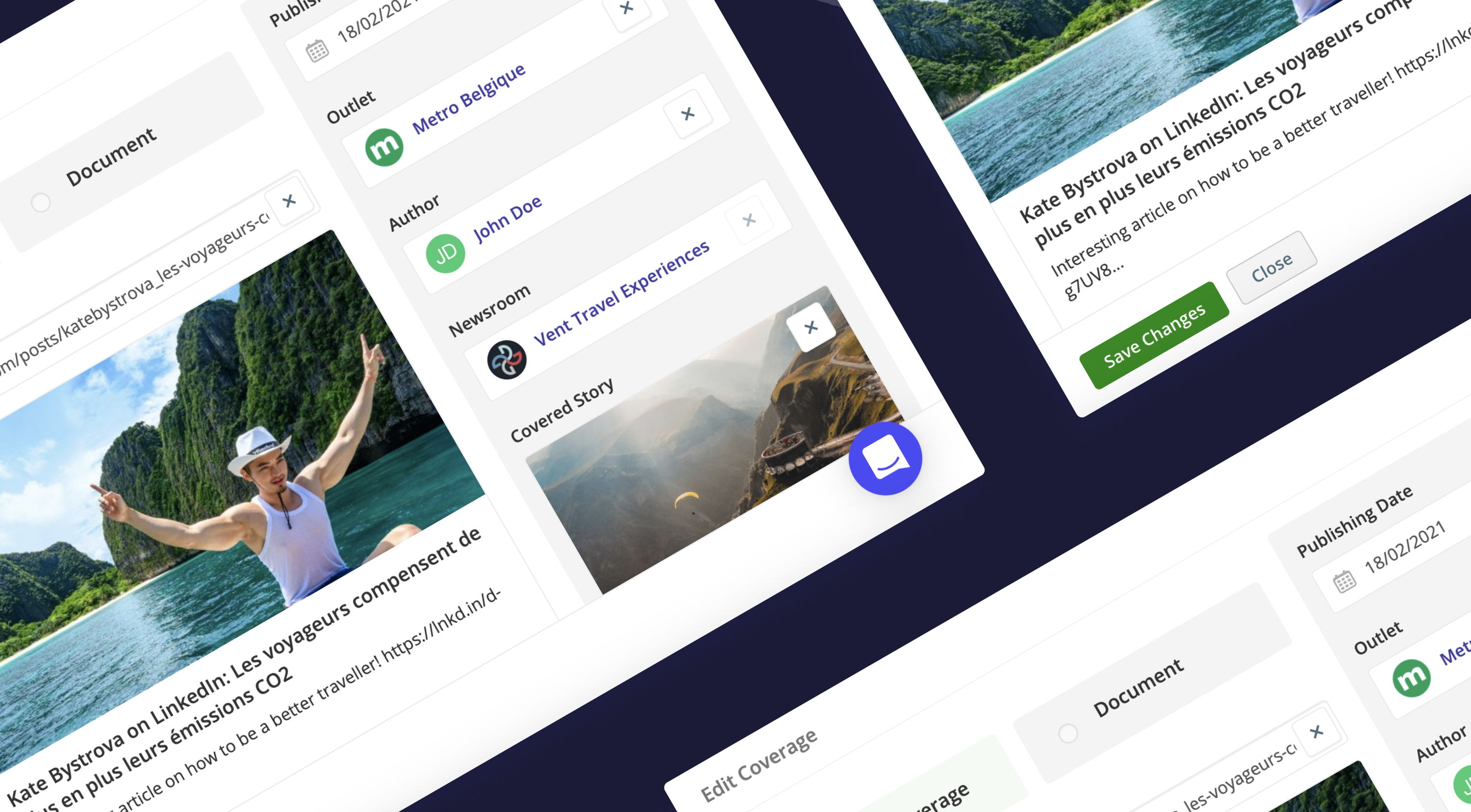 March 1, 2021
Details from the Belga–Prezly launch event
Watch a recording of the launch event featuring a demo of how Prezly's Belga.press and PRpro integrations work
Thank to everyone that joined us for Friday's live demonstration of the new Belga–Prezly integration, which allows you to automatically sync your Belga.press coverage into Prezly, and distribute Prezly Stories via PRpro as you publish them.
Here's the recording.
(For Anglophones, the English demonstration starts at 6:32 😊)
Prezly's Jesse Wynants and Patrick Lacroix, Belga's CEO, begin by stating that both Prezly and Belga have PR at the very heart.
While Prezly already offers a purpose-built PR CRM, newsrooms, and distribution through campaigns and pitches, the integration with Belga adds two further things:
The monitoring of written and audiovisual press through Belga.press
The ability for Prezly users to distribute their own press messages into Belga and all their media partners via PR pro
The latter includes both French and Dutch media, with the option to add more regional press or even international partners.
The integration gives you the ability to track your coverage in real time while linking it with your contacts and newsrooms, effectively pulling that data together to give you an overview of which journalists are engaging the most with your stories, and which of your stories are getting the most traction.
And because it's automated, there's no extra work required from you.
Here's how it works.
New to Prezly? Try it out with a 14-day free trial (no cc required).
What is the added value for communication agencies?
Jesse: Prezly always focused on PR agencies. In one account, you can manage clients and newsrooms; coverage is linked to press releases. The same will be offered to Belga clients. You'll get a report in Prezly which you can share with your client, who can easily see the coverage that resulted from your press release. Next to that, the coverage is also linked with your CRM, so you'll be able to see who is most engaged with your content.
Patrick: I think the added value is also that Belga.press clients can monitor their coverage in Prezly, which is more efficient. For those who don't do the monitoring yet in the Belgian press database, I would strongly advise to use Prezly to discover this. And you can post the press releases from agencies directly in the systems of the involved news media via PRpro.
Can you see the reach & AVE from the coverage?
While this is not currently shown in Prezly, you can see it in Belga.press, together with analytics reports.
If I send out a press release through both a Prezly campaign and PRpro, does that effectively mean I am sending it out twice to the same people, or will this be automatically detected?
There is a difference between the two – Prezly campaigns are sent directly to your contacts, whereas PRpro delivers your press release to an editor's terminal.
Will it be possible to add a qualitative rating to the coverage? There's a difference with a mention on p36 and front page news.
Not for this first version of the integration – we've kept things simple. However, this is perfectly possible to achieve and we are reviewing use cases to see which features to implement next. If you have any ideas or feedback, please get in touch!
The input of a press release in BelgaPRpro isn't that ergonomic. Will this improve with the collaboration of Prezly?
It's important, as a Prezly client, that you don't have to input your press release more than once. That's the advantage of this integration. Once you create your press release and publish it on your newsroom, you can indicate to also push it to PRpro. It's as easy as ticking a checkbox and everything is done automatically.
How can this integration get us more results?
Patrick: If there are more results, you will be able to measure this thanks to the integration. You will be able to engage more intelligently with the needs of editors. The press releases you enter in PRpro are a fully fledged news source. Why do I say this? Around 4000 journalists use the Gopress database daily. Between now and the end of the Easter holidays, they will all change to Belga.press. Why do they use this? Mainly to do research when they're writing an article to see what has been written on the subject. They don't do this through Google, they choose a dedicated tool for this. At this moment, no one press release is in that database. The Prezly integration will mean that the database will be enriched with all those press releases.
Jesse: Prezly completes the circle. You can already do outreach in Prezly, manage your contacts and newsrooms. With this link, you'll learn which press releases work, which engage the most contacts, who you have a good relationship with, and who provides a lot of coverage. Then you can learn to build on what works best for you.
You say in the demo that we can deliver recorded content to our stakeholders. But what about reproduction rights and copyright?
Patrick: It's a walled garden system. So you'll need a login for Prezly and BelgaPress to access it. If I'm correct, most of your stakeholders will have a login; if not, we can provide them with one. It comes down to the logic of a pay wall. You won't download the article and send an email, you'll send a link. And like this, your stakeholders will need an account of the system you're using. We can do this. It's also our ambition to make this as widely used as possible. The old copyright system will be replaced by digital authentication.
We still have a Gopress contract. The switch to the new platform is for after the summer. Can we already use the new service?
Patrick: Definitely! For all questions, email prezly@belga.be and we'll explain what to do. I use it several hours a day for several months and I'm pleased with it. This is ready for Prezly customers.
Is there a difference between a press release that is taken up by PRpro (paid) and a press release that is taken up organically by Belga (native)? Can media see this difference?
Patrick: Yes, it will mention PRpro. It's a separate news source, as it should be. This is mostly appreciated since it indicates a certain form of collaboration. Of course, it still has to be newsworthy to the editors, but I can't vouch for that.
Is there a danger that journalists will be flooded with press releases, now also via PRpro?
Patrick: Actually, less. We are now on a new editor system, much like other platforms. It's more user-friendly for the editors. Emails are great for individual journalists, but we have to look at both sides of the coin. I think the mailbox will lead to more flooding than the PRpro platform. But we'll need both the coming years.
Jesse: Definitely! Some journalists get 150 emails a day. Our approach lies in Prezly's contact database: you know what journalists did in the past, what you collaborated on, so you know better who to approach for each story.
Do you have access to the journalist database? Currently, this is not possible in PRpro.
Jesse: This is not possible in Prezly. We choose to have clients build their relations. That's more intense, hard work. Thanks to the integration, you can monitor certain topics and when stories for that topic are published and logged as coverage, Prezly will automatically create those authors as contacts in your CRM. You won't get their email address, but you'll get a nice overview on 'who writes about x?'. And like that, you can start building a relationship with those people. I believe that that is a more long-term way to build a list of contacts who trust you and with whom you have a good, reciprocal relationship.
Patrick: In PRpro, you can search the name of a journalist and see what they've written on your brand. However, there's no separate author field. We had this in the past, but it was rarely used. We mostly look at organizational editorial efficiency instead of the individual journalist.
If you have any questions, please get in touch with Belga at prezly@belga.be or Prezly at hello@prezly.com.