Creating hub rooms
Setting up a Hub Room
Learn how to set up a Newsroom that showcases other Newsrooms
A hub room brings together content from your other newsrooms into a single brand hub.
This can be helpful for PR agencies that want to create a portfolio of work across their clients, or big enterprises that have multiple newsrooms they want united under one convenient address.
We created this example to demonstrate how hub rooms might work:
Here, the Vent Airlines hub room unites the brand's main newsroom, its partner newsroom, its travel blog and its darkroom – a private newsroom set up for crisis comms that can only be accessed by direct link.
You can see that as well as linking prominently to each of these newsrooms, we have also elected to include recently published stories in the hub room.
For an idea of how an agency might use hub rooms, have a watch of this case study video from oona.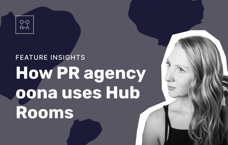 CASE STUDY
How oona uses hub rooms to organize content
Setting up your hub room
You can request to have a hub room via our support channel (add-on)
The newsroom overview is not activated by default. You can purchase a hub room by contacting our support team.
Create a newsroom that you'd like to use as the hub room (or skip this step if you want to convert an existing newsroom to a hub room) 
Make sure you select the same default languages for your hub room as you have for the newsrooms you wish to include. You can have several default languages in your hub room
Email support@prezly.com or via the in-app messenger at the bottom right, let us know the URL of the room that you'd like to use as a hub room 
Good to know 💡You can have more than one hub room for your account and we can even create a "hub of hubs"  
Managing the newsroom overview 
When the hub room function is activated, you can see the below section if you go to the Newsroom tab > click Settings for the hub room you selected. 
Click into that section and you can see an overview of all your newsrooms. 
Select the Include checkbox for the newsrooms that you want to include in the hub room. 
If you have selected to include a newsroom in the hub room, a second checkbox will appear to ask you if you want to Show stories on overview.
Ticking that checkbox will cause the most recent stories of that room to be included in the hub room, under all the newsroom logos.