FAQs
How to search for campaigns & pitches using filters?
Easily find sent, drafted or scheduled emails
Here are a few ways you can easily search for campaigns and pitches:
By typing keywords into the Search Campaigns bar
Simply enter a few keywords from the subject line or content you are looking for in the search box located right above your Email campaigns or Pitches grids. The search results will come up with all campaigns or subject lines that contain your search term.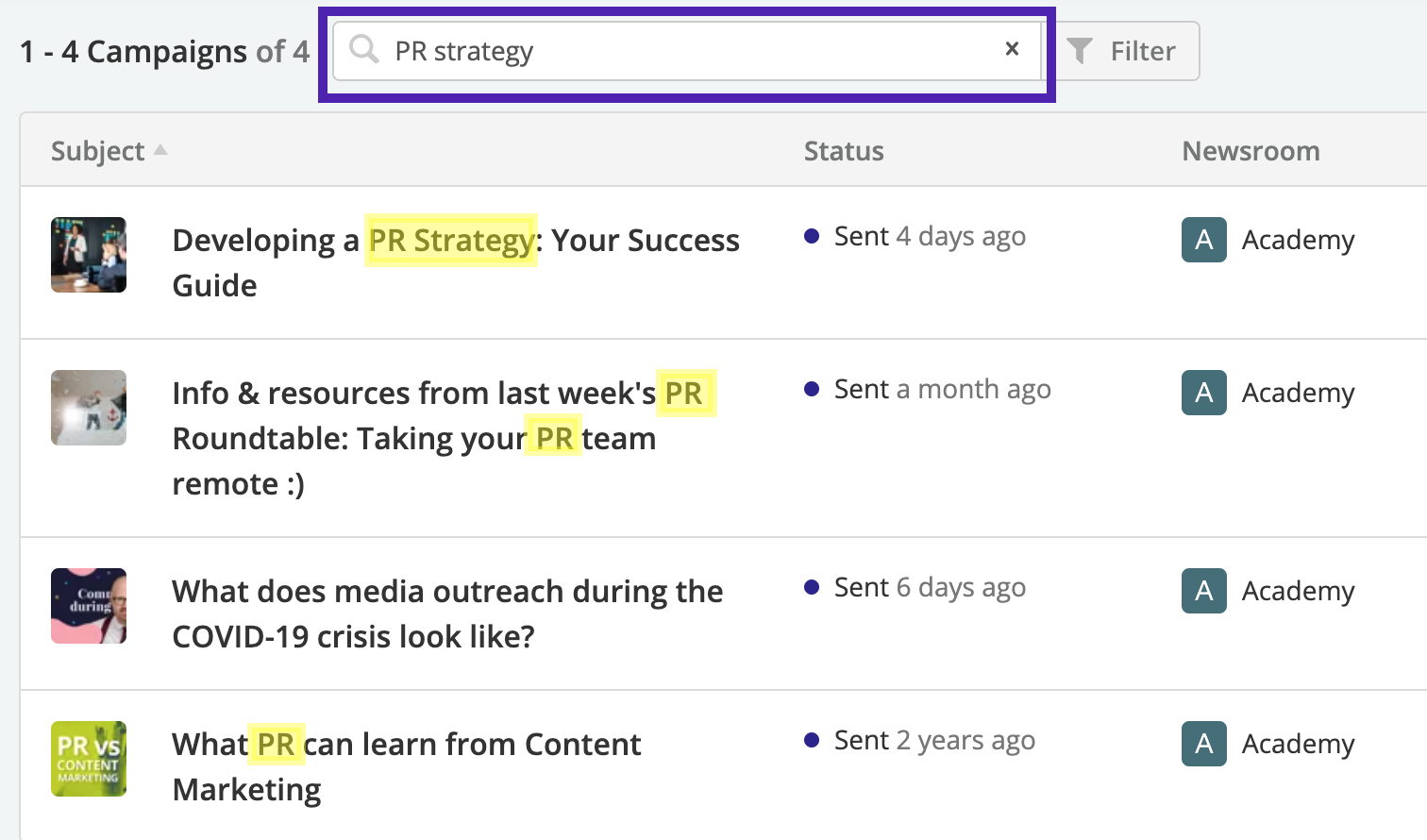 By selecting a predefined filter on the left-hand side of the page
By using advanced filtering, where you can add multiple Rules to the filter form
Email Campaigns
When searching for Email campaigns, you can add multiple Rules, such as Author, Status, Site, Story, and Behavior (Bounce, Click, and Open), among others.
Watch the video to see how we used the 'Status', 'Open Rate', 'Number of Recipients', and 'Sent At' rules to search for Campaigns that:
→ Have been sent
→ Have an open rate of over 40%
→ Have 100 or more recipients
→ Were sent after January 1, 2020
Pitches
The filter form for Pitches is slightly different from the one found on the Email campaigns page. This is because Email campaigns can go out to multiple or a larger number of contacts (hundreds or thousands), while Pitches are one-to-one emails targeted at one contact at a time. Sending Pitches allows for more personalized messaging and makes the quick sharing of an important story much simpler.
When searching for Pitches, you can add multiple Rules, such as Author, Site, and Behaviour (Clicked, Opened, and Undelivered).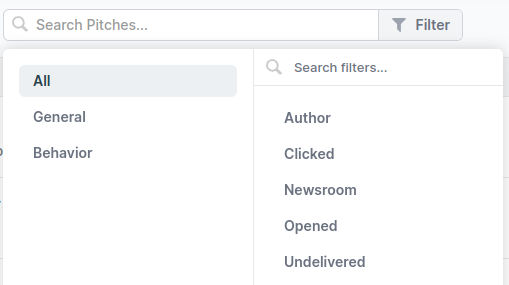 A couple of quick tips! 💡
Make decisions based on your Campaigns' performance – filter by behavior
Use the Behaviour filter to search for email campaigns based on their performance.
For example, filtering with the Bounce Rate rule shows you which email campaigns had a high percentage of emails that were undelivered to your contacts. This helps you find a list of bounced addresses, so that can correct any typos or look into any other issues that may be preventing that email address from receiving your campaigns.
Alternatively, find out which emails really work by filtering by high Click or Open Rates. With these high-performing Campaigns on hand, you can easily create Pitches and send them as one-to-one personalized emails – especially to that special VIP contact.
Share the search with your teammates
If you want to share the search results after applying custom filters to your Email Campaigns or Pitches with your teammates, you can easily copy the link of the page and send it to them. When clicking on the link, they should see the same search results, as long as they have appropriate permissions in the team.