Using Prezly
Privacy portal & adding a custom Privacy Policy link
Customize the privacy feature that allows people to unsubscribe from your communications quickly and easily
The privacy portal gives you greater control over how your subscribers view your content, and how they can opt out of receiving your communications.
Enabling this option (which is toggled ON by default) will add an unsubscribe link to any communications sent from your Prezly account, as well as to the footer of your site.
Disabling the Privacy Portal will remove this link from your site and future emails.
From the main Prezly dashboard, click Site at the top menu to bring you to the Sites landing page.
The screen should refresh leading you to your site's settings. If you have more than 1 site created, browse through the list and select the target site.
The page should refresh showing the target site's settings. Check out the left sidebar and scroll down until you reach the Advanced section
Click on Privacy

You will have 2 options:
Enabled (option toggled green): This is the default. With Privacy Portal enabled, your subscribers will be able to easily unsubscribe from your communications. When enabled, unsubscribe links are added to your site and campaign footers
Disabled (option toggled grey): When disabled, your site and campaigns will not display the option to unsubscribe
Please note that all the recently launched Prezly themes require the privacy portal to be enabled, while custom themes built for Enterprise Plans will not support the privacy portal feature.


If you are on a Premium or Enterprise Plan, you have the option to add your own custom privacy policy link to your site's subscription form.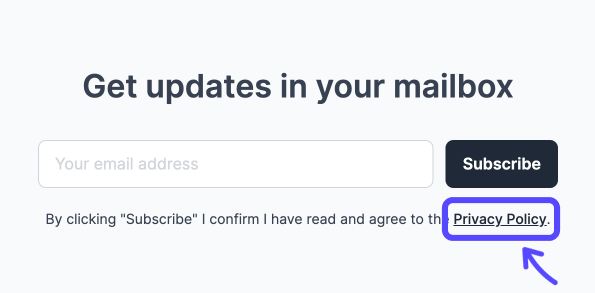 By default, the Privacy Policy link automatically directs to the standard Prezly Privacy Policy page. You can replace this with your own policy page by entering its URL into the Custom Privacy Policy link field in your site settings.
Find this option in site settings → Privacy, just below the privacy policy toggle that we talked about above.

Updated August 2022