Multimedia embeds
Creating reusable content with Snippets
The snippets feature can be used to quickly create and insert frequently used content into your stories or campaigns
Snippets are one of the multimedia embeds you can find within the Story Editor and the Campaigns and Pitches composers, allowing you to create and store frequently used content that you can insert in your stories or emails.
From creating disclaimer text to press release templates, and product descriptions to product or company fact sheets – snippets save you time from having to manually type or insert common repeatable content and other standard format information.
Once snippets are created, you can easily insert them anywhere in your stories and emails with one click.
When working on stories or emails (campaigns or pitches), click on the green + button to open the dropdown of multimedia embeds, then select "Snippets" from from the dropdown.

Don't have any snippets saved yet? No problem!
You always have the option create snippets on the spot and without having to leave the page.

First, give your snippet a name. This makes it easy for you to stay on top of your snippets and quickly find them when you need to insert them into your stories or emails.
Then, you can enter text content or use the green + button to add other multimedia embeds to your snippets, just as you would when adding multimedia embeds to your stories. See list of embeds you can add to stories.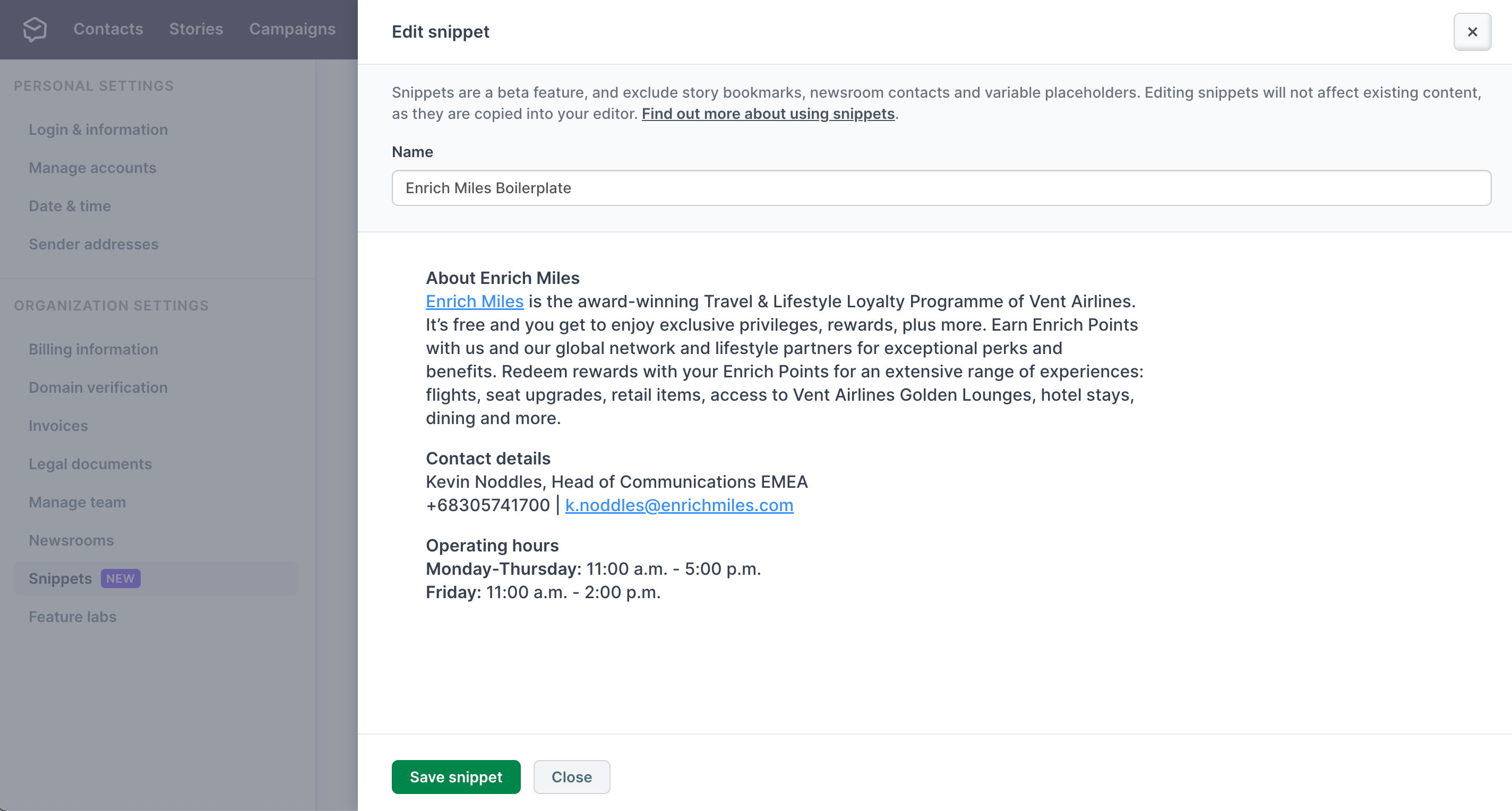 ❗️Please note: Snippets cannot be saved without a name and saved snippets are always displayed in alphabetical order.
To manage your snippets, go to the Snippets page under Organization settings.
Here's where you can create new snippets, edit existing ones, or delete them when they are no longer in use.

You can also edit your saved snippets anytime from a story, and campaign and pitch editors. Editing snippets will not affect or update the content in snippets previously inserted into other stories or emails.