Type: New Features
January 20, 2023
New: Integrations page in your Site settings
We recently released a new page in your Site settings to manage all your integrations. The Integrations page currently offers the option to connect your Prezly site to your Google Analytics or to Plausible Analytics that powers our built-in analytics dashboard for your site(s) and stories.
💡Getting to the 'Integrations' page
​• Go to your
Sites overview
​
• Hover over a site and click on the "•••" button
​• Click on
Site settings
​• Scroll down to click on
Integrations
under the
ADVANCED
section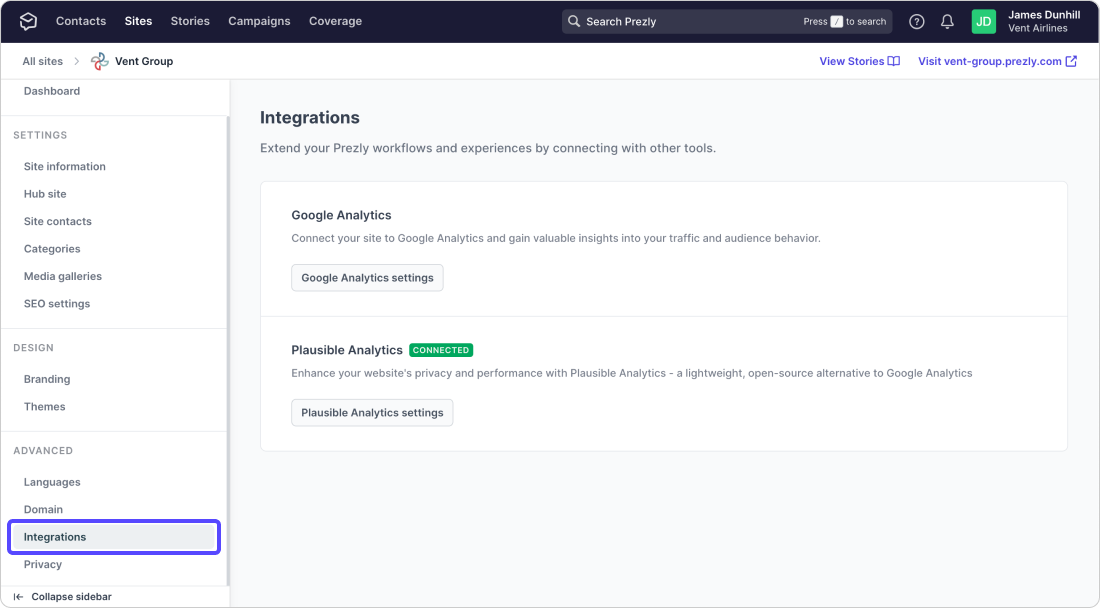 ---
Renamed Hub rooms to Hub sites*
Added a new Hub sites page to manage sites included in hub under Site settings*
Added the ability to export coverage*
Added Move story button in the Story editor to move stories between sites
Improved Schedule a story option for publishing stories
Fixed issue with cut off titles on story cards
Email links now open in the Pitch editor instead of external email client (Gmail, etc)
Fixed bug where number of campaigns and pitches displayed discrepancy
Fixed internal server error with filters in Step 2 of the Campaigns composer
Fixed bug causing the changelog to show only 10 stories in the application
Fixed the spacing between story header image and text on mobile view
Fixed bug around contact export file misalignment
Updated text label of analytics link in story sidebar from View dashboard to View story performance
*Applies to Prezly accounts on the Premium plan.