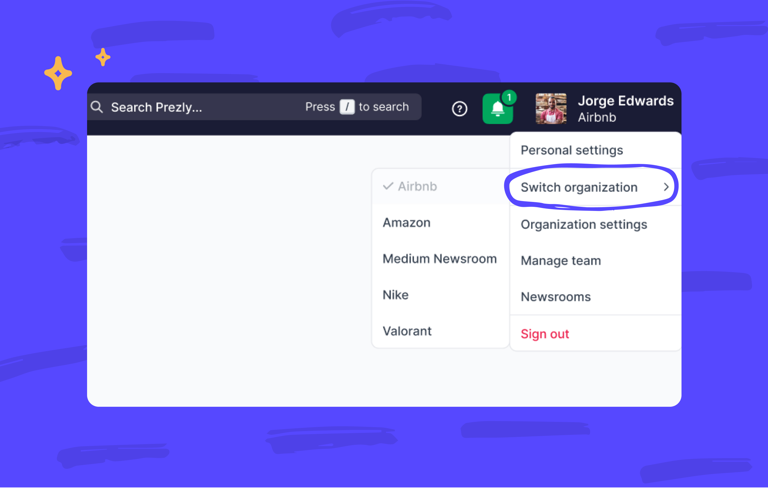 Introducing: Account switching 🔁
Switch between your Prezly licenses without having to log out and back in
Whether you're from a big-time agency, part of an umbrella company, or working solo as a freelancer, one thing remains constant – you need a way to stay on top of your clients' PRs. So we've decided to add an account switching feature to Prezly! 
​​You can now log in to multiple Prezly accounts using your one email and password, and switch between them without having to do the run-of-the-mill work of logging out and back in again.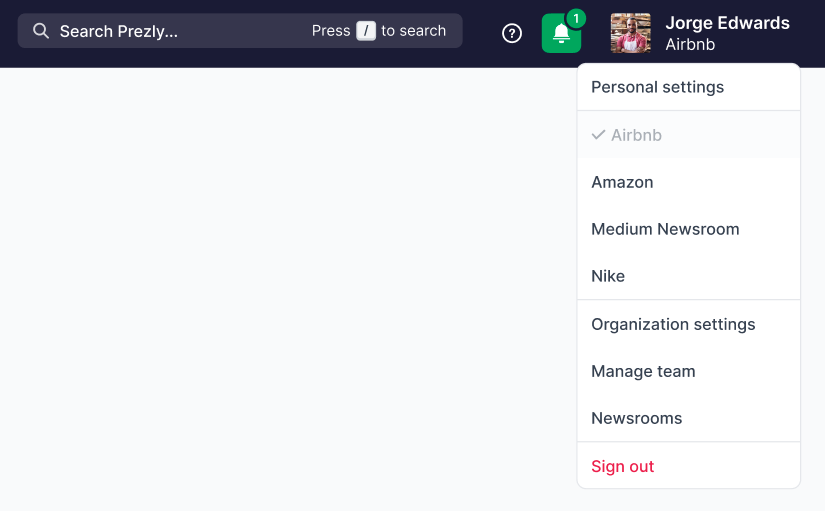 ---
Who is this helpful for?
Account switching helps PR agencies, global companies, or even one-person engines with just a handful of clients, who use Prezly for their PR. All of these people use Prezly for storytelling and outreach, and juggling multiple brands or clients means alternating between different projects, stories, releases, and contact lists, etc. But even with the help of tagging and creating segments for your contacts, keeping your constantly growing media lists organized is a huge responsibility on its own. 
And while being able to create newsrooms for each client or brand can help distinguish where certain stories get published, always having to triple-check that the right content is going out to the right audience for each account can be even just the slightest bit nerve-wracking. 
Technically, you could create a Prezly license for each client, brand, or subsidiary, but let's face it – logging out of one account and back into another is a hassle.
This is where account switching comes in handy and simplifies the way users collaborate across two or more Prezly licenses.
---
How account switching helps Prezly users
Better collaboration between different teams and companies
Account switching makes collaborating easier for Prezly users who collaborate often but work for different divisions or companies, such as brands that frequently work together with agencies, freelancers working on specific projects within a larger company, or corporations with regional offices.
When it comes to coordinating PR and comms with agencies, you can easily invite your agency to your Prezly accounts and give them access to collaborate within the tool, allowing you to have a clearer overview of which account they're working in and the work they are carrying out.
For example, a brand like Samsung may work together with PR agencies to have them publish stories and releases on their behalf, and they might even use different agencies for different areas or products – but the only prerequisite here is that they want their content to be published on the official Samsung newsrooms.
When an agency already has their own Prezly account, they can easily integrate within their clients' Prezly licenses. In this example, all Samsung would have to do is invite the agency user to their account, and the user can easily switch, and create and publish stories under the Samsung account. This way, Samsung can also control which parts of the tool the agency user can access – if the user is only contracted to create and publish stories, then Samsung can limit the users' permissions to just being able to work within the Stories feature.
Having split team permissions settings enables companies with a brand umbrella to coordinate their PR efforts seamlessly, knowing and having more control over who has access to which brands and when.
Freelancers and independent contractors
Let's say you're a freelancer working with several clients simultaneously. As long as your clients already have Prezly licenses, they can quickly send you an invite to their account and you can switch between working from one account and another. Time saver!
On the other hand, this also benefits companies or brands that hire freelance workers. It's not always the case that every Prezly user will use all the features across the tool. This depends on their role in their team, so their access to certain features or newsrooms is restricted – or it may just be that they are hired simply for temporary contract assignments, like freelancers or independent contractors.
Let's take a look at translators, for example. 
Many global teams or companies with subsidiaries choose to use Prezly because the tool enables them to publish and translate stories into multiple languages, so it's not uncommon that these teams have a translator working across two or more of their accounts, and being able to account switch can boost their productivity – saving them time on constantly logging in and out of accounts and making sure they don't lose any progress on their work.
International corporations with offices across the globe tend to have subsidiaries or regional offices. For example, a company like IKEA has a lot of stories to communicate and would often need to collaborate with other regional offices to cross-share content across different locales.
IKEA would have different Prezly accounts for different regions and locales, such as one for IKEA Netherlands and one for IKEA Belgium. Each regional office is considered its own legal entity, but one of the things they have in common is that they publish stories in Dutch.
In this case, both regional offices could give one team member access to both accounts, who will publish stories in Dutch Netherlands and Dutch Belgium on the company's behalf.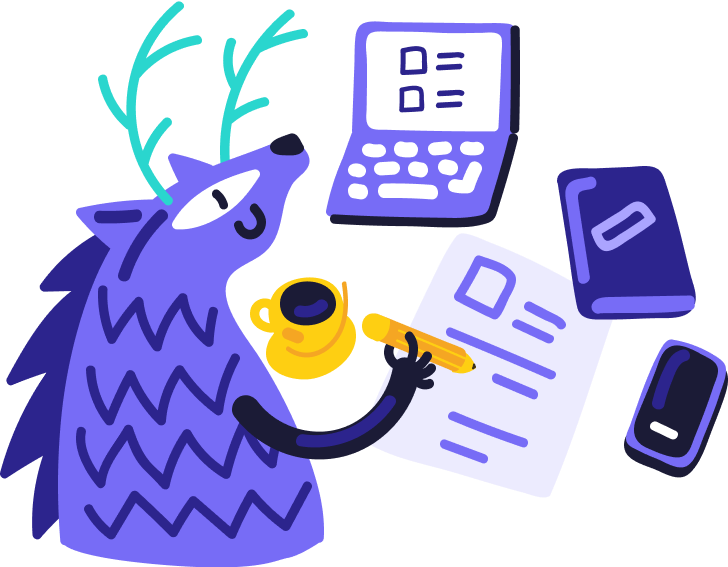 ---
So, how does it work?
Think: Google Accounts. Doesn't being able to switch between multiple email accounts make your lives easier? 
Let's say you're a freelance PR professional and your clients are Airbnb, Amazon, Medium and Nike. You can now ask them to invite you to their licenses simply by sending an invitation to the email address you use for Prezly from their Manage team pages – no special workflow. 
After you accept their invitations, you will see those separate licenses in your user menu and be able to switch from account to account in a matter of seconds!
Give it a try!
Once you've been invited to another account, click on your name or avatar on the top right corner of Prezly (the user menu).
Select the account you would like to work in.
When you have switched to another account, you will see a green notification bar confirming that the switch has been made. Simples!