Team settings
Switching between Prezly accounts
Manage multiple Prezly accounts using one email and password
Prezly users who work across different accounts ​​can log in to multiple Prezly accounts using one email and password, and switch between all connected accounts from one place, eliminating the need for users to log out of one account and in to another.
How does account switching work?
---
Your account(s) and the option to create new accounts can be found in the Account and Settings dropdown on the top right corner of the page.
Click on the account you would like to start working in.
Once you've clicked on the account name, you will be taken to the main dashboard page of that account. Simples!
💡 Pro tip
​Want to add an already existing account to your list of accounts? You can do this without having to create a new one! All you need is an invitation to join the other account sent to the email address you use for Prezly. Then, once you accept the invitation, the account will automatically be added to your list of accounts under the Accounts and Settings dropdown and your Manage accounts page.
---
On the Accounts and Settings dropdown, click on + Create new account.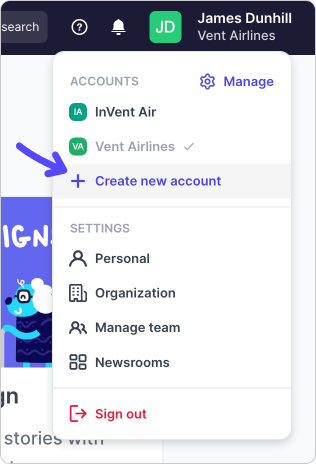 Then, you will see a form, where you can fill in the business or company name of the additional account you wish to add.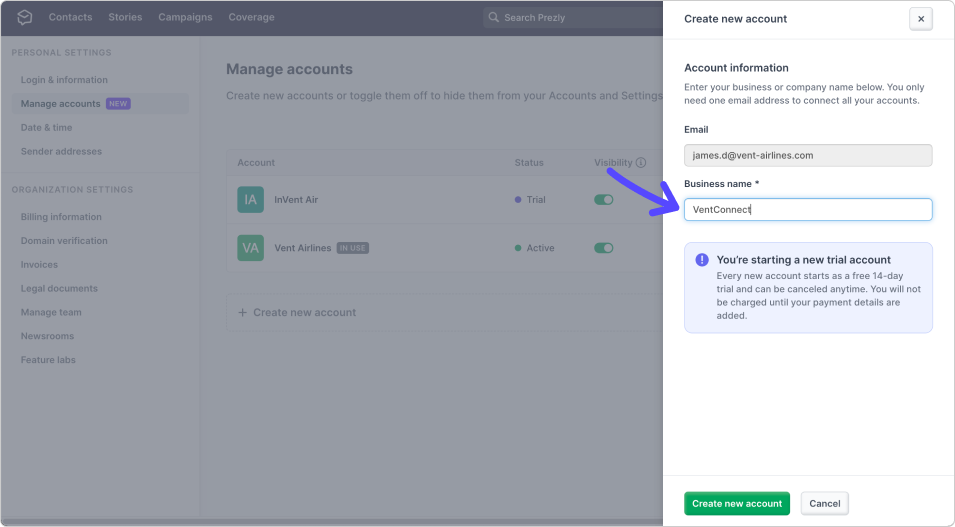 The email address cannot be changed because all connected accounts must share the same login details. If you are currently managing more than one Prezly account using a different email address, please contact our Support team for assistance.
---
To get to the Manage accounts page, click on ⚙️ Manage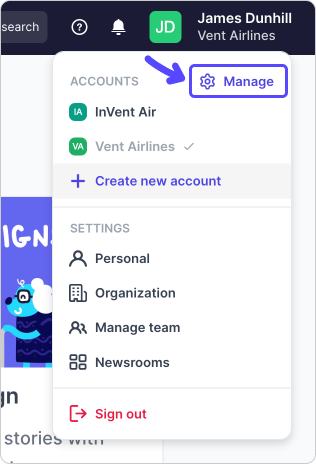 The Manage accounts page is an overview of all your Prezly accounts, where you can choose to hide them from your Account and Settings dropdown and see whether they are active, expired, or still a trial account.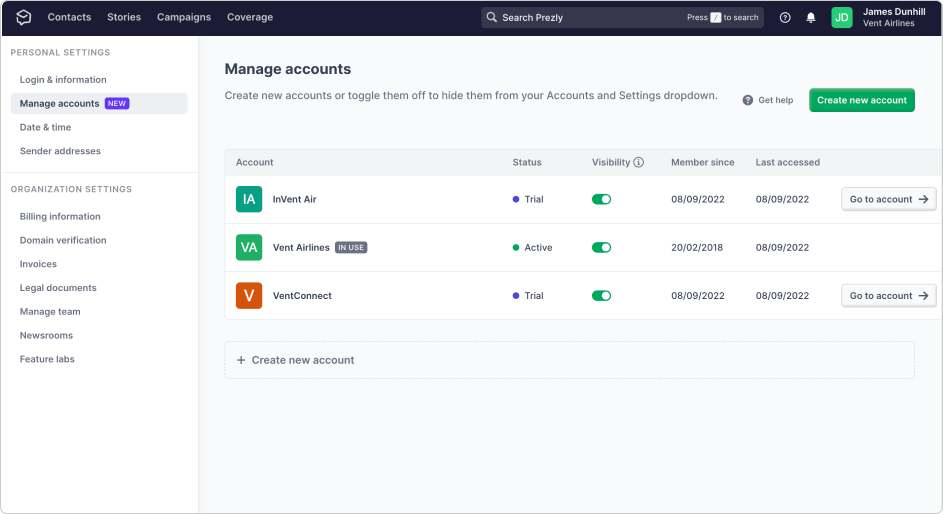 All accounts with a running subscription have an active status. You will see the "Trial" status if the account has just been created or the "Expired" status if the accounts has been temporarily suspended due to an unpaid invoice. See Billing FAQ.
If you work across many accounts and wish to minimize the number of accounts you see on your Accounts and Settings dropdown, simply switch the toggle under the Visibility column off.
The account will not be completely removed from your list of accounts and will always be accessible from the Manage accounts page.