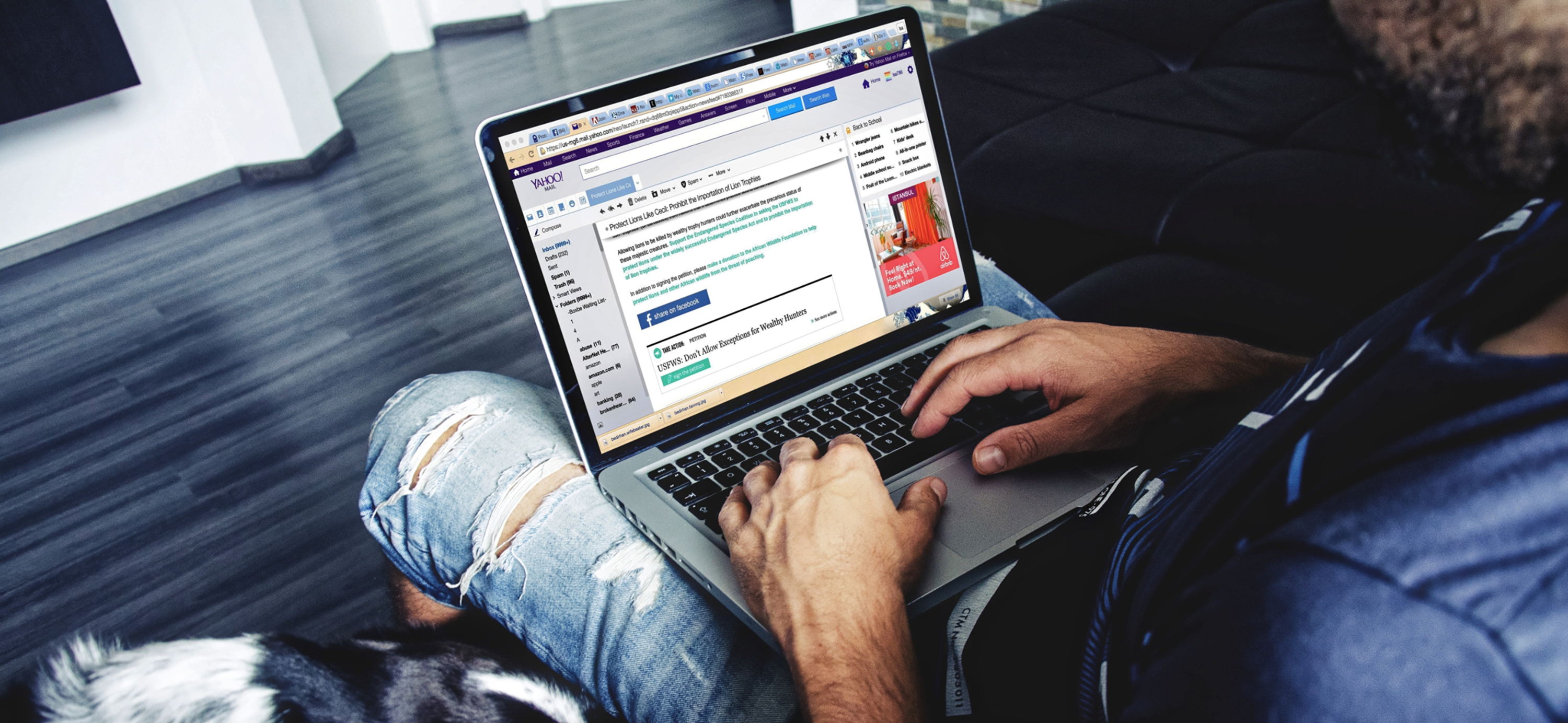 Strategy
Guide: How to use HARO & #JournoRequest to find hidden media opportunities
Learn how to use free media request platforms to find new PR opportunities.
HARO used to be somewhat of a hidden treasure for communications people and journalists, but it's become a lot more mainstream in the past few years. The platform works in a super simple format - journalists submit requests for quotes, contributions, and interviews. Communications people find relevant journalist requests and pitch them with quality information. Easy peasy.
It is that simple.
If there is interest from the journalist, they can then follow up via email to gather the rest of the information. Plus, because you are responding with relevant and timely information, you have a great chance of getting featured by the reporter. Journalists don't have to scour the dredges of the internet for industry thought leaders, and sources get plenty of exposure and fresh media opportunities. The service itself is brilliant, reliable, and free.
While the concept itself is simple, there are so many people doing it wrong. We are going to discuss the biggest mistakes people make when using HARO and how to correct them for better media coverage and journalist relations.

Alright, you want a comprehensive guide. Makes sense. It can all seem a little confusing at first. We at Prezly use HARO for some of our articles, so we have plenty of insight into what journalists and writers are looking for. We love the service and think it's an invaluable resource (when used correctly). But we've also seen it used wrong (often). Here's how to use HARO in the right way to find amazing media opportunities.
Head on over to Help A Reporter Out and click SIGN UP at the top.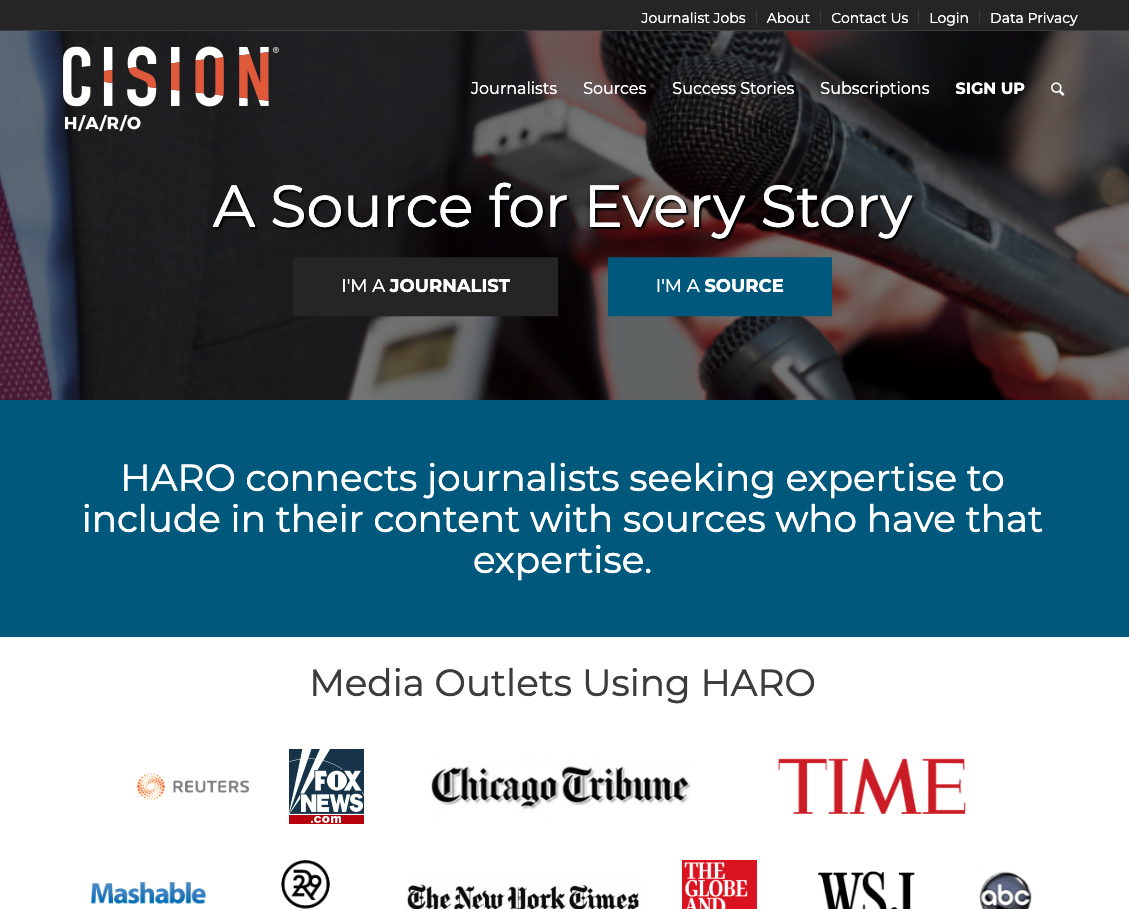 Let them know who you are, where you work, and your email so they can send you those juicy HARO queries. You'll have the option to select your specialty (lifestyle, business, etc.), or you can simply opt into the general emails for an overview of all the pitch requests.
HARO emails are sent Monday through Friday, three times a day (morning, afternoon, and evening). Emails are sent at US time zones, so international folks may get them at funky times, but it's all good.
Okay, here's the fun part. You receive an email, and it'll look something like this
Now, just browse through the requests and find ones that match your niche or area of expertise.
The pitch is where things need to be super focused and to the point. Add only the relevant information that answers the journalist's request, and if they want to know more, they will reach out. Write like you're going to be quoted in a publication, so use full sentences and professional grammar.
The journalists will explicitly state what they're looking for in the description of their request, and those should be followed precisely. Each pitch gets tons of responses, and the ones that are trashed immediately are the ones that don't follow the prompt. Some will ask for headshots, websites, credentials, and other specifics. A few will be prompts for longer-form interviews, podcast guests, or even TV spots.
Here's an example sample pitch:
---
Subject line: HARO Query [insert the title/short description]
Hello [name],
I came across your request on HARO, and I'd love to provide some insights.
[add 2 - 3 sentences to explain your relevancy or expertise on the subject].
Happy to add more details or answer any questions you may have!
Sig.
---
Simple and straightforward. The subject line references the HARO request, then you add in 2-3 sentences explaining your relevance to the request. Make this clear and super simple to understand.
If the journalist wants more details, they will reach out.
It all comes down to the quality of your pitches and the relevance you bring to the query. HARO is a great way to build relationships with journalists in your niche, not to mention get quoted in some pretty impressive publications, but HARO must be done right. Lazy, low-effort pitches will be drowned out by dozens (or even hundreds) of other pitches.
A couple of cheeky dos and don'ts for submitting successful pitches:
Do not say, "I am an expert in this field. Let's set up a call," or "I work for This Important Person. Let's schedule an interview." That is, unless the HARO query specifically requests an interview. If they ask for a quote, give them a quote. HARO is meant to be a quick way to get reliable sources.
Do answer the pitch completely and succinctly.
Do not answer HAROs for which you have no expertise or in a completely unrelated field. The number of times I've asked for HARO submissions specifically from PR and have gotten hairdressers, line chefs, CFOs, and other completely random people giving generic answers that they googled? Too high. Keep in mind that the journalist will be citing you and your credentials, and they will look silly if they give a professional quote from someone who has absolutely no industry qualifications.
Do not give generic answers. So many "marketing experts" want to get backlinks that they clearly just guess instead of giving industry-specific, well-constructed answers. Using HARO as part of a marketing strategy isn't inherently a bad thing, but your desire to get backlinks should not supersede the journalist's requests for authentic industry expert advice.
Do look for a unique angle. Odds are, fifty other people have already given the top five most obvious answers. Increase your likelihood of having your quote selected by thinking outside the box. Some of the best answers are ones that are industry antagonistic and go against the traditional grain, as journalists often like to showcase different perspectives on a topic.
Do not use AI-generated answers. We've sent out HARO requests only to receive the same answer (with slight variations) from 6-7 people, which frankly seems like spam, reflects poorly on the agency submitting it, and will likely never be picked by a journalist. If you need an AI to generate your answers, maybe skip that HARO. Journalists can spot low-effort pitches (especially if they receive the same pitch numerous times).
Do be selective with which HAROs you answer. Just because an email contains 50 queries doesn't mean you need to answer all of them. It's better to focus on quality, not quantity, for the best results.
Do not demand backlinks. HARO can be great for quality, high-DA backlinks. But that's not what the service is intended for. If you are only submitting with the expectation that the journalist will link to your website or company, you may be disappointed. Some journalists don't have the editorial leverage to decide if your website gets links, and some links are no-follow as part of the publication's SOP. Yes, backlinks are great. No, they are not a guarantee.
Lately, agencies have been popping up promising to get (paying) clients into major newspapers with valuable backlinks through HARO. This is one of those shortcuts (like buying media lists) that can often do more harm than good to an individual's reputation, as many of these services are giving generic, copy-and-paste answers. A third-party agency cannot promise or guarantee successful backlinks, and often they charge hundreds (or even thousands) of dollars per link.
In addition, journalists want industry experts, not some agency who did a cursory search of the topic and ran the Google Snippet through Quillbot. Write up a few sentences based on your authoritative knowledge of the field and watch that coverage roll in.
---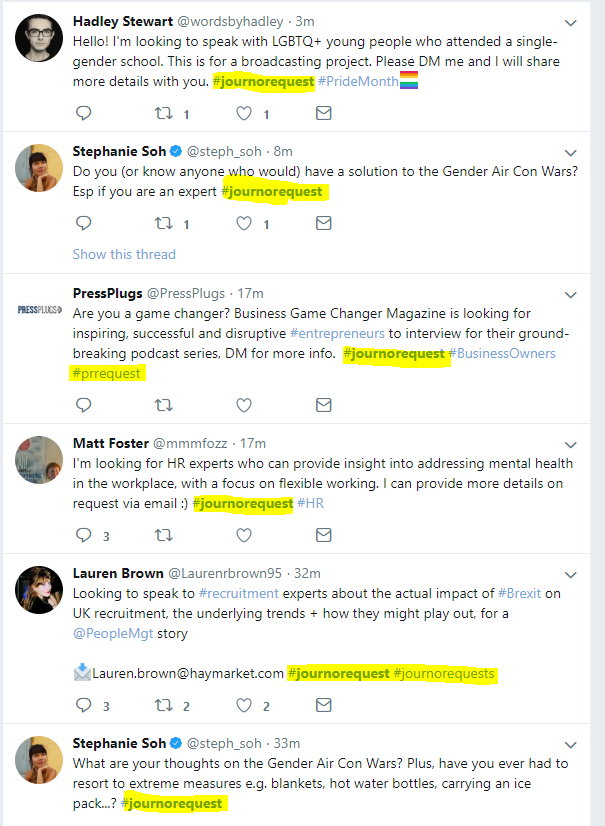 Twitter has become a serious tool for both communications professionals and journalists due to the reach and speed that news can be transmitted there.
Because of this scale and speed, many journalists, reporters and communications professionals spend time on the platform seeking out quotes, information and more.
You can see how quickly Twitter works with the news world by observing user videos of dramatic events. The pace that these videos get picked up by news networks is super quick.
Over the years a simple hashtag has become effective at finding PR opportunities and connecting with journalists.
After you check out that link you can see why it works so well for both sides - communications people and journalists. There is what looks to be a constant stream of requests - this is a communications professionals' dream!
You can also find Twitter profiles dedicated to these requests as well as #PRRequests too.
Connecting with journalists via Twitter is also easy and a great way to start building solid media relations. When you see a request coming in that appears relevant, reply to the request and take it from there.
Pro-Tip: Maintain engagement even if you do not get a feature. There is relevancy between the journalist and what you are communicating so there are always potential opportunities at a later date.
But again please remember to be relevant, stop spamming and trying to find some quick win's or 'hacks'. These never work and put you at the back of the list for future requests.
Then you have the dedicated platform for #journorequests - https://www.journorequests.com/

By taking daily media opportunities via these requests the platform adds them into an easy to search, filter and navigate software.
There's a price attached to these benefits but to be able to filter down to relevant requests is always great for timing and of course - relevancy. The basic version works well due to the basic filter options that are provided - https://journalistenquiries.responsesource.com/twitter/
I recommend spending some time getting up to speed with the platform. See if you can seek out any relevant requests right now, reach out to the journalist and see how it goes. You could find a whole bunch of new media opportunities that you never even knew existed.
By all means, this shouldn't be a quick fix. Media relations are what get you the big, juicy features but these #journorequests are a great way to start building these relations.
Want more helpful tips and tricks for finding media opportunities? Sign up for the newsletter!
Updated 07/2023