What is a social media press release and why should you use it?
At its most basic level, a press release is a story that you tell about your brand, such as:
the launch of a new marketing campaign
the results of a breakthrough industry study
or a new product that will change the lives of consumers
So what makes a social media press release different from a traditional press release? Well, besides text, social media press releases contain video, images, and anything else that will help influencers discover, share, and write about your story.
Why use social media press releases?
The simple reality is this: social media press releases outperform plain text releases. By a lot.
Social media press releases live online, rather than inside a pitch email. This means that journalists and other influencers can:
Find your press releases via a simple Google search
Link to them
Share them on social media
The resulting bump in views is far from trivial. In fact, two-thirds of traffic to social media press releases comes from social media and search. And adding multimedia on top of that can boost your traffic even more.
PR Newswire found that press releases with multimedia get up to 9.7 times as many views as text alone.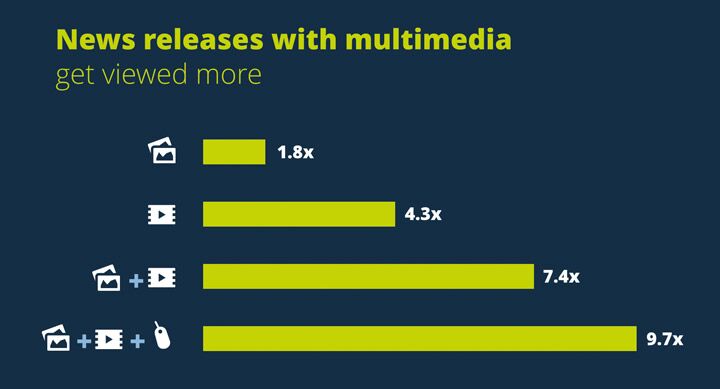 Content editors and journalists know this. They're already under pressure to include more visuals in their articles.
I begged, begged, PR professionals to send video and multiple photos with their news releases. — Clay Morgan, former editor, The Daily News Journal
Give them what they want. It's a triple win:
You'll increase your odds of getting coverage
You'll gain trust with your influencers
Your story will be more engaging to readers