Email deliverability
Verify your sender address domain
Verifying your email domain will improve the deliverability of Campaigns and Pitches
⚠️Note: Prezly no longer supports unverified emails. This means you will not be able to send campaigns and pitches with sender addresses that aren't verified.
What do I need to verify my email domain?
This is to make sure that your emails are delivered successfully and do not end up in your contacts' spam folders when sending campaigns from your own sender domain (name@yourdomain.com).
Access to your domain DNS settings. These can be found with your domain registrar, your hosting provider, or your DNS provider.
Knowledge about adding DNS settings. If you're unsure about how to set this, we recommend contacting your IT team – or get in touch with your domain registrar for support if necessary.
How do I verify my email?
1. Go to Organisation Settings >  Domain Verification
Access the Domain Verification page in your Prezly account here.
2. Find the domain name you want to verify
As you may have added several emails to your Prezly account, you'll see the list of emails in the Domain Verification page. Click on the one you want to verify. Please remember that if you don't verify your email with Prezly, you will only be able to send campaigns from the "@prezlymail.com" email.
3. Copy the CNAME records you see on the screen and add them to your domain provider
You'll see three to four records on the screen. All of them will have the type CNAME to it, with a Name and a Value. You'll need to copy both the name and the value you see for each record. Then, copy and paste them onto your domain provider settings page.
3.1 Sharing the CNAME records with my IT team or domain provider support.
In case you're not sure about how to handle those records, you can easily share them with your IT team or domain provider support, so they can either add those for you or further advise you on how to add them. Click on the Share Instructions link and you send instructions directly via email or share the link to the instructions page.
4. After the records are added, run the "Status Check" in Prezly.
Once you have added the records with your domain provider, it will take between 30 minutes to 48 hours for Prezly to recognize that everything is set correctly. After that period of time, feel free to run a "Status Check", and when everything is linked up properly, you'll see a green sign next to the domain you verified.
⚠️Note: Because each domain registrar and DNS provider has different ways for managing DNS records, we are unable to provide support for setting up DNS records directly with your provider, such as Godaddy, Hostgator, etc. For those, we recommend you check their documentation on how to add DNS records).
How long does it take?
DNS records may take some time to update. If you are still not able to verify your domain after 48 hours, we recommend you contact your domain registrar or DNS provider for further support.
My domain has suddenly become unverified, what happened?
This can be caused by a number of reasons. Here are a few of the most common problems:
The Prezly DNS records were removed from your DNS settings.
Your DNS service provider is experiencing issues. 
Your domain expired.
If this happens, we recommend checking the above or contacting your DNS service provider.
💡Pro Tip: Verification is team-wide! Once you verify a domain, it is verified for all of your teammates, too. They will also be able to reliably send emails from that domain.
Why can't I verify my free email?
Due to strict policies to reduce spam emails, free email providers (gmail.com, yahoo.com, and mail.com) cannot be verified. We highly recommend you use a custom domain or your free prezlymail.com domain to send your campaigns.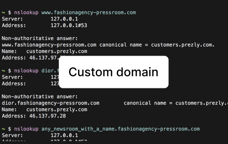 Custom domain for multiple newsrooms/clients
Set up DNS records to allow your team members to create unlimited newsrooms with a whitelabeled url