Newsroom setup
Creating a Newsroom
How to create newsrooms and set them up
When getting started with your Prezly account, one of the most important steps is to create and set up your Newsroom (or Newsrooms). This page will help you do that.
Here's what we'll cover:
What is a Prezly Newsroom?
Think of a newsroom as the source of truth for your – or your client's – brand. It's a place to collect your stories, media, and other official information a journalist will need when covering your latest news or releases.
Your Newsroom is home to your Stories – the posts or press releases you publish and distribute using Prezly Campaigns. But more on that later.
First, let's explore how you can set up your Newsroom.
For inspiration on how some Prezly clients use their newsrooms, check out this case study for interior design brand Wallsauce.
Where to find the "Create Newsroom" button
The Stories page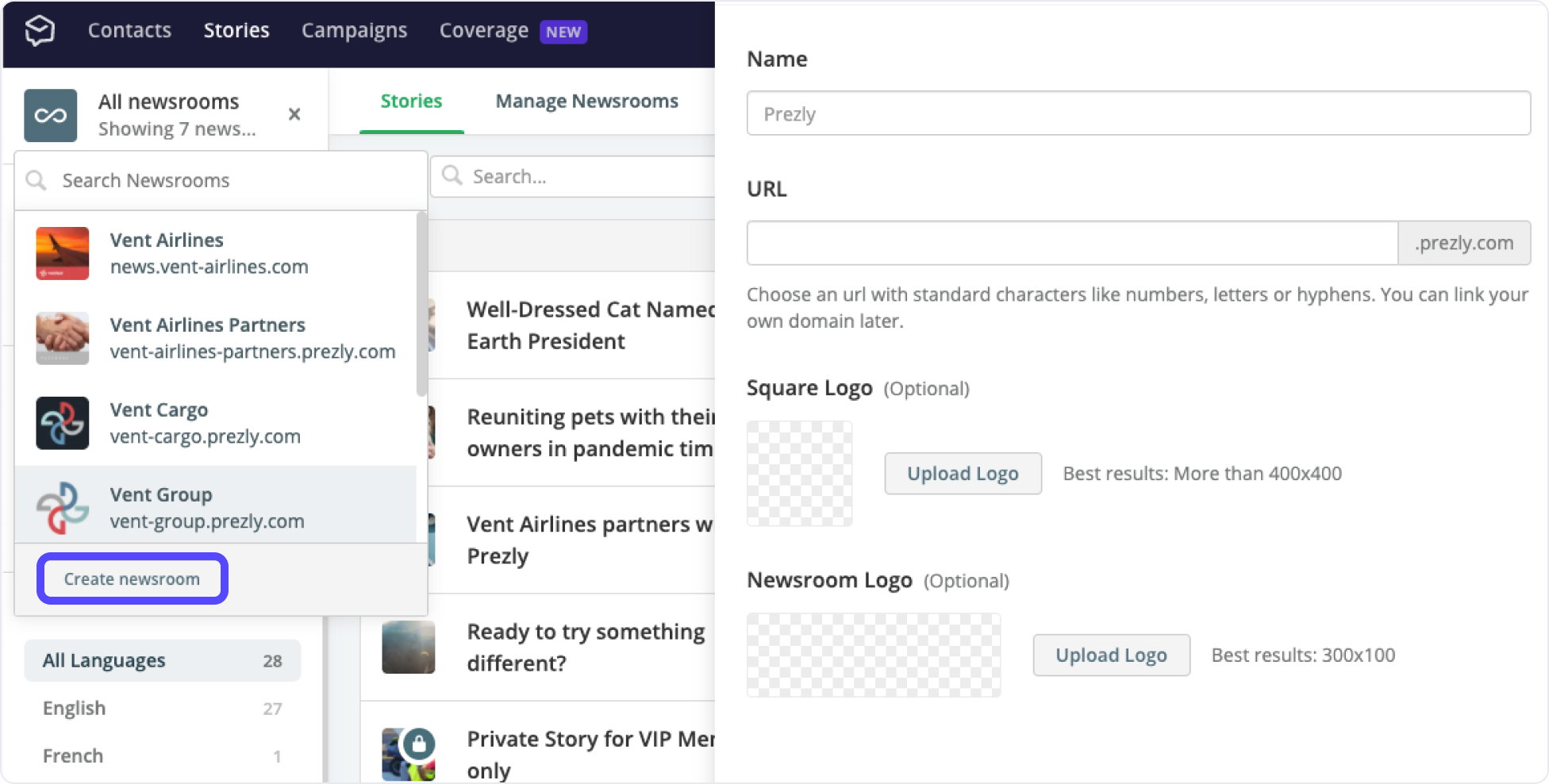 The Manage Newsrooms page

Setting your Newsroom name, URL and logo
When setting up a Newsroom, you'll need to give it a name. The URL will automatically follow the Newsroom's name and will end in .prezly.com by default. The Newsroom's URL can be customized later on using custom domains (more on that here).
⚠️ Note: There is a technical limitation when it comes to the length of the link (URL). Take for example the URL "https://newsroom-name-here.prezly.com/". The newsroom-name-here part of the URL can have up to 63 characters max. This is not a limitation of Prezly, but a limitation of how domains work universally.
If you're interested, Wikipedia offers a (very technical) explanation: "Each label may contain from 1 to 63 characters".
Adding your company information
The Company Information page in your Newsroom settings will let you add just that – your company contact information. These details will be displayed in your Newsroom footer and can include things like boilerplate (company description), website, social networks, and email subscription form. 
Read more about how to add company information ▸

Adding press contacts to your Newsroom 
You can add the press contacts you want to display in your Newsroom and Stories in your Newsroom's Contact settings.
You can choose whether or not to show the contacts you add on the main overview of your Newsroom (in the "Contact us" section just above the footer), or if you just want them available to embed in separate Stories. More on that here ▸

Customizing your newsroom's look
The Design settings help you make sure your newsroom aligns perfectly with your brand.
This is also where you can upload multiple versions of your logo, which will help your Newsroom look its best whatever device your readers use.
To set your Newsroom's layout, as well as accent color and typography, click on "Themes" and select a theme to use for your newsroom. You'll see the theme settings pop up from the right side of your screen.
If you would like to add a URL/link to your Newsroom logo, please contact our support team.
Setting the newsroom's language
With Prezly, you can publish stories and emails in more than one language within a single newsroom. See how you can set up multilingual newsrooms and supported languages in Prezly ▸