Custom domain setup
Setting up a custom domain
See how to use your own domain for your Prezly site, e.g. sitename.yourbrand.com
By default, your sites are on the prezly.com domain (e.g., yourbrand.prezly.com). You can easily replace this with a custom link on a domain that you own (e.g., sitename.yourbrand.com).
Having your site on your own domain looks more professional and passes on SEO value to your website. We also support wildcards if you want to do this for multiple clients or projects. Read more about wildcards here. 
To set up your custom domain, you just need a little help from your IT partner. Here are the steps to take:
Step 1: Getting things ready for IT
Go to your Site Settings page.
Next, scroll down, click on Domain, and on that page, select "Add custom domain."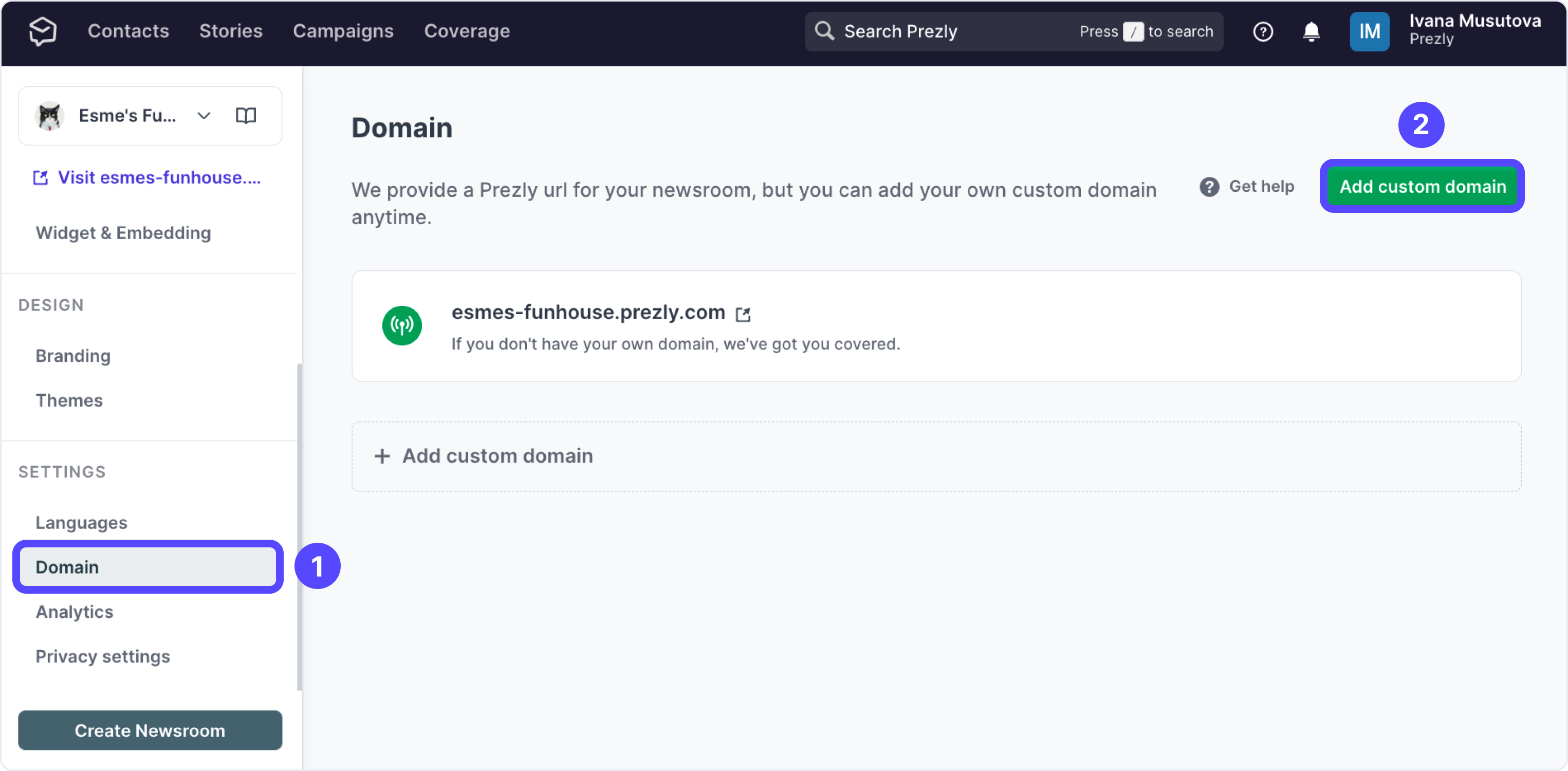 Finally, type in your desired URL and hit "Add custom domain" one last time.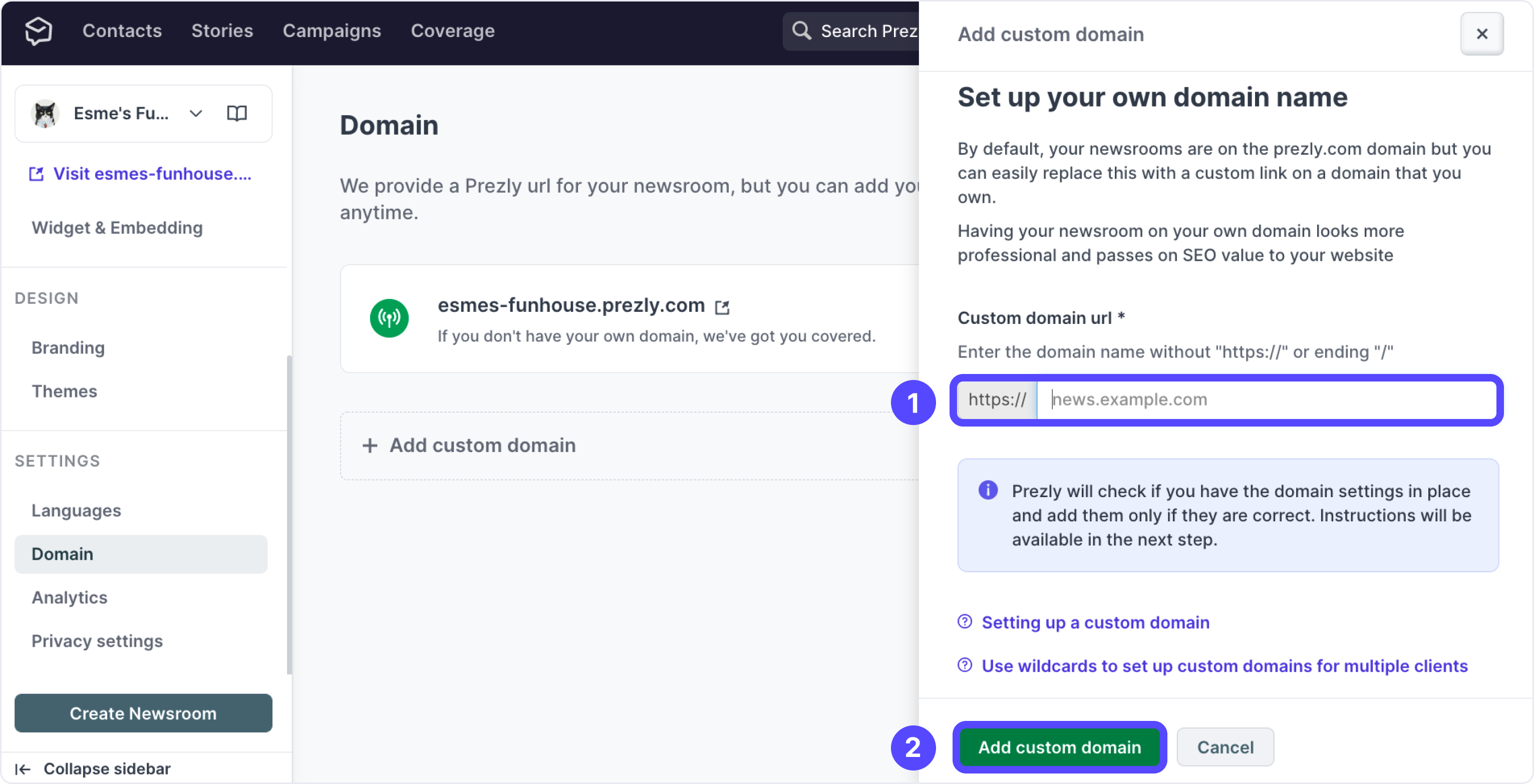 ⚠️ Warning: You should always use a subdomain. Root domains are not supported.
---
Prezly will check if you have the proper domain settings and add them only if they are correct.
Please take note of the unique CNAME value generated for your site. You will need it later!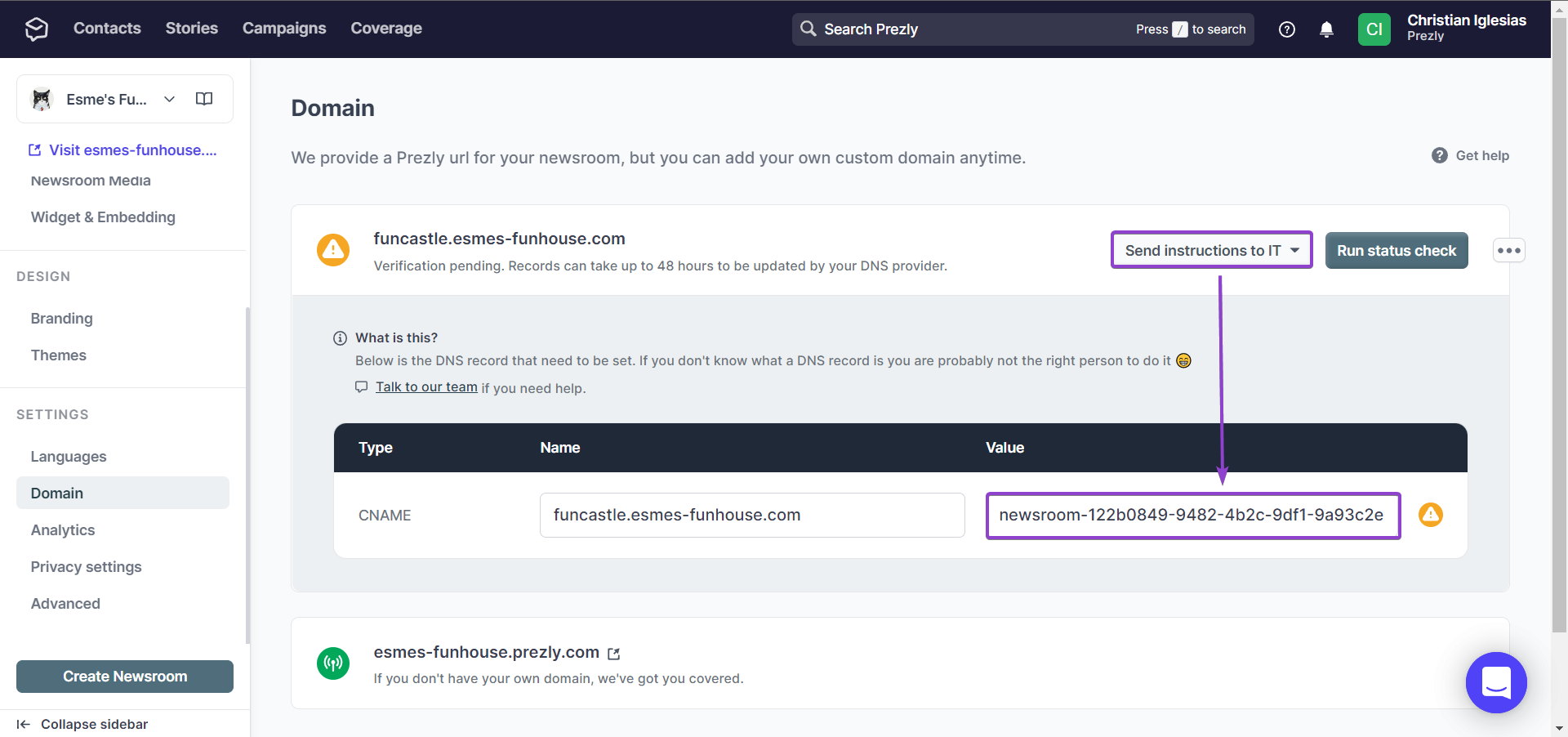 ​
The handy "Send instructions to IT" button lets you generate a temporary page or send an email with all needed info for your IT team or service provider to take care of business on your end.

Step 2: Creating a CNAME
Create a CNAME record (DNS setup) in your domain settings and point it to the URL you obtained during the custom domain setup on Prezly.
❗If your DNS provider is Cloudflare, please keep the CNAME record as DNS-Only.
​​ ​ ​ ​ ​ See HERE for more information
Don't worry if you don't understand what this means. Simply forward this article to your IT team, and they can help you out.
⚠️ Note: No help available? Check these instructions and if that's still not enough, get in touch with us! 🤓 

⚠️ Note: It can take a while for a new CNAME to start working.
💡 Pro tip: For every custom domain that will get mapped to Prezly, our system generates an SSL certificate to make the site default to HTTPS. You don't need to do anything extra for this, but it can take a while (usually an hour max) before the certificate will be applied.
Setting up custom domains for multiple sites
If you have multiple sites and don't want to contact your IT department or DNS team for every site, please read this article. And don't hesitate to contact us if you run into any issues or need further support during the process!