Custom domain setup
Custom domain for multiple sites/clients
Set up DNS records to allow your team members to create unlimited sites with a white-labeled URL
In some cases (agencies, enterprises with multiple brands, short-term campaigns), you want to easily set up a white-labeled (own domain) site without contacting your IT team to update DNS records.
To work around this, you can use wildcard records that point all subdomains to customers.prezly.com.
The name of your agency is "Fashion Agency," and you have a domain on which you want to host all your sites.
Now for the main agency, you want to use www.fashionagency-pressroom.com and have it display a list of logos/clients. Every client will get their own site with a dedicated URL such as dior.fashionagency-pressroom.com, gucci.fashionagency-pressroom.com, or chanel.fashionagency-pressroom.com.
Contact us via chat or email at support@prezly.com to let us know that you will need Wildcard CNAME support enabled for your license, only site-specific custom domains are available otherwise.
For this to happen, you need to set a CNAME record for www.fashionagency-pressroom.com.
A wildcard needs to be installed that points *.fashionagency-pressroom.com to customers.prezly.com. This way, team members can easily add new sites and link up.
To verify the setup, use a tool like MxToolbox: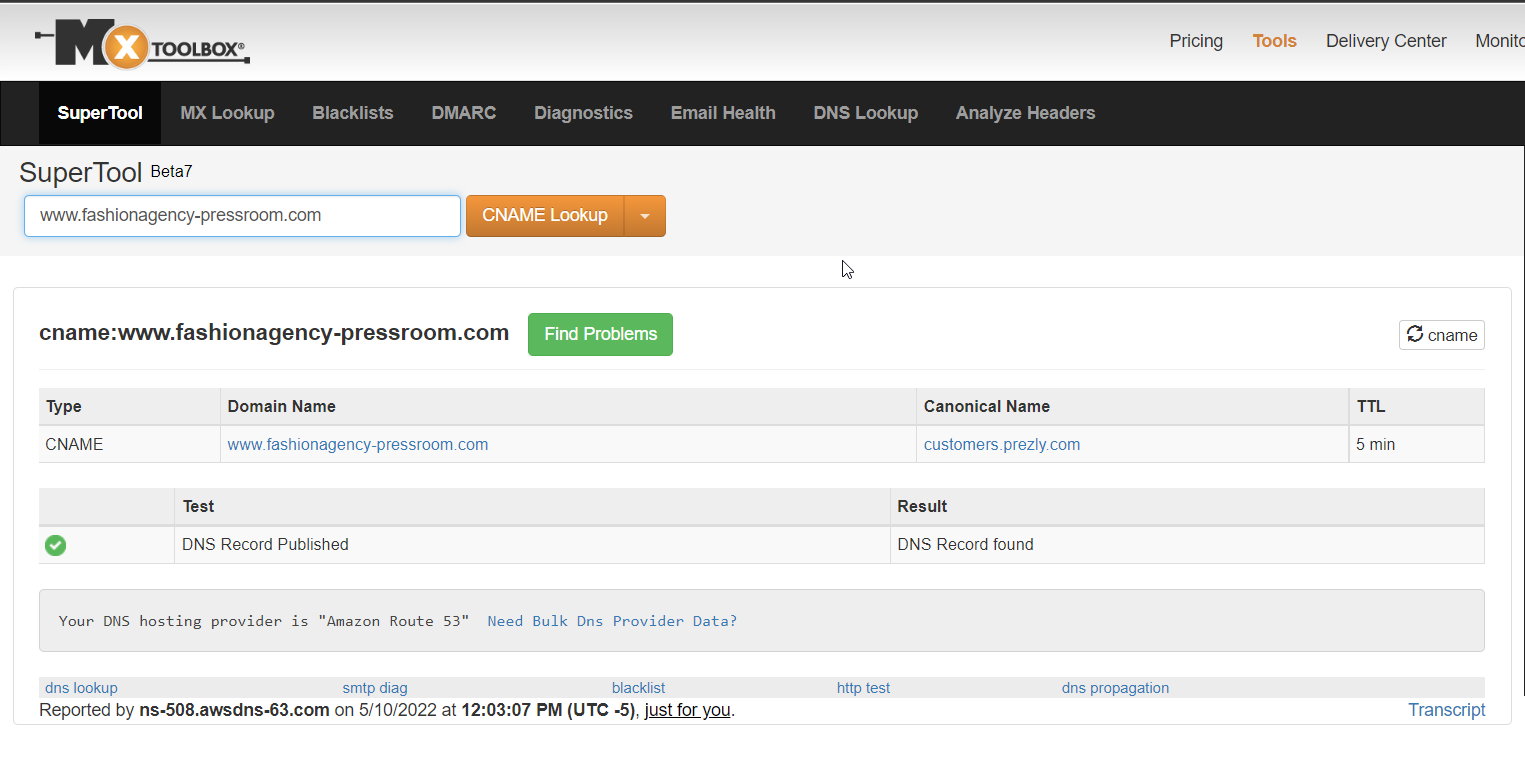 Can I still use my previously set up custom domains if I change to wildcard support now?
​​
​Yes! They can coexist, so deciding to go this route after you've already used single-site custom domain setups is NOT an issue 😁
Do I have to update them?
​​
​No! Already set up single site CNAMEs are maintained. You CAN change them if you want to reflect the new wildcard setup though but it's not a must.