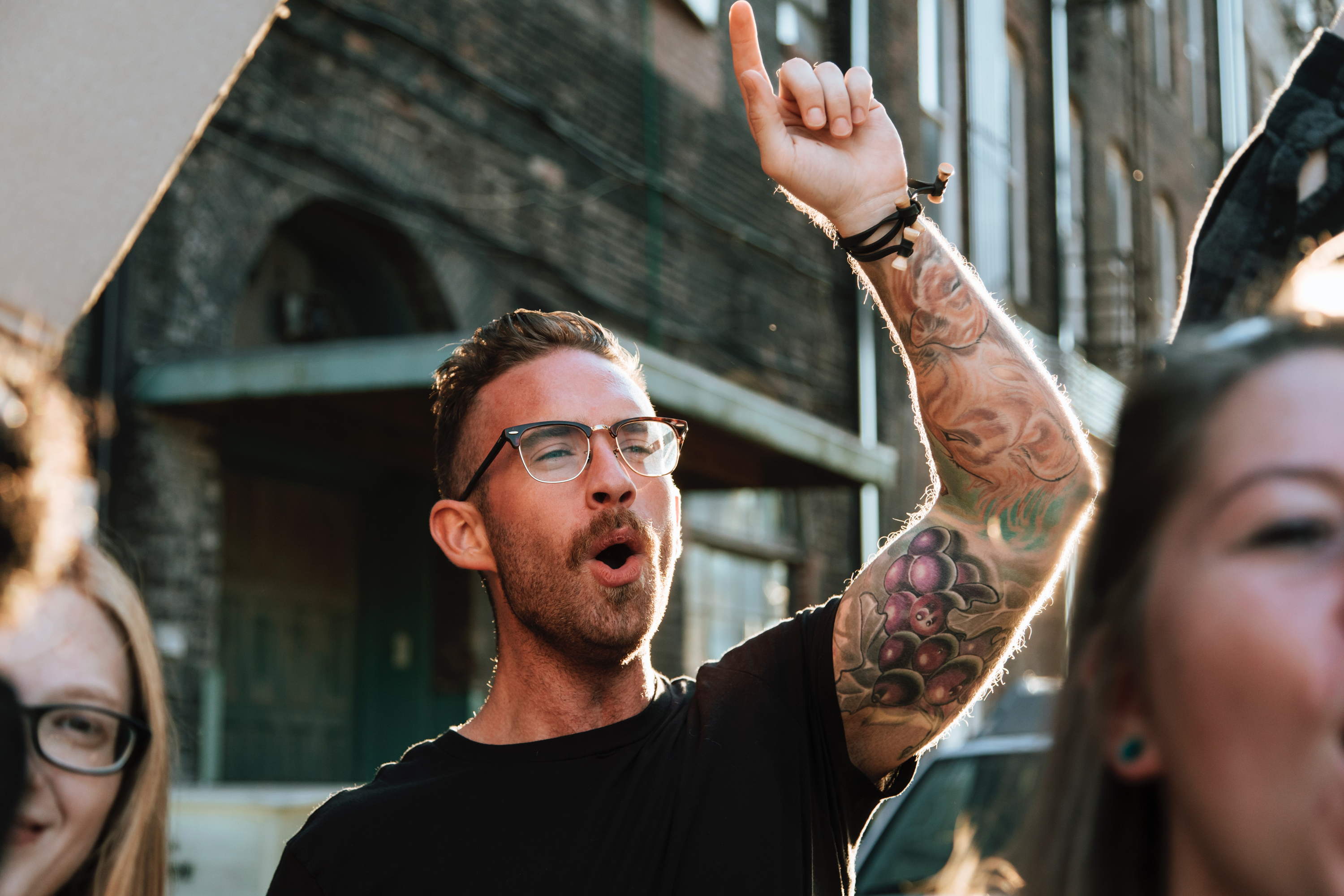 CSR
What is Corporate Social Responsibility?
Although most organizations agree that corporate social responsibility (CSR) positively impacts their business performance, many still struggle to explain what CSR actually is.
Here, we'll give a thorough explanation of the idea of corporate social responsibility.
You'll learn:
What is corporate social responsibility,
The effect a company's CSR initiatives have on consumers,
And the importance of including CSR in corporate communications.
UNIDO (the United Nations Industrial Development Organisation) defines CSR as:
[...] a management concept whereby companies integrate social and environmental concerns in their business operations and interactions with their stakeholders.
The European Commission identifies it as:
And although both definitions cover all aspects of corporate social responsibility, the term could be broken down a bit more and explained in simpler terms.
We could define CSR simply as a set of practices that organizations use to contribute to the well-being of their immediate community.
As pointed by authors of the McKinsey report:
Corporate social responsibility encompasses dual objectives—pursuing benefits for the business and for society.
They further categorize an organization's CSR activities into three groups:
Pet projects that reflect personal interests of senior executives. Due to their nature, however, these activities typically deliver minimal benefits for both society and the business.
The middle tier includes initiatives that deliver one-sided benefits, either to a company or society. For example, donations (categorized as philanthropy) might boost the abilities of a charity, and raise awareness about whatever issues they tackle. Propaganda activities, on the other hand, aim to boost a company's reputation while typically delivering hardly any benefit to society.
The third group includes initiatives delivering equally significant benefits to the society and business.
Campbell Canada's Nourish is a great example of a conscious CSR initiative. Introduced in 2011, the nutrient-packed Six Grain Vegetable cans targeted the awareness of a growing problem with world hunger.
As the company explained, the reason for creating Nourish brand was simple:
We have a responsibility because of who we are and what we do to take a lead role in alleviating hunger.
Of course, the company doesn't expect that one single initiative like that could end hunger.
Instead, as Frederick E. Allen wrote on Forbes:
Campbell's expected outcome for the initiative was to raise awareness for hunger while at the same time setting an example for other food companies to follow.
Google Environment is another example. From reducing energy waste, recycling to supporting renewable energy, the search engine giant introduces new initiatives to minimize its negative effect on the environment.
And as Matt Ball brilliantly points out, these initiatives are paying off for both society and the business:
Recycling and turning off the lights does more for Google than lower costs. Investments in these efforts have real-world effects on the bottom line. Google has seen an overall drop in power requirements for their data centers by an average of 50 percent. These savings can then be redirected to other areas of the business or to investors.
Banks no longer offer printed receipts for cash-machine withdrawals as a default option, greatly reducing paper waste (societal benefit) and operational costs (business benefit).
Starbucks developed the C.A.F.E. Practices to ensure the ethical process of sourcing their coffee.
As the company's statement says:
C.A.F.E. Practices ensures that Starbucks is sourcing sustainably grown and processed coffee by evaluating the economic, social and environmental aspects of coffee production.
TOMS Shoes is another example of a socially responsible organization using CSR to both internal and external gain. Built entirely on the idea of giving back, the company donates one pair of shoes to a child in need for every pair of shoes sold. And they're very vocal about their history and CSR efforts.
However, it's not just internal stakeholders who engage with a company's CSR efforts.
In fact, the effect of a business' corporate social responsibility activities on consumer behaviour is irrefutable.
Fact: As consumers become more aware of who they buy from or engage with, Corporate Social Responsibility becomes a strong differentiating factor for companies.
In fact, organizations that can demonstrate initiatives aimed to support the community or reduce their impact on the environment, for example, enjoy a much greater customer loyalty.
A recent study quoted by Skytop revealed that "69% of high-net millennials place greater worth in putting their money toward companies that show a high level of corporate social responsibility (CSR), even if they might sacrifice their return for the greater good."
What's more, CSR becomes an enticing word-of-mouth factor for many. According to Cone Communications:
Some 47% of consumers surveyed across 9 countries say that they've told friends or family about a company's corporate social responsibility efforts at some point in the past year.
Not to mention that many consumers use a company's CSR as an easy method to contribute to society themselves. In fact, the most common CSR-related action among customers is consciously choosing products from CSR-active brands, pushing away other activities like making a donation or volunteering.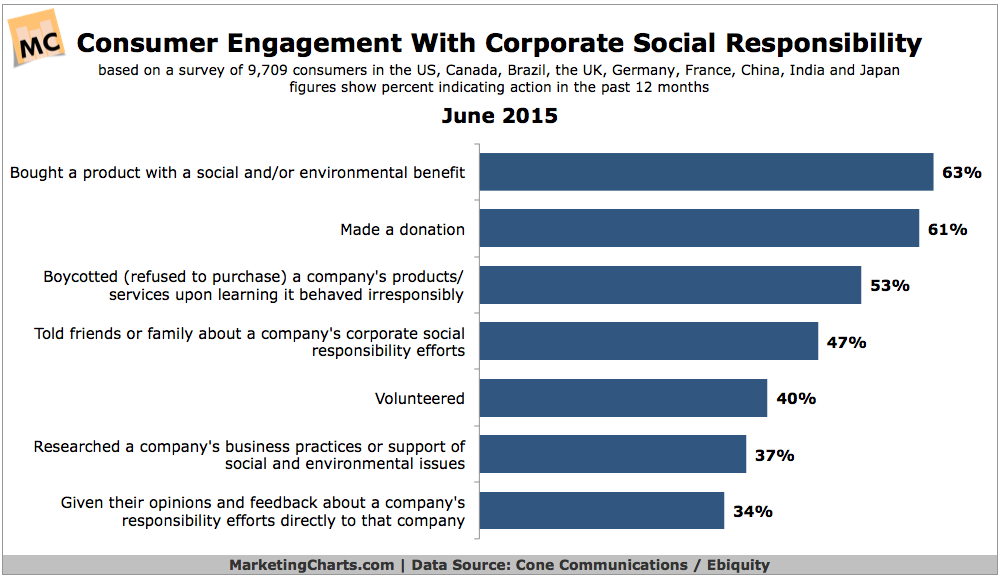 In spite of almost unanimous agreement among companies regarding the positive effect corporate social responsibility has on their reputation, as many as 40% assign only 10% of their communications budget to communicate about their CSR initiatives.
For those that do, however, the benefits of clearly communicating their corporate social responsibility are great.
Because, as many experts point out – communication is what makes a company socially responsible.
After all, without CSR communication, no one will really know about your initiatives.
A particularly sharp quote from AmCham Perspective Magazine article on the subject:
One of the key aspects of good corporate responsibility practice involves transparent communication.
For one, communicating CSR efforts helps achieve good corporate reputation, that will positively affect both financial and social performance.
CSR can also help send the right signals to investors. As Abishek R points out on Linkedin:
When investors see a company devote significant resources to CSR initiatives, they tend to infer that its executives are acting on private information about future earnings and cash flows.
Why is that? Because in many cases, CSR can contribute to improvements in other areas of the business, from operations to employee satisfaction and performance.
The effect of CSR on business performance is undeniable. However, the starting point for launching, and then communicating an organization's corporate social responsibility is thorough knowledge of what CSR is, and its effect on brand perception.
For some additional insight into PR and CSR 👉 check this article out on the relationship between the two.
Or subscribe to the PR Academy newsletter 👇