We hear you. Two (minor) additions to press rooms
By popular request we decided to bump up two change requests in Prezly's roadmap.
Press room visibility
From now one you can set the Press Room visibility allowing you to set-up a "non-indexable" press room that will not be indexed by search engines.
Visit your press room settings > google analytics and visibility page to update the changes.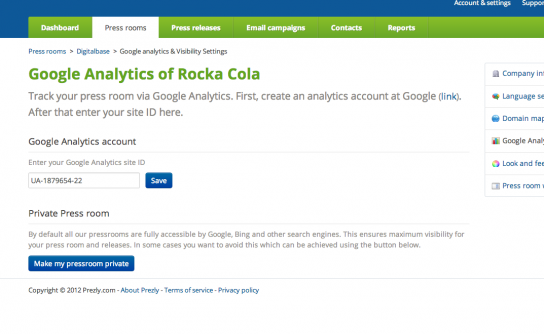 Note that people with multi-room accounts can individually change this setting on a per-pressroom basis without having impact on other press rooms.
Sitemap
Whenever we roll-out new Prezly features we always keep Search Engine Friendlyness in account. We do this to make sure that all your press rooms and social media press releases reach maximum visibility making use of industry-standard SEO best-practices and techniques.
As of today we will automatically generate a sitemap.xml in every press room to make sure that Google, Bing and others can crawl and index your press release archive.